Abstract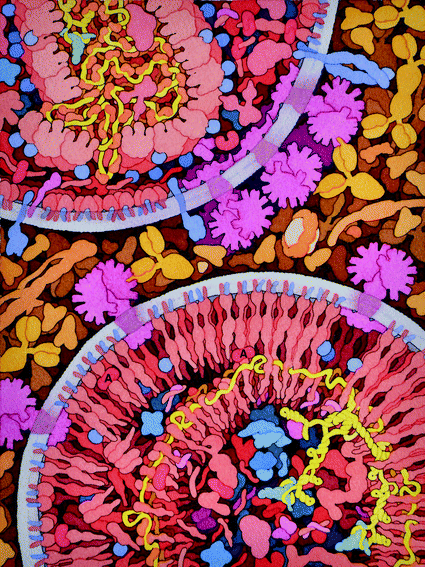 Newly released human immunodeficiency virus type 1 (HIV-1) particles obligatorily undergo a maturation process to become infectious. The HIV-1 protease (PR) initiates this step, catalyzing the cleavage of the Gag and Gag-Pro-Pol structural polyproteins. Proper organization of the mature virus core requires that cleavage of these polyprotein substrates proceeds in a highly regulated, specific series of events. The vital role the HIV-1 PR plays in the viral life cycle has made it an extremely attractive target for inhibition and has accordingly fostered the development of a number of highly potent substrate-analog inhibitors. Though the PR inhibitors (PIs) inhibit only the HIV-1 PR, their effects manifest at multiple different stages in the life cycle due to the critical importance of the PR in preparing the virus for these subsequent events. Effectively, PIs masquerade as entry inhibitors, reverse transcription inhibitors, and potentially even inhibitors of post-reverse transcription steps. In this chapter, we review the triple threat of PIs: the intermolecular cooperativity in the form of a cooperative dose–response for inhibition in which the apparent potency increases with increasing inhibition; the pleiotropic effects of HIV-1 PR inhibition on entry, reverse transcription, and post-reverse transcription steps; and their potency as transition state analogs that have the potential for further improvement that could lead to an inability of the virus to evolve resistance in the context of single drug therapy.
Keywords
Nuclear Pore Complex 
Cleavage Event 
Transition State Analog 
Reverse Transcription Complex 
Gp41 Fusion Peptide 
These keywords were added by machine and not by the authors. This process is experimental and the keywords may be updated as the learning algorithm improves.
Abbreviations
HIV

Human immunodeficiency virus

PR

Protease

PI

Protease inhibitor

RT

Reverse transcriptase

IN

Integrase

TF

Transframe

MA

Matrix

CA

Capsid

NC

Nucleocapsid

SP1

Spacer peptide 1

SP2

Spacer peptide 2

Env

Envelope

CT

Cytoplasmic tail

DRV

Darunavir

TPV

Tipranavir

SQV

Saquinavir

NNRTI

Non-nucleoside reverse transcriptase inhibitor

NRTI

Nucleoside reverse transcriptase inhibitor

INSTI

Integrase strand transfer inhibitor

AZT

Zidovudine

RTC

Reverse transcription complex

RNP

Ribonucleoprotein

PIC

Pre-integration complex

NPC

Nuclear pore complex
Notes
Acknowledgments
We thank Dr. Nicolas Sluis-Cremer for providing NNRTI and NRTI Ki values. Our own work is supported by the National Institutes of Health (NIH). M.P. is supported, in part, by NIH Training Grant T32 AI 07001-36. We also thank Dr. Celia Schiffer for many helpful discussions.
Copyright information
© Springer International Publishing Switzerland 2015