Abstract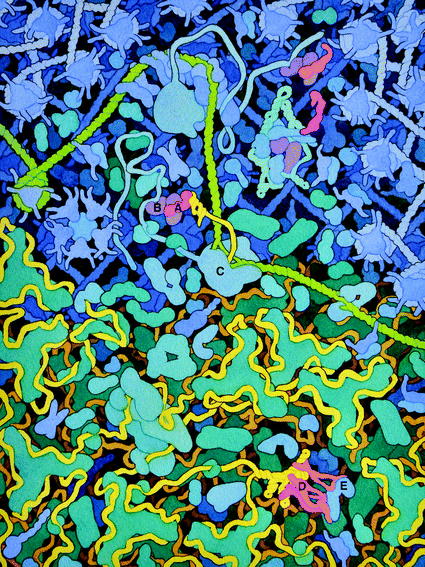 Antiretroviral therapy (ART) potently suppresses HIV-1 replication, but the virus persists in quiescent infected CD4+T cells as a latent integrated provirus, and patients must indefinitely remain on therapy. If ART is terminated, these integrated proviruses can reactivate, driving new rounds of infection. A functional cure for HIV requires eliminating low-level ongoing viral replication that persists in certain tissue sanctuaries and preventing viral reactivation. The HIV Tat protein plays an essential role in HIV transcription by recruiting the kinase activity of the P-TEFb complex to the viral mRNA's stem–bulge–loop structure, TAR, activating transcriptional elongation. Because the Tat-mediated transactivation cascade is critical for robust HIV replication, the Tat/TAR/P-TEFb complex is one of the most attractive targets for drug development. Importantly, compounds that interfere with transcription could impair viral reactivation, low-level ongoing replication, and replenishment of the latent reservoir, thereby reducing the size of the latent reservoir pool. Here, we discuss the potential importance of transcriptional inhibitors in the treatment of latent HIV-1 disease and review recent findings on targeting Tat, TAR, and P-TEFb individually or as part of a complex. Finally, we discuss the impact of extracellular Tat in HIV-associated neurocognitive disorders and cancers.
Keywords
Human Immunodeficiency Virus 
Acquire Immune Deficiency Syndrome 
Viral Reactivation 
Human Immunodeficiency Virus Replication 
Latent Reservoir 
These keywords were added by machine and not by the authors. This process is experimental and the keywords may be updated as the learning algorithm improves.
Abbreviations
ART

Antiretroviral therapy

HIV

Human immunodeficiency virus

ARVs

Antiretrovirals

LTR

5′ long-terminal repeat

RNAPII

RNA polymerase II

TAR

Transactivation response element

PCAF

p300/CBP-associated factor

P-TEFb

Positive transcription elongation factor b

CDK9

Cyclin-dependent kinase 9

CTD

C-terminal domain

HDAC

Histone deacetylase

HAT

Histone acetyl transferase

HAND

HIV-associated neurocognitive disorders

BBB

Blood–brain barrier

MCP-1

Chemoattractant protein-1

PBMC

Peripheral blood mononuclear cell

TI

Therapeutic index

IC50

Half-maximal inhibitory concentration

NMR

Nuclear magnetic resonance

MAE

Michael acceptor electrophile

CC50

Half-maximal cytotoxic concentration

dCA

didehydro-cortistatin A

RT

Reverse transcriptase

SPMG

Sulfated polymannuroguluronate

AIDS

Acquired immune deficiency syndrome
Copyright information
© Springer International Publishing Switzerland 2015