Abstract

The transcription factor c-Myc is overexpressed in many tumors in human beings and has been identified as a highly promising target for cancer therapy. Most biological functions of c-Myc require heterodimerization with its activation partner Max. Inhibition of the protein–protein interactions between c-Myc and Max by small molecules has been shown to be a feasible and powerful approach toward the inhibition of c-Myc functions. More recently, stabilization of Max homodimers to reduce the amount of Max available for activating c-Myc has also been demonstrated to counteract Myc activity. This review summarizes our current knowledge on small organic molecules that inhibit c-Myc by modulating protein–protein interactions relevant for the biological function of this important oncoprotein.
Keywords
Fluorescence Resonance Energy Transfer

Leucine Zipper

Oncogenic Transformation

Chicken Embryo Fibroblast

Fluorescence Polarization Assay
These keywords were added by machine and not by the authors. This process is experimental and the keywords may be updated as the learning algorithm improves.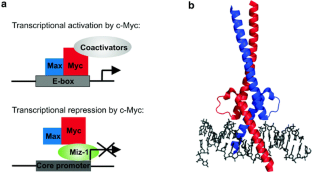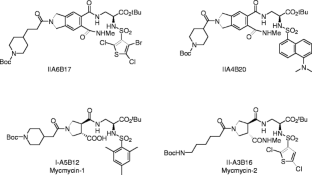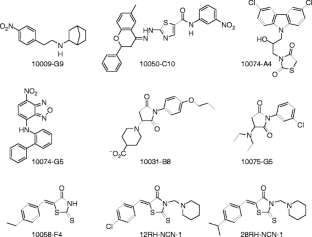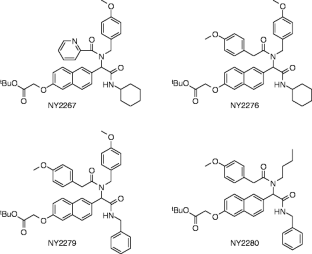 References
Adhikary S, Eilers M (2005) Transcriptional regulation and transformation by Myc proteins. Nat Rev Mol Cell Biol 6:635–645

Berg T (2008a) Inhibition of transcription factors with small organic molecules. Curr Opin Chem Biol 12:464–471

Berg T (2008b) Signal transducers and activators of transcription as targets for small organic molecules. Chembiochem 9:2039–2044

Berg T (2008c) Small-molecule inhibitors of protein-protein interactions. Curr Opin Drug Discov Devel 11:666–674

Berg T (2010) Small-molecule inhibitors of protein–protein interactions. In: Zacharias M (ed) Protein–protein complexes: analysis, modeling and drug design. Imperial Press, London 318–339

Berg T, Cohen SB, Desharnais J, Sonderegger C, Maslyar DJ, Goldberg J, Boger DL, Vogt PK (2002) Small-molecule antagonists of Myc/Max dimerization inhibit Myc-induced transformation of chicken embryo fibroblasts. Proc Natl Acad Sci USA 99:3830–3835

Boger DL, Lee JK, Goldberg J, Jin Q (2000) Two comparisons of the performance of positional scanning and deletion synthesis for the identification of active constituents in mixture combinatorial libraries. J Org Chem 65:1467–1474

Dang CV (1999) c-Myc target genes involved in cell growth, apoptosis, and metabolism. Mol Cell Biol 19:1–11

Dang CV, O′Donnell KA, Zeller KI, Nguyen T, Osthus RC, Li F (2006) The c-Myc target gene network. Semin Cancer Biol 16:253–264

DeLano WL (2002) The PyMOL molecular graphics system. DeLano Scientific, Palo Alto, CA

Eilers M, Eisenman RN (2008) Myc's broad reach. Genes Dev 22:2755–2766

Felsher DW, Bishop JM (1999) Reversible tumorigenesis by MYC in hematopoietic lineages. Mol Cell 4:199–207

Ferre-D′Amare AR, Prendergast GC, Ziff EB, Burley SK (1993) Recognition by Max of its cognate DNA through a dimeric b/HLH/Z domain. Nature 363:38–45

Fieber W, Schneider ML, Matt T, Krautler B, Konrat R, Bister K (2001) Structure, function, and dynamics of the dimerization and DNA-binding domain of oncogenic transcription factor v-Myc. J Mol Biol 307:1395–1410

Follis AV, Hammoudeh DI, Wang H, Prochownik EV, Metallo SJ (2008) Structural rationale for the coupled binding and unfolding of the c-Myc oncoprotein by small molecules. Chem Biol 15:1149–1155

Gallant P, Steiger D (2009) Myc's secret life without Max. Cell Cycle 8:3848–3853

Grandori C, Cowley SM, James LP, Eisenman RN (2000) The Myc/Max/Mad network and the transcriptional control of cell behavior. Annu Rev Cell Dev Biol 16:653–699

Hammoudeh DI, Follis AV, Prochownik EV, Metallo SJ (2009) Multiple independent binding sites for small-molecule inhibitors on the oncoprotein c-Myc. J Am Chem Soc 131:7390–7401

Jain M, Arvanitis C, Chu K, Dewey W, Leonhardt E, Trinh M, Sundberg CD, Bishop JM, Felsher DW (2002) Sustained loss of a neoplastic phenotype by brief inactivation of MYC. Science 297:102–104

Jiang H, Bower KE, Beuscher AEt, Zhou B, Bobkov AA, Olson AJ, Vogt PK (2009) Stabilizers of the Max homodimer identified in virtual ligand screening inhibit Myc function. Mol Pharmacol 76:491–502

Kiessling A, Sperl B, Hollis A, Eick D, Berg T (2006) Selective inhibition of c-Myc/Max dimerization and DNA binding by small molecules. Chem Biol 13:745–751

Kiessling A, Wiesinger R, Sperl B, Berg T (2007) Selective inhibition of c-Myc/Max dimerization by a pyrazolo[1, 5-a]pyrimidine. ChemMedChem 2:627–630

Lu X, Vogt PK, Boger DL, Lunec J (2008) Disruption of the MYC transcriptional function by a small-molecule antagonist of MYC/MAX dimerization. Oncol Rep 19:825–830

Marinkovic D, Marinkovic T, Mahr B, Hess J, Wirth T (2004) Reversible lymphomagenesis in conditionally c-MYC expressing mice. Int J Cancer 110:336–342

Mustata G, Follis AV, Hammoudeh DI, Metallo SJ, Wang H, Prochownik EV, Lazo JS, Bahar I (2009) Discovery of novel myc-max heterodimer disruptors with a three-dimensional pharmacophore model. J Med Chem 52:1247–1250

Nair SK, Burley SK (2003) X-ray structures of Myc-Max and Mad-Max recognizing DNA. Molecular bases of regulation by proto-oncogenic transcription factors. Cell 112:193–205

Pelengaris S, Khan M (2003) The many faces of c-MYC. Arch Biochem Biophys 416:129–136

Pelengaris S, Littlewood T, Khan M, Elia G, Evan G (1999) Reversible activation of c-Myc in skin: induction of a complex neoplastic phenotype by a single oncogenic lesion. Mol Cell 3:565–577

Pelengaris S, Khan M, Evan G (2002) c-MYC: more than just a matter of life and death. Nat Rev Cancer 2:764–776

Peyroche A, Antonny B, Robineau S, Acker J, Cherfils J, Jackson CL (1999) Brefeldin A acts to stabilize an abortive ARF-GDP-Sec7 domain protein complex: involvement of specific residues of the Sec7 domain. Mol Cell 3:275–285

Ray SS, Nowak RJ, Brown RH Jr, Lansbury PT Jr (2005) Small-molecule-mediated stabilization of familial amyotrophic lateral sclerosis-linked superoxide dismutase mutants against unfolding and aggregation. Proc Natl Acad Sci USA 102:3639–3644

Rowinsky EK (1997) Paclitaxel pharmacology and other tumor types. Semin Oncol 24:S19-1–S19-12

Shachaf CM, Kopelman AM, Arvanitis C, Karlsson A, Beer S, Mandl S, Bachmann MH, Borowsky AD, Ruebner B, Cardiff RD, Yang Q, Bishop JM, Contag CH, Felsher DW (2004) MYC inactivation uncovers pluripotent differentiation and tumour dormancy in hepatocellular cancer. Nature 431:1112–1117

Shi J, Stover JS, Whitby LR, Vogt PK, Boger DL (2009) Small molecule inhibitors of Myc/Max dimerization and Myc-induced cell transformation. Bioorg Med Chem Lett 19:6038–6041

Steiger D, Furrer M, Schwinkendorf D, Gallant P (2008) Max-independent functions of Myc in Drosophila melanogaster. Nat Genet 40:1084–1091

Wang H, Hammoudeh DI, Follis AV, Reese BE, Lazo JS, Metallo SJ, Prochownik EV (2007) Improved low molecular weight Myc-Max inhibitors. Mol Cancer Ther 6:2399–2408

Wells JA, McClendon CL (2007) Reaching for high-hanging fruit in drug discovery at protein-protein interfaces. Nature 450:1001–1009

Wurtele M, Jelich-Ottmann C, Wittinghofer A, Oecking C (2003) Structural view of a fungal toxin acting on a 14-3-3 regulatory complex. Embo J 22:987–994

Xu Y, Shi J, Yamamoto N, Moss JA, Vogt PK, Janda KD (2006) A credit-card library approach for disrupting protein-protein interactions. Bioorg Med Chem 14:2660–2673

Yin X, Giap C, Lazo JS, Prochownik EV (2003) Low molecular weight inhibitors of Myc-Max interaction and function. Oncogene 22:6151–6159
Acknowledgments

Work in my research group is supported by the Deutsche Krebshilfe (German Cancer Aid). I would like to thank Wolfgang Reindl for generating Fig. 1b, and Angela Hollis for critical reading of the manuscript.
Copyright information

© 2010 Springer-Verlag Berlin Heidelberg
About this chapter
Cite this chapter
Berg, T. (2010). Small-Molecule Modulators of c-Myc/Max and Max/Max Interactions. In: Vassilev, L., Fry, D. (eds) Small-Molecule Inhibitors of Protein-Protein Interactions. Current Topics in Microbiology and Immunology, vol 348. Springer, Berlin, Heidelberg. https://doi.org/10.1007/82_2010_90