Abstract

Despite efforts to develop more effective therapies, PTSD remains a difficult disorder to treat. Insight into the dynamic nature of memory formation and its required molecular machinery can provide an opportunity to target pathological memories for emotionally arousing events. As memories become labile upon retrieval, novel information can update the strength and course of these consolidated memories. Targeting the process of reconsolidation may offer a relevant approach to attenuate fearful and traumatic memories. Specific molecular mechanisms that are required for reconsolidation of arousing information include an intact functioning of the glutamatergic signaling pathways and, more specifically, the integrity of NMDA receptors. Ketamine, a noncompetitive NMDA-receptor antagonist, is receiving increasing interest for a variety of psychiatric indications. This compound can also be an interesting candidate for targeting emotional memories. We explore whether single intravenous infusion of a subanesthetic dose of ketamine can be considered as a viable augmentation strategy for trauma-focused psychotherapy in patients with PTSD. As a consequence, a systematic approach is needed to assess the pharmacodynamic effects of ketamine in relation to both psychotherapy and its pharmacokinetics prior to its application in patient populations. By using a "question-based drug development plan," we can explore such aspects for novel drugs, and we formulated five additional topics that need to be addressed concerning the psychotherapeutic approach and phase orientation of pharmacological assisted psychotherapy.
Keywords
Consolidation

Extinction learning

Ketamine

Memory

Pharmacological assisted psychotherapy

Posttraumatic stress disorder

Reconsolidation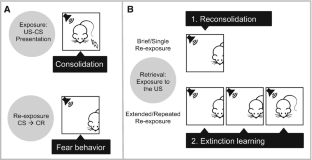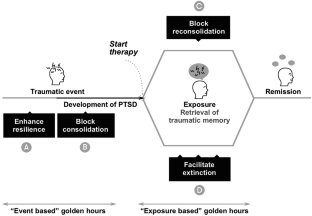 References
Bearn J, O'Brien M (2015) "Addicted to euphoria": the history, clinical presentation, and management of party drug misuse. Int Rev Neurobiol 120:205–233. https://doi.org/10.1016/bs.irn.2015.02.005

Berman D, Dudai Y (2001) Memory extinction, learning anew, and learning the new: dissociations in the molecular machinery of learning in cortex. Science 291(5512):2417–2419. https://doi.org/10.1126/science.1058165

Berman RM, Cappiello A, Anand A, Oren DA, Heninger GR, Charney DS, Krystal JH (2000) Antidepressant effects of ketamine in depressed patients. Biol Psychiatry 47(4):351–354

Bisson JI, Ehlers A, Matthews R, Pilling S, Richards D, Turner S (2007) Psychological treatments for chronic post-traumatic stress disorder. Systematic review and meta-analysis. Br J Psychiatry 190:97–104. https://doi.org/10.1192/bjp.bp.106.021402

Bostwick JR, Guthrie SK, Ellingrod VL (2009) Antipsychotic-induced hyperprolactinemia. Pharmacotherapy 29(1):64–73. https://doi.org/10.1592/phco.29.1.64

Bowdle TA, Radant AD, Cowley DS, Kharasch ED, Strassman RJ, Roy-Byrne PP (1998) Psychedelic effects of ketamine in healthy volunteers: relationship to steady-state plasma concentrations. Anesthesiology 88(1):82–88

Brachman RA, McGowan JC, Perusini JN, Lim SC, Pham TH, Faye C et al (2016) Ketamine as a prophylactic against stress-induced depressive-like behavior. Biol Psychiatry 79(9):776–786. https://doi.org/10.1016/j.biopsych.2015.04.022

Brunet A et al (2008) Effect of post-retrieval propranolol on psychophysiologic responding during subsequent script-driven traumatic imagery in post-traumatic stress disorder. J Psychiatr Res 42(6):503–506

Caddy C, Giaroli G, White TP, Shergill SS, Tracy DK (2014) Ketamine as the prototype glutamatergic antidepressant: pharmacodynamic actions, and a systematic review and meta-analysis of efficacy. Ther Adv Psychopharmacol 4(2):75–99. https://doi.org/10.1177/2045125313507739

Caddy C, Amit BH, McCloud TL, Rendell JM, Furukawa TA, McShane R et al (2015) Ketamine and other glutamate receptor modulators for depression in adults. Cochrane Database Syst Rev 9:CD011612. https://doi.org/10.1002/14651858.CD011612.pub2

Casey DE (1997) The relationship of pharmacology to side effects. J Clin Psychiatry 58(Suppl 10):55–62

Cohen AF, Burggraaf J, van Gerven JMA, Moerland M, Groeneveld GJ (2015) The use of biomarkers in human pharmacology (phase I) studies. Annu Rev Pharmacol Toxicol 55:55–74. https://doi.org/10.1146/annurev-pharmtox-011613-135918

The Cooper Health System. TIMBER psychotherapy and ketamine single infusion in chronic PTSD. https://ClinicalTrials.gov/show/NCT02766192

Craske M (2015) Optimizing exposure therapy for anxiety disorders: an inhibitory learning and inhibitory regulation approach. Verhaltenstherapie 25(2):134–143

D'Andrea D, Andrew Sewell R (2013) Transient resolution of treatment-resistant posttraumatic stress disorder following ketamine infusion. Biol Psychiatry 74(9):e13–e14. https://doi.org/10.1016/j.biopsych.2013.04.019

Das RK, Freeman TP, Kamboj SK (2013) The effects of N-methyl D-aspartate and B-adrenergic receptor antagonists on the reconsolidation of reward memory: a meta-analysis. Neurosci Biobehav Rev 37(3):240–255. https://doi.org/10.1016/j.neubiorev.2012.11.018

Davidson J (2015) Vintage treatments for PTSD: a reconsideration of tricyclic drugs. J Psychopharmacol 29(3):264–269. https://doi.org/10.1177/0269881114565143

Domino EF, Luby ED (2012) Phencyclidine/schizophrenia: one view toward the past, the other to the future. Schizophr Bull 38(5):914–919. https://doi.org/10.1093/schbul/sbs011

Domino EF, Chodoff P, Corssen G (1965) Pharmacologic effects of Ci-581, a new dissociative anesthetic, in man. Clin Pharmacol Ther 6:279–291

Domino EF, Domino SE, Smith RE, Domino LE, Goulet JR, Domino KE, Zsigmond EK (1984) Ketamine kinetics in unmedicated and diazepam-premedicated subjects. Clin Pharmacol Ther 36(5):645–653

Donoghue AC, Roback MG, Cullen KR (2015) Remission from behavioral dysregulation in a child with PTSD after receiving procedural ketamine. Pediatrics 136(3):e694–e696. https://doi.org/10.1542/peds.2014-4152

Duclot F, Perez-Taboada I, Wright KN, Kabbaj M (2016) Prediction of individual differences in fear response by novelty seeking, and disruption of contextual fear memory reconsolidation by ketamine. Neuropharmacology 109:293–305. https://doi.org/10.1016/j.neuropharm.2016.06.022

Feder A, Parides MK, Murrough JW, Perez AM, Morgan JE, Saxena S et al (2014) Efficacy of intravenous ketamine for treatment of chronic posttraumatic stress disorder: a randomized clinical trial. JAMA Psychiat 71(6):681–688. https://doi.org/10.1001/jamapsychiatry.2014.62

Garakani A, Mathew SJ, Charney DS (2006) Neurobiology of anxiety disorders and implications for treatment. Mt Sinai J Med 73(7):941–949

Girgenti MJ, Ghosal S, LoPresto D, Taylor JR, Duman RS (2017) Ketamine accelerates fear extinction via mTORC1 signaling. Neurobiol Dis 100:1–8. https://doi.org/10.1016/j.nbd.2016.12.026

Groeber Travis CM, Altman DE, Genovese RF (2015) Ketamine administration diminishes operant responding but does not impair conditioned fear. Pharmacol Biochem Behav 139(Part A):84–91. https://doi.org/10.1016/j.pbb.2015.10.013

Harps-Rotem I. Intensive 7-day treatment for PTSD combining ketamine with exposure therapy. https://ClinicalTrials.gov/show/NCT02727998

Hetrick SE, Purcell R, Garner B, Parslow R (2010) Combined pharmacotherapy and psychological therapies for post traumatic stress disorder (PTSD). Cochrane Database Syst Rev 7:CD007316. https://doi.org/10.1002/14651858.CD007316.pub2

Hijazi Y, Boulieu R (2002) Contribution of CYP3A4, CYP2B6, and CYP2C9 isoforms to N-demethylation of ketamine in human liver microsomes. Drug Metab Dispos 30(7):853–858

Hirota K, Hashimoto Y, Lambert DG (2002) Interaction of intravenous anesthetics with recombinant human M1-M3 muscarinic receptors expressed in chinese hamster ovary cells. Anesth Analg 95(6):1607–1610

Honsberger MJ, Taylor JR, Corlett PR (2015) Memories reactivated under ketamine are subsequently stronger: a potential pre-clinical behavioral model of psychosis. Schizophr Res 164(1–3):227–233. https://doi.org/10.1016/j.schres.2015.02.009

Ito W, Erisir A, Morozov A (2015) Observation of distressed conspecific as a model of emotional trauma generates silent synapses in the prefrontal-amygdala pathway and enhances fear learning, but ketamine abolishes those effects. Neuropsychopharmacology 40(11):2536–2545. https://doi.org/10.1038/npp.2015.100

Jonas DE, Cusack K, Forneris CA, Wilkins TM, Sonis J, Middleton JC et al (2013) Psychological and pharmacological treatments for adults with posttraumatic stress disorder (PTSD). Agency for Healthcare Research and Quality, Rockville

Juven-Wetzler A, Cohen H, Kaplan Z, Kohen A, Porat O, Zohar J (2014) Immediate ketamine treatment does not prevent posttraumatic stress responses in an animal model for PTSD. Eur Neuropsychopharmacol 24(3):469–479. https://doi.org/10.1016/j.euroneuro.2013.08.007

Kapur S, Seeman P (2002) NMDA receptor antagonists ketamine and PCP have direct effects on the dopamine D(2) and serotonin 5-HT(2)receptors-implications for models of schizophrenia. Mol Psychiatry 7(8):837–844. https://doi.org/10.1038/sj.mp.4001093

Kessler RC, Sonnega A, Bromet E, Hughes M, Nelson CB (1995) Posttraumatic stress disorder in the National Comorbidity Survey. Arch Gen Psychiatry 52(12):1048–1060

Kindt M, van Emmerik A (2016) New avenues for treating emotional memory disorders: towards a reconsolidation intervention for posttraumatic stress disorder. Ther Adv Psychopharmacol 6(4):283–295

Kindt M et al (2009) Beyond extinction: erasing human fear responses and preventing the return of fear. Nat Neurosci 12(3):256–258

Kirby T (2015) Ketamine for depression: the highs and lows. Lancet Psychiatry 2(9):783–784. https://doi.org/10.1016/S2215-0366(15)00392-2

Kleinloog D, Uit den Boogaard A, Dahan A, Mooren R, Klaassen E, Stevens J et al (2015) Optimizing the glutamatergic challenge model for psychosis, using S+-ketamine to induce psychomimetic symptoms in healthy volunteers. J Psychopharmacol 29(4):401–413. https://doi.org/10.1177/0269881115570082

Krawczyk MC, Fernandez RS, Pedreira ME, Boccia MM (2017) Toward a better understanding on the role of prediction error on memory processes: from bench to clinic. Neurobiol Learn Mem 142(Pt A):13–20. https://doi.org/10.1016/j.nlm.2016.12.011

Krystal JH, Karper LP, Seibyl JP, Freeman GK, Delaney R, Bremner JD et al (1994) Subanesthetic effects of the noncompetitive NMDA antagonist, ketamine, in humans. Psychotomimetic, perceptual, cognitive, and neuroendocrine responses. Arch Gen Psychiatry 51(3):199–214

Lancaster C, Teeters J, Gros D, Back S (2016) Posttraumatic stress disorder: overview of evidence-based assessment and treatment. J Clin Med 5(11):105

Lee DJ, Schnitzlein CW, Wolf JP, Vythilingam M, Rasmusson AM, Hoge CW (2016) Psychotherapy versus pharmacotherapy for posttraumatic stress disorder: systemic review and meta-analyses to determine first-line treatments. Depress Anxiety 33(9):792–806

Li L, Vlisides PE (2016) Ketamine: 50 years of modulating the mind. Front Hum Neurosci 10:612. https://doi.org/10.3389/fnhum.2016.00612

Mallick F, McCullumsmith CB (2016) Ketamine for treatment of suicidal ideation and reduction of risk for suicidal behavior. Curr Psychiatry Rep 18(6):61. https://doi.org/10.1007/s11920-016-0680-7

Maren S, Phan KL, Liberzon I (2013) The contextual brain: implications for fear conditioning, extinction and psychopathology. Nat Rev Neurosci 14(6):417–428. https://doi.org/10.1038/nrn3492

Mataix-Cols D, Fernandez de la Cruz L, Monzani B, Rosenfield D, Andersson E, Perez-Vigil A et al (2017) D-Cycloserine augmentation of exposure-based cognitive behavior therapy for anxiety, obsessive-compulsive, and posttraumatic stress disorders: a systematic review and meta-analysis. JAMA Psychiat. https://doi.org/10.1001/jamapsychiatry.2016.3955

McGaugh JL (1966) Time-dependent processes in memory storage. Science 153(3742):1351–1358

McGhee LL, Maani CV, Garza TH, Gaylord KM, Black IH (2008) The correlation between ketamine and posttraumatic stress disorder in burned service members. J Trauma 64(2 Suppl):S195–S198.; Discussion S197–198. https://doi.org/10.1097/TA.0b013e318160ba1d

McGhee LL, Maani CV, Garza TH, Slater TM, Petz LN, Fowler M (2014) The intraoperative administration of ketamine to burned U.S. service members does not increase the incidence of post-traumatic stress disorder. Mil Med 179(8 Suppl):41–46. https://doi.org/10.7205/MILMED-D-13-00481

McGowan JC, LaGamma CT, Lim SC, Tsitsiklis M, Neria Y, Brachman RA, Denny CA (2017) Prophylactic ketamine attenuates learned fear. Neuropsychopharmacology. https://doi.org/10.1038/npp.2017.19

Miller CA, Sweatt JD (2006) Amnesia or retrieval deficit? Implications of a molecular approach to the question of reconsolidation. Learn Mem 13(5):498–505. https://doi.org/10.1101/lm.304606

Milton AL, Merlo E, Ratano P, Gregory BL, Dumbreck JK, Everitt BJ (2013) Double dissociation of the requirement for GluN2B- and GluN2A-containing NMDA receptors in the destabilization and restabilization of a reconsolidating memory. J Neurosci 33(3):1109–1115. https://doi.org/10.1523/JNEUROSCI.3273-12.2013

Mion G, Villevieille T (2013) Ketamine pharmacology: an update (pharmacodynamics and molecular aspects, recent findings). CNS Neurosci Ther 19(6):370–380. https://doi.org/10.1111/cns.12099

Moaddel R, Abdrakhmanova G, Kozak J, Jozwiak K, Toll L, Jimenez L et al (2013) Sub-anesthetic concentrations of (R,S)-ketamine metabolites inhibit acetylcholine-evoked currents in alpha7 nicotinic acetylcholine receptors. Eur J Pharmacol 698(1–3):228–234. https://doi.org/10.1016/j.ejphar.2012.11.023

Murrough JW, Iosifescu DV, Chang LC, Al Jurdi RK, Green CE, Perez AM et al (2013a) Antidepressant efficacy of ketamine in treatment-resistant major depression: a two-site randomized controlled trial. Am J Psychiatry 170(10):1134–1142. https://doi.org/10.1176/appi.ajp.2013.13030392

Murrough JW, Perez AM, Pillemer S, Stern J, Parides MK, aan het Rot M et al (2013b) Rapid and longer-term antidepressant effects of repeated ketamine infusions in treatment-resistant major depression. Biol Psychiatry 74(4):250–256. https://doi.org/10.1016/j.biopsych.2012.06.022

Murrough JW, Soleimani L, DeWilde KE, Collins KA, Lapidus KA, Iacoviello BM et al (2015) Ketamine for rapid reduction of suicidal ideation: a randomized controlled trial. Psychol Med 45(16):3571–3580. https://doi.org/10.1017/S0033291715001506

Nader K (2015) Reconsolidation and the dynamic nature of memory. Cold Spring Harb Perspect Biol 7(10):a021782. https://doi.org/10.1101/cshperspect.a021782

Nader K, Schafe GE, LeDoux JE (2000) Fear memories require protein synthesis in the amygdala for reconsolidation after retrieval. Nature 406:722–726

Nader K, Hardt O, Lanius R (2013) Memory as a new therapeutic target. Dialogues Clin Neurosci 15(4):475–486

Orser BA, Pennefather PS, MacDonald JF (1997) Multiple mechanisms of ketamine blockade of N-methyl-D-aspartate receptors. Anesthesiology 86(4):903–917

Owens MJ, Morgan WN, Plott SJ, Nemeroff CB (1997) Neurotransmitter receptor and transporter binding profile of antidepressants and their metabolites. J Pharmacol Exp Ther 283(3):1305–1322

Oye I, Paulsen O, Maurset A (1992) Effects of ketamine on sensory perception: evidence for a role of N-methyl-D-aspartate receptors. J Pharmacol Exp Ther 260(3):1209–1213

Papp M, Moryl E (1994) Antidepressant activity of non-competitive and competitive NMDA receptor antagonists in a chronic mild stress model of depression. Eur J Pharmacol 263(1–2):1–7

Pavlov IP (1927) Conditioned reflexes: an investigation of the physiological activity of the cerebral cortex. Oxford University Press, Oxford

Pedreira ME, Maldonado H (2003) Protein synthesis subserves reconsolidation or extinction depending on reminder duration. Neuron 38(6):863–869

Peltoniemi MA, Hagelberg NM, Olkkola KT, Saari TI (2016) Ketamine: a review of clinical pharmacokinetics and pharmacodynamics in anesthesia and pain therapy. Clin Pharmacokinet 55(9):1059–1077. https://doi.org/10.1007/s40262-016-0383-6

Philippens I, Draaisma L, Krugers H, Vermetten E (2017) Ketamine treatment during reconsolidation of traumatic stress exposure: molecular biological validation of reduced avoidant behavior in marmoset monkeys. Poster presented at 56th meeting of the American College of Neuropsychopharmacology

Pomarol-Clotet E, Honey GD, Murray GK, Corlett PR, Absalom AR, Lee M et al (2006) Psychological effects of ketamine in healthy volunteers. Phenomenological study. Br J Psychiatry 189:173–179. https://doi.org/10.1192/bjp.bp.105.015263

Price RB, Nock MK, Charney DS, Mathew SJ (2009) Effects of intravenous ketamine on explicit and implicit measures of suicidality in treatment-resistant depression. Biol Psychiatry 66(5):522–526. https://doi.org/10.1016/j.biopsych.2009.04.029

Przegalinski E, Tatarczynska E, Deren-Wesolek A, Chojnacka-Wojcik E (1997) Antidepressant-like effects of a partial agonist at strychnine-insensitive glycine receptors and a competitive NMDA receptor antagonist. Neuropharmacology 36(1):31–37

Quirk GJ, Mueller D (2008) Neural mechanisms of extinction learning and retrieval. Neuropsychopharmacology 33(1):56–72. https://doi.org/10.1038/sj.npp.1301555

Rauch SA, Eftekhari A, Ruzek JI (2012) Review of exposure therapy: a gold standard for PTSD treatment. J Rehabil Res Dev 49(5):679–687

Rothbaum BO, Price M, Jovanovic T, Norrholm SD, Gerardi M, Dunlop B et al (2014) A randomized, double-blind evaluation of D-cycloserine or alprazolam combined with virtual reality exposure therapy for posttraumatic stress disorder in Iraq and Afghanistan War veterans. Am J Psychiatry 171(6):640–648. https://doi.org/10.1176/appi.ajp.2014.13121625

Sanacora G, Smith MA, Pathak S, Su HL, Boeijinga PH, McCarthy DJ, Quirk MC (2014) Lanicemine: a low-trapping NMDA channel blocker produces sustained antidepressant efficacy with minimal psychotomimetic adverse effects. Mol Psychiatry 19(9):978–985. https://doi.org/10.1038/mp.2013.130

Schnyder U, Ehlers A, Elbert T, Foa EB, Gersons BP, Resick PA et al (2015) Psychotherapies for PTSD: what do they have in common? Eur J Psychotraumatol 6:28186. https://doi.org/10.3402/ejpt.v6.28186

Schonenberg M, Reichwald U, Domes G, Badke A, Hautzinger M (2005) Effects of peritraumatic ketamine medication on early and sustained posttraumatic stress symptoms in moderately injured accident victims. Psychopharmacology 182(3):420–425. https://doi.org/10.1007/s00213-005-0094-4

Schonenberg M, Reichwald U, Domes G, Badke A, Hautzinger M (2008) Ketamine aggravates symptoms of acute stress disorder in a naturalistic sample of accident victims. J Psychopharmacol 22(5):493–497. https://doi.org/10.1177/0269881107082481

Schwabe L, Nader K, Wolf OT, Beaudry T, Pruessner JC (2012) Neural signature of reconsolidation impairments by propranolol in humans. Biol Psychiatry 71(4):380–338

Sevenster D, Beckers T, Kindt M (2012) Retrieval per se is not sufficient to trigger reconsolidation of human fear memory. Neurobiol Learn Mem 97(3):338–345. https://doi.org/10.1016/j.nlm.2012.01.009

Shors TJ, Seib TB, Levine S, Thompson RF (1989) Inescapable versus escapable shock modulates long-term potentiation in the rat hippocampus. Science 244(4901):224–226

Singh JB, Fedgchin M, Daly E, Xi L, Melman C, De Bruecker G et al (2016) Intravenous esketamine in adult treatment-resistant depression: a double-blind, double-randomization, placebo-controlled study. Biol Psychiatry 80(6):424–431. https://doi.org/10.1016/j.biopsych.2015.10.018

Soeter M, Kindt M (2015) An abrupt transformation of phobic behavior after a post-retrieval amnesic agent. Biol Psychiatry 78(12):880–886

Suzuki A, Josselyn SA, Frankland PW, Masushige S, Silva AJ, Kida S (2004) Memory reconsolidation and extinction have distinct temporal and biochemical signatures. J Neurosci 24(20):4787–4795. https://doi.org/10.1523/JNEUROSCI.5491-03.2004

Trullas R, Skolnick P (1990) Functional antagonists at the NMDA receptor complex exhibit antidepressant actions. Eur J Pharmacol 185(1):1–10

Vermetten E, Krugers H (2016) A roadmap to golden hour intervention for posttraumatic stress disorder. Int J Neuropsychopharmacol 19:141–141

Vermetten E, Zhohar J, Krugers HJ (2014) Pharmacotherapy in the aftermath of trauma; opportunities in the 'golden hours'. Curr Psychiatry Rep 16(7):455. https://doi.org/10.1007/s11920-014-0455-y

Weber M, Hart J, Richardson R (2007) Effects of D-cycloserine on extinction of learned fear to an olfactory cue. Neurobiol Learn Mem 87(4):476–482. https://doi.org/10.1016/j.nlm.2006.12.010

Wilson JT, Pokorny ME (2012) Experiences of military CRNAs with service personnel who are emerging from general anesthesia. AANA J 80(4):260–265

Womble AL (2013) Effects of ketamine on major depressive disorder in a patient with posttraumatic stress disorder. AANA J 81(2):118–119

Woolf TF, Adams JD (1987) Biotransformation of ketamine, (Z)-6-hydroxyketamine, and (E)-6-hydroxyketamine by rat, rabbit, and human liver microsomal preparations. Xenobiotica 17(7):839–847. https://doi.org/10.3109/00498258709043993

Yehuda R, LeDoux J (2007) Response variation following trauma: a translational neuroscience approach to understanding PTSD. Neuron 56(1):19–32. https://doi.org/10.1016/j.neuron.2007.09.006

Zanos P, Moaddel R, Morris PJ, Georgiou P, Fischell J, Elmer GI et al (2016) NMDAR inhibition-independent antidepressant actions of ketamine metabolites. Nature 533(7604):481–486. https://doi.org/10.1038/nature17998

Zarate CA Jr, Singh JB, Carlson PJ, Brutsche NE, Ameli R, Luckenbaugh DA et al (2006) A randomized trial of an N-methyl-D-aspartate antagonist in treatment-resistant major depression. Arch Gen Psychiatry 63(8):856–864. https://doi.org/10.1001/archpsyc.63.8.856

Zeng MC, Niciu MJ, Luckenbaugh DA, Ionescu DF, Mathews DC, Richards EM et al (2013) Acute stress symptoms do not worsen in posttraumatic stress disorder and abuse with a single subanesthetic dose of ketamine. Biol Psychiatry 73(12):e37–e38. https://doi.org/10.1016/j.biopsych.2012.10.017
Acknowledgments

We are grateful to Dr. A. Feder and J. Boonstra for their insightful comments. We are grateful to Elien Phernambucq for her support in designing the illustrations.
Copyright information

© 2018 Springer International Publishing AG
About this chapter
Cite this chapter
Veen, C., Jacobs, G., Philippens, I., Vermetten, E. (2018). Subanesthetic Dose Ketamine in Posttraumatic Stress Disorder: A Role for Reconsolidation During Trauma-Focused Psychotherapy?. In: Vermetten, E., Baker, D., Risbrough, V. (eds) Behavioral Neurobiology of PTSD. Current Topics in Behavioral Neurosciences, vol 38. Springer, Cham. https://doi.org/10.1007/7854_2017_34