Abstract

Serotonergic hallucinogens induce profound changes in perception and cognition. The characteristic effects of hallucinogens are mediated by 5-HT2A receptor activation. One class of hallucinogens are 2,5-dimethoxy-substituted phenethylamines, such as the so-called 2C-X compounds 2,5-dimethoxy-4-bromophenethylamine (2C-B) and 2,5-dimethoxy-4-iodophenethylamine (2C-I). Addition of an N-benzyl group to phenethylamine hallucinogens produces a marked increase in 5-HT2A-binding affinity and hallucinogenic potency. N-benzylphenethylamines ("NBOMes") such as N-(2-methoxybenzyl)-2,5-dimethoxy-4-iodophenethylamine (25I-NBOMe) show subnanomolar affinity for the 5-HT2A receptor and are reportedly highly potent in humans. Several NBOMEs have been available from online vendors since 2010, resulting in numerous cases of toxicity and multiple fatalities. This chapter reviews the structure–activity relationships, behavioral pharmacology, metabolism, and toxicity of members of the NBOMe hallucinogen class. Based on a review of 51 cases of NBOMe toxicity reported in the literature, it appears that rhabdomyolysis is a relatively common complication of severe NBOMe toxicity, an effect that may be linked to NBOMe-induced seizures, hyperthermia, and vasoconstriction.
Keywords
Head twitch response

Locomotor activity

Psychedelic

Research chemical

Serotonin syndrome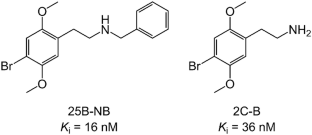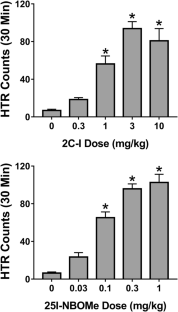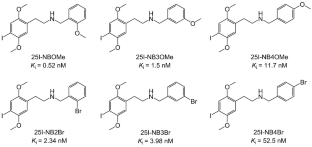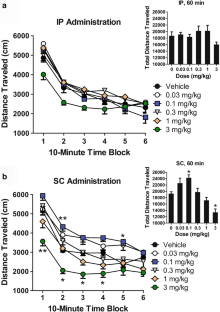 References
Halberstadt AL (2015) Recent advances in the neuropsychopharmacology of serotonergic hallucinogens. Behav Brain Res 277:99–120

Nichols DE (2016) Psychedelics. Pharmacol Rev 68:264–355

Quednow BB, Kometer M, Geyer MA, Vollenweider FX (2012) Psilocybin-induced deficits in automatic and controlled inhibition are attenuated by ketanserin in healthy human volunteers. Neuropsychopharmacology 37:630–640

Valle M, Maqueda AE, Rabella M, Rodríguez-Pujadas A, Antonijoan RM, Romero S, Alonso JF, Mañanas MÀ, Barker S, Friedlander P, Feilding A, Riba J (2016) Inhibition of alpha oscillations through serotonin-2A receptor activation underlies the visual effects of ayahuasca in humans. Eur Neuropsychopharmacol 26:1161–1175

Vollenweider FX, Vollenweider-Scherpenhuyzen MF, Babler A, Vogel H, Hell D (1998) Psilocybin induces schizophrenia-like psychosis in humans via a serotonin-2 agonist action. Neuroreport 9:3897–3902

Glennon RA, Titeler M, McKenney JD (1984) Evidence for 5-HT2 involvement in the mechanism of action of hallucinogenic agents. Life Sci 35:2505–2511

Titeler M, Lyon RA, Glennon RA (1988) Radioligand binding evidence implicates the brain 5-HT2 receptor as a site of action for LSD and phenylisopropylamine hallucinogens. Psychopharmacology (Berl) 94:213–216

EMCDDA (2015) New psychoactive substances in Europe. An update from the EU Early Warning System (March 2015). Publications Office of the European Union, Luxembourg

Poklis JL, Raso SA, Alford KN, Poklis A, Peace MR (2015) Analysis of 25I-NBOMe, 25B-NBOMe, 25C-NBOMe and other dimethoxyphenyl-N-[(2-methoxyphenyl) methyl]ethanamine derivatives on blotter paper. J Anal Toxicol 39:617–623

Zuba D, Sekula K, Buczek A (2013) 25C-NBOMe – new potent hallucinogenic substance identified on the drug market. Forensic Sci Int 227:7–14

Forrester MB (2014) NBOMe designer drug exposures reported to Texas poison centers. J Addict Dis 33:196–201

Lawn W, Barratt M, Williams M, Horne A, Winstock A (2014) The NBOMe hallucinogenic drug series: patterns of use, characteristics of users and self-reported effects in a large international sample. J Psychopharmacol 28:780–788

Johnson RD, Botch-Jones SR, Flowers T, Lewis CA (2014) An evaluation of 25B-, 25C-, 25D-, 25H-, 25I- and 25T2-NBOMe via LC-MS-MS: method validation and analyte stability. J Anal Toxicol 38:479–484

Poklis JL, Clay DJ, Poklis A (2014) High-performance liquid chromatography with tandem mass spectrometry for the determination of nine hallucinogenic 25-NBOMe designer drugs in urine specimens. J Anal Toxicol 38:113–121

Zuba D, Sekula K (2013) Analytical characterization of three hallucinogenic N-(2-methoxy)benzyl derivatives of the 2C-series of phenethylamine drugs. Drug Test Anal 5:634–645

Glennon RA, McKenney JD, Lyon RA, Titeler M (1986) 5-HT1 and 5-HT2 binding characteristics of 1-(2,5-dimethoxy-4-bromophenyl)-2-aminopropane analogues. J Med Chem 29:194–199

Shannon M, Battaglia G, Glennon RA, Titeler M (1984) 5-HT1 and 5-HT2 binding properties of derivatives of the hallucinogen 1-(2,5-dimethoxyphenyl)-2-aminopropane (2,5-DMA). Eur J Pharmacol 102:23–29

Glennon RA, Young R, Jacyno JM (1983) Indolealkylamine and phenalkylamine hallucinogens. Effect of alpha-methyl and N-methyl substituents on behavioral activity. Biochem Pharmacol 32:1267–1273

Shulgin A, Shulgin A (1994) PiHKAL: a chemical love story. Transform Press, Berkeley, CA

Glennon RA, Dukat M, el-Bermawy M, Law H, De los Angeles J, Teitler M, King A, Herrick-Davis K (1994) Influence of amine substituents on 5-HT2A versus 5-HT2C binding of phenylalkyl- and indolylalkylamines. J Med Chem 37:1929–1935

Pertz HH, Heim R, Elz S (2000) N-Benzylated phenylethanamines are highly potent partial agonists at 5-HT2A receptors. Arch Pharm Pharm Med Chem 333(Suppl 2):30

Pertz HH, Rheineck A, Elz S (1999) N-Benzylated derivatives of the hallucinogenic drugs mescaline and escaline as partial agonists at rat vascular 5-HT2A receptors. Naunyn Schmiedebergs Arch Pharmacol 359(Suppl 3):R29

Braden MR, Parrish JC, Naylor JC, Nichols DE (2006) Molecular interaction of serotonin 5-HT2A receptor residues Phe339(6.51) and Phe340(6.52) with superpotent N-benzyl phenethylamine agonists. Mol Pharmacol 70:1956–1964

Roth BL, Shoham M, Choudhary MS, Khan N (1997) Identification of conserved aromatic residues essential for agonist binding and second messenger production at 5-hydroxytryptamine2A receptors. Mol Pharmacol 52:259–266

Hansen M, Phonekeo K, Paine JS, Leth-Petersen S, Begtrup M, Brauner-Osborne H, Kristensen JL (2014) Synthesis and structure-activity relationships of N-benzyl phenethylamines as 5-HT2A/2C agonists. ACS Chem Nerosci 5:243–249

Hansen M, Jacobsen SE, Plunkett S, Liebscher GE, McCorvy JD, Brauner-Osborne H, Kristensen JL (2015) Synthesis and pharmacological evaluation of N-benzyl substituted 4-bromo-2,5-dimethoxyphenethylamines as 5-HT2A/2C partial agonists. Bioorg Med Chem 23:3933–3937

Geronimo I, Lee EC, Singh NJ, Kim KS (2010) How different are electron-rich and electron-deficient π interactions? J Chem Theory Comput 6:1931–1934

Isberg V, Balle T, Sander T, Jorgensen FS, Gloriam DE (2011) G protein- and agonist-bound serotonin 5-HT2A receptor model activated by steered molecular dynamics simulations. J Chem Inf Model 51:315–325

Silva ME, Heim R, Strasser A, Elz S, Dove S (2011) Theoretical studies on the interaction of partial agonists with the 5-HT2A receptor. J Comput Aided Mol Des 25:51–66

McCorvy JD (2012) Mapping the binding site of the 5-HT2A receptor using mutagenesis and ligand libraries: insights into the molecular actions of psychedelics. Purdue University, Lafayette

Canal CE, Morgan D (2012) Head-twitch response in rodents induced by the hallucinogen 2,5-dimethoxy-4-iodoamphetamine: a comprehensive history, a re-evaluation of mechanisms, and its utility as a model. Drug Test Anal 4:556–576

Halberstadt AL, Geyer MA (2011) Multiple receptors contribute to the behavioral effects of indoleamine hallucinogens. Neuropharmacology 61:364–381

Halberstadt AL, Geyer MA (2013) Characterization of the head-twitch response induced by hallucinogens in mice: detection of the behavior based on the dynamics of head movement. Psychopharmacology (Berl) 227:727–739

Gonzalez-Maeso J, Weisstaub NV, Zhou M, Chan P, Ivic L, Ang R, Lira A, Bradley-Moore M, Ge Y, Zhou Q, Sealfon SC, Gingrich JA (2007) Hallucinogens recruit specific cortical 5-HT(2A) receptor-mediated signaling pathways to affect behavior. Neuron 53:439–452

Brandt SD, Kavanagh PV, Westphal F, Elliott SP, Wallach J, Colestock T, Burrow TE, Chapman SJ, Stratford A, Nichols DE, Halberstadt AL (2016) Return of the lysergamides. Part II: Analytical and behavioural characterization of N6-allyl-6-norlysergic acid diethylamide (AL-LAD) and (2′S,4′S)-lysergic acid 2,4-dimethylazetidide (LSZ). Drug Test Anal. doi: 10.1002/dta.1985 (in press)

Brandt SD, Kavanagh PV, Westphal F, Stratford A, Elliott SP, Hoang K, Wallach J, Halberstadt AL (2016) Return of the lysergamides. Part I: analytical and behavioural characterization of 1-propionyl-d-lysergic acid diethylamide (1P-LSD). Drug Test Anal 8:891–902

Halberstadt AL, Geyer MA (2014) Effects of the hallucinogen 2,5-dimethoxy-4-iodophenethylamine (2C-I) and superpotent N-benzyl derivatives on the head twitch response. Neuropharmacology 77:200–207

Halberstadt AL, Sindhunata IS, Scheffers K, Flynn AD, Sharp RF, Geyer MA, Young JW (2016) Effect of 5-HT2A and 5-HT2C receptors on temporal discrimination by mice. Neuropharmacology 107:364–375

Nichols DE, Sassano MF, Halberstadt AL, Klein LM, Brandt SD, Elliott SP, Fiedler WJ (2015) N-Benzyl-5-methoxytryptamines as potent serotonin 5-HT2 receptor family agonists and comparison with a series of phenethylamine analogues. ACS Chem Nerosci 6:1165–1175

Ettrup A, Holm S, Hansen M, Wasim M, Santini MA, Palner M, Madsen J, Svarer C, Kristensen JL, Knudsen GM (2013) Preclinical safety assessment of the 5-HT2A receptor agonist PET radioligand [ 11C]Cimbi-36. Mol Imaging Biol 15:376–383

Nichols DE, Frescas S, Marona-Lewicka D, Huang X, Roth BL, Gudelsky GA, Nash JF (1994) 1-(2,5-Dimethoxy-4-(trifluoromethyl)phenyl)-2-aminopropane: a potent serotonin 5-HT2A/2C agonist. J Med Chem 37:4346–4351

Parrish JC, Braden MR, Gundy E, Nichols DE (2005) Differential phospholipase C activation by phenylalkylamine serotonin 5-HT 2A receptor agonists. J Neurochem 95:1575–1584

Braden MR, Nichols DE (2007) Assessment of the roles of serines 5.43(239) and 5.46(242) for binding and potency of agonist ligands at the human serotonin 5-HT2A receptor. Mol Pharmacol 72:1200–1209

Leth-Petersen S, Petersen IN, Jensen AA, Bundgaard C, Bæk M, Kehler J, Kristensen JL (2016) 5-HT2A/5-HT2C receptor pharmacology and intrinsic clearance of N-benzylphenethylamines modified at the primary site of metabolism. ACS Chem Neurosci 7:1614–1619

Glennon RA, Teitler M, Sanders-Bush E (1992) Hallucinogens and serotonergic mechanisms. NIDA Res Monogr 119:131–135

Nelson DL, Lucaites VL, Wainscott DB, Glennon RA (1999) Comparisons of hallucinogenic phenylisopropylamine binding affinities at cloned human 5-HT2A, -HT(2B) and 5-HT2C receptors. Naunyn Schmiedebergs Arch Pharmacol 359:1–6

Porter RH, Benwell KR, Lamb H, Malcolm CS, Allen NH, Revell DF, Adams DR, Sheardown MJ (1999) Functional characterization of agonists at recombinant human 5-HT2A, 5-HT2B and 5-HT2C receptors in CHO-K1 cells. Br J Pharmacol 128:13–20

Pritchett DB, Bach AW, Wozny M, Taleb O, Dal Toso R, Shih JC, Seeburg PH (1988) Structure and functional expression of cloned rat serotonin 5HT-2 receptor. EMBO J 7:4135–4140

Saltzman AG, Morse B, Whitman MM, Ivanshchenko Y, Jaye M, Felder S (1991) Cloning of the human serotonin 5-HT2 and 5-HT1C receptor subtypes. Biochem Biophys Res Commun 181:1469–1478

Nichols DE, Frescas SP, Chemel BR, Rehder KS, Zhong D, Lewin AH (2008) High specific activity tritium-labeled N-(2-methoxybenzyl)-2,5-dimethoxy-4-iodophenethylamine (INBMeO): a high-affinity 5-HT2A receptor-selective agonist radioligand. Bioorg Med Chem 16:6116–6123

Ettrup A, Hansen M, Santini MA, Paine J, Gillings N, Palner M, Lehel S, Herth MM, Madsen J, Kristensen J, Begtrup M, Knudsen GM (2011) Radiosynthesis and in vivo evaluation of a series of substituted 11C-phenethylamines as 5-HT (2A) agonist PET tracers. Eur J Nucl Med Mol Imaging 38:681–693

Ettrup A, Palner M, Gillings N, Santini MA, Hansen M, Kornum BR, Rasmussen LK, Nagren K, Madsen J, Begtrup M, Knudsen GM (2010) Radiosynthesis and evaluation of 11C-CIMBI-5 as a 5-HT2A receptor agonist radioligand for PET. J Nucl Med 51:1763–1770

Fantegrossi WE, Gray BW, Bailey JM, Smith DA, Hansen M, Kristensen JL (2015) Hallucinogen-like effects of 2-([2-(4-cyano-2,5-dimethoxyphenyl) ethylamino]methyl)phenol (25CN-NBOH), a novel N-benzylphenethylamine with 100-fold selectivity for 5-HT(2)A receptors, in mice. Psychopharmacology (Berl) 232:1039–1047

Juncosa JI Jr, Hansen M, Bonner LA, Cueva JP, Maglathlin R, McCorvy JD, Marona-Lewicka D, Lill MA, Nichols DE (2013) Extensive rigid analogue design maps the binding conformation of potent N-benzylphenethylamine 5-HT2A serotonin receptor agonist ligands. ACS Chem Nerosci 4:96–109

Halberstadt AL, Powell SB, Geyer MA (2013) Role of the 5-HT(2)A receptor in the locomotor hyperactivity produced by phenylalkylamine hallucinogens in mice. Neuropharmacology 70:218–227

Halberstadt AL, van der Heijden I, Ruderman MA, Risbrough VB, Gingrich JA, Geyer MA, Powell SB (2009) 5-HT(2A) and 5-HT(2C) receptors exert opposing effects on locomotor activity in mice. Neuropsychopharmacology 34:1958–1967

Wood DM, Sedefov R, Cunningham A, Dargan PI (2015) Prevalence of use and acute toxicity associated with the use of NBOMe drugs. Clin Toxicol (Phila) 53:85–92

Rose RS, Cumpston KL, Stromberg PE, Wills BK (2012) Severe poisoning following self-reported use of 25-I, a novel substituted amphetamine. Clin Toxicol 50:707–708

Kelly A, Eisenga B, Riley B, Judge B (2012) Case series of 25I-NBOMe exposures with laboratory confirmation. Clin Toxicol 50:702

Srisuma S, Bronstein AC, Hoyte CO (2015) NBOMe and 2C substitute phenylethylamine exposures reported to the National Poison Data System. Clin Toxicol (Phila) 53:624–628

DEA (2013) Three more synthetic drugs become illegal for at least two years. https://www.dea.gov/divisions/hq/2013/hq111513.shtml

Hill SL, Doris T, Gurung S, Katebe S, Lomas A, Dunn M, Blain P, Thomas SH (2013) Severe clinical toxicity associated with analytically confirmed recreational use of 25I-NBOMe: case series. Clin Toxicol (Phila) 51:487–492

Kueppers VB, Cooke CT (2015) 25I-NBOMe related death in Australia: a case report. Forensic Sci Int 249:e15–e18

Gee P, Schep LJ, Jensen BP, Moore G, Barrington S (2016) Case series: toxicity from 25B-NBOMe – a cluster of N-bomb cases. Clin Toxicol (Phila) 54:141–146

Tang MH, Ching CK, Tsui MS, Chu FK, Mak TW (2014) Two cases of severe intoxication associated with analytically confirmed use of the novel psychoactive substances 25B-NBOMe and 25C-NBOMe. Clin Toxicol (Phila) 52:561–565

Yoshida K, Saka K, Shintani-Ishida K, Maeda H, Nakajima M, Hara S, Ueno M, Sasaki K, Iwase H, Sakamoto T (2015) A case of fatal intoxication due to the new designer drug 25B-NBOMe. Forensic Toxicol 33:396–401

Hieger MA, Rose SR, Cumpston KL, Stromberg PE, Miller S, Wills BK (2015) Severe poisoning after self-reported use of 2-(4-iodo-2,5-dimethoxyphenyl)-N-[(2-methoxyphenyl)methyl]ethanamine, a novel substituted amphetamine: a case series. Am J Emerg Med 33(1843):e1–e3

Rose SR, Poklis JL, Poklis A (2013) A case of 25I-NBOMe (25-I) intoxication: a new potent 5-HT2A agonist designer drug. Clin Toxicol (Phila) 51:174–177

Stellpflug SJ, Kealey SE, Hegarty CB, Janis GC (2014) 2-(4-Iodo-2,5-dimethoxyphenyl)-N-[(2-methoxyphenyl)methyl]ethanamine (25I-NBOMe): clinical case with unique confirmatory testing. J Med Toxicol 10:45–50

Umemura Y, Andrew T, Jacobs V, Giustini A, Lewis L, Hanowell J, Filiano J (2014) Fatal outcome of status epilepticus, hyperthermia, rhabdomyolysis, multi-organ failure, and cerebral edema after 25I-NBOMe ingestion (P1. 342). Neurology 82(10 Supplement):P1-342

Walterscheid JP, Phillips GT, Lopez AE, Gonsoulin ML, Chen HH, Sanchez LA (2014) Pathological findings in 2 cases of fatal 25I-NBOMe toxicity. Am J Forensic Med Pathol 35:20–25

Poklis JL, Devers KG, Arbefeville EF, Pearson JM, Houston E, Poklis A (2014) Postmortem detection of 25I-NBOMe [2-(4-iodo-2,5-dimethoxyphenyl)-N-[(2-methoxyphenyl)methyl]ethanamine] in fluids and tissues determined by high performance liquid chromatography with tandem mass spectrometry from a traumatic death. Forensic Sci Int 234:e14–e20

Lowe LM, Peterson BL, Couper FJ (2015) A case review of the first analytically confirmed 25I-NBOMe-related death in Washington State. J Anal Toxicol 39:668–671

Shanks KG, Sozio T, Behonick GS (2015) Fatal intoxications with 25B-NBOMe and 25I-NBOMe in Indiana during 2014. J Anal Toxicol 39:602–606

Suzuki J, Poklis JL, Poklis A (2014) "My friend said it was good LSD": a suicide attempt following analytically confirmed 25I-NBOMe ingestion. J Psychoactive Drugs 46:379–382

Poklis JL, Nanco CR, Troendle MM, Wolf CE, Poklis A (2014) Determination of 4-bromo-2,5-dimethoxy-N-[(2-methoxyphenyl)methyl]-benzeneethanamine (25B-NBOMe) in serum and urine by high performance liquid chromatography with tandem mass spectrometry in a case of severe intoxication. Drug Test Anal 6:764–769

Isbister GK, Poklis A, Poklis JL, Grice J (2015) Beware of blotting paper hallucinogens: severe toxicity with NBOMes. Med J Aust 203:266–267 e.1

Laskowski LK, Elbakoush F, Calvo J, Exantus-Bernard G, Fong J, Poklis JL, Poklis A, Nelson LS (2015) Evolution of the NBOMes: 25C- and 25B- sold as 25I-NBOMe. J Med Toxicol 11:237–241

Grautoff S, Kahler J (2014) Near fatal intoxication with the novel psychoactive substance 25C-NBOMe. Med Klin Intensivmed Notfmed 109:271–275

Armenian P, Gerona RR (2014) The electric Kool-Aid NBOMe test: LC-TOF/MS confirmed 2C-C-NBOMe (25C) intoxication at Burning Man. Am J Emerg Med 32(1444):e3–e5

Andreasen MF, Telving R, Rosendal I, Eg MB, Hasselstrom JB, Andersen LV (2015) A fatal poisoning involving 25C-NBOMe. Forensic Sci Int 251:e1–e8

Suzuki J, Dekker MA, Valenti ES, Arbelo Cruz FA, Correa AM, Poklis JL, Poklis A (2015) Toxicities associated with NBOMe ingestion-a novel class of potent hallucinogens: a review of the literature. Psychosomatics 56:129–139

Miller PL, Gay GR, Ferris KC, Anderson S (1992) Treatment of acute, adverse psychedelic reactions: "I've tripped and I can't get down". J Psychoactive Drugs 24:277–279

Strassman RJ (1984) Adverse reactions to psychedelic drugs. A review of the literature. J Nerv Ment Dis 172:577–595

Gouzoulis-Mayfrank E, Thelen B, Habermeyer E, Kunert HJ, Kovar KA, Lindenblatt H, Hermle L, Spitzer M, Sass H (1999) Psychopathological, neuroendocrine and autonomic effects of 3,4-methylenedioxyethylamphetamine (MDE), psilocybin and d-methamphetamine in healthy volunteers. Results of an experimental double-blind placebo-controlled study. Psychopharmacology (Berl) 142:41–50

Grob CS, Danforth AL, Chopra GS, Hagerty M, McKay CR, Halberstadt AL, Greer GR (2011) Pilot study of psilocybin treatment for anxiety in patients with advanced-stage cancer. Arch Gen Psychiatry 68:71–78

Hollister LE, Macnicol MF, Gillespie HK (1969) An hallucinogenic amphetamine analog (DOM) in man. Psychopharmacologia 14:62–73

Schmid Y, Enzler F, Gasser P, Grouzmann E, Preller KH, Vollenweider FX, Brenneisen R, Muller F, Borgwardt S, Liechti ME (2015) Acute effects of lysergic acid diethylamide in healthy subjects. Biol Psychiatry 78:544–553

Snyder SH, Faillace L, Hollister L (1967) 2,5-dimethoxy-4-methyl-amphetamine (STP): a new hallucinogenic drug. Science 158:669–670

Strassman RJ, Qualls CR (1994) Dose-response study of N,N-dimethyltryptamine in humans. I. Neuroendocrine, autonomic, and cardiovascular effects. Arch Gen Psychiatry 51:85–97

Wolbach AB Jr, Isbell H, Miner EJ (1962) Cross tolerance between mescaline and LSD-25, with a comparison of the mescaline and LSD reactions. Psychopharmacologia 3:1–14

Alper RH (1990) Hemodynamic and renin responses to (+−)-DOI, a selective 5-HT2 receptor agonist, in conscious rats. Eur J Pharmacol 175:323–332

Dabire H, Chaouche-Teyara K, Cherqui C, Fournier B, Laubie M, Schmitt H (1989) Characterization of DOI, a putative 5-HT2 receptor agonist in the rat. Eur J Pharmacol 168:369–374

Dabire H, Chaouche-Teyara K, Cherqui C, Fournier B, Schmitt H (1989) DOI is a mixed agonist-antagonist at postjunctional 5-HT2 receptors in the pithed rat. Eur J Pharmacol 170:109–111

Rittenhouse PA, Bakkum EA, Van de Kar LD (1991) Evidence that the serotonin agonist, DOI, increases renin secretion and blood pressure through both central and peripheral 5-HT2 receptors. J Pharmacol Exp Ther 259:58–65

Nolte KB (1991) Rhabdomyolysis associated with cocaine abuse. Hum Pathol 22:1141–1145

Gupta P, Singh VP, Chatterjee S, Agarwal AK (2010) Acute renal failure resulting from rhabdomyolysis following a seizure. Singapore Med J 51:e79–e80

Liguori R, Giannoccaro MP, Pasini E, Riguzzi P, Valentino ML, Comi GP, Carelli V, Bresolin N, Michelucci R (2013) Acute rhabdomyolysis induced by tonic-clonic epileptic seizures in a patient with glucose-6-phosphate dehydrogenase deficiency. J Neurol 260:2669–2671

Os I, Lyngdal PT (1989) General convulsions and rhabdomyolysis. Case reports. Acta Neurol Scand 79:246–248

Park HJ, Chang Y, Lee JE, Koo H, Oh J, Chol YC, Park KD (2016) Recurrent episodes of rhabdomyolysis after seizures in a patient with glycogen storage disease type V. J Clin Neurol 12:373–375

Winocour PH, Waise A, Young G, Moriarty KJ (1989) Severe, self-limiting lactic acidosis and rhabdomyolysis accompanying convulsions. Postgrad Med J 65:321–322

Balikova M (2005) Nonfatal and fatal DOB (2,5-dimethoxy-4-bromoamphetamine) overdose. Forensic Sci Int 153:85–91

Bosak A, LoVecchio F, Levine M (2013) Recurrent seizures and serotonin syndrome following "2C-I" ingestion. J Med Toxicol 9:196–198

Buhrich N, Morris G, Cook G (1983) Bromo-DMA: the Australasian hallucinogen? Aust N Z J Psychiatry 17:275–279

Burish MJ, Thoren KL, Madou M, Toossi S, Shah M (2015) Hallucinogens causing seizures? A case report of the synthetic amphetamine 2,5-dimethoxy-4-chloroamphetamine. Neurohospitalist 5:32–34

Dean BV, Stellpflug SJ, Burnett AM, Engebretsen KM (2013) 2C or not 2C: phenethylamine designer drug review. J Med Toxicol 9:172–178

Winek CL, Collom WD, Bricker JD (1981) A death due to 4-bromo-2,5-dimethoxyamphetamine. Clin Toxicol 18:267–271

Wood DM, Looker JJ, Shaikh L, Button J, Puchnarewicz M, Davies S, Lidder S, Ramsey J, Holt DW, Dargan PI (2009) Delayed onset of seizures and toxicity associated with recreational use of Bromo-dragonFLY. J Med Toxicol 5:226–229

Klock JC, Boerner U, Becker CE (1974) Coma, hyperthermia and bleeding associated with massive LSD overdose. A report of eight cases. West J Med 120:183–188

Fisher DD, Ungerleider JT (1967) Grand mal seizures following ingestion of LSD. Calif Med 106:210–211

Picker W, Lerman A, Hajal F (1992) Potential interaction of LSD and fluoxetine. Am J Psychiatry 149:843–844

Rosenberg J, Pentel P, Pond S, Benowitz N, Olson K (1986) Hyperthermia associated with drug intoxication. Crit Care Med 14:964–969

Blessing WW, Seaman B (2003) 5-hydroxytryptamine(2A) receptors regulate sympathetic nerves constricting the cutaneous vascular bed in rabbits and rats. Neuroscience 117:939–948

Clement ME, McCall RB (1990) Studies on the site and mechanism of the sympathoexcitatory action of 5-HT2 agonists. Brain Res 515:299–302

Sprague JE, Brutcher RE, Mills EM, Caden D, Rusyniak DE (2004) Attenuation of 3,4-methylenedioxymethamphetamine (MDMA, Ecstasy)-induced rhabdomyolysis with alpha1- plus beta3-adrenoreceptor antagonists. Br J Pharmacol 142:667–670

Sprague JE, Moze P, Caden D, Rusyniak DE, Holmes C, Goldstein DS, Mills EM (2005) Carvedilol reverses hyperthermia and attenuates rhabdomyolysis induced by 3,4-methylenedioxymethamphetamine (MDMA, Ecstasy) in an animal model. Crit Care Med 33:1311–1316

Cohen ML, Fuller RW, Wiley KS (1981) Evidence for 5-HT2 receptors mediating contraction in vascular smooth muscle. J Pharmacol Exp Ther 218:421–425

Florian JA, Watts SW (1998) Integration of mitogen-activated protein kinase kinase activation in vascular 5-hydroxytryptamine2A receptor signal transduction. J Pharmacol Exp Ther 284:346–355

McKune CM, Watts SW (2001) Characterization of the serotonin receptor mediating contraction in the mouse thoracic aorta and signal pathway coupling. J Pharmacol Exp Ther 297:88–95

Zhang L, Dyer DC, Hembrough FB, Isla M (1991) Effect of R(-)2,5-dimethoxy-4-methylamphetamine on uterine and umbilical blood flow in conscious pregnant sheep. Eur J Pharmacol 199:179–184

Bowen JS, Davis GB, Kearney TE, Bardin J (1983) Diffuse vascular spasm associated with 4-bromo-2,5-dimethoxyamphetamine ingestion. JAMA 249:1477–1479

Personne M, Hultén P (2008) Bromo-dragonfly, a life threatening designer drug. Clin Toxicol 46:379–380

Thorlacius K, Borna C, Personne M (2008) Bromo-dragon fly – life-threatening drug. Can cause tissue necrosis as demonstrated by the first described case. Lakartidningen 105:1199–1200

Dunkley EJ, Isbister GK, Sibbritt D, Dawson AH, Whyte IM (2003) The Hunter Serotonin Toxicity Criteria: simple and accurate diagnostic decision rules for serotonin toxicity. QJM 96:635–642

Caspar AT, Helfer AG, Michely JA, Auwarter V, Brandt SD, Meyer MR, Maurer HH (2015) Studies on the metabolism and toxicological detection of the new psychoactive designer drug 2-(4-iodo-2,5-dimethoxyphenyl)-N-[(2-methoxyphenyl)methyl]ethanamine (25I-NBOMe) in human and rat urine using GC-MS, LC-MS(n), and LC-HR-MS/MS. Anal Bioanal Chem 407:6697–6719

Nielsen LM, Holm NB, Leth-Petersen S, Kristensen JL, Olsen L, Linnet K (2016) Characterization of the hepatic cytochrome P450 enzymes involved in the metabolism of 25I-NBOMe and 25I-NBOH. Drug Test Anal. doi: 10.1002/dta.2031 (in press)

Poklis JL, Dempsey SK, Liu K, Ritter JK, Wolf C, Zhang S, Poklis A (2015) Identification of metabolite biomarkers of the designer hallucinogen 25I-NBOMe in mouse hepatic microsomal preparations and human urine samples associated with clinical intoxication. J Anal Toxicol 39:607–616

Wohlfarth A, Roman M, Andersson M, Kugelberg FC, Diao X, Carlier J, Eriksson C, Wu X, Konradsson P, Josefsson M, Huestis MA, Kronstrand R (2016) 25C-NBOMe and 25I-NBOMe metabolite studies in human hepatocytes, in vivo mouse and human urine with high-resolution mass spectrometry. Drug Test Anal. doi: 10.1002/dta.2044 (in press)

Boumrah Y, Humbert L, Phanithavong M, Khimeche K, Dahmani A, Allorge D (2016) In vitro characterization of potential CYP- and UGT-derived metabolites of the psychoactive drug 25B-NBOMe using LC-high resolution MS. Drug Test Anal 8:248–256

Leth-Petersen S, Gabel-Jensen C, Gillings N, Lehel S, Hansen HD, Knudsen GM, Kristensen JL (2016) Metabolic fate of hallucinogenic NBOMes. Chem Res Toxicol 29:96–100

Leth-Petersen S, Bundgaard C, Hansen M, Carnerup MA, Kehler J, Kristensen JL (2014) Correlating the metabolic stability of psychedelic 5-HT(2)A agonists with anecdotal reports of human oral bioavailability. Neurochem Res 39:2018–2023

Davies B, Morris T (1993) Physiological parameters in laboratory animals and humans. Pharm Res 10:1093–1095

Grumann C, Franz F, Hermanns-Clausen M, Kithinji J, Auwaerter V (2015) 25I-NBOMe – case report and metabolism. In: 53th annual meeting of The International Association of Forensic Toxicologists, Florence, Italy

Eckler JR, Chang-Fong J, Rabin RA, Smith C, Teitler M, Glennon RA, Winter JC (2003) Behavioral characterization of 2-O-desmethyl and 5-O-desmethyl metabolites of the phenylethylamine hallucinogen DOM. Pharmacol Biochem Behav 75:845–852

Glennon RA, Young R, Rosecrans JA (1982) Discriminative stimulus properties of DOM and several molecular modifications. Pharmacol Biochem Behav 16:553–556

Lyon RA, Titeler M, Seggel MR, Glennon RA (1988) Indolealkylamine analogs share 5-HT2 binding characteristics with phenylalkylamine hallucinogens. Eur J Pharmacol 145:291–297
Acknowledgements

This work was supported by grants from NIDA (R01 DA002925), NIMH (K01 MH100644), and the Veteran's Affairs VISN 22 MIRECC. I would like to than Drs. Mark Geyer and Susan Powell, as well as Mr. Landon Klein, for their support and assistance with these studies.
Rights and permissions

Open Access This chapter is licensed under the terms of the Creative Commons Attribution-NonCommercial 2.5 International License (http://creativecommons.org/licenses/by-nc/2.5/), which permits any noncommercial use, sharing, adaptation, distribution and reproduction in any medium or format, as long as you give appropriate credit to the original author(s) and the source, provide a link to the Creative Commons license and indicate if changes were made.

The images or other third party material in this chapter are included in the chapter's Creative Commons license, unless indicated otherwise in a credit line to the material. If material is not included in the chapter's Creative Commons license and your intended use is not permitted by statutory regulation or exceeds the permitted use, you will need to obtain permission directly from the copyright holder.
Copyright information

© 2017 Springer International Publishing AG
About this chapter
Cite this chapter
Halberstadt, A.L. (2017). Pharmacology and Toxicology of N-Benzylphenethylamine ("NBOMe") Hallucinogens. In: Baumann, M., Glennon, R., Wiley, J. (eds) Neuropharmacology of New Psychoactive Substances (NPS). Current Topics in Behavioral Neurosciences, vol 32. Springer, Cham. https://doi.org/10.1007/7854_2016_64