Abstract

Egypt is highly dependent on the River Nile as the main source of freshwater. The Aswan High Dam (AHD) was constructed to control the River Nile. AHD reservoir was formed due to the construction of the dam; it is considered as one of the largest man-made lakes in the world. There is currently rising awareness regarding the water quality status of River Nile and in particular the AHD reservoir, the sole reservoir in Egypt. In this work, a comparative study to assess the water quality and trophic state of the southern part of AHD reservoir, Lake Nubia, has been done during low flood periods of 3 successive years (2006–2008). Two water quality indices (NSF WQI and CCME WQI) and two trophic status indices (Carlson TSI and LAWA TI) were used. The results show that the water quality status of Lake Nubia ranges from excellent (according to the Egyptian water quality standards for surface fresh waterways) to good, while the trophic status of the reservoir is eutrophic. A spatial change in results can be noticed due to the morphological and hydrological characteristics of the reservoir. It is recommended that the reservoirs' different zones should be assigned to different water uses based on comprehensive water quality studies.
Keywords
AHD reservoir

Lake Nubia

River Nile

TSI

WQI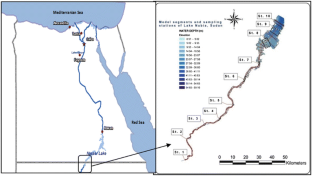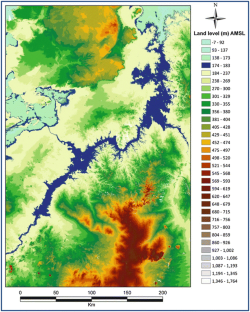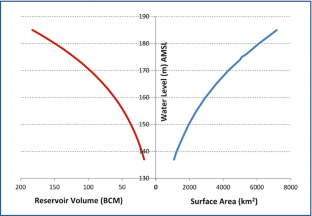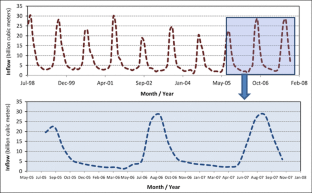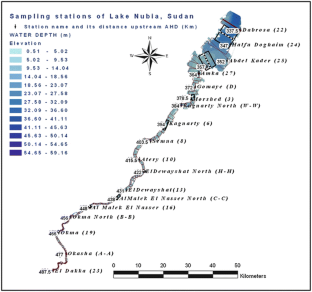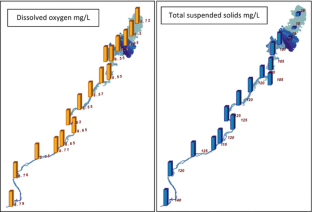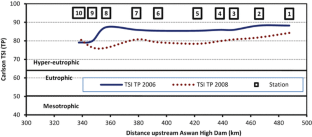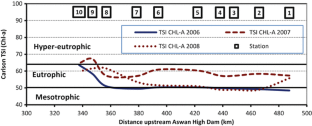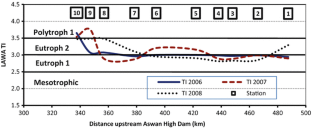 Abbreviations
AHD:

Aswan High Dam

APHA:

American Public Health Association

BCM:

Billion cubic meter

CCME:

Canadian Council of Ministers of the Environment

Chl-a:

Chlorophyll a (mg/L)

DO:

Dissolved oxygen (mg/L)

DOsat :

Dissolved oxygen saturation concentration (mg/L)

LAWA:

Länderarbeitsgemeinschaft Wasser (German Regional Working Group on Water)

MWRI:

Egyptian Ministry of Water Resources and Irrigation

NH4 :

Ammonium (mg/L)

NO2 :

Nitrite (mg/L)

NO3 :

Nitrate (mg/L)

NSF:

National Sanitation Foundation

OECD:

Organization for Economic Cooperation and Development

pH:

Potential of hydrogen (unit)

PO4 :

Orthophosphate (mg/L)

St. n:

Station number n

T:

Temperature (°C)

TDS:

Total dissolved solids (mg/L)

TI:

Trophic level

TN:

Total nitrogen (mg/L)

TP:

Total phosphorus (mg/L)

TSI:

Trophic status index

TSS:

Total suspended solids (mg/L)

WQI:

Water quality index
References
Boyacioglu H, Boyacioglu H (2007) Surface water quality assessment by environmetric methods. Environ Monit Assess 131:371–376

Cairns SH, Dickson KL, Atkinson SF (1997) An examination of measuring selected water quality trophic indicators with SPOT satellite HRV data. Society PE&RS:263–265

Camargo JA, Alonso A, de La Puente M (2005) Eutrophication downstream from small reservoirs in mountain rivers of Central Spain. Water Res 39:3376–3384

Debels P, Figueroa R, Urrutia R, Barra R, Niell X (2005) Evaluation of water quality in the Chillán River (Central Chile) using physicochemical parameters and a modified water quality index. Environ Monit Assess 110:301–322

Dodds W, Carney E, Angelo R (2006) Determining ecoregional reference conditions for nutrients, secchi depth and chlorophyll a in Kansas lakes and reservoirs. Lake Reserv Manag 22:151–159

Toufeek MAF, Korium MA (2009) Physicochemical characteristics of water quality in Lake Nasser water. Environ Res 3:141–148

Kung H, Ying L, Liu Y (1992) A complementary tool to water quality index: fuzzy clustering analysis. Water Resour Bull 28:525–533

Liou Y-T, Lo S-L (2005) A fuzzy index model for trophic status evaluation of reservoir waters. Water Res 39:1415–1423

Lu R-S, Lo S-L (2002) Diagnosing reservoir water quality using self-organizing maps and fuzzy theory. Water Res 36:2265–2274

Lu R-S, Lo S-L, Hu J-Y (1999) Analysis of reservoir water quality using fuzzy synthetic evaluation. Stoch Environ Res Risk Assess 13:327–336

Ocampo-Duque W, Ferré-Huguet N, Domingo JL, Schuhmacher M (2006) Assessing water quality in rivers with fuzzy inference systems: a case study. Environ Int 32:733–742

Ali MM, Murphy KJ, Abernethy VJ (1999) Macrophyte functional variables versus species assemblages as predictors of trophic status in flowing waters. Hydrobiologia 415:131–138

Andersen JH, Aroviita J, Carstensen J, Friberg N, Johnson RK, Kauppila P, Lindegarth M, Murray C, Norling K (2016) Approaches for integrated assessment of ecological and eutrophication status of surface waters in Nordic Countries. Ambio. doi:10.1007/s13280-016-0767-8

Azevêdo DJS, Barbosa JEL, Gomes WIA, Porto DE, Marques JC, Molozzi J (2015) Diversity measures in macroinvertebrate and zooplankton communities related to the trophic status of subtropical reservoirs: contradictory or complementary responses? Ecol Indic 50:135–149. doi:10.1016/j.ecolind.2014.10.010

Besse-Lototskaya A, Verdonschot PFM, Coste M, Van De Vijver B (2011) Evaluation of European diatom trophic indices. Ecol Indic 11:456–467. doi:10.1016/j.ecolind.2010.06.017

Bikbulatov ES, Stepanova IE (2002) Evaluation of the Rybinsk Reservoir trophic status using the potential of biogenic elements regeneration. Water Resour 29:665–670

Bonanno G, Lo Giudice R (2010) Application of two quality indices as monitoring and management tools of rivers. Case study: the Imera Meridionale River, Italy. Environ Manag 45:856–867

Cabezas A, Pallasch M, Schönfelder I, Gelbrecht J, Zak D (2014) Carbon, nitrogen, and phosphorus accumulation in novel ecosystems: Shallow lakes in degraded fen areas. Ecol Eng 66:63–71. doi:10.1016/j.ecoleng.2013.10.037

Chalar G, Arocena R, Pacheco JP, Fabián D (2011) Trophic assessment of streams in Uruguay: a trophic state index for benthic invertebrates (TSI-BI). Ecol Indic 11:362–369. doi:10.1016/j.ecolind.2010.06.004

Dhib A, Denis M, Barani A, Turki S, Aleya L (2016) Ultra- and microplankton assemblages as indicators of trophic status in a Mediterranean lagoon. Ecol Indic 64:59–71. doi:10.1016/j.ecolind.2015.12.032

El-Shabrawy GM, Germoush MOA (2014) Seasonal changes and abundance of rotifers in a shallow Manzalah lake (Egypt). Ecohydrol Hydrobiol 14:243–252. doi:10.1016/j.ecohyd.2014.06.001

Fremling CR, Johnson DK (1990) Recurrence of Hexagenia mayflies demonstrates improved water quality in Pool 2 and Lake Pepin, Upper Mississippi River. In: Campbell IC (ed) Mayflies and stoneflies. Springer Netherlands, pp 243–248

Guo L, Hu Z, Fang F, Liu T, Chuai X, Yang L (2014) Trophic status determines the nirS-denitrifier community in shallow freshwater lakes. Ann Microbiol 64:999–1006. doi:10.1007/s13213-013-0737-3

Huszar VLM, Silva LHS, Domingos P, Marinho M, Melo S (1998) Phytoplankton species composition is more sensitive than OECD criteria to the trophic status of three Brazilian tropical lakes. Hydrobiologia 369(370):59–71

Mermillod-Blondin F, Foulquier A, Maazouzi C, Navel S, Negrutiu Y, Vienney A, Simon L, Marmonier P (2013) Ecological assessment of groundwater trophic status by using artificial substrates to monitor biofilm growth and activity. Ecol Indic 25:230–238. doi:10.1016/j.ecolind.2012.09.026

Nuernberg GK (1996) Trophic state of clear and colored, soft-and hardwater lakes with special consideration of nutrients, anoxia, phytoplankton and fish. Lake Reserv Manag 12:432–447

Peng L (2004) A universal index formula suitable to multiparameter water quality evaluation. Numer Methods Partial Diff Equ 20:368–373

Poikane S, Birk S, Böhmer J, Carvalho L, De Hoyos C, Gassner H, Hellsten S, Kelly M, Lyche Solheim A, Olin M, Pall K, Phillips G, Portielje R, Ritterbusch D, Sandin L, Schartau AK, Solimini AG, Van Den Berg M, Wolfram G, Van De Bund W (2015) A hitchhiker's guide to European lake ecological assessment and intercalibration. Ecol Indic 52:533–544. doi:10.1016/j.ecolind.2015.01.005

Qin BQ, Gao G, Zhu GW, Zhang YL, Song YZ, Tang XM, Xu H, Deng JM (2013) Lake eutrophication and its ecosystem response. Chin Sci Bull 58:961–970. doi:10.1007/s11434-012-5560-x

Rendón-Von Osten J, Memije MG, Ortiz A, Soares AMVM, Guilhermino L (2006) An integrated approach to assess water quality and environmental contamination in the fluvial-lagoon system of the Palizada River, Mexico. Environ Toxicol Chem 25:3024–3034

Schulz HK, Śmietana P, Schulz R (2006) Estimating the human impact on populations of the endangered noble crayfish (Astacus astacus L.) in north-western Poland. Aquat Conserv 16:223–233. doi:10.1002/aqc.726

Viaroli P, Christian RR (2003) Description of trophic status, hyperautotrophy and dystrophy of a coastal lagoon through a potential oxygen production and consumption index—TOSI: Trophic Oxygen Status Index. Ecol Indic 3:237–250

Yang B, Jiang Y-J, He W, Liu W-X, Kong X-Z, Jørgensen SE, Xu F-L (2016) The tempo-spatial variations of phytoplankton diversities and their correlation with trophic state levels in a large eutrophic Chinese lake. Ecol Indic 66:153–162. doi:10.1016/j.ecolind.2016.01.013

Ott WR (1978) Water quality indices: a survey of indices used in the United States. EPA

Abbasi SA (2002) Water quality indices, state of the art INCOH. National Institute of Hydrology, Roorkee

Horton RK (1965) An index number system for rating water quality. J Water Pollut Control Fed 37:300–306

Abbasi T, Abbasi SA (2012) Water quality indices. Elsevier Science, Amsterdam

Asadollahfardi G (2015) Water quality management: assessment and interpretation. doi:10.1007/978-3-662-44725-3

Poonam T, Tanushree B, Sukalyan C (2013) Water quality indices – important tools for water quality assessment. Int J Adv Chem 1:15–28

Ribeiro Alves MT, Barreto Teresa F, Nabout JC (2014) A global scientific literature of research on water quality indices: trends, biases and future directions. Acta Limnol Bras 26:245–253. doi:10.1590/S2179-975X2014000300004

Sutadian AD, Muttil N, Yilmaz AG, Perera BJC (2016) Development of river water quality indices – a review. Environ Monit Assess 188:1–29. doi:10.1007/s10661-015-5050-0

Walsh P, Wheeler W (2012) Water quality index aggregation and cost benefit analysis

Gharib SM, El-sherif ZM, Abdel-halim AM, Radwan AA (2011) Phytoplankton and environmental variables as a water quality indicator for the beaches at Mediterranean Sea, Egypt: an assessment. Oceanologia 53:819–836. doi:10.5697/oc.53-3.819

Ezzat SM, Elkorashey RM (2012) Omar Bek drain water quality and its impact on Damietta Branch, River Nile-Egypt. American-Eurasian J Agric Environ Sci 12:472–483

Hassanein NM, El-Baghdady KZ, Farid AK, Tawfik TA, Ewida AY (2012) Microbial communities and water quality of some groundwater systems in Egypt. Egypt J Exp Biol (Bot) 8:25–42

Fathy SAH, Abdel Hamid FF, Shreadah MA, Mohamed LA, El-Gazar MG (2012) Application of principal component analysis for developing water quality index for selected coastal areas of Alexandria Egypt. Resour Environ 2:297–305. doi:10.5923/j.re.20120206.08

Omran E-sE (2012) A proposed model to assess and map irrigation water well suitability using geospatial analysis. Water 4:545–567. doi:10.3390/w4030545

Agrama AA, El-Sayed EA (2013) Assessessing and mapping water quality (case study: western delta -Egypt). Int Water Technol J 3:159–170

Goher ME, Hassan AM, Abdel-Moniem IA, Fahmy AH, El-Sayed SM (2014) Evaluation of surface water quality and heavy metal indices of Ismailia Canal, Nile River, Egypt. Egyptian J Aquat Res 40:225–233. doi:10.1016/j.ejar.2014.09.001

Omran E-sE, Ghallab A, Selmy S, Gad A-a (2014) Evaluation and mapping water wells suitability for irrigation using GIS in Darb El-Arbaein, South Western Desert, Egypt National Authority for Remote Sensing and Space Science, Cairo, Egypt. Int J Water Resour Arid Environ 3:63–76

Abdullah AM, Hussona SE-D (2014) Water quality assessment of Mahmoudia Canal in Northern West of Egypt. J Pollut Eff Control 02. doi:10.4172/2375-4397.1000121

Khalil MM (2014) Impact of power plants outlet on Nile River Water Quality "Case study: El-Kurimat Power Plant, Egypt". Int J Adv Res 2:711–720

Shaltout NA, Abd-El-Khalek DE (2014) Assessment of seawater quality of El-Dekhaila Harbor, Alexandria. Asian J Adv Basic Sci 3:206–216

Shreadah MA, Masoud MS, Khattab A-RM, Zokm GME (2014) Impacts of different drains on the seawater quality of El-Mex bay (Alexandria, Egypt). J Ecol Nat Environ 8:287–303. doi:10.5897/JENE2014.0465

Abdullah AM (2014) Effect of Omumm Water Drainage on Noubaria Canal Water Quality and Alexandria drinking water treatments plants. J Pollut Eff Control 02. doi:10.4172/2375-4397.1000118

Armanuos A, Negm A, Valeriano OCS (2015) Groundwater quality investigation using water quality index and Arcgis: case study: Western Nile Delta Aquifer. In: Eighteenth International Water Technology Conference (IWTC18), Sharm ElSheikh, Egypt. doi:10.13140/RG.2.1.2675.6641

El-amier YA, Zahran MAE-k, Al-mamory SH (2015) Assessment the physico-chemical characteristics of water and sediment in Rosetta Branch, Egypt. J Water Resour Prot 7:1075–1086

Abukila AF (2015) Assessing the drain estuaries' water quality in response to pollution abatement. Water Sci 29:1–18. doi:10.1016/j.wsj.2015.02.002

Reda A, Riad PHS, Gammal HAE, El-razik MHA, Deen MMNE, Khalifa AAM (2015) Water quality management information system upstream Cairo drinking water plants. Danish J Eng Appl Sci:14–29

Allam A, Fleifle A, Tawfik A, Yoshimura C, El-Saadi A (2015) A simulation-based suitability index of the quality and quantity of agricultural drainage water for reuse in irrigation. Sci Total Environ 536:79–90. doi:10.1016/j.scitotenv.2015.07.029

Tahlawi MRE, Kassem MA-e, Baghdadi GY, Saleem HA (2016) Estimating and plotting of groundwater quality using WQI UA and GIS in Assiut Governorate, Egypt. World J Eng Technol 4:59–70

Brown RM, Mcclelland NI, Deininger RA, Tozer RG (1970) A water quality index. Do we dare? Water Sewage Works 117:339–343

CCME (2001) Canadian water quality guidelines for the protection of aquatic life. CCME water quality index 1.0 Technical Report. Canadian Council of Ministers of the Environment

Deininger R (1980) A water quality index for rivers. Water Int 5:16–21

Dinius SH (1987) Design of an index of water quality. J Am Water Resour Assoc 23:833–843

House MA (1990) Water quality indices as indicators of ecosystem change. Environ Monit Assess 15:255–263

House MA (1989) A water quality index for river management. Water Environ J 3:336–344

Kaurish FW, Younos T (2007) Developing a standardized water quality index for evaluating surface water quality. J Am Water Resour Assoc 43:533–545

Liou S-M, Lo S-L, Wang S-H (2004) A generalized water quality index for Taiwan. Environ Monit Assess 96:35–52

Said A, Stevens DK, Sehlke G (2004) An innovative index for evaluating water quality in streams. Environ Manag 34:406–414

Sarkar C, Abbasi SA (2006) Qualidex – a new software for generating water quality indices. Environ Monit Assess 119:201–231

Smith DG (1990) A better water quality indexing system for rivers and streams. Water Res 24:1237–1244

Steinhart CE, Schierow LJ, Sonzogni WC (1982) An environmental quality index for the Great Lakes. Water Resour Bull 18:1025–1031

Mamun AA, Hafizah SN, Alam MZ, Islamic I, Gombak J (2009) Improvement of existing water quality index in Selangor, Malaysia. 2nd International Conference on Water & Flood Management (ICWFM)

Coletti C, Testezlaf R, Ribeiro TAP, de Souza RTG, de A Pereira D (2010) Water quality index using multivariate factorial analysis. Revista Brasileira de Engenharia Agrícola e Ambiental 14:517–522. doi:10.1590/S1415-43662010000500009

Nikoo MR, Kerachian R, Malakpour-Estalaki S, Bashi-Azghadi SN, Azimi-Ghadikolaee MM (2011) A probabilistic water quality index for river water quality assessment: a case study. Environ Monit Assess 181:465–478. doi:10.1007/s10661-010-1842-4

Taner MU, Üstün B, Erdinçlera A (2011) A simple tool for the assessment of water quality in polluted lagoon systems: a case study for Küçükçekmece Lagoon, Turkey. Ecol Indic 11:749–756. doi:10.1016/j.ecolind.2010.08.003

Lobato TC, Hauser-Davis RA, Oliveira TF, Silveira AM, Silva HAN, Tavares MRM, Saraiva ACF (2015) Construction of a novel water quality index and quality indicator for reservoir water quality evaluation: a case study in the Amazon region. J Hydrol 522:674–683. doi:10.1016/j.jhydrol.2015.01.021

Sikder MT, Tanaka S, Saito T, Hosokawa T (2015) Vulnerability assessment of surface water quality with an innovative integrated multi-parameter water quality index (IMWQI). Pollution 1:333–346

Whittaker G, Barnhart B, Färe R, Grosskopf S (2015) Application of index number theory to the construction of a water quality index: aggregated nutrient loadings related to the areal extent of hypoxia in the northern Gulf of Mexico. Ecol Indic 49:162–168. doi:10.1016/j.ecolind.2014.10.003

Abdel Rehim SS, Abdel Bari MR, Khalil MM, Heikal MT, Salem TA (2002) Impact of heat on the physical and chemical properties of Lake Nasser water. J Environ Sci 5:325–349

Chaturvedi MK, Bassin JK (2010) Assessing the water quality index of water treatment plant and bore wells, in Delhi, India. Environ Monit Assess 449–453. doi:10.1007/s10661-009-0848-2

Effendi H, Wardiatno Y (2015) Water quality status of Ciambulawung River, Banten Province, based on pollution index and NSF-WQI. Proc Environ Sci 24:228–237. doi:10.1016/j.proenv.2015.03.030

Heikal MT, El-Sherbini A, Salem TA, Yousry MM (2007) Temporal and spatial variation of water quality parameters along the River Nile. In: NAWQAM Final Conference on Egypt Paradigm in Integrated Water Resources Management, 17–19 February, Sharm El Sheikh, Egypt, p 21

Rajankar PN, Gulhane SR, Tambekar DH, Ramteke DS, Wate SR, Impact E, Division RA (2009) Water quality assessment of groundwater resources in Nagpur Region (India) based on WQI. E J Chem 6:905–908

Ionus O (2010) Water quality index – assessment method of the Motru River Water Quality (Oltenia, Romania) Indicele De Calitate a Apei – Metod Ă De Determinare a Calit Ăţ Ii Apei Râului Motru (Oltenia, România) 13:74–83

Sharma MP, Sharma S, Gael V, Sharma P, Kumar A (2006) Water quality assessment of Behta River using benthic macroinvertebrates. Life Sci J 3

Varnosfaderany MN, Mirghaffary N, Ebrahimi E, Soffianian A (2009) Water quality assessment in an arid region using a water quality index. Water Sci Technol 60:2319–2327

Wills M, Irvine KN (1996) Application of the national sanitation foundation water quality index in the cazenovia creek, NY, pilot watershed management project. Middle States Geogr:95–104

Boyacioglu HI (2010) Utilization of the water quality index method as a classification tool. Environ Monit Assess 167:115–124. doi:10.1007/s10661-009-1035-1

CCME (2004) CCME National Water Quality Index Workshop. Water. CCME

Donia NS, Farag HA (2010) A waste load model analysis for El Noubariya Canal Drinking Water Abstraction, Egypt 2. Description of El-Noubariya Canal. In: Fourteenth International Water Technology Conference (IWTC 14), 2010, Cairo, Egypt. IWTC, pp 675–690

Ed Quilty QE (2003) Water quality objectives attainment monitoring Fraser river tributaries from Hope to Kanaka Creek 2002. Environmental protection. Ministry of Water, Land & Air Protection Lower Mainland Region

Heuvel MRVD (2009) Site specific guidelines for phosphorus in relation to the water quality index calculations for Prince Edward Island, p 35

Hurley T, Sadiq R, Mazumder A (2012) Adaptation and evaluation of the Canadian Council of Ministers of the Environment Water Quality Index (CCME WQI) for use as an effective tool to characterize drinking source water quality. Water Res 46:3544–3552. doi:10.1016/j.watres.2012.03.061

Lumb A, Halliwell D, Sharma T (2006) Application of CCME water quality index to monitor water quality: a case study of the Mackenzie River Basin, Canada. Environ Monit Assess 113:411–429

Mercier V, Fox D, Khan H, Taylor D, Raymond B, Bond W, Caux P-Y (2005) Application and testing of the water quality index in Atlantic Canada – report summary. CCME, Atlantic

Radwan M (2005) Evaluation of different water quality parameters for the Nile River and the different drains. In: Ninth International Water Technology Conference, Sharm El-Sheikh, Egypt, pp 1293–1303

Selvam S, Manimaran G, Sivasubramanian P, Balasubramanian N, Seshunarayana T (2014) GIS-based evaluation of water quality index of groundwater resources around Tuticorin coastal city, south India. Environ Earth Sci 71:2847–2867. doi:10.1007/s12665-013-2662-y

Khan AA, Abdel-Gawad S, Khan H (2008) A real time water quality monitoring network and water quality indices for River Nile. In: 13th IWRA world water congress, 1–4 September, Montpellier, France, p 15

de Rosemond S, Duro DC, Dubé M (2009) Comparative analysis of regional water quality in Canada using the water quality index. Environ Monit Assess 156:223–240

Mojahedi SA, Attari J (2009) A comparative study of water quality indices for Karun River. In: Proceedings of World Environmental and Water Resources Congress 2009, Great Rivers. Asce

Boyacioglu H (2010) Utilization of the water quality index method as a classification tool. Environ Monit Assess 167:115–124

Bhatti MT, Latif M (2009) Assessment of water quality of a river using an indexing approach during the low-flow season. Irrigation Drainage 60:103–114

Ryding S-O, Rast W (1989) The control of eutrophication of lakes and reservoirs, vol 1: Man and the biosphere series. UNESCO and Parthenon Publishing Group, Paris

Carlson RE (1977) A trophic state index for lakes. Limnol Oceanogr 22(2):361–369

Arfi R (2003) The effects of climate and hydrology on the trophic status of Selingue Reservoir, Mali, West Africa. Lake Reserv Res Manag 8:247–257

Barnwal P, Mishra S, Singhal SK (2015) Risk assessment and analysis of water quality in Ramgarh Lake, India. J Integr Sci Technol 3:22–27

Chang CL, Liu HC (2015) Applying the Back-Propagation Neural Network model and fuzzy classification to evaluate the trophic status of a reservoir system. Environ Monit Assess 187:567. doi:10.1007/s10661-015-4513-7

Gupta I, Kumar A, Singh C, Kumar R (2015) Detection and mapping of water quality variation in the Godavari River using water quality index, clustering and GIS techniques. J Geogr Inf Syst 7:71–84

Hassan AA (2000) Evaluation of the eutrophication status in the southern part of Lake Manzala, Egypt. Sci Bull Fac Eng Ain Shams Univ 35(1):155–173

Koussouris T, Diapoulis A, Bertahas I, Photis G (1991) Evaluating trophic status and restoration procedures of a polluted lake, Lake Kastoria, Greece. GeoJournal 23:153–161

Mullins ML, Whisenant AS (2004) Somerville reservoir water quality study, vol WQTS-2004-02. Texas Parks and Wildlife Department, Austin

Thiemann S, Kaufmann H (2000) Determination of chlorophyll content and trophic state of lakes using field spectrometer and IRS-1C satellite data in the Mecklenburg Lake District, Germany. Remote Sens Environ 73:227–235

Galloway JM, Green WR (2004) Water-quality assessment of lakes Maumelle and Winona, Arkansas, 1991 through 2003. Scientific Investigations vol Report 2004-5182. U.S. Department of the Interior, U.S. Geological Survey

Santhanam H, Amal Raj S (2010) Carlson's Index, a poor cursor of trophic status assessment of Pulicat Lagoon, southeast coast of India. Int J Environ Stud 67:17–25

Ahmed M, Aly A, Hussien R (2013) Human-induced and eutrophication impacts on physio-chemical and isotopic water characteristics of a Northeastern Nile Delta Lake, Egypt. Arab J Nucl Sci Appl 46:1–17

Ahmed M, Donia N, Fahmy M (2006) Eutrophication assessment of Lake Manzala, Egypt using geographical information systems (GIS) techniques. J Hydroinf:101–109. doi:10.2166/hydro.2006.014

Donia N, Hussein M (2004) Eutrophication assessment of Lake Manzala using GIS techniques. In: Eighth International Water Technology Conference (IWTC8), Alexandria, Egypt

Das Gupta A, Sarkar S, Ghosh P, Saha T, Sil AK (2016) Phosphorous dynamics of the aquatic system constitutes an important axis for waste water purification in natural treatment pond(s) in East Kolkata Wetlands. Ecol Eng 90:63–67. doi:http://dx.doi.org/10.1016/j.ecoleng.2016.01.056

Brezonik PL (1984) Trophic state indices: rationale for multivariate approaches. Lake Reserv Manag 1:441–445. doi:10.1080/07438148409354553

Kratzer C, Brezonik PL (1981) A carlson-type trophic state index for nitrogen in Florida lakes. J Am Water Resour Assoc 17(4):713–715

Ganguly D, Patra S, Muduli PR, Vardhan KV (2015) Influence of nutrient input on the trophic state. 1005–1017

Saghi H, Karimi L, Javid AH (2015) Investigation on trophic state index by artificial neural networks (case study: Dez Dam of Iran). Appl Water Sci:127–136. doi:10.1007/s13201-014-0161-2

Fachbereichsstandard (1982) Nutzung und Schutz der Gewässer. Stehende Binnengewässer. Klassifizierung. vol TGL 27885/01 Ministerium für Umweltschutz und Wasserwirtschaft

OECD (1982) Eutrophication of waters: monitoring, assessment and control. Organisation for Economic Co-operation and Development Paris

Sigee DC (2005) Freshwater microbiology: biodiversity and dynamic interactions of microorganisms in the aquatic environment. Wiley, Hoboken

Dasí M, Miracle M, Camacho A, Soria J, Vicente E (1998) Summer phytoplankton assemblages across trophic gradients in hard-water reservoirs. Hydrobiologia:27–43

Kasprzak P, Gervais F, Adrian R, Weiler W, Radke R, Jäger I, Riest S, Siedel U, Schneider B, Böhme M, Eckmann R, Walz N (2000) Trophic characterization, Pelagic Food Web Structure and comparison of two mesotrophic lakes in Brandenburg (Germany). Int Rev Hydrobiol 85:167–189

Lugliè A, Aktan Y, Casiddu P, Sechi N (2001) The trophic status of Bidighinzu Reservoir (Sardinia) before and after the diversion of waste waters. J Limnol 60:135–142

Markogianni V, Dimitriou E, Karaouzas I (2014) Water quality monitoring and assessment of an urban Mediterranean lake facilitated by remote sensing applications. Environ Monit Assess 186:5009–5026. doi:10.1007/s10661-014-3755-0

Schrenk-bergt C, Krause D, Prawitt O, Lewandowski J (2002) Eutrophication problems and their potential solutions in the artificial shallow lake Altmühlsee. Freshwater Biol 21:73–86

Vollenweider RA, Giovanardi F, Montanari G, Rinaldi A (1998) Characterization of the trophic conditions of marine coastal waters with special reference to the NW Adriatic Sea: proposal for a trophic scale, turbidity and generalized water quality index. Environmetrics 9:329–357. doi:10.1002/(SICI)1099-095X(199805/06)9:3<329::AID-ENV308>3.0.CO;2-9

Balkis N, Toklu-Aliçli B, Balci M (2012) Evaluation of ecological quality status with the trophic index (TRIX) values in the coastal waters of the Gulfs of Erdek and Bandirma in the Marmara Sea. CdnIntechopenCom

Chen Y, Niu Z, Zhang H (2013) Eutrophication assessment and management methodology of multiple pollution sources of a landscape lake in North China. Environ Sci Pollut Res 20:3877–3889. doi:10.1007/s11356-012-1331-0

Christia C, Giordani G, Papastergiadou E (2014) Assessment of ecological quality of coastal lagoons with a combination of phytobenthic and water quality indices. Mar Pollut Bull 86:411–423. doi:10.1016/j.marpolbul.2014.06.038

Pavlidou A, Simboura N, Rousselaki E, Tsapakis M, Pagou K, Drakopoulou P, Assimakopoulou G, Kontoyiannis H, Panayotidis P (2015) Methods of eutrophication assessment in the context of the water framework directive: examples from the Eastern Mediterranean coastal areas. Cont Shelf Res 108:156–168. doi:10.1016/j.csr.2015.05.013

Primpas I, Karydis M (2011) Scaling the trophic index (TRIX) in oligotrophic marine environments. Environ Monit Assess 178:257–269. doi:10.1007/s10661-010-1687-x

Vargas-González HH, Arreola-Lizárraga JA, Mendoza-Salgado RA, Méndez-Rodriguez LC, Lechuga-Deveze CH, Padilla-Arredondo G, Cordoba-Matson M (2014) Effects of sewage discharge on trophic state and water quality in a coastal ecosystem of the Gulf of California. ScientificWorldJournal 2014:7

Zoriasatein N, Jalili S, Poor F (2013) Evaluation of ecological quality status with the trophic index (TRIX) values in coastal area of Arvand, Northeastern of Persian Gulf, Iran. World J Fish Mar Sci 5:257–262. doi:10.5829/idosi.wjfms.2013.05.03.7297

Burns NM, Rutherford JC, Clayton JS (1999) A monitoring and classification system for New Zealand lakes and reservoirs. Lake Reserv Manag 15:255–271. doi:10.1080/07438149909354122

Eccles A (2015) A trophic state analysis of selected water bodies in Grand Teton National Park. Brigham Young University, Provo

Xiang B, Song J-w, Wang X-y, Zhen J (2015) Improving the accuracy of estimation of eutrophication state index using a remote sensing data-driven method: a case study of Chaohu Lake, China. Water SA 41:753–761

LAWA (2001) Gewässerbewertung – Stehende Gewässer. Vorläufige Richtlinie für die Trophieklassifikation von Talsperren. LAWA, Schwerin

Ackermann G, Loth P, Sudbrack R (2005) Abschätzung des ökologischen Potenzials von Talsperren nach der Trophie. Universität Duisburg-Essen Freistaat

Schöpfer C, Björnsen G, Dietze M, Schimrosczyk J (2007) Nachhaltige Bewirtschaftung des Rappbodetalsperren- systems im Ostharz. In: 14. Deutsches Talsperrensymposium in Freising, 2007 "Talsperren in Europa – Aufgaben und Herausforderungen", Freising, Germany, 2007. DTK, pp 436–442

Ruhrverband (2008) Talsperren-Fischerei Jahresbericht 2007. Ruhrverband

HLUG (2008) Hessisches Gütemessprogramm Seenuntersuchungen 2007. Hessisches Landesamt für Umwelt und Geologie

Scharf W (2008) The use of nutrient reduction and food-web management to improve water quality in the deep stratifying Wupper Reservoir, Germany. Hydrobiologia 603:105–115

Thornton J, Steel A, Rast W (1996) Reservoirs. In: Chapman DV (ed) Water quality assessments: a guide to the use of biota, sediments and water in environmental monitoring. Spon, London

Lind OT, Terrell TT, Kimmel BL (1993) Problems in reservoir trophic-state classification and implications for reservoir management. In: Straškraba M, Tundisi JG, Duncan A (eds) Comparative reservoir limnology and water quality management. Developments in hydrobiology, vol 77. Kluwer Academic, Dordrecht, p 291

Cunha DGF, Calijuri MC, Lamparelli MC (2013) A trophic state index for tropical/subtropical reservoirs (TSItsr). Ecol Eng 60:126–134. doi:10.1016/j.ecoleng.2013.07.058

Lamparelli M (2004) Graus de trofia em corpos d'água do Estado de São Paulo: Avaliação dos métodos de monitoramento

Salas H, Martino P (1991) A simplified phosphorus trophic state model for warm-water tropical lakes. Water Res 25:341–350. doi:10.1016/0043-1354(91)90015-I

Cigagna C, Marcos D, Antonio B, Camargo FM, Sturaro R (2016) Trophic state index (TSI) and physico-chemical characteristics of a shallow reservoir in southeast Brazil. Environ Earth Sci 75. doi:10.1007/s12665-015-4951-0

de Souza Beghelli FG, Frascareli D, Pompêo MLM, Moschini-Carlos V (2016) Trophic state evolution over 15 years in a tropical reservoir with low nitrogen concentrations and cyanobacteria predominance. Water Air Soil Pollut 227:95. doi:10.1007/s11270-016-2795-1

Buetow D (2008) 2007 Lake Monitoring Report – Mecklenburg County Water Quality Program SWIM Phase I Part 2-CO – Final Report for FY2007–2008

Cudowski A (2015) Dissolved reactive manganese as a new index determining the trophic status of limnic waters. Ecol Indic 48:721–727. doi:10.1016/j.ecolind.2014.09.035

Dunalska JA (2011) Total organic carbon as a new index for monitoring trophic states in lakes. Oceanol Hydrobiol Stud 40:112–115. doi:10.2478/s13545-011-0022-7

Gupta M (2014) A new trophic state index for lagoons. J Ecosyst 2014:1–8. doi:10.1155/2014/152473

Huo S, Ma C, Xi B, Su J, Zan F, Ji D, He Z (2013) Establishing eutrophication assessment standards for four lake regions, China. J Environ Sci (China) 25:2014–2022. doi:10.1016/S1001-0742(12)60250-2

Nalamutt TD, Karmakar S (2014) Modeling impreciseness of trophic state levels for eutrophication assessment. J Clean Energy Technol 2:140–144. doi:10.7763/JOCET.2014.V2.109

Novo E, Lobo F, Calijuri MDC, Tundisi J (1994) Predictive modeling of trophic status of a tropical reservoir using geographical information systems. Geosci Remote:1207–1210

O'Boyle S, McDermott G, Noklegaard T, Wilkes R (2013) A simple index of trophic status in Estuaries and Coastal bays based on measurements of pH and dissolved oxygen. Estuaries Coast 36:158–173. doi:10.1007/s12237-012-9553-4

Pavluk T, Vaate A (2008) Trophic index and efficiency. In: Jørgensen SE, Fath BD (eds) Encyclopedia of ecology, vol 5, 1st edn. Elsevier, Oxford, pp 3602–3608

Peng X, Kang S, Zhang L, Zhang Y, Hu D, Yao W (2009) The assessment of the eutrophication status and analysis on the main controlling factor of Erlongshan Reservoir. In: International Conference on Environmental Science and Information Application Technology, pp 120–123

Salas HJ, Martino P (1989) Simplified methodologies for the evaluation of eutrophication in warm – water tropical lakes. WHO, Pan American Health Organization, Environmental Health Program, Warsaw

Seisdedo M, Herrera R, Arencibia G (2013) Index for assessing water trophic status in semi-enclosed Cuban bays. Case study: Cienfuegos Bay

Xu F-L (2008) Trophic classification for lakes. In: Jørgensen SE, Fath BD (eds) Encyclopedia of ecology, vol 5, 1st edn. Elsevier, Oxford, pp 3594–3601

Yun-Feng C (2009) Study on the response of Lake Chaohu eutrophication to Yangtze River – Lake Chaohu Water Transfer Project. In: World Congress on Computer Science and Information Engineering, pp 614–619

Zhang S, Li C, Huang S, Zheng J (2008) Trophic states and nutrient storage of reservoirs in Chongqing. Chin J Geochem 27:310–316

MWRI (2005) Water for the Future, National Water Resources Plan for Egypt – 2017

Springuel I, Ali O (2005) The River Nile Basin. In: Fraser LH, Keddy PA (eds) The world's largest wetlands: ecology and conservation. Cambridge University Press, Cambridge

Abdel Latif AF (1984) Lake Nasser. In: Kapetsky JM, Petr T (eds) Status of African reservoir fisheries, vol 10. CIFA Technical Paper – CIFA/CPCA/T10 FAO CIFA Technical Paper

Abdel Latif AF (1984) Lake Nasser – the new man-made lake in Egypt (with reference to Lake Nubia). In: Taub FB (ed) Lakes and reservoirs, vol 23, Ecosystems of the world. Elsevier Science Publishers B.V., Amsterdam

El Shahat MM (2000) Lake Nasser overview. In: Craig JF (ed) Sustainable fish production in Lake Nasser: ecological basis and management policy. International Center for Living Aquatic Resources Managemen (ICLARM), Penang, Malaysia

Rashid MM (1995) Some additional information on limnology and fisheries of Lakes Nasser (Egypt) and Nubia (Sudan). In: Crul RCM, Roest FC (eds) Current status of fisheries and fish stocks of the four largest African reservoirs: Kainji, Kariba, Nasser/Nubia and Volta, vol 30. CIFA Technical Paper – CIFA/CPCA/T30 FAO CIFA Technical Paper

Said R (1993) The river Nile: geology, hydrology, and utilization. Pergamon, Oxford

Whittington D, Guariso G (1983) Water management models in practice: a case study of the Aswan High Dam. Elsevier Scientific, Amsterdam

Saad MBA (2000) Conflicts between users. In: Craig JF (ed) Sustainable fish production in Lake Nasser: ecological basis and management policy. International Center for Living Aquatic Resources Managemen (ICLARM), Penang, Malaysia

MWRI (2002) Adopted measures to face major challenges in the Egyptian Water Sector

Williams WD (2005) Lakes in arid environments. In: O'Sullivan PE, Reynolds CS (eds) The lakes handbook, vol 2: Lake restoration and rehabilitation. Blackwell Science Ltd

Habib OA (2000) Seasonal variation of phytoplankton abundance. In: Craig JF (ed) Sustainable fish production in Lake Nasser: ecological basis and management policy. International Center for Living Aquatic Resources Managemen (ICLARM), Penang, Malaysia

Craig JF (ed) (2000) Sustainable fish production in Lake Nasser: ecological basis and management policy. International Center for Living Aquatic Resources Managemen (ICLARM), Penang, Malaysia

El Moattassem M, Rafik M, Makary A, Heikal MT, Ramadan A (1993) Review of Aswan High Dam Lake water quality. In: ICOLD (ed) International symposium on High Aswan Dam: vital achievements, fully controlled Cairo, Egypt, 1993. Egyptian National Committee on Large Dams (ENCOLD)

El-Shabrawy GM (2009) Lake Nasser–Nubia. In: Dumont HJ (ed) The Nile: origin, environments, limnology and human use. Springer, Heidelberg, p 818

Clescerl LS, Greenberg AE, Eaton AD (eds) (1999) Standard methods for the examination of water and wastewater, 20th edn. American Public Health Association: American Water Works Association: Water Environment Federation

Abdelbary MR, EI Sherbini A, Heikal MT (1997) Water quality conditions in Lake Nasser with emphasis of eutrophic and stratification phenomena. Paper presented at the 9th World Water Congress of IWRA. Water resources outlook for the 21st century: conflicts and opportunities, Montreal, Canada

Abdelbary MR, EI-Moattassem M, Heikal MT (1997) Lake Nasser and Nile water quality as compared to bottled drinking water. Paper presented at the 5th Nile 2002 conference, Addis Ababa, Ethiopia

Heikal MT, Abdelbary MR (1999) Stratification variability and trophic state along Lake Nasser. Paper presented at the 8th International Conference on the Conservation and Management of Lakes Copenhagen, Denmark

Heikal MT, Abdel-Bary MR, EI-Sherbini AH (1998) Trophic status of Lake Nasser. Paper presented at the International Conference on Coping with Water Scarcity Hurghada, Egypt

El-Otify AM (2015) Evaluation of the physicochemical and chlorophyll-a conditions of a subtropical aquaculture in Lake Nasser area, Egypt. Beni-Suef Univ J Basic Appl Sci 4:327–337. doi:10.1016/j.bjbas.2015.11.009

Goher ME, Farhat HI, Abdo MH, Salem SG (2014) Metal pollution assessment in the surface sediment of Lake Nasser, Egypt. Egyptian J Aquat Res 40:213–224. doi:10.1016/j.arabjc.2012.06.001

Khalifa N, El-damhogy KA, Fishar MR, Nasef AM, Hegab MH (2015) Using zooplankton in some environmental biotic indices to assess water quality of Lake Nasser, Egypt. Int J Fisheries Aquat Stud 2:281–289

Awadallah RM, Soltan M (1995) Environmental, physical, and chemical changes of Lake Nubia-Aswan High Dam Lake water. J Environ Sci Health A Environ Sci Eng 30(9):2071–2087

Abou El Kheir WS, Ibrahim EA, Khalil MM, Heikal MT, Yousry KM (2003) Assessment of physico-chemical characteristics of water and phytoplankton growth in Lake Nasser. J Environ Sci 7(1)

Hussein WO, Shafi EAE (2005) Environmental study on water quality assessment and prediction in Lake Nasser by using monitoring networks. In: Ninth International Water Technology Conference, Sharm El-Sheikh, Egypt, pp 1265–1280

Gharib SM, Abdel-Halim AM (2006) Spatial variation of phytoplankton and some physico-chemical variables during the highest flood season in Lake Nasser (Egypt). Egyptian J Aquat Res 32(1):246–263

Heikal MT (2010) Impact of water level fluctuation on water quality and trophic state of Lake Nasser and its Khors, Egypt. Egyptian J Aquat Biol Fisheries 14(1):75–86

Carlson RE, Simpson J (1996) A coordinator's guide to volunteer lake monitoring methods. North American Lake Management Society

TLUG (2004) Gewässergütekarte "Stehende Gewässer" Stand 2003 – Begleitheft -. Ministerium für Landwirtschaft, Naturschutz und Umwelt, Thüringer Landesanstalt für Umwelt und Geologie
Acknowledgements

This research work was modified after the PhD work of the corresponding author. This PhD work was funded by the Egyptian government and conducted at the Leischtweiss Institute for Hydraulics and Water Resources (LWI), TU-Braunschweig, Germany. Providing the field data for this study by Nile Research Institute (NRI) and National Water Research Center (NWRC), Egypt, was greatly appreciated. The authors extremely thank the reviewers for their hard work to improve the quality of this chapter.
Copyright information

© 2016 Springer International Publishing Switzerland
About this chapter
Cite this chapter
Elshemy, M., Meon, G. (2016). Water Quality Assessment of Aswan High Dam Reservoir. In: Negm, A. (eds) The Nile River. The Handbook of Environmental Chemistry, vol 56. Springer, Cham. https://doi.org/10.1007/698_2016_96
DOI: https://doi.org/10.1007/698_2016_96

Published:

Publisher Name: Springer, Cham

Print ISBN: 978-3-319-59086-8

Online ISBN: 978-3-319-59088-2