Abstract

Meditation is an increasingly popular psychobehavioral therapy. Various meditation techniques in use make it hard to objectively scrutinize the psychological benefits. Therefore, in this study we set out to examine the effects of two fundamentally different meditative techniques, Zazen, 'seated meditation', in which the body and mind are calmed, and Tai Chi, 'meditation in motion', based on energetic martial art performance. The aim was to compare the effects of both techniques on personality structure, emotional intelligence, mood, and coping with stress. The study was conducted in 48 healthy volunteers, aged 39–50, divided into those practicing Zazen, Tai Chi, and the non-meditating controls, each group consisting of 16 persons. The psychometric tools consisted of Coping Inventory for Stressful Situations (CISS), the University of Wales Institute of Science and Technology Mood Adjective Checklist (UMACL), Emotional Intelligence Inventory (INTE), and the NEO Five-Factor Inventory (NEO-FFI). We found that both Zazen and Tai Chi meditations significantly enhanced openness to experience, one of the personality dimensions of the Big Five Model. The enhanced openness was associated with improved strategies for coping with stress. The meditators had less avoidance-oriented approaches to perceived stress. They also had improved mood compared with non-meditating controls. The findings suggest that enhanced openness to experience could shape one's desire to hold onto the meditation regimen. We conclude that both, diametrically different types of meditation, are conducive to mental health by improving the general well-being, counteracting stress, and leading to a better vigor of spirit. Meditation may thus be considered a complimentary, albeit rather modestly acting, adjunct to psychotherapy.
Keywords
Coping with stress

Meditation

Mental health

Mood

Openness to experience

Personality

Psychotherapy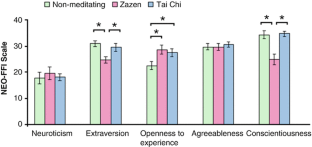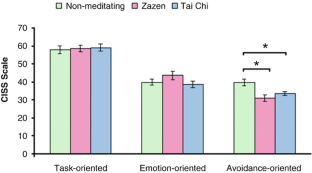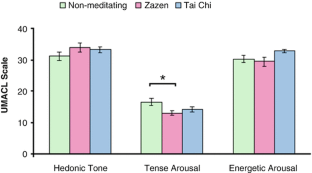 References
Bower JE, Irwin MR (2016) Mind-body therapies and control of inflammatory biology: a descriptive review. Brain Behav Immun 51:1–11

Ciechanowicz A, Jaworowska A, Matczak A (2000) INTE: a questionnaire of emotional intelligence. Laboratory of Psychological Tests, Polish Psychological Society

Cook SW, Heppner PP (1997) A psychometric study of three coping measures. Educ Psychol Meas 57:906–923

Costa PT, McCrae RR (1992) NEO PI-R professional manual: revised NEO Personality Inventory (NEO PI-R) and NEO Five-Factor Inventory (NEO-FFI). Psychological Assessment Resources, Odessa

Davidson RJ, Goleman DJ, Schwartz GE (1976) Attentional and affective concomitants of meditation: a cross-sectional study. J Abnorm Psychol 85(2):235–238

Endler NS, Parker JDA (1999) Coping inventory for stressful situations (CISS). Manual, Revised edn. Multi-Health System, Toronto

Goleman D (1976) Meditation and consciousness: an Asian approach to mental health. Am J Psychother 30(1):41–54

Goyal M, Singh S, Sibinga EM, Gould NF, Rowland-Seymour A, Sharma R, Berger Z, Sleicher D, Maron DD, Shihab HM, Ranasinghe PD, Linn S, Saha S, Bass EB, Haythornthwaite JA (2014) Meditation programs for psychological stress and well-being: a systematic review and meta-analysis. JAMA Intern Med 174(3):357–368

Ihle A, Oris M, Fagot D, Maggiori C, Kliegel M (2016) The association of educational attainment, cognitive level of job, and leisure activities during the course of adulthood with cognitive performance in old age: the role of openness to experience. Int Psychogeriatr 28:733–740

Kasamatsu A, Tomio T (1966) An electroencephalographic study on the Zen meditation (Zazen). Psychiatry Clin Neurosci 20(4):315–336

Lane JD, Seskevich JE, Pieper CF (2007) Brief meditation training can improve perceived stress and negative mood. Altern Ther Health Med 13(1):38–44

Matthews G, Jones DM, Chamberlain AG (1990) Refining the measurement of mood: the UWIST mood Adjective Checklist. Br J Psychol 81(1):17–42

McCrae RR (1987) Creativity, divergent thinking, and openness to experience. J Pers Soc Psychol 52:1258–1265

McCrae RR, John OP (1992) An introduction to the five-factor model and its applications. J Pers 60:75–215

Muehsam D, Lutgendorf S, Mills PJ, Rickhi B, Chevalier G, Bat N, Chopra D, Gurfein B (2017) The embodied mind: a review on functional genomic and neurological correlates of mind-body therapies. Neurosci Biobehav Rev 73:165–181

Sandahl FP (1980) The effect of transcendental meditation on the degree of neuroticism. Lakartidningen 77(34):2808–2810

Schutte NS, Malouff JM, Hall LE, Haggerty DJ, Cooper JT, Golden CJ, Dornheim L (1998) Development and validation of a measure of emotional intelligence. Personal Individ Differ 25(2):167–177

Shapiro SL, Astin JA, Bishop SR, Cordova M (2005) Mindfulness-based stress reduction for health care professionals: results from a randomized trial. Int J Stress Manag 12(2):164–176

Steel P, Schmidt J, Shultz J (2008) Refining the relationship between personality and subjective well-being. Psychol Bull 134:138–161

Tellegen A, Atkinson G (1974) Openness to absorbing and self-altering experiences ('absorption'), a trait related to hypnotic susceptibility. J Abnorm Psychol 83:268–277

Telles S, Naveen KV, Kumar N, Balkrishna A, Acharya (2012) The effect of yoga on neuroticism in an Indian population varies with socio-demographic factors. J Cult Divers 19:118–123

Wang C, Schmid CH, Iversen MD, Harvey WF, Fielding RA, Driban JB, Price LL, Wong JB, Reid KF, Rones R, McAlindon T (2016) Comparative effectiveness of Tai Chi versus physical therapy for knee osteoarthritis: a randomized trial. Ann Intern Med 165(2):77–86

Williams P, Francis A, Durham R (1976) Personality and meditation. Percept Mot Skills 43(3 pt. 1):787–792
Conflicts of Interest
The authors declare no conflicts of interest in relation to this article.
Copyright information

© 2017 Springer International Publishing Switzerland
About this chapter
Cite this chapter
Pokorski, M., Suchorzynska, A. (2017). Psychobehavioral Effects of Meditation. In: Pokorski, M. (eds) Pulmonary Disorders and Therapy. Advances in Experimental Medicine and Biology(), vol 1023. Springer, Cham. https://doi.org/10.1007/5584_2017_52