Abstract

Integrins are one of the major biologically active proteins responsible for Foot-and-mouth disease virus (FMDV)- host interaction. Out of various heterodimeric integrins discovered, αVβ6 heterodimer serves as the chief receptor for FMDV host tropism. Earlier studies reported that, SNPs at beta 6 subunit (ITGB6) were associated with the occurrence of the diseases in cattle. In this study we report the association between a synonymous SNP (rs719257875) at bovine alpha vitronectin domain of integrin receptor (ITGAV) gene and FMD susceptibility in cattle. A strong significant association (P < 0.0001) of the genotypes with FMD susceptibility were obtained, where the CC genotypes play a major role in occurrence of FMD in crossbred cattle.
Keywords
ITGAV

FMDV

Synonymous SNP

Cattle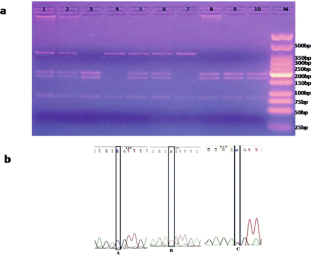 References
Angov E (2011) Codon usage: nature's roadmap to expression and folding of proteins. Biotechnol J 6(6):650–659

Anonymous (2008) Foot-and-mouth disease. In: Manual of diagnostic tests and vaccines for terrestrial animals (mammals, birds and bees). World Organization for Animal Health (OIE), Paris

Coleman JR, Papamichail D, Skiena S, Futcher B, Wimmer E, Mueller S (2008) Virus attenuation by genome-scale changes in codon pair bias. Science 27,320(5884):1784–1787. doi:10.1126/science.1155761

Czech A, Fedyunin I, Zhang G, Ignatova Z (2010) Silent mutations in sight: co-variations in tRNA abundance as a key to unravel consequences of silent mutations. Mol BioSyst 6(10):1767–1772. doi:10.1039/c004796c

Knowles NJ, He J, Shang Y, Wadsworth J, Valdazo-Gonzalez B, Onosato H et al (2012) Southeast Asian foot-and-mouth disease viruses in Eastern Asia. Emerg Infect Dis 18:499–501

Longjam N, Deb R, Sarmah AK, Tayo T, Awachat VB, Saxena VK (2011) A brief review on diagnosis of foot-and-mouth disease of livestock: conventional to molecular tools. Vet Med Int 2011(1-2):1–17

O'donnell V, Pacheco JM, Gregg D, Baxt B (2009) Analysis of foot-and-mouth disease virus integrin receptor expression in tissues from naive and infected cattle. J Comp Pathol 141(2):98–112

Rodriguez LL, Gay CG (2011) Development of vaccines toward the global control and eradication of foot-and-mouth disease. Expert Rev Vaccines 10:377–387

Sambrook J, Russell DW (2001) Molecular cloning: a laboratory manual. Cold Spring Harbor, New York

Seneque S (2011) Foot-and-Mouth Disease control in Asia. Meeting unique challenges. In: Proceedings of the proceedings of 5th Asian Pig veterinary society congress Pattaya, Thailand

Singh R, Deb R, Singh U, Alex R, Kumar S, Chakraborti S, Sharma S, Sengar G, Singh R (2014) Development of a tetra-primer ARMS PCR-based assay for detection of a novel single-nucleotide polymorphism in the 5′ untranslated region of the bovine ITGB6 receptor gene associated with foot-and-mouth disease susceptibility in cattle. Arch Virol 159(12):3385–3389. doi:10.1007/s00705-014-2194-0

Singh R, Deb R, Singh U, Raja TV, Alex R, Kumar S, Chakraborti S, Alyethodi RR, Sharma S, Sengar G (2015a) Heterozygosity at the SNP (rs136500299) of ITGB6 receptor gene possibly influences the susceptibility among crossbred bull to foot and mouth disease infection. Virus Dis 26(1–2):48–54. doi:10.1007/s13337-015-0249-9

Singh R, Deb R, Singh U, Raja TV, Alex R, Kumar S, Chakraborti S, Sengar G, Sharma S (2015b) Single tube tetraplex PCR based screening of a SNP at exon 14 region of bovine ITGB6 among different Zebu breeds. Meta Gene. 10(3):26–30. doi:10.1016/j.mgene.2014.12.004

Zuben ES, Chava K-S (2011) Understanding the contribution of synonymous mutations to human disease. Nat Rev Genet 12:683–691
Acknowledgement

This project was funded by Department of Science and Technology, New Delhi, Govt. of India (SR/WOS-A/LS-437/2012 (G)). The authors are thankful to Director, ICAR-CIRC, Meerut for providing necessary facilities for conducting the study.
Ethical Standard Statement
All animal experiments were performed following protocols approved by the Institutional Ethical committee.
Conflict of Interest
We declared that none of the authors have any kind of conflict of interest interest for submission of this present manuscript.
Copyright information

© 2017 Springer International Publishing AG
About this chapter
Cite this chapter
Singh, R. et al. (2017). A Synonymous Mutation at Bovine Alpha Vitronectin Domain of Integrin Host Receptor (ITGAV) Gene Effect the Susceptibility of Foot-and-Mouth Disease in Crossbred Cattle. In: Donelli, G. (eds) Advances in Microbiology, Infectious Diseases and Public Health. Advances in Experimental Medicine and Biology(), vol 1057. Springer, Cham. https://doi.org/10.1007/5584_2017_47