Abstract

Non-tuberculous mycobacteria (NTM) are species other than those belonging to the Mycobacterium tuberculosis complex and do not cause leprosy. NTM are generally free-living organisms that are ubiquitous in the environment. There have been more than 140 NTM species identified to-date. They can cause a wide range of infections, with pulmonary infections being the most frequent (65–90 %). There is growing evidence that the incidence of NTM lung diseases and associated hospitalizations are on the rise, mainly in regions with a low prevalence of tuberculosis. A crucial clinical problem remains the evaluation of NTM significance in relation to the disease, especially in regard to the colonization of the respiratory tract in patients with residual lesions after tuberculosis or bronchiectasis. Clinical and radiographic pictures of mycobacteriosis, as well as therapy, have often similarities to those of tuberculosis. The treatment regimen should be individualized. In addition to antituberculotics, antibiotics are used more frequently. The most common mycobacteria causing lung disease in Slovakia are Mycobacterium avium and Mycobacterium abscessus.
Keywords
Antituberculotics

Diagnosis

Infection

Lung

Mycobacteriosis

Non-tuberculous mycobacteria

Respiratory tract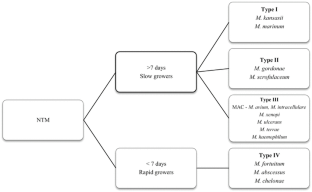 References
Andrejcak C, Nielsen RB, Thomsen V, Duhaut P, Sørensen HT, Thomsen RW (2013) Chronic respiratory disease, inhaled corticosteroids and risk of nontuberculous mycobacteriosis. Thorax 68:256–262

CLSI (2011) Susceptibility testing of Mycobacteria, Nocardiae and other aerobic actinomycetes; approved standard, 2nd edn. Clinical and Laboratory Standard Institute, Wayne

Griffith DE, Aksamit T, Brown-Elliot BA, Catabzaro A, Daley C, Gordin F, Holland SM, Horsburgh R, Huitt G, Iademarco MF, Iseman M, Olivier K, Ruoss S, Von Reyn CF, Wallce RJ Jr, Winthrop K, on behalf of the ATS Mycobacterial Diseases Subcomittee (2007) An official ATS/IDSA statement: diagnosis, tratment and prevention of nontuberculous mycobacterial diseases. Am J Respir Crit Care 175:367–416

Iseman MD, Marras TK (2008) The importance of nontuberculous mycobacterial disease. Am J Respir Crit Care Med 178:999–1000

Jarlier V, Nikaido H (1994) Mycobacterial cell wall: structure and role in natural resistance to antibiotics. FEMS Microbiol Lett 123:11–18

Koh WJ, Jeon K, Lee NY, Kim BJ, Kook YH, Lee SH, Park YK, Kim CK, Shin SJ, Huitt GA, Daley CL, Kwon OJ (2011) Clinical significance of differentiation of Mycobacterium massiliense from Mycobacterium abscessus. Am J Respir Crit Care Med 183:405–410

Lalande V, Barbut F, Varnerot A, Febvre M, Nesa D, Wadel S, Vincent V, Petit JC (2001) Pseudo-outbreak of Mycobacterium gordonae associated with water from refrigerated fountains. J Hosp Infect 48:76–79

Porvaznik I, Mokry J, Solovic I (2014) Drug resistance to anti-tuberculotics in children – three years status in Slovakia. Acta Med Martiniana 13:18–22

Porvaznik I, Mokry J, Solovic I (2015) Classical against molecular-genetic methods for susceptibility testing of antituberculotics. Adv Exp Med Biol 4:15–22

Runyon EH (1959) Anonymous mycobacteria in pulmonary disease. Med Clin North Am 43:273–290

van Ingen J, Boeree MJ, van Soolingen D, Iseman MD, Heifets LB, Daley CL (2012a) Are phylogenetic position, virulence, drug susceptibility and in vivo response to treatment in mycobacteria interrelated? Infect Genet Evol 12:832–837

van Ingen J, Boeree MJ, van Soolingen D, Mouton JW (2012b) Resistance mechanisms and drug susceptibility testing of nontuberculous mycobacteria. Drug Resist Updat 15:149–161

van Ingen J, Egelund EF, Levin A, Totten SE, Boeree MJ, Mouton JW, Aarnoutse RE, Heifets LB, Peloquin CA, Daley CL (2012c) The pharmacokinetics and pharmacodynamics of pulmonary Mycobacterium avium complex disease treatment. Am J Respir Crit Care Med 186:559–565

van Ingen J, Griffith DE, Aksamit TR, Wagner D (2012d) Pulmonary diseases caused by non-tuberculous mycobacteria. Eur Respir Monogr 58:25–37

Wallace RJ Jr, Swenson JM, Silcox VA, Bullen MG (1985) Treatment of nonpulmonary infections due to Mycobacterium fortuitum and Mycobacterium chelonei on the basis of in vitro susceptibilities. J Infect Dis 152:500–514

Wallace RJ Jr, Drunbar D, Brown BA, Onyi G, Dunlap R, Ahn CH, Murphy DT (1994) Rifampin-resistant Mycobacterium kansasii. Clin Infect Dis 18:736–743

Wallace RJ Jr, Brown BA, Griffith DE, Girard WM, Murphy DT (1996) Clarithromycin regimens for pulmonary Mycobacterium avium complex. The first 50 patients. Am J Respir Crit Care Med 153:1766–1772

Wallace RJ Jr, Brown-Elliott BA, McNulty S, Philley JV, Killingley J, Wilson RW, York DS, Shepherd S, Griffith DE (2014) Macrolide/azalide therapy for nodular/bronchiectatic Mycobacterium avium complex lung disease. Chest 146:276–282

Winthrop KL, Chang E, Yamashita S, Iademarco MF, LoBue PA (2009) Non-tuberculous mycobacteria infections and anti-tumor necrosis-α therapy. Emerg Infect Dis 15:1556–1561

Winthrop KL, McNelley E, Kendall B, Marshall-Olson A, Morris C, Cassidy M, Saulson A, Hedberg K (2010) Pulmonary nontuberculous mycobacterial disease prevalence and clinical features: an emerging public health disease. Am J Respir Crit Care Med 182:977–982
Conflicts of Interest

The authors declare no conflicts of interest in relation to this article.
Copyright information

© 2016 Springer International Publishing Switzerland
About this chapter
Cite this chapter
Porvaznik, I., Solovič, I., Mokrý, J. (2016). Non-Tuberculous Mycobacteria: Classification, Diagnostics, and Therapy. In: Pokorski, M. (eds) Respiratory Treatment and Prevention. Advances in Experimental Medicine and Biology(), vol 944. Springer, Cham. https://doi.org/10.1007/5584_2016_45