Abstract

The aim of this study was to assess the effect of inspiratory muscle training (IMT) on resistance to fatigue of the diaphragm (D), parasternal (PS), sternocleidomastoid (SCM) and scalene (SC) muscles in healthy humans during exhaustive exercise. Daily inspiratory muscle strength training was performed for 3 weeks in 10 male subjects (at a pressure threshold load of 60 % of maximal inspiratory pressure (MIP) for the first week, 70 % of MIP for the second week, and 80 % of MIP for the third week). Before and after training, subjects performed an incremental cycle test to exhaustion. Maximal inspiratory pressure and EMG-analysis served as indices of inspiratory muscle fatigue assessment. The before-to-after exercise decreases in MIP and centroid frequency (fc) of the EMG (D, PS, SCM, and SC) power spectrum (P < 0.05) were observed in all subjects before the IMT intervention. Such changes were absent after the IMT. The study found that in healthy subjects, IMT results in significant increase in MIP (+18 %), a delay of inspiratory muscle fatigue during exhaustive exercise, and a significant improvement in maximal work performance. We conclude that the IMT elicits resistance to the development of inspiratory muscles fatigue during high-intensity exercise.
Keywords
Diaphragm

EMG

Inspiratory muscle fatigue

Parasternal

Scalene

Sternocleidomastoid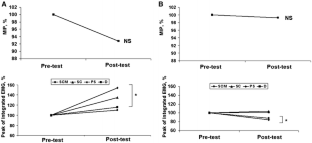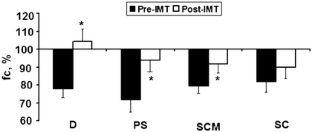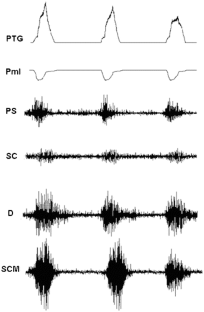 References
ATS/ERS (2002) American Thoracic Society/European Respiratory Society statement on respiratory muscle testing. Am J Respir Crit Care Med 166:518–624

Brown PI, Sharpe GR, Johnson MA (2008) Inspiratory muscle training reduces blood lactate concentration during volitional hyperpnoea. Eur J Appl Physiol 104:111–117

Decramer M (2009) Response of the respiratory muscles to rehabilitation in COPD. J Appl Physiol 107:971–976

Edwards RH, Hill DK, Jones DA, Merton PA (1977) Fatigue of long duration in human skeletal muscle after exercise. J Physiol 272:769–778

Enright SJ, Unnithan VB (2011) Effect of inspiratory muscle training intensities on pulmonary function and work capacity in people who are healthy: a randomized controlled trial. Phys Ther 91:894–905

Fitting JW (1991) Respiratory muscle fatigue limiting physical exercise? Eur Respir J 4:103–108

Gross D, Grassino A, Ross WRD, Macklem PT (1979) Electromyogram pattern of diaphragmatic fatigue. J Appl Physiol 46:1–7

Hary D, Belman MJ, Propst J, Lewis S (1982) A statistical analysis of the spectral moments used in EMG tests of endurance. J Appl Physiol 53:779–783

Hill K, Jenkins SC, Philippe DL, Cecins N, Shepherd KL, Green DJ, Hillman DR, Eastwood PR (2006) High-intensity inspiratory muscle training in COPD. Eur Respir J 27:1119–1128

Illi SK, Held U, Frank I, Spengler CM (2012) Effect of respiratory muscle training on exercise performance in healthy individuals: a systematic review and meta-analysis. Sports Med 42:707–724

Jacobs RA, Fluck D, Bonne TC, Burgi S, Christensen PM, Toigo M, Lundby C (2013) Improvements in exercise performance with high-intensity interval training coincide with an increase in skeletal muscle mitochondrial content and function. J Appl Physiol 115:785–793

Kraemer WJ, Adams K, Cafarelli E, Dudley GA, Dooly C, Feigenbaum MS, Fleck SJ, Franklin B, Fry AC, Hoffman JR, Newton RU, Potteiger J, Stone MH, Ratamess NA, Triplett-McBride T (2002) American College of Sports Medicine position stand. Progression models in resistance training for healthy adults. Med Sci Sports Exerc 34:364–380

Mador MJ, Acevedo FA (1991) Effect of respiratory muscle fatigue on subsequent exercise performance. J Appl Physiol 70:2059–2065

Nadiv Y, Vachbroit R, Gefen A, Elad D, Zaretsky U, Moran D, Halpern P, Ratnovsky A (2012) Evaluation of fatigue of respiratory and lower limb muscles during prolonged aerobic exercise. J Appl Biomech 28:139–147

Perlovitch R, Gefen A, Elad D, Ratnovsky A, Kramer MR, Halpern P (2007) Inspiratory muscles experience fatigue faster than the calf muscles during treadmill marching. Respir Physiol Neurobiol 156:61–68

Ramirez-Sarmiento A, Orozco-Levi M, Guell R, Barreiro E, Hernandez N, Mota S, Sangenis M, Broquetas JM, Casan P, Gea J (2002) Inspiratory muscle training in patients with chronic obstructive pulmonary disease: structural adaptation and physiologic outcomes. Am J Respir Crit Care Med 166:1491–1497

Romer LM, Polkey MI (2008) Exercise-induced respiratory muscle fatigue: implications for performance. J Appl Physiol 104:879–888

Romer LM, McConnell AK, Jones DA (2002) Effects of inspiratory muscle training upon recovery time during high intensity, repetitive sprint activity. Int J Sports Med 23:353–360

Segizbaeva MO, Aleksandrova NP (2009) Effect of oxygen breathing on inspiratory muscle fatigue during resistive load in cycling men. J Physiol Pharmacol 60(Suppl 5):111–116

Segizbaeva MO, Donina ZA, Timofeev NN, Korolyov YN, Golubev VN, Aleksandrova NP (2013) EMG-analyses of human inspiratory muscle resistance to fatigue during exercise. Adv Exp Med Biol 788:197–205

Suh-Jen Lin PT, McElfresh J, Hall B, Bloom R, Farrell K (2012) Inspiratory muscle training in patients with heart failure: a systematic review. Cardiopulm Phys Ther J 23:29–36

Taylor AW, Bachman L (1999) The effects of endurance training on muscle fibre types and enzyme activities. Can J Appl Physiol 24:41–53

Troosters T, Gosselink R, Decramer M (2005) Respiratory muscle assessment. In: Gosselink R, Stam H (eds) Lung function testing, European respiratory monograph 31. European Respiratory Society Journals Ltd, Wakefield/Sheffield, pp 57–71

Verges S, Lenherr O, Haner AC, Schulz C, Spengler CM (2007) Increased fatigue resistance of respiratory muscles during exercise after respiratory muscle endurance training. Am J Physiol Regul Integr Comp Physiol 292:1246–1253

Verin E, Straus C, Demoule A, Mialon P, Derenne JP, Similowski T (2002) Validation of improved recording site to measure phrenic conduction from surface electrodes in humans. J Appl Physiol 92:967–974
Conflicts of Interest

The authors declare no conflicts of interest in relation to this article.
Copyright information

© 2014 Springer International Publishing Switzerland
About this chapter
Cite this chapter
Segizbaeva, M.O., Timofeev, N.N., Donina, Z.A., Kur'yanovich, E.N., Aleksandrova, N.P. (2014). Effects of Inspiratory Muscle Training on Resistance to Fatigue of Respiratory Muscles During Exhaustive Exercise. In: Pokorski, M. (eds) Body Metabolism and Exercise. Advances in Experimental Medicine and Biology(), vol 840. Springer, Cham. https://doi.org/10.1007/5584_2014_20