Need for Standardization of Fluorescence Measurements from the Instrument Manufacturer's View
Part of the Springer Series on Fluorescence book series (SS FLUOR, volume 6)
Abstract
Characterization of fluorescence imaging systems from the manufacturer's view creates several challenges. What are the key parameters for which characterization is appropriate? How can the standardization procedures developed for use during manufacture be applied during installation and application? With so many instrument variables, how can procedures be developed that give precise diagnostic information? These are not simply questions of "standardized tests". There are also issues of finding shared confidence in the tests amongst the different users of the systems. Ideally such tests should also allow objective comparison of the performance of systems of different design or from different manufacturers.
This chapter first discusses the factors that affect performance of fluorescence imaging systems and for which standardization tests are required. In many cases the performance in one respect is inter-dependent on the performance in another. The need to develop tests that uncouple these dependencies is discussed.
The chapter then discusses in more detail the particular issue of signal detection sensitivity and the development of standardized tests that are usable and acceptable both during manufacture and for demonstration of performance during installation and ongoing use of the instrument. It is shown that featureless test samples have significant advantages. They enable a range of performance tests to be made with a single sample in a way that is equally accessible to the manufacturer and end user.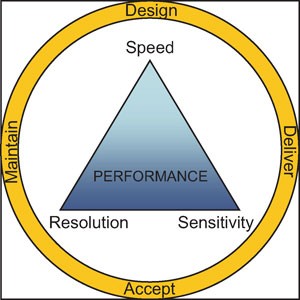 Confocal 
Fluorescence 
Instrumentation 
Laser Scanning 
Microscopy 
Multiphoton 
Standards  
Copyright information
© Springer-Verlag Berlin Heidelberg 2008