Abstract

Multidetector CT (MDCT), over the past decade, has become the primary imaging modality for evaluating gastrointestinal tract disorders, particularly in the small bowel. MDCT offers panoramic and high-resolution images, it is widespread available and the technique is robust, reproducible and accurate. Careful patient preparation is required, because of the need for bowel distension, achievable through the use of an enteral contrast agent (neutral or positive) delivered either orally (MDCT-enterography) or through a naso-jejunal tube (MDCT-enteroclysis). Scanning protocol is fast and thanks to new devices (automatic dose modulator systems) and/or new image reconstruction methods (iterative algorithms) able to deliver a very low amount of radiation, especially important when imaging young individuals. The most common clinical indication is represented by the evaluation of patients with Inflammatory Bowel Disease, both at the time of the diagnosis and in follow-up, where MDCT is able to provide an accurate balance of the disease: extent of the bowel involvement, assessment of disease activity and potential complications. The detection of small bowel tumours is another important indication where MDCT represents, in some cases, the only method to investigate small bowel loops and in any case the best method for staging neoplastic lesions. An additional reason to perform MDCT of the small bowel is the evaluation of malabsorption syndromes.
Keywords
Inflammatory Bowel Disease

Small Bowel

Celiac Disease

Bowel Wall

Lean Body Weight
These keywords were added by machine and not by the authors. This process is experimental and the keywords may be updated as the learning algorithm improves.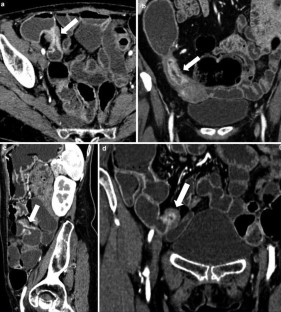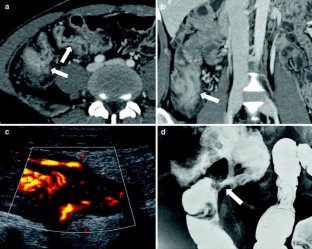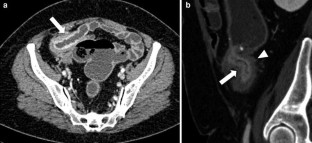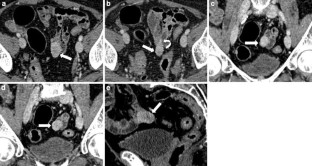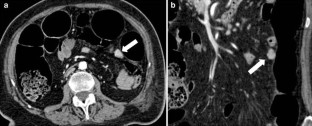 References
Boudiaf M, Jaff A, Bouhnik Y et al (2004) Small-bowel diseases: prospective evaluation of multi-detector row helical CT enteroclysis in 107 consecutive patients. Radiology 233:338–344

Brenner DJ, Hall EJ (2007) Computed tomography: an increasing source of radiation exposure. N Engl J Med 357:2277–2284

Caoili EM, Paulson EK (2000) CT of small-bowel obstruction: another perspective using multiplanar reformations. AJR 174:993–998

Chiorean MV, Sandrasegaran K, Saxena R et al (2007) Correlation of CT enteroclysis with surgical pathology in Crohn's disease. Am J Gastroenterol 102:2541–2550

Ciresi DL, Scholten DJ (1995) The continuing clinical dilemma of primary tumours of the small intestine. Am Surg 61(8):698–702

Colombel JF, Solem CA, Booya F et al (2006) Quantitative measurement and visual assessment of ileal Crohn's disease activity by computed tomography enterography: correlation with endoscopic severity and C reactive protein. Gut 55(11):1561–1567

Dave-Verma H, Moore S, Singh A et al (2008) Computed tomographic enterography and enteroclysis: pearls and pitfalls. Curr Probl Diagn Radiol 37(6):279–287

De Backer AI, De Schepper AM, Vandevenne JE et al (2001) CT of angioedema of the small bowel. AJR 176:649–652

Drews BH, Barth TF, Hänle MM et al (2009) Comparison of sonographically measured bowel wall vascularity, histology, and disease activity in Crohn's disease. Eur Radiol 19:1379–1386

Elsayes KM, Al-Hawary MM, Jagdish J et al (2010) CT enterography: principles, trends, and interpretation of findings. Radiographics 30(7):1955–1970

Fletcher JG (2009) CT enterography technique: theme and variations. Abdom Imaging 34:283–288

Frager DH, Goldman M, Beneventano TC (1983) Computer tomography in Crohn disease. J Comput Assist Tomogr 7:819–824

Froehlich JM, Daenzer M, von Weymarn C et al (2008) Aperistaltic effect of hyoscine N-butylbromide versus glucagon on the small bowel assessed by magnetic resonance imaging. Eur Radiol 19(6):1387–1393

Glick SN (1987) Crohn's disease of the small intestine. Radiol Clin North Am 25:25–45

Good CA (1963) Tumours of the small intestine. Am J Roentgenol Radium Ther Nucl Med 89:685–705

Gore RM, Balthazar EJ, Ghahremani GG et al (1996) CT features of ulcerative colitis and Crohn's disease. AJR Am J Roentgenol 167:3–15

Green PH, Cellier C (2007) Celiac disease. N Engl J Med 357:1731–1743

Hara AK, Leighton JA, Heigh RI et al (2006) Crohn disease of the small bowel: preliminary comparison among CT enterography, capsule endoscopy, small-bowel follow-through, and ileoscopy. Radiology 238:128–134

Horton KM, Lawler LP, Fishman EK (2003) CT findings in sclerosing mesenteritis (panniculitis): spectrum of disease. Radiographics 23:1561–1567

Jaffe TA, Martin LC, Miller CM et al (2007) Abdominal pain: coronal reformations from isotropic voxels with 16-section CT–reader lesion detection and interpretation time. Radiology 242(1):175–181

Jones B, Bayless TM, Fishman EK et al (1984) Lymphadenopathy in celiac disease: computed tomographic observations. AJR Am J Roentgenol 142:1127–1132

Kalra MK, Prasad S, Saini S et al (2002) Clinical comparison of standard-dose and 50% reduced-dose abdominal CT: effect on image quality. AJR Am J Roentgenol 179(5):1101–1106

Kambadakone AR, Prakash P, Hahn PF et al (2010) Low-dose CT examinations in Crohn's disease: impact on image quality, diagnostic performance, and radiation dose. AJR Am J Roentgenol 195(1):78–88

Kelvin FM, Herlinger H (1999) Crohn's disease. In: Herlinger H, Maglinte DDT, Birnbaum BA (eds) Clinical imaging of the small intestine. Springer, Berlin, pp 259–289

Kerr JM (2008) Small bowel imaging: CT enteroclysis or barium enteroclysis? Critically appraised topic. Abdom Imaging 33(1):31–33

Kim YH, Blake MA, Harisinghani MG et al (2006) Adult intestinal intussusception: CT appearances and identification of a causative lead point. Radiographics 26:733–744

Macari M, Balthazar EJ (2001) CT of bowel wall thickening: significance and pitfalls of interpretation. AJR 176:1105–1116

Macari M, Chandarana H, Balthazar EJ et al (2003) Intestinal ischemia versus intramural hemorrhage: CT evaluation. AJR 180:177–184

Macari M, Megibow AJ, Balthazar EJ (2007) A pattern approach to the abnormal small bowel: observations at MDCT and CT enterography. AJR 188:1344–1355

Mackalski BA, Bernstein CN (2006) New diagnostic imaging tools for inflammatory bowel disease. Gut 55:733–741

Madureira AJ (2004) The Comb Sign. Radiology 230:783–784

Maglinte DD, Chernish SM, Bessette J et al (1991) Factors in the diagnostic delays of small bowel malignancy. Indiana Med 84(6):392–396

Maglinte DD, Siegelman ES, Kelvin FM (2000) MR enteroclysis: the future of small-bowel imaging? Radiology 215:639–641

Maglinte DD, Gourtsoyiannis N, Rex D et al (2003) Classification of small bowel Crohn's subtypes based on multimodality imaging. Radiol Clin North Am 41:285–303

Maglinte DD, Sandrasegaran K, Lappas JC et al (2007) CT enteroclysis. Radiology 245:661–671

Mako EK, Mester AR et al (2000) Enteroclysis and spiral CT examination in diagnosis and evaluation of small bowel Crohn's disease. Eur J Radiol 35:168–175

Marmo R, Rotondano G, Piscopo R et al (2005) Meta-analysis: capsule enteroscopy vs conventional modalities in diagnosis of small bowel diseases. Aliment Pharmacol Ther 22:595–604

McCollough CH, Bruesewitz MR, Kofler JM Jr (2006) CT dose reduction and dose management tools: overview of available options. Radiographics 26:503–512

McCollough CH, Primak AN, Braun N et al (2009) Strategies for reducing radiation dose in CT. Radiol Clin North Am 47:27–40

Migleddu V, Quaia E, Scano D et al (2008) Inflammatory activity in Crohn's disease: ultrasound findings. Abdom Imaging 33:589–597

Minardi AJ Jr, Zibari GB, Aultman DF et al (1998) Small-bowel tumours. J Am Coll Surg 186(6):664–668

Minordi LM, Vecchioli A, Guidi L et al (2006) Multidetector CT enteroclysis versus barium enteroclysis with methylcellulose in patients with suspected small bowel disease. Eur Radiol 16:1527–1536

Minordi LM, Vecchioli A, Guidi L et al (2009) CT findings and clinical activity in Crohn's disease. Clin Imaging 33:123–129

Minordi LM, Vecchioli A, Mirk P et al (2011) CT enterography with polyethylene glycol solution vs CT enteroclysis in small bowel disease. Br J Radiol 84(998):112–119

Negaard A, Paulsen V, Sandvik L et al (2007) A prospective randomized comparison between two MRI studies of the small bowel in Crohn's disease, the oral contrast method and MR enteroclysis. Eur Radiol 17:2294–2301

North JH, Pack MS (2000) Malignant tumours of the small intestine: a review of 144 cases. Am Surg 66(1):46–51

Ott DJ, Chen YM, Gelfand DW et al (1985) Detailed per-oral small bowel examination vs. enteroclysis. Part II: radiographic accuracy. Radiology 155:31–34

Patak MA, Mortele KJ, Ros PR (2005). Multidetector row CT of the small bowel. Radiol Clin North Am 43:1063–1077

Paulsen S, Huprich J, Fletcher JG et al (2006) CT enterography as a diagnostic tool in evaluating small bowel disorders: review of clinical experience with over 700 cases. Radiographics 26:641–662

Rajesh A, Maglinte DD (2006) Multislice CT enteroclysis: technique and clinical applications. Clin Radiol 61(1):31–39

Ramachandran I, Sinha R, Rajesh A et al (2007) Multidetector row CT of small bowel tumours. Clin Radiol 62(7):607–614

Schindera ST, Nelson RC, DeLong DM et al (2007) Multi-detector row CT of the small bowel: peak enhancement temporal window–initial experience. Radiology 243(2):438–444

Schreyer AG, Geissler A, Albrich H et al (2004) Abdominal MRI after enteroclysis or with oral contrast in patients with suspected or proven Crohn's disease. Clin Gastroenterol Hepatol 2:491–497

Schreyer AG, Hoffstetter P, Daneschnejad M et al (2010) Comparison of conventional abdominal CT with MR-enterography in patients with active Crohn's disease and acute abdominal pain. Acad Radiol 17(3):352–357

Silva AC, Lawder HJ, Hara A et al (2010) Innovations in CT dose reduction strategy: application of the adaptive statistical iterative reconstruction algorithm. AJR Am J Roentgenol 194(1):191–199

Soyer P, Boudiaf M, Dray X et al (2009) CT enteroclysis features of uncomplicated celiac disease: retrospective analysis of 44 patients. Radiology 253(2):416–424

Tomei E, Marini M, Messineo D et al (2000) Computer tomography of the small bowel in adult celiac disease: the jejunoileal fold pattern reversal. Eur Radiol 10:119–122

Tomei E, Diacinti D, Marini M et al (2005) Abdominal CT findings may suggest coeliac disease. Dig Liver Dis 37:402–406

Turetschek K, Schober E, Wunderbaldinger P et al (2002) Findings at helical CT-enteroclysis in symptomatic patients with Crohn disease: correlation with endoscopic and surgical findings. J Comput Assist Tomogr 26:488–492

Weskott HP (2008) Emerging roles for contrast-enhanced ultrasound. Clin Hemorheol Microcirc 40:51–71

Winter TC, Ager JD, Nghiem HV et al (1996) Upper gastrointestinal tract and abdomen: water as an orally administered contrast agent for helical CT. Radiology 201(2):365–370

Wold PB, Fletcher JG, Johnson CD et al (2003) Assessment of small bowel Crohn disease: noninvasive peroral CT enterography compared with other imaging methods and endoscopy—feasibility study. Radiology 229:275–281

Zissin R, Hertz M, Bernheim J et al (2004) Small bowel obstruction secondary to Crohn disease: CT findings. Abdom Imaging 29:320–325
Copyright information

© 2011 Springer-Verlag Berlin Heidelberg
About this chapter
Cite this chapter
Iafrate, F., Rengo, M., Lucchesi, P., Ciolina, M., Baldassari, P., Laghi, A. (2011). Small Bowel. In: Zech, C., Bartolozzi, C., Baron, R., Reiser, M. (eds) Multislice-CT of the Abdomen. Medical Radiology(). Springer, Berlin, Heidelberg. https://doi.org/10.1007/174_2011_429
DOI: https://doi.org/10.1007/174_2011_429

Publisher Name: Springer, Berlin, Heidelberg

Print ISBN: 978-3-642-17862-7

Online ISBN: 978-3-642-17863-4

eBook Packages: MedicineMedicine (R0)