Abstract
Treatment of bacterial biofilm in the wound is complicated by the mechanisms underlying biofilm growth. Many clinically relevant biofilms are polymicrobial. Furthermore, mixed species biofilms have complementary metabolic strategies for obtaining nutrients and degrading host immune molecules. Therefore, there is an urgent need to introduce novel or reemerging effective approaches to combat bacterial biofilms in chronic wounds.
Honeybee products such as honey, royal jelly, and propolis have been successfully used for treating chronic wounds associated with bacterial biofilms. One of the major benefits of these natural products is that there is no risk of developing antibacterial resistance.
This chapter discusses the current knowledge about antibacterial and antibiofilm activity of selected honeybee products and presents the experimental data from the testing of honey antibiofilm activity using multispecies Lubbock in vitro chronic wound biofilm model.
Keywords
Biofilm

Honeybee

Medical device

Wound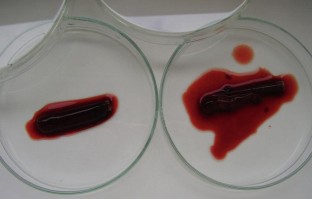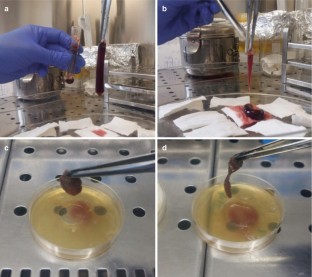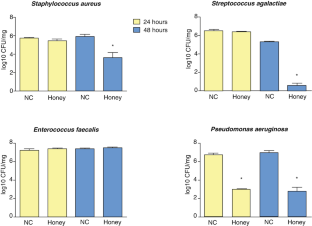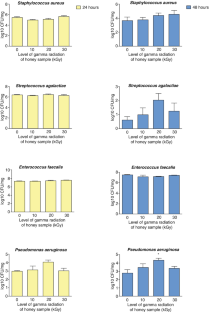 References
Smith DM, Snow DE, Rees E, Zischkau AM, Hanson JD, Wolcott RD et al (2010) Evaluation of the bacterial diversity of pressure ulcers using bTEFAP pyrosequencing. BMC Med Genet 3:41

Price LB, Liu CM, Melendez JH, Frenkel YM, Engelthaler D, Aziz M et al (2009) Comminity analysis of chronic wound bacteria using 16S rRNA gene-based pyrosequencing: impact of diabetes and antibiotics on chronic wound bacteria microbiota. PLoS One 7:e6462

Attinger C, Wolcott R (2012) Clinically addressing biofilm in chronic wounds. Adv Wound Care 1:127–132

Rhoads DD, Wolcott RW, Cutting KF, Percival SL (2007) Evidence of biofilms in wounds and potential ramifications. In: Gilbert P, Allison D, Brading M, Pratten J, Spratt D, Upton M (eds) Biofilms: coming of age. BioLine, Manchaster, pp 131–143

Bjarnsholt T, Kirketerp-Moller K, Jensen PO, Madsen KG, Phipps R, Krogfelt K et al (2008) Why chronic wounds will not heal: a novel hypothesis. Wound Repair Regen 16:2–10

Davis SC, Ricotti C, Cazzaniga A, Welsh E, Eagistein WH, Mertz PM (2008) Microscopic and physiologic evidence for biofilm-associated wound colonization in vivo. Wound Repair Regen 16:23–29

Dowd SE, Sun Y, Secor PR, Rhoads DD, Wolcott BM, James GA et al (2008) Survey of bacterial diversity in chronic wounds using pyrosequencing, DGGE, and full ribosome shotgun sequencing. BMC Microbiol 8:43

Frank DN, Wysocki A, Specht-Glick DD, Rooney A, Feldman RA, Amand AL et al (2009) Microbial diversity in chronic open wounds. Wound Repair Regen 2:163–172

Martin JM, Zenilman JM, Lazarus GS (2010) Molecular microbiology: new dimensions for cutanous biology and wound healing. J Invest Dermatol 1:38–48

Schaber JA, Triffo WJ, Suh SJ, Oliver JW, Hastert MC, Griswold JA et al (2007) Pseudomonas aeruginosa forms biofilms in acute infection independent of cell-to-cell signaling. Infect Immun 75:715–721

Davies DG, Parsek MR, Pearson JP, Iglewski BH, Costerton JW, Greenberg EP (1998) The involvement of cell-to-cell signals in the development of a bacterial biofilm. Science 280:295–298

Monroe D (2007) Looking for chinks in the armor of bacterial biofilm. PLoS Biol 5:e307

Winson MK, Camara M, Latifi A, Foglino M, Chhabra SR, Daykin M et al (1995) Multiple N-acyl-L-homoserine lactone signal molecules regulate production of virulence determinants and secondary metabolites in Pseudomonas aeruginosa. Proc Natl Acad Sci U S A 92:9427–9431

Gram L, Grossart HP, Schlingloff A, Kiorboe T (2002) Possible quorum sensing in marine snow bacteria: production of acylated homoserine lactones by Roseobacter strains isolated from marine snow. Appl Environ Microbiol 68:4111–4116

Miller MB, Bassler BL (2001) Quorum sensing in bacteria. Annu Rev Microbiol 55:165–199

Fuqua C, Winans SC, Greenberg EP (1996) Census and consensus in bacterial ecosystems: the LuxR-LuxI family of quorum-sensing transcriptional regulators. Annu Rev Microbiol 50:727–751

Li YH, Tang N, Aspiras MB, Lau PC, Lee JH, Elen RP et al (2002) A quorum-sensing signaling system essential for genetic competence in Streptococcus mutans is involved in biofilm formation. J Bacteriol 184:2699–2708

Flemming HC, Wingender J, Szewzyk U, Steinberg P, Rice SA, Kjelleberg S (2016) Biofilms: an emergent form of bacterial life. Nat Rev Microbiol 14:563–575

Percival SL, Vuotto C, Donell iG, Lipsky BA (2015) Biofilms and wounds: an identification algorithm and potential treatment options. Adv Wound Care 4:389–397

Flemming HC, Neu TR, Wozniak DJ (2007) The EPS matrix: the "house of biofilm cells". J Bacteriol 189:7945–7947

Rickard AH, Gilbert P, High NJ, Kolenbrander PE, Handley PS (2003) Bacterial coaggregation: an integral process in the development of multi-species biofilms. Trends Microbiol 11:94–100

Burmolle M, Webb JS, Rao D, Hansen LH, Sorensen SJ, Kjelleberg S (2006) Enhanced biofilm formation and increased resistance to antimicrobial agents and bacterial invasion are caused by synergistic interactions in multispecies biofilm. Appl Environ Microbiol 72:3916–3923

Costerton JW, Stewart PS (2001) Battling biofilms. Sci Am 285:74–81

Stewart PS, Costerton JW (2001) Antibiotic resistance of bacteria in biofilm. Lancet 358:135–138

Ammons CB (2010) Anti-biofilm strategies and the need for innovations in wound care. Recent Pat Antiinfect Drug Discov 5:10–17

Wolcott RD, Rumbaugh KP, James G, Schultz G, Phillips P, Yang Q et al (2010) Biofilm maturity studies indicate sharp debridement opens a time-dependent therapeutic window. J Wound Care 19:320–3208

Crone S, Garde C, Bjarnsholt T, Alhede M (2015) A novel in vitro wound biofilm model used to evaluate low-frequency ultrasonic-assisted wound debridement. J Wound Care 24:66–69 72

Molan PC (1992) The antibacterial nature of honey. 1. The nature of the antibacterial activity. Bee World 73:5–28

Blair SE, Carter DA (2005) The potential for honey in the management of wounds and infections. J Australian Infect Control 10:24–31

Allen KL, Molan PC, Reid GM (1991) A survey of the antibacterial activity of some New Zealand honeys. J Pharm Pharmacol 43:817–822

Lusby PE, Coombes AL, Wilkinson JM (2005) Bactericidal activity of different honeys against pathogenic bacteria. Arch Med Res 36:464–467

Molan PC (2006) The evidence supporting the use of honey as a wound dressing. Int J Low Extrem Wounds 5:40–54

Lin SM, Molan PC, Cursons RT (2009) The in vitro susceptibility of Campylobacter spp. to the antibacterial effect of manuka honey. Eur J Clin Microbiol Infect Dis 28:339–344

Tonks AJ, Cooper RA, Jones KP, Blair S, Parton J, Tonks A (2003) Honey stimulates inflammatory cytokine production from monocytes. Cytokine 21:242–247

Majtan J, Kovacova E, Bilikova K, Simuth J (2006) The immunostimulatory effect of the recombinant apalbumin 1-major honeybee royal jelly protein-on TNFα release. Int Immunopharmacol 6:269–278

van den Berg AJ, van den Worm E, van Ufford HC, Halkes MJ, Hoekstra MJ, Beukelman CJ (2008) An in vitro examination of the antioxidant and anti-inflammatory properties of buckwheat honey. J Wound Care 17:172–178

Ahmad A, Khan RA, Mesaik MA (2009) Anti inflammatory effect of natural honey on bovine thrombin-induced oxidative burst in phagocytes. Phytother Res 23:801–808

Majtan J, Kumar P, Majtan T, Walls AF, Klaudiny J (2010) Effect of honey and its major royal jelly protein 1 on cytokine and MMP-9 mRNA transcripts in human keratinocytes. Exp Dermatol 19:e73–ee9

Majtan J (2014) Honey: an immunomodulator in wound healing. Wound Repair Regen 22:187–192

Adams CJ, Boult CH, Deadman BJ, Farr JM, Grainger MNC, Manley-Harris M et al (2009) Isolation by HPLC and characterisation of the bioactive fraction of New Zealand manuka (Leptospermum scoparium) honey. Carbohydr Res 343:651–659

Mavric E, Wittmann S, Barth G, Henle T (2008) Identification and quantification of methylglyoxal as the dominant antibacterial constituent of Manuka (Leptospermum scoparium) honeys from New Zealand. Mol Nutr Food Res 52:483–489

Kwakman PH, te Velde AA, De Boer L, Speijer D, Vandenbroucke-Grauls CM, Zaat SA (2010) How honey kills bacteria. FASEB J 24:2576–2582

Bucekova M, Sojka M, Valachova I, Martinotti S, Ranzato E, Szep Z et al (2017) Bee-derived antibacterial peptide, defensin-1, promotes wound re-epithelialisation in vitro and in vivo. Sci Rep 7(1):7340

Estevinho L, Pereira AP, Moreira L, Dias LG, Pereira E (2008) Antioxidant and antimicrobial effects of phenolic compounds extracts of Northeast Portugal honey. Food Chem Toxicol 46:3774–3779

Aljadi AM, Yusoff KM (2003) Isolation and identification of phenolic acids in Malaysian honey with antibacterial properties. Turk J Med Sci 33:229–236

Wahdan HA (1998) Causes of the antimicrobial activity of honey. Infection 26:26–31

Haydak MH (1970) Honey bee nutrition. Annu Rev Entomol 15:143–156

Nascimento AP, Moraes LA, Ferreira NU, Moreno Gde P, Uahib FG, Barizon EA et al (2015) The lyophilization process maintains the chemical and biological characteristics of royal jelly. Evid Based Complement Alternat Med 2015:825068

Garcia MC, Finola MS, Marioli JM (2013) Bioassay directed identification of royal jelly's active compounds against the growth of bacteria capable of infecting cutaneous wounds. Adv Microbiol 3:138–144

Yousefi B, Ghaderi S, Rezapoor-Lactooyi A, Amiri N, Verdi J, Shoae-Hassani A (2012) Hydroxy decenoic acid down regulates gtfB and gtfC expression and prevents Streptococcus mutans adherence to the cell surfaces. Ann Clin Microbiol Antimicrob 11:21

Fujiwara S, Imai J, Fujiwara M, Yaeshima T, Kawashima T, Kobayashi K (1990) A potent antibacterial protein in royal jelly. J Biol Chem 265:11333–11337

Kilic A, Baysallar M, Beisirbellioglu B, Salih B, Sorkun K, Tanyuksel M (2005) In vitro antimicrobial activity of propolis against methicillinresistant Staphylococcus aureus and vancomycin-resistant Enterococcus faecium. Ann Microbiol 55:113–117

Boynova L, Kollarov R, Gergova G, Mitov I (2006) In vitro activity of Bulgarian propolis against 94 clinical isolates of anaerobic bacteria. Anaerobe 12:173–177

Helaly GF, Abd AA, Sonbol FI, El-Banna TE, Louise NL (2011) Dexpanthenol and propolis extract in combination with local antibiotics for treatment of staphylococcal and Pseudomonal wound infections. Arch Clin Microbiol 2:1–15

Lupatini NR, Danopoulos P, Swikidisa R, Alves PV (2016) Evaluation of the antibacterial activity of green propolis extract and meadowsweet extract against Staphylococcus aureus bacteria: importance in wound care compounding preparations. Int J Pharmaceut Comp 20:333–337

Stepanović S, Antić N, Dakić I, Svabić-Vlahović M (2003) In vitro antimicrobial activity of propolis and synergism between propolis and antimicrobial drugs. Microbiol Res 158:353–357

Speciale A, Costanzo R, Puglisi S, Musumeci R, Catania M, Caccamo F et al (2006) Antibacterial activity of propolis and its active principles alone and in combination with macrolides, beta-lactams and fluoroquinolones against microorganisms responsible for respiratory infections. J Chemother 18:164–171

Takaisi-Kikuni NB, Schilcher H (1994) Electron microscopic and microcalorimetric investigations of the possible mechanism of the antibacterial action of a defined propolis provenance. Planta Med 60:222–227

Gethin G, Cowman S (2008) Manuka honey vs.hydrogel - a prospective, open label, multicentre, randomised contolled trial to compare desloughing efficacy and healing outcomes in venous ulcers. J Clin Nurs 18:466–474

Lund-Nielsen B, Adamsen L, Gottrup F, Rorth M, Tolver A, Kolmos HJ (2011) Qualitative bacteriology in malignant wounds--a prospective, randomized, clinical study to compare the effect of honey and silver dressings. Ostomy Wound Manage 57:28–36

Biglari B, Moghaddam A, Santos K, Blaser G, Büchler A, Jansen G et al (2013) Multicentre prospective observational study on professional wound care using honey (Medihoney™). Int Wound J 10:252–259

Kamaratos AV, Tzirogiannis KN, Iraklianou SA, Panoutsopoulos GI, Kanellos IE, Melidonis AI (2014) Manuka honey-impregnated dressings in the treatment of neuropathic diabetic foot ulcers. Int Wound J 11:259–263

Surahio AR, Khan AA, Farooq M, Fatima I (2014) Role of honey in wound dressing in diabetic foot ulcer. Journal of Ayub Medical College 26:304–306

Imran M, Hussain MB, Baig M (2015) A randomized, controlled clinical trial of honey-impregnated dressing for treating diabetic foot ulcer. J Coll Physicians Surg Pak 25:721–725

Mayer A, Slezak V, Takac P, Olejnik J, Majtan J (2014) Treatment of non-healing leg ulcers with honeydew honey. J Tissue Viability 23:94–97

Vandamme L, Heyneman A, Hoeksema H, Verbelen J, Monstrey S (2013) Honey in modern wound care: a systematic review. Burns 39:1514–1525

Jull AB, Cullum N, Dumville JC, Westby MJ, Deshpande S, Walker N et al (2015) Honey as a topical treatment for wounds. Cochrane Databse Syst Rev (3):CD005083

Saikaly SK, Khachemoune A (2017) Honey and wound healing: an update. Am J Clin Dermatol 18:237–251

Weheida SM, Nagubib HH, El-Banna HM, Marzouk S (1991) Comparing the effects of two dressing techniques on healing of low grade pressure ulcers. J Med Res Inst 12:259–278

Jull A, Walker N, Parag V, Molan P, Rodgers A (2008) Randomized clinical trial of honey-impregnated dressings for venous leg ulcers. Br J Surg 95:175–182

Robson V, Dodd S, Thomas S (2009) Standardized antibacterial honey (Medihoney) with standard therapy in wound care: randomized clinical trial. J Adv Nurs 65:565–575

Al-Waili NS, Sallom KY (1999) Effects of topical honey on post-operative wounds infections due to gram positive and gram negative bacteria following caesarean sections and hysterectomies. Eur J Med Res 4:126–130

Subrahmanyam M, Ugane SP (2004) Honey dressing beneficial in treatment of Fournier's gangrene. Indian J Surg 66:75–77

Shukrimi A, Sulaiman AR, Halim AY, Azril A (2008) A comparative study between honey and povidone iodine as dressing solution for Wagner type II diabetic foot ulcers. Med J Malaysia 63:44–46

Eddy JJ, Gideonsen MD (2005) Topical honey for diabetic ulcers. J Fam Pract 54:533–535

Abdelatif M, Yakoot M, Etmaan M (2008) Safety and efficacy of a new honey ointment on diabetic foot ulcers: a prospective pilot study. J Wound Care 17:108–110

Siavash M, Shokri S, Haghighi S, Mohammadi M, Shahtalebi MA, Farajzadehgan Z (2011) The efficacy of topical royal jelly on diabetic foot ulcers healing: a case series. J Res Med Sci 16:904–909

Siavash M, Shokri S, Haghighi S, Shahtalebi MA, Farajzadehgan Z (2015) The efficacy of topical royal jelly on healing of diabetic foot ulcers: a double-blind placebo-controlled clinical trial. Int Wound J 12:137–142

Fujii A, Kobayashi S, Kuboyama N, Furukawa Y, Kaneko Y, Ishihama S et al (1990) Augmentation of wound healing by royal jelly (RJ) in streptozotocin-diabetic rats. Jap J Pharmacol 53:331–337

Sforcin JM, Fernandes A Jr, Lopes CAM, Bankova V, Funari SRC (2000) Seasonal effect on Brazilian propolis antibacterial activity. J Ethnopharmacol 73:243–249

Sforcin JM, Fernandes A Jr, Lopes CAM, Funari SRC, Bankova V (2001) Seasonal effect of Brazilian propolis on Candida albicans and Candida tropicalis. J Venom Anim Toxins Incl Trop Dis 7:139–144

Gekker G, Hu S, Spivak M, Lokensgard JR, Peterson PK (2005) Anti-HIV-1 activity of propolis in CD4(+) lymphocyte and microglial cell cultures. J Ethnopharmacol 102:158–163

Orsi RO, Sforcin JM, Rall VLM, Funari SRC, Barbosa L, Fernandes A Jr (2005) Susceptibility profile of salmonella against the antibacterial activity of propolis produced in two regions of Brazil. J Venom Anim Toxins Incl Trop Dis 11:109–116

Orsi RO, Funari SRC, Barbattini R, Giovani C, Frilli F, Sforcin JM et al (2006) Radionuclides in honeybee propolis (Apis mellifera L.). Bull Environ Contam Toxicol 76:637–640

Orsi RO, Sforcin JM, Funari SRC, Fernandes A Jr, Bankova V (2006) Synergistic effect of propolis and antibiotics on the Salmonella Typhi. Braz J Microbiol 37:108–112

Freitas SF, Shinohara L, Sforcin JM, Guimaraes S (2006) In vitro effects of propolis on Giardia duodenalis trophozoites. Phytomedicine 13:170–175

Bufalo MC, Candeias JMG, Sforcin JM (2009) In vitro cytotoxic effect of Brazilian green propolis on human laryngeal epidermoide carcinoma (HEp-2) cells. Evid Based Complement Alternat Med 6:483–487

Bufalo MC, Figueiredo AS, Sousa JPB, Candeias JMG, Bastos JK, Sforcin JM (2009) Anti-poliovirus activity of Baccharis dracunculifolia and propolis by cell viability determination and real-time PCR. J Appl Microbiol 107:1669–1168

de Azevedo IB, Sampaio RF, Montes JC, Contreras RL (1986) Treatment of decubitus ulcers with propolis. Rev Bras Enferm 39:33–37

Bernardo CLE, Souza IAF, Colavitti C, Garcia C (1990) Propolis: cicatrizante a antibiotico natural. Rev Bras Enferm 43:101–116

Quintana Diaz JC (1996) Effectos del propoleos en los tratamientos quirurgicos y las ulceras bucales. Rev Cuba Estomatol 33:26–29

Gregory SR, Piccolo MT, Piccolo MSH (2002) J P. Comparision of propolis skin cream to silver sulfadiazine: a naturophatic alternative to antibiotics in treatment of minor burns. J Altern Complement Med 8:77–83

Pachalski A, Frańczuk B, Wilk M (2002) An evaluation of the use of propolis in the treatment of skin disorders on the stumps of patients in rehabilitation following lower limb limb amputation. Ortop Traumatol Rehabil 4:60–68

Lofuto MA, Lemos Junior CA, Shimizu MT, Cabral R, Birman G (2005) Clinical evaluation of the topical use of propolis in recurrent minor aphthous ulceration. Ciencia Odontol Brasileira 24:147–152

Lofty M, Badra G, Burham W, Alenzi FQ (2006) Combined use of honey, bee propolis and myrrh in healing a deep, infected wound in a patient with diabetes mellitus. Biomed Sci Brief 63:171–173

Santos MJ, Vianna LAC, Gamba MA (2007) Avaliacao da eficacia da pomada de propolis em portadores de feridas cronicas. Acta Paul Enferm 20:199–204

Henshaw FR, Bolton T, Nube V, Hood A, Veldhoen D, Pfrunder L et al (2014) Topical application of the bee hive protectant propolis is well tolerated and improves human diabetic foot ulcer healing in a prospective feasibility study. J Diabetes Complicat 28:850–857

AkhavanKarbassi MH, Yazdi MF, Ahadian H, SadrAbad MJ (2016) Randomized doubleblind placebo controlled trial of propolis for oral mucositis in patients receiving chemotherapy for head and neck cancer. Asian Pac J Cancer Prev 17:3611–3614

Afkhamizadeh M, Aboutorabi R, Ravari H, Fathi Najafi M, Ataei Azimi S, Javadian Langaroodi A et al (2017) Topical propolis improves wound healing in patients with diabetic foot ulcer: a randomized controlled trial. Nat Prod Res (in press)

Merckoll P, Jonassen TO, Vad ME, Jeansson SL, Melby KK (2009) Bacteria, biofilm and honey: a study of the effects of honey on 'planktonic' and biofilm-embedded chronic wound bacteria. Scand J Infect Dis 41:341–347

Alandejani T, Marsan J, Ferris W, Slinger R, Chan F (2009) Effectiveness of honey on Staphylococcus aureus and Pseudomonas aeruginosa biofilms. Otolaryngol Head Neck Surg 141:114–118

Cooper R, Jenkins L, Hooper S (2014) Inhibition of biofilms of Pseudomonas aeruginosa by Medihoney in vitro. J Wound Care 23:93–96

Lu J, Turnbull L, Burke CM, Liu M, Carter DA, Schlothauer RC et al (2014) Manuka-type honeys can eradicate biofilms produced by Staphylococcus aureus strains with different biofilm-forming abilities. PeerJ 2:e326

Hammond EN, Donkor ES, Brown CA (2014) Biofilm formation of Clostridium difficile and susceptibility to manuka honey. BMC Complement Altern Med 14:329

Jervis-Bardy J, Foreman A, Bray S, Tan L, Wormald PJ (2011) Methylglyoxal-infused honey mimics the anti-Staphylococcus aureus biofilm activity of manuka honey: potential implication in chronic rhinosinusitis. Laryngoscope 121:1104–1107

Maddocks SE, Lopez MS, Rowlands RS, Cooper RA (2012) Manuka honey inhibits the development of Streptococcus pyogenes biofilms and causes reduced expression of two fibronectin binding proteins. Microbiology 158:781–790

Jenkins R, Burton N, Cooper R (2014) Proteomic and genomic analysis of methicillin-resistant Staphylococcus aureus (MRSA) exposed to manuka honey in vitro demonstrated down-regulation of virulence markers. J Antimicrob Chemother 69:603–615

Roberts AE, Maddocks SE, Cooper RA (2015) Manuka honey reduces the motility of Pseudomonas aeruginosa by suppression of flagella-associated genes. J Antimicrob Chemother 70:716–725

Truchado P, Gil-Izquierdo A, Tomas-Barberan FA, Allende A (2009) Inhibition by chestnut honey of N-acyl-L-homoserine lactones and biofilm formation in Erwinia carotova, Yersinia enterocolitica, and Aeromonas hydrophila. J Agric Food Chem 57:11186–11193

Lee JH, Park JH, Kim JA, Neupane GP, Cho MH, Lee CS et al (2011) Low concentrations of honey reduce biofilm formation, quorum sensing, and virulence in Escherichia coli O157:H7. Biofouling 27:1095–1104

Majtan J, Bohova J, Horniackova M, Klaudiny J, Majtan V (2014) Anti-biofilm effects of honey against wound pathogens Proteus mirabilis and Enterobacter cloacae. Phytother Res 28:69–75

Ashwinkumar Subramenium G, Viszwapriya D, Iyer PM, Balamurugan K, Karutha Pandian S (2015) covR mediated antibiofilm activity of 3-furancarboxaldehyde increases the virulence of group a Streptococcus. PLoS One 10(5):e0127210

Camplin AL, Maddocks SE (2014) Manuka honey treatment of biofilms of Pseudomonas aeruginosa results in the emergence of isolates with increased honey resistance. Ann Clin Microbiol Antimicrob 13:19

Lerrer B, Zinger-Yosovich KD, Avrahami B, Gilboa-Garber N (2007) Honey and royal jelly, like human milk, abrogate lectin-dependent infection-preceding Pseudomonas aeruginosa adhesion. ISME J 1:149–155

Moothoo DN, Naismith JH (1998) Concanavalin A distorts the beta-GlcNAc-(1--2)-Man linkage of betaGlcNAc-(1--2)-alpha-Man-(1--3)-[beta-GlcNAc-(1--2)-alpha-Man-(1--6)]-Man upon binding. Glycobiology 8:173–181

Shoae Hassani A, Ordouzadeh N (2010) 10-hydroxy-2-decenoic acid induce dispersion of Streptococcus mutans biofilms. Int J Infect Dis 14:191–335

Koo H, Rosalen PL, Cury JA, Park YK, Bowen WH (2002) Effects of compounds found in propolis on Streptococcus mutans growth and on glucosyltransferase activity. Antimicrob Agents Chemother 46(5):1302–1309

Duarte S, Rosalen PL, Hayacibara MF, Cury JA, Bowen WH, Marquis RE et al (2006) The influence of a novel propolis on mutans streptococci biofilms and caries development in rats. Arch Oral Biol 51(1):15–22

Jeon JG, Pandit S, Xiao J, Gregoire S, Falsetta ML, Klein MI et al (2011) Influences of trans-trans farnesol, a membrane-targeting sesquiterpenoid, on Streptococcus mutans physiology and survival within mixed-species oral biofilms. Int J Oral Sci 3:98–106

Monroe D (2007) Looking for chinks in the armor of bacterial biofilms. PLoS Biol 5(11):e307

Bulman Z, Le P, Hudson AO, Savka MA (2011) A novel property of propolis (bee glue): anti-pathogenic activity by inhibition of N-acyl-homoserine lactone mediated signaling in bacteria. J Ethnopharmacol (in press)

Sun Y, Dowd SE, Smith E, Rhoads DD, Wolcott RD (2008) In vitro multispecies Lubbock chronic wound biofilm model. Wound Repair Regen 16:805–813

Dowd SE, Sun Y, Smith E, Kennedy JP, Jones CE, Wolcott R (2009) Effects of biofilm treatments on the multi-species Lubbock chronic wound biofilm model. J Wound Care 18:510–512

Brackman G, De Meyer L, Nelis HJ, Coenye T (2013) Biofilm inhibitory and eradicating activity of wound care products against Staphylococcus aureus and Staphylococcus epidermidis biofilms in an in vitro chronic wound model. J Appl Microbiol 114:1833–1842

Kucera J, Sojka M, Pavlik V, Szuszkiewicz K, Velebny V, Klein P (2014) Multispecies biofilm in an artificial wound bed--a novel model for in vitro assessment of solid antimicrobial dressings. J Microbiol Methods 103:18–24

Dalton T, Dowd SE, Wolcott RD, Sun Y, Watters C, Griswold JA et al (2011) An in vivo polymicrobial biofilm wound infection model to study interspecies interactions. PLoS One 6:e27317

Sojka M, Valachova I, Bucekova M, Majtan J (2016) Antibiofilm efficacy of honey and bee-derived defensin-1 on multispecies wound biofilm. J Med Microbiol 65:337–344

Gjødsbøl K, Christensen JJ, Karlsmark T, Jørgensen B, Klein BM, Krogfelt KA (2006) Multiple bacterial species reside in chronic wounds: a longitudinal study. Int Wound J 3:225–231

Wolcott RD, Hanson JD, Rees EJ, Koenig LD, Phillips CD, Wolcott RA et al (2016) Analysis of the chronic wound microbiota of 2,963 patients by 16S rDNA pyrosequencing. Wound Repair Regen 24:163–174

James GA, Swogger E, Wolcott R, Pulcini E, Secor P, Sestrich J et al (2008) Biofilms in chronic wounds. Wound Repair Regen 16:37–44

Fazli M, Bjarnsholt T, Kirketerp-Moller K, Jorgensen B, Andersen CB, Krogfelt KA et al (2009) Nonrandom distribution of Pseudomonas aeruginosa and Staphylococcus aureus in chronic wounds. J Clin Microbiol 47:4084–4089

Trostrup H, Bjarnsholt T, Kirketerp-Moller K, Hoiby N, Moser C (2013) What is new in the understanding of non-healing wounds epidemiology, pathophysiology, and therapies. Ulcers ID 625934

De Leon S, Clinton A, Fowler H, Everett J, Horswill AR, Rumbaugh KP (2014) Synergistic interactions of Pseudomonas aeruginosa and Staphylococcus aureus in an in vitro wound model. Infect Immun 82:4718–4728

Pastar I, Nusbaum AG, Gil J, Patel SB, Chen J, Valdes J et al (2013) Interactions of methicillin resistant Staphylococcus aureus USA300 and Pseudomonas aeruginosa in polymicrobial wound infection. PLoS One 8(2):e56846

Kristich CJ, Li Y-H, Cvitkovitch DG, Dunny GM (2004) Esp-independent biofilm formation by Enterococcus faecalis. J Bacteriol 186:154–163

Paganelli LF, Willems RJ, Leavis LH (2012) Optimizing future treatment of enterococcal infections: attacking the biofilm? Trends Microbiol 20:40–49

Kafil HS, Mobarez AM (2015) Assessment of biofilm formation by enterococci isolates from urinary tract infections with different virulence profiles. J King Saud Univ 27:312–317

Mohamed JA, Huang DB (2007) Biofilm formation by enterococci. J Med Microbiol 56:1581–1588

Snowdon JA, Cliver DO (1996) Microorganisms in honey. Int J Food Microbiol 31:1–26

Sabet Jalali FS, Ehsani A, Tajik H, Ashtari S (2007) In vitro assessment of efficacy of gamma irradiation on the antimicrobial activity of iranian honey. J Anim Vet Adv 6:996–999

Molan PC, Allen KL (1996) The effect of gamma-irradiation on the antibacterial activity of honey. J Pharm Pharmacol 48:1206–1209

Midgal W, Owczarczyk HB, Kedzia B, Holderna-Kedzia E, Madajczyk D (2000) Microbial decontamination of natural honey by irradiation. Radiat Phys Chem 57:285–288

Truchado P, Lopez-Galvez F, Gil MI, Tomas-Barberan FA, Allende A (2009) Quorum sensing inhibitory and antimicrobial activities of honeys and the relationship with individual phenolics. Food Chem 115:1337–1344

Vlcekova P, Krutakova B, Takac P, Kozanek M, Salus J, Majtan J (2012) Alternative treatment of gluteofemoral fistulas using honey: a case report. Int Wound J 9:100–103

Majtanova N, Vodrazkova E, Kurilova V, Horniackova M, Cernak M, Cernak A et al (2015) Complementary treatment of contact lens-induced corneal ulcer using honey: a case report. Contact Lens Anterior Eye 38:61–63

Horniackova M, Bucekova M, Valachova I, Majtan J (2017) Effect of gamma radiation on the antibacterial and antibiofilm activity of honeydew honey. Eur Food Res Technol 243:81–88
Acknowledgments
We thank Mrs. Darina Majercikova for her technical help. This work was supported by the Scientific Grant Agency of the Ministry of Education of the Slovak Republic and the Slovak Academy of Sciences VEGA 2/0007/14.
Copyright information
© 2018 Springer International Publishing AG
About this chapter
Cite this chapter
Sojka, M., Horniackova, M., Bucekova, M., Majtan, V., Majtan, J. (2018). Antibiofilm Efficacy of Honeybee Products Against Wound Biofilm. In: Shiffman, M., Low, M. (eds) Biofilm, Pilonidal Cysts and Sinuses. Recent Clinical Techniques, Results, and Research in Wounds, vol 1. Springer, Cham. https://doi.org/10.1007/15695_2018_108
DOI: https://doi.org/10.1007/15695_2018_108

Published:

Publisher Name: Springer, Cham

Print ISBN: 978-3-030-03076-6

Online ISBN: 978-3-030-03077-3

eBook Packages: MedicineMedicine (R0)