PEGylation of Proteins as Tailored Chemistry for Optimized Bioconjugates
Part of the Advances in Polymer Science book series (POLYMER, volume 192)
Abstract
The high potential of peptides and proteins as therapeutic agents has not been fully exploited because of their common shortcomings: the only exist for a short lifetime in the body, they degrade easily in vivo and in vitro, and they cause immunological reactions. Among several proposed solutions, PEGylation, the covalent modification using polyethylene-glycol (PEG), has achieved interesting results, leading to a novel series of products that have already reached the market, while others will be available soon. In the past few years this technology, first developed for peptides and proteins, has been applied to non-peptide drugs, opening a new area of investigation that is receiving increasing interest. In this case, PEGylation allows the therapeutic application of molecules with inadequate water solubility, high toxicity, or a poor pharmacokinetic profile. This chapter describes recent achievements in PEGylation of proteins and peptides, with a special emphasis on the chemistry of conjugation, and it reports many examples from literature and from the authors' own experimental results.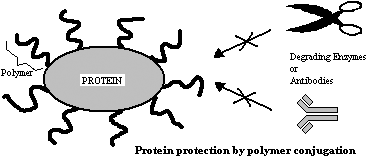 PEG 
PEGylation 
PEG-protein 
PEG-drugs 
Polymer therapeutics 
Notes
Acknowledgments
The authors thank the financial support of MURST 40%.