Abstract
The biosynthesis of the oligosaccharides and polysaccharides observed in any organism requires the existence of a repertoire of glycosyltransferase enzymes that catalyze the sequential transfer of sugars from a specific activated donor to a specific acceptor molecule to form regio- and stereospecific glycosidic linkages. A viral genome may encode just one glycosyltransferase, while a mammalian genome encodes hundreds of these enzymes. It is notable that approximately 1% of open reading frames over all sequenced genomes have been found to be glycosyltransferases, which is a fraction comparable to that allotted to kinases. Glycosyltransferases are a highly diverse group of enzymes with little homology even among enzymes that share the same substrate specificity. Classification of glycosyltransferases according to sequence homology reveals at least 86 families; however, to date only 27 of these families have members with known structure. This is in sharp contrast with glycosylhydrolases, which to date have published structures for 70 of the so far described 102 classes. The paucity of structural data for glycosyltransferases has been attributed to their membrane-associated character and low expression levels, but even with the relatively limited number of available structures it is possible to see emerging trends that offer a glimpse of the principles of enzyme structure.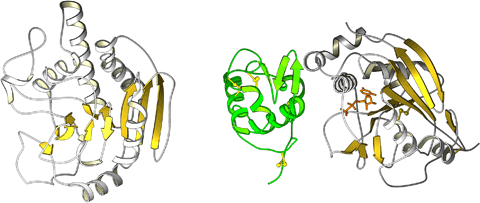 Keywords
Glycogen Storage Disease 
Hereditary Multiple Exostosis 
Fold Type 
Donor Sugar 
Acceptor Binding 
These keywords were added by machine and not by the authors. This process is experimental and the keywords may be updated as the learning algorithm improves.
Copyright information
© Springer-Verlag Berlin Heidelberg 2006