Abstract

Biosurfactants are considered as an environmentally friendly and sustainable alternative to conventional fossil-derived and chemically produced surfactants. Their production pathways, physicochemical properties, and applications are widely researched and discussed in literature. In this context, investigating the different impacts from the entire life cycle of biosurfactants is important to understand and mitigate potential environmental hotspots. Life Cycle Assessment (LCA) is an internationally accepted and standardized methodology to analyze the environmental impacts of products from a holistic view. Therefore, this study provides a detailed overview of existing LCA studies of biosurfactants by means of a systematic literature research. The focus specifically lies on articles that investigated microbial biosurfactants. However, the systematic approach used ensured a broader overview related to bio-based surfactants as well. Furthermore, two related topics, ecotoxicity and biodegradability of biosurfactants, were identified and discussed based on the search findings. After screening over 2,500 documents using Scopus and Google Scholar, six relevant LCA articles of biosurfactants could be identified. The identified articles are divided into LCA studies of alkyl polyglycosides, chemically produced bio-based surfactants, and LCA studies of microbial biosurfactants, their content analyzed and discussed in context. In conclusion, the number of available LCA studies is very limited and their results are often not comparable. To the best of the authors' knowledge, this review is the first of its kind to provide a detailed overview of LCA studies of biosurfactants. Consequently, the need for implementing more LCA studies becomes clear.
Graphical Abstract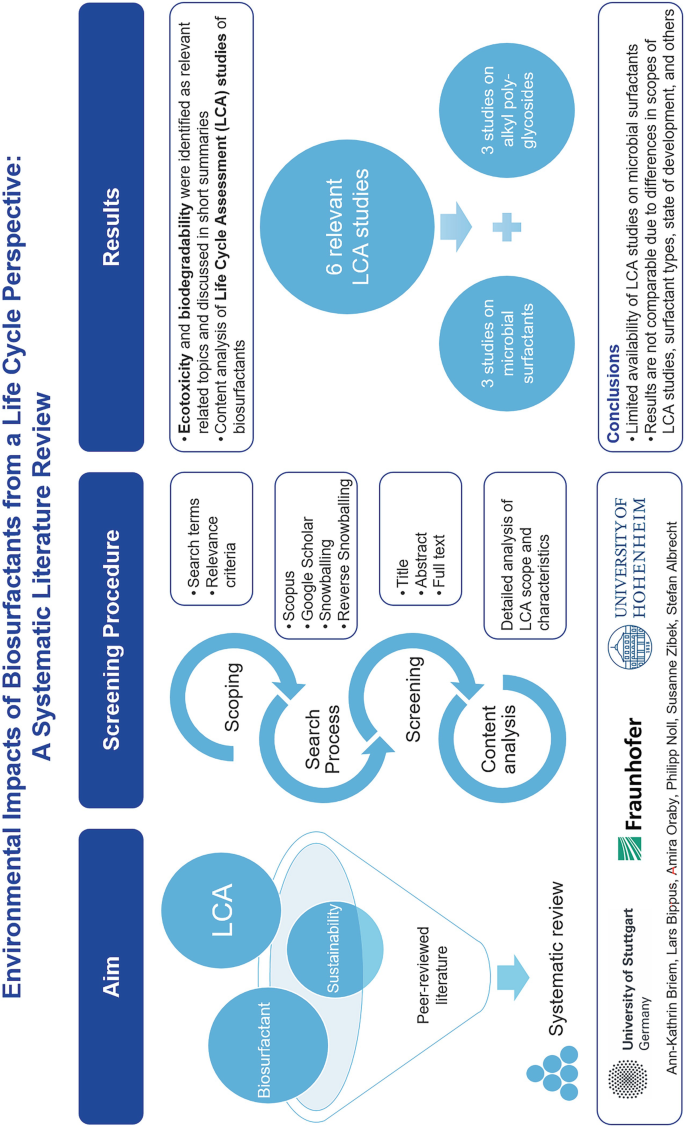 Keywords
Alkyl polyglycoside

Bio-based

Biodegradability

Bioeconomy

Biosurfactant

Ecotoxicity

Environmentally friendly

LCA

Life cycle assessment

Microbial surfactant

Renewable resources

Rhamnolipid

Screening

Sophorolipid

Sustainability

Systematic literature research
1

Introduction

The Paris Agreement and the United Nations Sustainable Development Goals are two recent examples of global efforts to work together towards a sustainable future [1, 2]. Furthermore, the combat against climate change and the implementation of sustainable solutions regarding social, environmental, and economic aspects have become an urgent international mission, for example, reflected by the European Green Deal [3]. In doing so, the European Union follows various strategies, such as the "Bioeconomy Strategy" [4]. The concept of bio-economy "encompasses production of renewable biological resources and their conversion into food, feed, bio-based products and bioenergy" [4]. It addresses numerous industries, such as the chemical and biotechnological industry, where solutions are being investigated, demonstrated, and scaled up from laboratory to industrial scale [4, 7, 8]. Biosurfactants are one example of a bio-economic product. While chemically produced surfactants can also be bio-based, the term biosurfactant usually refers to microbially produced surfactants [5, 6]. Various types of biosurfactants can be produced utilizing the metabolic processes of microorganisms, such as bacteria or fungi. Depending on the molecular weight of microbial amphiphilic metabolites, a distinction is made between high-molecular-weight amphiphilic polymers or bioemulsifiers, such as polysaccharides, and low-molecular-weight biosurfactants, such as glycolipids and lipopeptides [9]. Widely studied glycolipids include rhamnolipids (e.g., by Pseudomonas aeruginosa) [9], sophorolipids (e.g., by Candida bombicola) [10], as well as mannosylerythritol lipids and cellobiose lipids by various Ustilaginaceae species [11, 12]. Lipopeptides include surfactin and fengycin produced by Bacillus subtilis, among others [13]. The applications of biosurfactants are as diverse as their chemical structures and range from laundry detergents, household cleaners, cosmetics, and pharmaceuticals to bioremediation [14,15,16,17,18,19,20,21]. Some biosurfactants are produced on industrial scale and are commercially available, such as sophorolipids and rhamnolipids [6]. More biosurfactants showing promising properties and potentials for a sustainable production and respectively a wide range of applications are studied and lab-scale processes are developed, such as mannosylerythritol lipids, cellobiose lipids, surfactin, and polymyxin [5, 7, 16, 22, 23]. An excellent overview over bio-based surfactants is given in the book by Hayes et al. [20].

When the potential benefits of biosurfactants regarding environmental sustainability are pointed out, they are often referred to as being biodegradable, non-toxic, generally eco-friendly, and considered having a low overall environmental impact [5, 6]. These attributes are often associated with bio-based products, however, not automatically true in every case. For example regarding toxicity, it can be mentioned that biosurfactants often show a low(er) toxicity compared to chemical surfactants [24,25,26,27,28,29], but referring to them as non-toxic is incorrect. Separate and more detailed investigations of the specific properties of each biosurfactant are needed to allow these statements and cannot generally be applied to all biosurfactants. Furthermore, the above-mentioned terms refer to different levels of the product; some describe inherent properties of the product, such as biodegradability, others refer to the production process or overall life cycle of the product, such as "having a low environmental impact" [6, 30].

Taking the entire life cycle of a product into account is a common approach to identify process steps within its production and disposal/use phase with high environmental impacts and derive recommendations for effective measures to improve the sustainability of products. In order to do this, Life Cycle Assessment (LCA) is an internationally established and standardized method with life cycle thinking at its core [31, 32]. LCA can quantify the environmental impacts of a product or service in regard to various environmental issues, such as climate change, acidification and eutrophication, etc. The obtained results can be used for holistic assessments and to avoid a shift of burdens from one life cycle phase to another. Consequently, researchers and companies alike can learn how to improve their production processes and how to use a product more sustainably. In the case of chemicals, LCA studies are often conducted using a cradle-to-gate approach focusing on their production, as there are often many different possible applications strongly influencing the use phase [33]. Accordingly, a recent study investigated and presented a Life Cycle Inventory dataset that represents a European average of the production of conventional surfactants and raw materials (including coconut and palm oil) for the reference year 2011 [34]. The dataset was developed in cooperation with 14 companies emphasizing the relevance of LCA studies for industrial stakeholders. However, the relevance of the application and, consequently, the influence of the use phase on the overall environmental impacts should not be neglected when following the life cycle approach.

This study aims at providing a detailed overview of the existing LCA studies of biosurfactants by means of a systematic literature research. The focus specifically lies on studies that investigated microbially produced surfactants. However, the systematic approach used ensures a broader overview related to bio-based surfactants as well, where renewable resources are converted with chemical methods. Additionally, the fields of ecotoxicity and biodegradability of biosurfactants are summarized and discussed in relation to their relevance from the life cycle perspective. Relevant LCA studies related to the production, use and disposal of biosurfactants are identified and put into context with the life cycle perspective. The studies are compared on the basis of a content analysis. Research gaps and requirements for future research are identified. In summary, this article aims to provide a thorough literature review of existing LCA studies of microbially produced surfactants and bio-based surfactants. Furthermore, recent findings are pointed out and future research perspectives are identified.
2

Systematic Literature Research Approach

In order to provide a complete overview of existing LCA studies, a detailed and systematic approach was followed during the research for this study. First, relevant search terms were defined and combined. Second, relevance criteria were defined to identify the relevant documents. Third, a predefined screening procedure was followed. Finally, the identified studies' content was analyzed regarding predefined characteristics. This entire process is described in detail in the following paragraphs.
2.1

Search String Combinations

The literature research was carried out using the scientific search engines Scopus (scopus.com [35]) and Google Scholar (scholar.google.com [36]) and was performed in January and February 2020. The search strings used for the research consisted of combinations of two or three search string components. The components are associated with biosurfactants and sustainability assessment studies. Although "biosurfactant" seems to be the most commonly used term, there are different notations and expressions for referring to microbial biosurfactants. Therefore, a number of terms for microbial biosurfactants and different spellings were used for the search. The same applies to the terminology surrounding LCA. Numerous variations were used as search string components, for example "TITLE-ABS-KEY ("microbial surfactant" AND "life cycle assessment")." All components used for the search string combinations are shown in Fig. 1. 70 different search strings resulted from combining the previously defined components. The results of these 70 document searches were then screened.
2.2

Definition of Relevance Criteria

As this literature review focuses on the evaluation of environmental impacts in a holistic way, publications were considered if an LCA was conducted. Furthermore, only peer-reviewed articles were taken into account to ensure a high-quality level. All types of microbial biosurfactants were included. During the research it became clear that the very narrow definition of biosurfactant limited to the microbial pathway would exclude some detailed LCA studies of alkyl polyglycosides (APGs), which are chemically produced but bio-based surfactants and often referred to as "first generation biosurfactants" [37]. Therefore, we included these studies in this review.
2.3

Screening Procedure

An illustration of the screening procedure is given in Fig. 2. First, if the search string produced a high number of results (more than 200 results), the search string was assumed to be too unspecific. In this case some results were screened to verify the low share of relevant studies, and the search string was modified to increase the share of relevant literature. Second, all titles and abstract previews of sufficiently specific searches were screened to examine if the study could be relevant to the scope of this literature review. Third, the next step was to read the full abstract and check against the predefined relevance criteria. Additionally, more relevant articles in the field of interest were retrieved from the relevant studies' citations (snowballing) and using the Scopus online database citation tracking (reverse snowballing).
2.4

Content Analysis Approach

Finally, the identified studies were analyzed in detail. For this content analysis, the most important LCA characteristics were defined. These LCA characteristics include:
biosurfactant type,

goal and scope,

functional unit,

software and database used,

chosen impact assessment characterization method and categories,

raw materials,

production scale and production pathways,

the field of the surfactant's application,

regional and temporal context.
These characteristics were analyzed for each LCA study on biosurfactants, compared to the other LCA studies' characteristics and discussed.
3

Results

This section first provides a general overview of the findings during the research for this publication. Next to numerous studies related to the application of biosurfactants, two related topics to LCA in the general field of environmental analyses were identified and a short summary is given for both ecotoxicity and biodegradability. Finally, an overview is presented for the six identified LCA studies of biosurfactants.
3.1

General Overview Over the Search Findings

The titles of more than 2,600 documents were screened within this literature research, consisting of almost 500 search results from Scopus and more than 2,100 search results from Google Scholar. Most of the literature from the first evaluation step covers related subjects rather than assessing the environmental sustainability of the surfactants. Articles in this context focusing solely on the application of biosurfactants account for a large share of results for the used search string combinations. The potential application of biosurfactants for remediation is widely discussed in academic literature [38]. Documents focusing on remediation account for approximately half of the overall search findings.

To illustrate our findings, we created a word cloud of the 50 most frequently occurring words in title, abstract, and keywords of the 71 documents found on Scopus using one of the search string combinations, that was specific enough but still resulted in articles from a broad range of fields ("biosurfactant" AND "environmental impact"), displayed in Fig. 3. The list of words was processed by only including the most frequently used words linked to the content of the text, i.e. excluding words without meaning, such as articles, conjunctions, and pronouns. In a second processing step, words found in singular and plural were aggregated to a single word. The frequency of each word is represented by the size of the word in the illustration, with "biosurfactant" having the highest number (267) and "compounds" the lowest (34). This visualization in Fig. 3 shows many remediation-related words, such as "bioremediation," "biodegradation," "pollution," and "removal." Various research groups reported on biosurfactant-enhanced bioremediation processes [38, 39]. Biosurfactants can be used in remediation of oil, petroleum, and diesel spills [40], polycyclic aromatic hydrocarbons [41, 42], and heavy metal contaminations of soil and ground water [43, 44]. The application of biosurfactants increases the solubility of hydrophobic substances and bioavailability for microorganisms. Corresponding word cloud listings are, for instance, "heavy," "metal," and "soil."
Next to the application potential of biosurfactants in bioremediation, a further research field is the use of biosurfactants in tertiary oil recovery discussed in various articles [45,46,47]. It is represented by roughly 20% of documents in the search results. Furthermore, main applications for biosurfactants are represented in the search findings, for example, as detergents in washing agents and household cleaning products or as emulsifiers in cosmetics [48, 49]. Furthermore, researchers are investigating anti-bacterial, anti-fungal, and anti-cancer properties of biosurfactants, which offers opportunities for the use in medicine in the future [18, 50].
Another large share of results deals with new and optimized production processes for biosurfactants (corresponding words in Fig. 3: "process," "fermentation") and their substance properties ("properties," "tension"). The use of microorganisms (corresponding words in Fig. 3: "bacteria," "biomass," "fermentation," "microorganisms," and "pseudomonas") as essential feature of biosurfactants is often put in contrast to the conventional production pathway for surfactants ("chemical"). Several articles focus on process optimization to improve the yield and conversion rate through enhanced production strains, feedstocks, and operating conditions [23, 51,52,53]. The use of agricultural side products and waste streams as feedstock for the biosurfactant production offers potential for cost reduction (corresponding word in Fig. 3: "waste").
For the next selection, over 350 articles were considered potentially relevant. This accounts for approximately 15% of the search results. Due to the information provided in the abstract, six articles met the predefined relevance criteria investigating the environmental impact of biosurfactants with an LCA approach.
3.2

Ecotoxicity of Biosurfactants: A Summary

Biosurfactants are described to exhibit a "low toxicity" respectively "lower toxicity" compared to fossil-based surfactants [24, 25]. However, only few toxicity studies on specific biosurfactant variants deploying bioassays are available [26,27,28,29]. Therefore, by increasingly applying biosurfactants, a probable entry into the environment has to be considered and toxicity carefully assessed [26]. Different toxicity impacts ranging from the environment (ecotoxicity, e.g., phytotoxicity, aquatic or microbial toxicity) to humans (e.g., general toxicity, reproductive toxicity and carcinogenicity) are conceivable given the above-mentioned applications [54, 55]. In the scope of this short summary, we are focusing on ecotoxicity given that biosurfactants may be used as household detergents and potentially ending up in the environment. Ecotoxicity has been described as a chemical compounds' "[…] toxic impact to the organisms living in an environmental compartment like water, sediment or soil, is a substance-specific property forming an essential element for the environmental safety assessment" [55]. It is emphasized that not only the toxicity of a substance has to be evaluated but also whether the amount released into the environment is sufficiently high to have a toxic impact. This classification is underlined by the environmental risk assessment regulation "REACH" as outlined by the European Chemicals Agency, ECHA. For risk characterization of a substance, they describe a ratio of (predicted) environmental concentration (PEC) to the (predicted) no-effect concentration (PNEC) [55, 56]. In the following an exemplary study from 2016 was selected to illustrate the assays deployed to test ecotoxicity of a (bio)surfactant. The authors Johan et al. tested the toxicity of mono-rhamnolipid (m-RL) produced by a recombinant Pseudomonas putida strain using different representative bioindicators. Different model organisms were treated with a dilution series of m-RL. The organisms were used as bioindicators to test for: (1) embryotoxicity and teratogenicity (Danio rerio), (2) cytotoxicity and growth inhibition (Aspergillus niger, Candida albicans) as well as (3) immobilization (Daphnia magna) according to OECD guidelines, international DIN standard and reported by [57,58,59,60]. Toxicity was described by means of LC50 respectively EC50 values which are the lethal concentration of a substance causing death to 50% of the organisms exposed respectively the effect concentration causing 50% of immobilization of the organisms exposed. High values represent a lower toxicity. The authors reported a mean LC50 value of 60 mg/L m-RL for D. rerio, a dose dependent decrease in growth for C. candida between 17 and 51 g/L, prevention of hyphen formation of A. niger at 68 g/L and an EC50 value of 50 mg/L (after 24 h) respectively 30 mg/L (after 48 h) for immobilization of D. magna. In Table 1 representative (eco)toxicity studies for prominent biosurfactants and synthetic surfactants are listed for comparison.
3.2.1

Toxicity in LCA

The impact assessment part of an LCA can include toxicity related impact categories, such as fresh-water ecotoxicity or human toxicity. Generally, the scope of an LCA study includes the entire product system. Consequently, all substances entering and leaving the product system (inputs and outputs) are taken into account. For the evaluation of the environmental impacts, each substance of the inventory is taken into account by multiplying the emitted amount with the respective characterization factor [31, 32]. The development of characterization factors is complex and specific for each impact category. Characterization models include the fate of a substance once it is emitted into a compartment of the environment (air, water, soil), the exposure of organisms (e.g., humans) to this substance and its effect once an organism has been exposed [71, 72]. Especially for toxicity related impact categories, various differing models are available and calculations are bound to uncertainties [72, 73]. For example, a recent study investigated the availability of characterization factors for pharmaceutical emissions and their modelling in LCA. The results of the study revealed several relevant methodological gaps, such as missing specific impact pathways and a limited availability of characterization factors in existing toxicity models regarding the studied substances [74].

Therefore, the toxicity of biosurfactants as investigated in the above-mentioned studies could be included in future LCA studies, if proper characterization factors are developed. At the same time, evaluating toxicity categories in LCA can shed light on the impacts of the overall product system in this regard, while keeping in mind the inherent uncertainties of current modelling approaches. However, LCA cannot be used to determine the toxicity of a biosurfactant, or any substance for that matter.
3.3

Biodegradability of Biosurfactants: A Summary

As indicated by our search findings, biodegradability is a characteristic often associated with biosurfactants. However, studies that actually assess their biodegradability are rather limited and were previously described by Klosowska-Chomiczewska et al. [75]. At the same time antimicrobial characteristics are also attributed to some biosurfactants [16, 47, 76,77,78,79,80]. While this seems promising for their application in pharmaceuticals or as antimicrobial agents, it may pose a challenge for biodegradation at high biosurfactant concentrations. After their release to the environment, these antimicrobial characteristics of the biosurfactants could prevent or at least delay a biodegradation [78]. Some described applications include an intended emission of biosurfactants to the environment during their use phase. One example is the widely described application for bioremediation, where their amphiphilic characteristics are used to facilitate the solubilization of hydrocarbons and thus enable their subsequent biodegradation [24, 47, 81]. Here the biodegradability of the used biosurfactant itself would be a necessary prerequisite for its application, as it stays in the environment. Another example is using biosurfactants as detergents in cleaning agents or as ingredients for cosmetics [82]. After their use by consumers and disposal into the public wastewater system, an exposure to a water treatment plant and afterwards the environment occurs.

The consideration of biodegradability is already taken into account in many regulations and laws. The European Detergent Regulation (EC) No 648/2004, or even REACH, imposes minimal degradation limits for a surfactant to be approved for application as a detergent or as a chemical ingredient in other products, thus making biodegradability assessments inevitable.

In biodegradability tests, a mineral medium solution or suspension containing the test substance is inoculated with a mixed population of microorganisms (derived from activated sludge, sewage effluents (unchlorinated), surface waters and soils, or from a mixture of these [83] and incubated under aerobic or anaerobic conditions, while dissolved organic carbon (DOC), CO2 production, or O2 uptake are measured as indicators for biodegradation. A widely used test method for biodegradability is standardized by the Organisation for Economic Co-operation and Development (OECD). According to the OECD guideline, a substance is considered "readily biodegradable," when 70% of DOC, or 60% of the theoretical CO2 (equivalent to C content in the test substance) is measured within a 10-day window in the 28-day test period under test conditions [83].

As published in part by Klosowska-Chomiczewska et al. [16] and summarized in Table 2, most examined microbial biosurfactants show biodegradability and in some cases with rates superior to some representative synthetic surfactants. Variations in biodegradability results amongst the same biosurfactant group can be attributed to either different test conditions or different compositions of the used biosurfactant mixtures. For better comparability it is thus advised to use the standardized OECD methods for future biodegradability studies.
3.3.1

Biodegradability in LCA

Information on the biodegradability of the biosurfactant is necessary for end-of-life modelling in LCA, especially when assessing the ecotoxicity of a certain biosurfactant after its release to the environment, as discussed above. Biodegradability values would provide the data needed to model the impact of remaining residues of the biosurfactant after its use phase, whether the release to the environment is during the use phase (e.g., for bioremediation) or rather after its use phase (e.g., as an ingredient in detergents or cosmetics).

As shown in our short summary, most examined biosurfactants show ready biodegradability. This means that ≥60% of the biosurfactant is biodegraded within a 10-day window, which is a good indication for an overall low impact on ecotoxicity. However for a proper assessment of ecotoxicity, detailed kinetics of biodegradation should be considered.
3.4

Systematic Analysis of Existing LCA Studies

A total of six articles were found as described above. To illustrate the specific focus of these studies, we created a second word cloud shown in Fig. 4 with the top 50 words from title, abstract, and keywords of the identified relevant LCA studies for this review. Therefore, Fig. 4 visualizes keywords in a more specific context compared to Fig. 3. Out of the top 50 words for each visualization, 13 are the same, for example "environmental" and "biosurfactant" are similarly prominent compared to Fig. 3. Moreover, both Figs. 3 and 4 show terms related to the production of biosurfactants, production organisms, and biosurfactant types. However, the surrounding words in Fig. 4 show the specific focus of these studies, such as "life," "cycle," "impact," and "assessment." Very specific LCA related terms can be found, such as "functional," "unit," and "global," "warming," "potential," or "CO2". Furthermore, each study left a distinct "finger print," one example being the representation of Azotobacter vinelandii, a production strain used in one of the studies [52]. The number of occurrence for each word in Figs. 3 and 4 can be found in the supporting information.
In the following, the content of all articles is summarized and divided into two sections. One dedicated to the three articles covering LCA studies of APGs and the other dedicated to LCA studies of microbial biosurfactants. Table 3 provides an overview over all 6 investigated articles and the specific boundary conditions of the conducted LCAs.
3.4.1

LCA Studies of APGs

Three LCA articles of alkyl polyglycosides (APGs) were found. APGs are chemically derived from renewable resources, mainly tropical oils and a sugar fraction. As APGs have been commercialized in large quantities for many years, studies on their characteristics and applications are available as well as LCA studies. For this reason, these studies can serve as a benchmark for LCAs of other biosurfactants. Figure 5 illustrates the life cycle stages considered in the relevant LCA studies on APGs.

In 2013 Guilbot et al. conducted a cradle-to-grave life cycle assessment for an APG containing cosmetic cream and a cradle-to-gate life cycle assessment for raw APG [92]. The APGs are synthesized via Fischer's glycosylation of fatty alcohols from palm kernel oil and glucose in France. The data for the synthesis of APG is based on industrial primary data. Palm trees are assumed to be cultivated in Malaysia and Indonesia, as well as the oil extraction. The following conversion of raw palm kernel oil to fatty alcohol via transesterification and hydrogenation in Germany is also based on industrial primary data. For the saccharide feedstock, glucose is assumed to be produced from wheat starch in France. The LCA was carried out using SimaPro 7.3.2 software and the Ecoinvent 2.0 database for background data. The functional unit for the first investigation was defined as 1,000 kg of packed APG. In addition, the use of the above-mentioned APG as emulsifier in a cosmetic cream was investigated in a cradle-to-grave LCA. In this scenario, the functional unit was defined as the provision of a cosmetic face hydration cream for one person for a year, which equals 584.0 g of cream containing 29.2 g of APG. In the formulation process, water, an oil phase, and APG are mixed. Packaging, transportation, store supply, purchasing by the consumer, and use are also taken into account for this consideration. Guilbot et al. showed that for the cosmetic cream, the formulation phase and the use phase are most relevant for the environmental impact. The main impact in the formulation phase is caused by the oil used in the formulation. Regarding the use phase, transportation of the cream from stores to consumers plays an important role. By contrast, the production of APG does not contribute much to the environmental impact of the final cosmetic cream because of the low weight share of only 5% in the formulation. Focusing on the production of the APG, Guilbot et al. showed that raw materials, in particular fatty alcohol from palm kernel oil, account for the highest environmental impacts in all categories considered. The environmental impact of the fatty alcohol is induced through land use change in a great extent and largely depends on the cultivation conditions of palm trees. Uncertainties in the former land use, soil type, yield, and other assumptions more for the palm tree cultivation result in significant variations on the carbon footprint.

Lokesh et al. introduced a method to produce APGs from only wheat straw instead of typically used raffinated glucose and vegetable oils [53]. In this new production process, the feedstock chemicals for the APG synthesis, octacosanol and levoglucosan, are both produced from wheat straw. First, wax esters are produced via supercritical CO2 extraction of wheat straw. In a fractionation process, octacosanol is separated from other fatty alcohols, fatty acids, esters, and dewaxed straw. In the next process step, dewaxed wheat straw is pelletized. In a low temperature microwave pyrolysis process with in-situ separation, the anhydro sugar levoglucosan can be produced from dewaxed straw pellets and used as feedstock for the glycosylation reaction for APG synthesis. The research group carried out an LCA to investigate if this new method is more advantageous to conventional APG production from an environmental point of view. Therefore, a functional unit of 1 g APG was defined and the above-mentioned LCA model of Guilbot et al. was used as a baseline scenario. The APG production in the baseline scenario is characterized by the use of glucose from wheat starch and palm kernel oil instead of wheat straw. The cultivation of wheat and production was assumed to take place in Great Britain. The research group used different literature data sources, Ecoinvent 2.2 data, other databases and national inventories, as well as experimental data for a newly developed ball milling process. Environmental impacts were calculated by spreadsheet calculations for the impact category global warming potential and subdivided into direct emissions and emissions from land use. The wheat straw based APG appeared to have a lower direct GWP than the glucose and palm kernel oil based counterpart, for both direct emissions and land use emissions. The global warming potential caused by land use change was further investigated. The study found that the fatty alcohol and starch production caused a higher GWP than octacosanol and levoglucosan extracted from wheat straw. Furthermore, a carbon storage credit was given for biochar to the wheat straw based APG. Biochar is also known as activated wheat straw. It is formed as a side product of the pyrolysis process. CO2 stored as biogenic carbon in the biochar could potentially be sequestered via re-incorporation of the biochar into the soil. Three different change scenarios were implemented to evaluate emissions from land use. Besides the LCA impact category GWP, the additional indicators fossil-derived energy consumption, water consumption, and the waste factor (mass of waste per mass of product) were calculated. In a later study, Lokesh et al. extended their sustainability analysis by conducting a life cycle costing analysis to quantify the economic feasibility and resource efficiency of the described production process of APG from wheat straw [93].

Another LCA study investigated the environmental impact of the APG production from wheat straw and fatty alcohols from various sources [94]. Although Brière et al. used the same raw materials for the APG production as Guilbot et al., the feedstock for the Fischer glycosylation reaction is produced from wheat straw via a newly developed acid-assisted ball milling process. Wheat straw crushing and depolymerization of cellulose and hemicellulose take place at the same time. The reactive short chain oligosaccharides obtained are directly used in the APG synthesis with fatty alcohols, without any separation or purification steps. A cradle-to-gate LCA was conducted for the production of 1,000 kg of APG to revise the environmental impact of this new pathway. The SimpaPro 8.3 software and the Ecoinvent 3.3 database were used and the production was assumed to take place in France. In the reference scenario, corn starch was used as carbohydrate source for the glycosylation instead. Fatty alcohols were assumed to be obtained from palm kernel oil in both scenarios. The impact assessment was carried out using the ReCiPe 2016 characterization factors and all 17 midpoint impact categories were taken into account. The research group found that using this new method, the environmental impact of the carbohydrate can be significantly reduced. The provision of fatty alcohols from palm kernel oil causes the largest share in almost all impact categories. Because of the low share of wheat straw and acid-assisted milling to the impact of the APG production, allocation procedure and the electricity mix only have a low influence on the overall impact. Additionally, three different sources of fatty alcohols were compared to the global market mix of fatty alcohols used for the baseline scenarios, in particular palm kernel oil, coconut oil, and petrochemicals. In general, coconut oil generated the largest impacts, while palm kernel oil seems to generate lower impacts. In contrast to the low impacts of wheat straw on the environmental impact of the final product, the source of fatty alcohols strongly affects the APGs environmental performance.

Three LCA articles on the environmental impact of APGs, a first generation biosurfactant, were summarized in this section and an overview is provided in Table 3. The first study used primary data from industrial APG production (Guilbot et al.). The two subsequent articles originate from other research groups. They both used raw materials for the APG production obtained from wheat starch in newly developed processes. These two new APG production processes based on wheat straw were both investigated in laboratory experiments. The scaled-up experimental data was then used for a life cycle assessment analysis to identify hot spots in the production. Both studies on wheat straw based APG referenced the industrial data study of Guilbot et al. as a benchmark scenario.
3.4.2

LCA Studies of Microbial Biosurfactants

Following the defined relevance criteria of this literature review, only three LCA studies of microbial biosurfactants were found. The life cycle stages considered in these studies are presented in Fig. 6. Their scopes and main findings are shortly summarized and discussed in the following paragraphs.

In 2017, Baccile et al. presented a multidisciplinary study focusing on acetylated acidic sophorolipids [37]. The LCA study was conducted in addition to synthesis, purification and characterization of the produced compounds, which were carried out by all co-authors simultaneously using the same sample from one batch. For the LCA, a cradle-to-grave approach was chosen. The application of the surfactant in a household hand-washing detergent was investigated using the functional units of "1 hand wash" and, additionally, "1 kg of surfactant" for a comparative analysis. While the focus was put on the impacts from the experimental fermentation and purification processes of the original 150 L pilot scale, the processes were "assumed at a larger scale" for the calculations. The exact scale taken into account is not specified by the authors. The geographical reference is Belgium. The results for midpoint indicators (ILCD midpoint v1.04 method) showed that the highest impacts in all evaluated impact categories originate in the production phase, specifically from the substrates (glucose and rapeseed oil). While the use phase had overall small impacts, the end of life phase had noticeable impact in some categories, e.g. climate change and eutrophication. Additionally, using endpoint indicators (ReCiPe endpoint v1.10 Europe H/A) the authors compare their results with reference products ranging from linear alkylbenzene sulfonate (LAS) to APGs. The total environmental impacts of the investigated sophorolipids are in the same range as for the reference products. It is pointed out that the currently small production volume should be kept in mind, as the results are shown per volume of product. Baccile et al. conclude that the environmental impacts depend largely on the raw material input and, therefore, an optimization of the substrate ratio would lead to significant improvements. Moreover, the use of second-generation raw materials is mentioned as another optimization possibility.

An article by Aru and Ikechukwu presents a gate-to gate LCA of biosurfactants produced by a diculture of Azotobacter vinelandii and Pseudomonas sp. for an application in bioremediation of oil spills in Nigeria [52]. The specific surfactant type is not mentioned in the article. The analysis was based on laboratory processes, including fermentation, purification steps, and recycling of solvents, and linearly scaled to industrial production of "1,000 kg surfactant" which served as functional unit. Although the LCI data for the entire process is given, only the metabolic CO2 emissions from the cultivation process are taken into account for calculating the global warming potential. Similarly, the NH3 emissions are solely used to calculate the acidification potential. Additionally, the electricity consumption is investigated separately. Emissions to the environment are calculated assuming a power supply by natural gas with a 33% conversion efficiency and using emission factors from the United States Environmental Protection Agency. The authors conclude that the emissions from the power supply contribute the most to the overall environmental impacts. Furthermore, they point out that the intended application plays a key role, as in the investigated case of bioremediation the microorganisms could be directly applied to the soil avoiding the production of large amounts of surfactant in a technical process and the associated emissions from the power supply.

Kopsahelis et al. [51] investigated the production of biosurfactants and bioplasticizers from waste oils within the EU-project Bio-SURFEST [51]. In this study, the environmental impacts resulting from the production of rhamnolipids and sophorolipids are analyzed in a gate-to-gate LCA. The fermentation process conditions of a pilot production in Greece and the reference year 2013 are taken into account. Since the study focused on the synthesis of biosurfactants, the functional unit is defined as "1 kg of product" and detailed results are provided for the pre-inoculum, inoculum, and fermentation process stages. Purification of the surfactants was not taken into account in this study. The results are calculated for six midpoint indicators using the EPD 2008 V1.03 method. The authors point out that the environmental impacts of the investigated rhamnolipids production are lower compared to those of the sophorolipids production, due to the shorter duration of the main fermentation process resulting in lower thermal energy and electricity demand as well as less CO2 emissions from the metabolic activity of the microorganisms during fermentation. Furthermore, the obtained results are discussed in context with the findings of Baccile et al. [37] and Guilbot et al. [92] and found to reach similar conclusions. It is concluded that the biosurfactant fermentation mainly contributes to the overall environmental impacts. Furthermore, Kopsahelis et al. [51] point out that there are only few studies in recent literature that conducted life cycle based sustainability analyses and, consequently, their importance is highlighted.

In summary, the three analyzed articles presented LCA results of various microbial biosurfactants using experimental data. While the specific surfactant type was not mentioned in the limited study by Aru and Ikechukwu, Baccile et al. and Kopsahelis et al. investigated sophorolipids and rhamnolipids in detail from a life cycle perspective. While Kopsahelis et al. and Aru and Ikechukwu implemented a gate-to-gate approach, Baccile et al. evaluated the application of the studied biosurfactant in a hand-washing detergent and compared it with other conventional surfactants. Kopsahelis et al. point out that there is a lack of similar studies in current literature, which is reflected by the fact that Baccile et al. and Aru and Ikechukwu do not mention other studies in their articles.
4

Discussion of Findings in Published LCA Studies

Even though thousands of documents were screened and abundant literature on the characteristics and various environmental properties of biosurfactants are available, surprisingly only two detailed LCA articles of microbially produced surfactants could be found. As summarized above, ecotoxicity and biodegradability of biosurfactants are in the focus of researchers and these findings can be useful in the context of LCA. Contrarily, investigating the overall environmental impacts of these substances by means of LCA seems to be neglected so far in literature. Therefore, we broadened the scope of the original selection criteria during our research to include relevant LCA studies of other bio-based surfactants as well.

The studied surfactants in the investigated studies were microbially produced rhamnolipids and sophorolipids, as well as bio-based and chemically produced APGs. Only one study did not specify the biosurfactant type, although the microbial origin was made clear. It is not surprising that there were more studies found on APGs (half of the results), due to the fact that they have been commercialized on a larger scale. This is also reflected by the fact that the only study using industrial data for the LCA was Guilbot et al. [92] investigating APGs. All other studies used experimental or pilot-scale data and assumptions or simulations for scale-up calculations. In the case of the microbially produced biosurfactants, this reflects the fact that many biosurfactants are still being researched and developed in lab-scale. Similarly, only half of the investigated studies took into account the intended application of the surfactant. Furthermore, the applications mentioned vary from the use in a cosmetic cream or a hand-washing detergent to bioremediation.

Most of the analyzed articles focused on the biosurfactant production process, more specifically, in the case of microbially produced biosurfactants, on the fermentation process. While the downstream recovery and purification processes of the raw surfactant from the fermentation broth were not explicitly mentioned in Kopsahelis et al. [51], Baccile et al. described their ultrafiltration and extraction processes, but did not discuss the influence on the LCA results in detail [37]. This might be due to the fact that, in this case, "90% of the impact from the production phase is caused by the fermentation and […] especially the use of the renewable resources" [37].

Generally, bio-based raw materials were in the focus of all studies and related uncertainties discussed, especially concerning tropical oils used for the production of APGs. In this context, the integration or omission of emissions from land use change has a high influence on the LCA results, as shown in the investigated studies. Furthermore, other associated topics, such as the loss of biodiversity, are relevant when comparing the environmental impacts of different types of surfactants. Due to these complex problems associated with tropical oils, waste streams are considered a more sustainable alternative. This fact is reflected by half of the studies: two studies that investigated wheat straw as a raw material for APG production and one study investigating waste oil for rhamnolipid and sophorolipid production.

Almost all studies were published in the last few years (2017 and 2018) showing the recent development of this research field. The exception of the earlier study by Guilbot et al. [92] became a sort of benchmark study. Another common attribute of almost all studies is their geographical reference. All studies clearly stating the location mentioned European countries (France, Greece, Belgium and Great Britain) and took this into account for the LCA modelling. Although Aru and Ikechukwu [52] mention Nigeria as the location of the intended application of their biosurfactant, it is unclear if this fact was taken into account for the LCA modelling.

The software applied to conduct LCA in three of the investigated studies was SimaPro, and therefore the most frequently used software in the investigated LCA studies of biosurfactants. One other study was carried out using spreadsheet calculations due to limitations of commercially available LCA software [53]. For two studies the used software was not further specified. The Ecoinvent database provided life cycle inventories for the background system for the majority of the investigated studies, except for one study where software and database were not specified.

A wide variety of impact assessment methods were used in the investigated studies, such as ReCiPe, ILCD, Impact 2000+, Eco Indicator, and EPD characterization factors for impact assessment at midpoint level. Baccile et al. additionally assessed environmental impacts at endpoint level based on weighted sums of midpoint impacts and used these to compare their results to a number of other surfactants. The results are given as absolute values in some studies, whereas several studies give the relative contribution of particular process steps to the overall impact without going into detail. This might be caused by the experimental character of the production process for microbial biosurfactants. At this early development stage, LCA is an excellent tool to identify the optimization potentials of the newly developed process. Thus, environmental hotspots can be found and improved before going into scale-up. The functional unit was defined considerably consistent by mass unit of surfactant (e.g., "1,000 kg of surfactant") in the investigated studies. Since the application of the surfactant was not specified in most cases, biosurfactants might be used in different products. Therefore, the function of a product is hard to predict and most studies' scope was defined as cradle-to-gate or gate-to-gate. Only two cradle-to-grave LCA studies were available. In these two cases, the quantification of the function of the biosurfactant containing product was possible. While Guilbot et al. took a closer look at the use of APG as emulsifier in cosmetic cream, which represents a commercial use case of APGs already, Baccile et al. considered sophorolipids in a hand-washing detergent application.

Some studies concluded that the number of LCA studies of biosurfactants is limited, which is also in line with our findings. Furthermore, only one study compared their results to other surfactants. Baccile et al. showed that already small-scale production conditions (i.e., estimated upscaling from 150 L pilot scale) resulted in similar impacts compared to conventional detergents as reference products, such as bio-based soap, fossil-derived linear alkylbenzene sulfonate and oleochemically produced ethoxylated alcohol among others [37]. Future optimization seems likely and the authors mention the use of second-generation raw materials and increased efficiency of the production process in this regard. This fact can only encourage more researchers to conduct and publish LCA studies in the future.

The presented work provides a detailed overview of the published LCA studies on microbial biosurfactants based on a systematic literature research. Nevertheless there are still some limitations regarding the comparability of the investigated studies and the derivation of significant findings or recommendations, for example regarding a comparison of microbial biosurfactants with fossil-derived surfactants. In order to facilitate such a comparison, firstly, goal and scope of the LCA studies require a high level of similarity. The definition of the functional unit and cut-off criteria are crucial determinants for the LCA. Moreover, the selection of life cycle inventory databases for background processes and the impact assessment methods applied strongly affect the results of the impact assessment. Besides methodological aspects of the life cycle assessment, the development stages and production scales of microbial surfactants differ strongly from the production of conventional surfactants and, therefore, offer limited comparability. However, a study of conventional surfactants performed within the ERASM SLE project [34] provides a proficient overview on life cycle assessment of conventional surfactants and their precursors, of which some are also relevant for microbial surfactant production. Furthermore, Rebello et al. compare the outcomes of LCA studies of specific conventional surfactants and biosurfactants and highlight the relevance of LCA for environmentally friendly surfactant production [95]. The article finds that LCA of surfactants require the inclusion of appropriate impact factors and points out the need for suitable and consistent data as well as LCA expertise to perform a reliable comparison of different surfactants [95].

All in all, to perform a comprehensive LCA, it is required to take into account all life cycle stages, such as production, use phase, and disposal. Due to the early stage of their development, it is currently difficult to specify the use of microbial biosurfactants in final products and their corresponding disposal pathways and, therefore, to assess the use and end-of-life phases in LCA. Additionally, it is necessary for a comprehensive LCA to address a wide range of environmental impacts by assessing various impact categories in the impact assessment. This is essential to identify hotspots in the product life cycle, since a specific production step might correspond with high impacts in one impact category, while other production steps cause significant impacts in others. This way, a shift of burdens between impact categories and life cycle stages can be identified.
5

Conclusions and Research Perspectives

This study provided a detailed overview of existing LCA studies of biosurfactants by means of a systematic literature research. Over 2,500 documents were screened in this process leading to six published peer-reviewed LCA studies that were investigated and summarized in detail in this work. During the search process it became clear that biosurfactants are often considered to be environmentally friendly, due to the use of natural resources, their low ecotoxicity, and high biodegradability. These properties are taken into account when conducting LCA. However, they are not standalone indicators for sustainable products, but rather input parameters for a comprehensive sustainability assessment. Studies that exclusively investigated ecotoxicity or biodegradability of biosurfactants were not the primary focus for this review, though playing an important role for assessing environmental impact of biosurfactants. For this reason, ecotoxicity and biodegradability of biosurfactants were identified as relevant topics and discussed in short summaries as part of this work.

Regarding LCA studies of biosurfactants it can be concluded that the number of available literature is very limited. Furthermore, a comparison of the results of the investigated studies was not possible, due to various above-mentioned reasons. First, the scope of the studies varied from gate-to-gate to cradle-to-grave. Second, partial comparisons were not possible, because the results were calculated using various methods and only in some cases presented in absolute values. Third, the applications varied widely adding to the difficulty of a reasonable comparison. Taking the application into account is highly relevant to be able to make concrete statements about the environmental effects of a specific surfactant. Nevertheless, it became clear that the main influence on the environmental impacts in the production phase of the investigated biosurfactants can be attributed to the raw material inputs and energy demand during the fermentation processes.

Although only few types of biosurfactants were in the focus of the investigated studies, the overall importance of second- and third-generation feedstock for their production became clear. Especially in the context of APGs, the replacement of tropical oils, which are associated with burdens caused by emissions from land use change and the loss of biodiversity, can be recommended from an environmental point of view.

To the best of the authors' knowledge, this review is the first to provide a systematic and detailed overview of LCA studies of biosurfactants. At the same time, only two detailed studies of microbially produced surfactants could be found. Consequently, the need for implementing more LCA studies becomes clear. The findings of the investigated studies give promising insights into lab-scale processes. While individual environmental hotspots could be identified, the need for more transparency and detailed reporting of LCA results became clear. These are required, in order to provide comparable results and enable broader recommendations regarding sustainable biosurfactant production and use in the future. Furthermore, to implement sustainable processes on industrial scale and find suitable applications for biosurfactants, LCA studies can be a useful tool, as they provide a holistic overview over the life cycle of a product and its environmental impacts on various levels. In this regard, this study provided an overview of key findings in existing studies and pointed out relevant research gaps. On this basis, future research can contribute to closing these gaps and leading to truly sustainable biosurfactants.
References
European Commission (2016) The road from Paris: assessing the implications of the Paris agreement and accompanying the proposal for a council decision on the signing, on behalf of the European Union, of the Paris agreement adopted under the United Nations framework convention on climate change. Communication from the Commission to the European Parliament and the Council, Brussels

(2015) Transforming our world: the 2030 agenda for sustainable development

European Commission (2019) The European Green Deal. Communication from the Commission to the European Parliament, the European Council, the Council, the European Economic and Social Committee and the Committee of the Regions, Brussels

European Commission (2012) Innovating for sustainable growth – a bioeconomy for Europe. Publications Office of the European Union, Luxembourg

Kitamoto D, Morita T, Fukuoka T et al (2009) Self-assembling properties of glycolipid biosurfactants and their potential applications. Curr Opin Colloid Interface Sci 14:315–328. https://doi.org/10.1016/j.cocis.2009.05.009

Hayes DG, Smith GA (2019) Biobased surfactants: overview and industrial state of the art. In: Hayes DG, Solaiman DK, Ashby et al (eds) Biobased surfactants: synthesis, properties, and applications, 2nd edn. Academic Press, an imprint of Elsevier; AOCS Press, London, United Kingdom, San Diego, CA, United States, [Urbana, Ill.], pp 3–38

Delbeke EIP, Roelants SLKW, Matthijs N et al (2016) Sophorolipid amine oxide production by a combination of fermentation scale-up and chemical modification. Ind Eng Chem Res 55:7273–7281. https://doi.org/10.1021/acs.iecr.6b00629

Henkel M, Geissler M, Weggenmann F et al (2017) Production of microbial biosurfactants: status quo of rhamnolipid and surfactin towards large-scale production. Biotechnol J 12. https://doi.org/10.1002/biot.201600561

Shatila F, Diallo MM, Şahar U et al (2020) The effect of carbon, nitrogen and iron ions on mono-rhamnolipid production and rhamnolipid synthesis gene expression by Pseudomonas aeruginosa ATCC 15442. Arch Microbiol 202:1407–1417. https://doi.org/10.1007/s00203-020-01857-4

Ashby RD, Solaiman DKY, Foglia TA (2008) Property control of sophorolipids: influence of fatty acid substrate and blending. Biotechnol Lett 30:1093–1100. https://doi.org/10.1007/s10529-008-9653-1

Beck A, Haitz F, Grunwald S et al (2019) Influence of microorganism and plant oils on the structure of mannosylerythritol lipid (MEL) biosurfactants revealed by a novel thin layer chromatography mass spectrometry method. J Ind Microbiol Biotechnol 46:1191–1204. https://doi.org/10.1007/s10295-019-02194-2

Oraby A, Werner N, Sungur Z et al (2020) Factors affecting the synthesis of cellobiose lipids by Sporisorium scitamineum. Front Bioeng Biotechnol 8:555647. https://doi.org/10.3389/fbioe.2020.555647

Kim PI, Ryu J, Kim YH et al (2010) Production of biosurfactant Lipopeptides Iturin A, Fengycin and Surfactin A from Bacillus subtilis CMB32 for control of Colletotrichum gloeosporioides. J Microbiol Biotechnol 20:138–145. https://doi.org/10.4014/jmb.0905.05007

Banat IM, Franzetti A, Gandolfi I et al (2010) Microbial biosurfactants production, applications and future potential. Appl Microbiol Biotechnol 87:427–444. https://doi.org/10.1007/s00253-010-2589-0

Fracchia L, Ceresa C, Franzetti A et al (2015) Industrial applications of biosurfactants. In: Kosaric N, Vardar-Sukan F (eds) Biosurfactants: production and utilization-processes, technologies, and economics. CRC Press Taylor & Francis Group, Boca Raton

Kulakovskaya E, Kulakovskaya T (2014) Extracellular glycolipids of yeasts: biodiversity, biochemistry, and prospects. Elsevier, Burlington

Tiso T, Zauter R, Tulke H et al (2017) Designer rhamnolipids by reduction of congener diversity: production and characterization. Microb Cell Fact 16:225. https://doi.org/10.1186/s12934-017-0838-y

Abdel-Mawgoud AM, Stephanopoulos G (2018) Simple glycolipids of microbes: chemistry, biological activity and metabolic engineering. Synth Syst Biotechnol 3:3–19. https://doi.org/10.1016/j.synbio.2017.12.001

Beck A, Werner N, Zibek S (2019) Mannosylerythritol lipids: biosynthesis, genetics, and production strategies. In: Hayes DG, Solaiman DK, Ashby et al. (eds) Biobased surfactants: synthesis, properties, and applications, 2nd edn. Academic Press, an imprint of Elsevier; AOCS Press, London, United Kingdom, San Diego, CA, United States, [Urbana, Ill.], pp 121–167

Hayes DG, Solaiman DK, Ashby et al. (eds) (2019) Biobased surfactants: synthesis, properties, and applications, 2nd edn. Academic Press, an imprint of Elsevier; AOCS Press, London, United Kingdom, San Diego, CA, United States, [Urbana, Ill]

Roelants S, Solaiman DK, Ashby RD et al (2019) Production and applications of Sophorolipids. In: Hayes DG, Solaiman DK, Ashby et al (eds) Biobased surfactants: synthesis, properties, and applications, 2nd edn. Academic Press, an imprint of Elsevier; AOCS Press, London, United Kingdom, San Diego, CA, United States, [Urbana, Ill.], pp 65–119

Marchant R, Funston S., Uzoigwe C et al. (2019) Production of biosurfactants from nonpathogenic bacteria. In: Hayes DG, Solaiman DK, Ashby et al (eds) Biobased surfactants: synthesis, properties, and applications, 2nd edn. Academic Press, an imprint of Elsevier; AOCS Press, London, United Kingdom, San Diego, CA, United States, [Urbana, Ill]

Henkel M, Müller MM, Kügler JH et al (2012) Rhamnolipids as biosurfactants from renewable resources: concepts for next-generation rhamnolipid production. Process Biochem 47:1207–1219. https://doi.org/10.1016/j.procbio.2012.04.018

Mulligan CN (2005) Environmental applications for biosurfactants. Environ Pollut 133:183–198. https://doi.org/10.1016/j.envpol.2004.06.009

Banat IM, Makkar RS, Cameotra SS (2000) Potential commercial applications of microbial surfactants. Appl Microbiol Biotechnol 53:495–508. https://doi.org/10.1007/s002530051648

Johann S, Seiler T-B, Tiso T et al (2016) Mechanism-specific and whole-organism ecotoxicity of mono-rhamnolipids. Sci Total Environ 548-549:155–163. https://doi.org/10.1016/j.scitotenv.2016.01.066

Sobrinho HBS, Luna JM, Rufino RD et al (2013) Assessment of toxicity of a biosurfactant from Candida sphaerica UCP 0995 cultivated with industrial residues in a bioreactor. Electron J Biotechnol 16. https://doi.org/10.2225/vol16-issue4-fulltext-4

de Oliveira DWF, Cara AB, Lechuga-Villena M et al (2017) Aquatic toxicity and biodegradability of a surfactant produced by Bacillus subtilis ICA56. J Environ Sci Health A 52:174–181. https://doi.org/10.1080/10934529.2016.1240491

Develter DWG, Lauryssen LML (2010) Properties and industrial applications of sophorolipids. Eur J Lipid Sci Technol 112:628–638. https://doi.org/10.1002/ejlt.200900153

Hayes DG (2017) Commentary: the relationship between "Biobased," "Biodegradability" and "Environmentally-Friendliness (or the absence thereof). J Am Oil Chem Soc 94:1329–1331. https://doi.org/10.1007/s11746-017-3040-9

International Organization for Standardization (2006) Environmental management – life cycle assessment – principles and framework(14040:2006)

International Organization for Standardization (2006) Environmental management – life cycle assessment – requirements and guidelines(14044:2006)

Klöpffer W (2005) Life cycle assessment as part of sustainability assessment for chemicals. Environ Sci Pollut Res Int 12:173–177. https://doi.org/10.1065/espr2005.04.247

Schowanek D, Borsboom-Patel T, Bouvy A et al (2018) New and updated life cycle inventories for surfactants used in European detergents: summary of the ERASM surfactant life cycle and ecofootprinting project. Int J Life Cycle Assess 23:867–886. https://doi.org/10.1007/s11367-017-1384-x

Elsevier B.V (2020) Scopus. scopus.com

Google LLC Google Scholar. scholar.google.com

Baccile N, Babonneau F, Banat IM et al (2017) Development of a cradle-to-grave approach for acetylated acidic sophorolipid biosurfactants. ACS Sustain Chem Eng 5:1186–1198. https://doi.org/10.1021/acssuschemeng.6b02570

Kardena E, Helmy Q, Funamizu N (2015) Biosurfactants and soil bioremediation. In: Kosaric N, Vardar-Sukan F (eds) Biosurfactants: production and utilization-processes, technologies, and economics. CRC Press, Taylor & Francis Group, Boca Raton, London

Liu G, Zhong H, Yang X et al (2018) Advances in applications of rhamnolipids biosurfactant in environmental remediation: a review. Biotechnol Bioeng 115:796–814. https://doi.org/10.1002/bit.26517

da Rosa CF, Freire DM, Ferraz HC (2015) Biosurfactant microfoam: application in the removal of pollutants from soil. J Environ Chem Eng 3:89–94. https://doi.org/10.1016/j.jece.2014.12.008

Liu YS, Ma MY, Shi Z (2011) Application of rhamnolipid biosurfactant for removing polychlorinated biphenyls from contaminated soil. AMR 233–235:608–613. https://doi.org/10.4028/www.scientific.net/AMR.233-235.608

Noordman WH, Ji W, Brusseau ML et al (1998) Effects of rhamnolipid biosurfactants on removal of phenanthrene from soil. Environ Sci Technol 32:1806–1812. https://doi.org/10.1021/es970739h

Franzetti A, Isabella G, Fracchia L et al (2015) Biosurfactant use in heavy metal removal from industrial effluents and contaminated sites. In: Kosaric N, Vardar-Sukan F (eds) Biosurfactants: production and utilization-processes, technologies, and economics. CRC Press, Taylor & Francis Group, Boca Raton, London

Parthasarathi R, Sivakumaar PK (2011) Biosurfactant mediated remediation process evaluation on a mixture of heavy metal spiked topsoil using soil column and batch washing methods. Soil Sediment Contam Int J 20:892–907. https://doi.org/10.1080/15320383.2011.620043

Gogoi D, Bhagowati P, Gogoi P et al (2016) Structural and physico-chemical characterization of a dirhamnolipid biosurfactant purified from Pseudomonas aeruginosa: application of crude biosurfactant in enhanced oil recovery. RSC Adv 6:70669–70681. https://doi.org/10.1039/c6ra11979d

Alvarez Yela AC, Tibaquirá Martínez MA, Rangel Piñeros GA et al (2016) A comparison between conventional Pseudomonas aeruginosa rhamnolipids and Escherichia coli transmembrane proteins for oil recovery enhancing. Int Biodeter Biodegr 112:59–65. https://doi.org/10.1016/j.ibiod.2016.04.033

Banat IM (1994) Biosurfactant production and possible uses in microbial enhanced oil recovery and oil pollution remediation: a review. Bioresour Technol:1–12

Knoth D, Rincón-Fontán M, Stahr P-L et al (2019) Evaluation of a biosurfactant extract obtained from corn for dermal application. Int J Pharm 564:225–236. https://doi.org/10.1016/j.ijpharm.2019.04.048

Varvaresou A, Iakovou K (2015) Biosurfactants in cosmetics and biopharmaceuticals. Lett Appl Microbiol 61:214–223. https://doi.org/10.1111/lam.12440

Gudiña EJ, Rangarajan V, Sen R et al (2013) Potential therapeutic applications of biosurfactants. Trends Pharmacol Sci 34:667–675. https://doi.org/10.1016/j.tips.2013.10.002

Kopsahelis A, Kourmentza C, Zafiri C et al (2018) Gate-to-gate life cycle assessment of biosurfactants and bioplasticizers production via biotechnological exploitation of fats and waste oils. J Chem Technol Biotechnol 6:426. https://doi.org/10.1002/jctb.5633

Aru OO, Ikechukwu NEO (2018) Life cycle assessment of the environmental impact of biosurfactant production from oil waste by a Diculture of Azotobacter vinelandii and pseudomonas sp. J Bioremed Biodegr 09. https://doi.org/10.4172/2155-6199.1000435

Lokesh K, West C, Kuylenstierna J et al (2017) Environmental impact assessment of wheat straw based alkyl polyglucosides produced using novel chemical approaches. Green Chem 19:4380–4395. https://doi.org/10.1039/C7GC01719G

U.S. Department of Health and Human Services Food and Drug Administration (2006) Guidance for industry: nonclinical safety evaluation of drug or biologic combinations

Steber J (2007) The Ecotoxicity of cleaning product ingredients. In: Johansson I, Somasundaran P (eds) Handbook for cleaning/decontamination of surfaces1st edn. Elsevier, Amsterdam, pp 721–746

European Chemicals Agency (2016) Guidance on information requirements and chemical safety assessment: Part E: risk characterisation, Version 3.0. ECHA, Helsinki

DIN Wasserbeschaffenheit – Bestimmung der akuten Toxizität von Abwasser auf Zebrafisch-Eier (Danio rerio) (15088:2009-06)

Kim BS, Lee JY, Hwang BK (2000) In vivo control and in vitro antifungal activity of rhamnolipid B, a glycolipid antibiotic, against Phytophthora capsici and Colletotrichum orbiculare. Pest Manag Sci 56:1029–1035. https://doi.org/10.1002/1526-4998(200012)56:12<1029:AID-PS238>3.0.CO;2-Q

Hafner C, Gartiser S, Garcia-Käufer M et al (2015) Investigations on sediment toxicity of German rivers applying a standardized bioassay battery. Environ Sci Pollut Res Int 22:16358–16370. https://doi.org/10.1007/s11356-015-4482-y

Publishing OECD (2004) Test no. 202: Daphnia sp. Acute immobilisation. Test. https://doi.org/10.1787/9789264069947-en

Kosaric N, Vardar-Sukan F (eds) (2015) Biosurfactants: production and utilization-processes, technologies, and economics. Surfactant science series, vol 159. CRC Press, Taylor & Francis Group, Boca Raton, London

Henkel M (2014) Layered modeling and simulation of complex biotechnological processes: optimizing Rhamnolipid production by Pseudomonas aeruginosa during cultivation in a bioreactor. Dissertation, Karlsruhe Institute for Technology

Renkin M (2003) Environmental profile of sophorolipid and rhamnolipid biosurfactants. La Rivista Italiana delle Sostanze Grasse 80:249–252

Ali S, van Mil HGJ, Richardson MK (2011) Large-scale assessment of the zebrafish embryo as a possible predictive model in toxicity testing. PLoS One 6:e21076. https://doi.org/10.1371/journal.pone.0021076

Sandbacka M, Christianson I, Isomaa B (2000) The acute toxicity of surfactants on fish cells, Daphnia magna and fish – a comparative study. Toxicol In Vitro 14:61–68. https://doi.org/10.1016/S0887-2333(99)00083-1

Santos VSV, Campos CF, de Campos Júnior EO et al (2018) Acute ecotoxicity bioassay using Dendrocephalus brasiliensis: alternative test species for monitoring of contaminants in tropical and subtropical freshwaters. Ecotoxicology 27:635–640. https://doi.org/10.1007/s10646-018-1951-3

Hodges G, Roberts DW, Marshall SJ et al (2006) The aquatic toxicity of anionic surfactants to Daphnia magna – a comparative QSAR study of linear alkylbenzene sulphonates and ester sulphonates. Chemosphere 63:1443–1450. https://doi.org/10.1016/j.chemosphere.2005.10.001

Maki AW, Bishop WE (1979) Acute toxicity studies of surfactants to Daphnia magna and Daphnia pulex. Arch Environ Contam Toxicol 8:599–612. https://doi.org/10.1007/BF01055040

Madsen T, Petersen G, Seierø C et al (1996) Biodegradability and aquatic toxicity of glycoside surfactants and a nonionic alcohol ethoxylate. J Am Oil Chem Soc 73:929–933. https://doi.org/10.1007/BF02517997

(2019) Safety data sheet TRITON® X 100 extra pure. According to regulation (EC) No 1907/2006 (REACH), amended by 2015/830/EU

Hauschild M, Huijbregts MAJ (eds) (2015) Life cycle impact assessment. LCA compendium, the complete world of life cycle assessment. Springer, Dordrecht

Fantke P (ed) (2017) USEtox 2.0: documentation, version 1.1. USEtox International Center

Rosenbaum RK, Huijbregts MAJ, Henderson AD et al (2011) USEtox human exposure and toxicity factors for comparative assessment of toxic emissions in life cycle analysis: sensitivity to key chemical properties. Int J Life Cycle Assess 16:710–727. https://doi.org/10.1007/s11367-011-0316-4

Emara Y, Lehmann A, Siegert M-W et al (2019) Modeling pharmaceutical emissions and their toxicity-related effects in life cycle assessment (LCA): a review. Integr Environ Assess Manag 15:6–18. https://doi.org/10.1002/ieam.4100

Klosowska-Chomiczewska IE, Medrzycka K, Karpenko E (2011) Biosurfactants-biodegradability, toxicity, efficiency in comparison with synthetic surfactants, Krakow

Kitamoto D, Yanagishita H, Shinbo T et al (1993) Surface active properties and antimicrobial activities of mannosylerythritol lipids as biosurfactants produced by Candida antarctica. J Biotechnol 29:91–96. https://doi.org/10.1016/0168-1656(93)90042-L

Recke VK, Gerlitzki M, Hausmann R et al (2013) Enzymatic production of modified 2-dodecyl-sophorosides (biosurfactants) and their characterization. Eur J Lipid Sci Technol 115:452–463. https://doi.org/10.1002/ejlt.201300012

Rodríguez-López L, Rincón-Fontán M, Vecino X et al (2020) Biodegradability study of the biosurfactant contained in a crude extract from corn steep water. J Surfactant Deterg 23:79–90. https://doi.org/10.1002/jsde.12338

Zhao X, Murata T, Ohno S et al (2001) Protein kinase Calpha plays a critical role in mannosylerythritol lipid-induced differentiation of melanoma B16 cells. J Biol Chem 276:39903–39910. https://doi.org/10.1074/jbc.M010281200

Zhao X, Wakamatsu Y, Shibahara M et al (1999) Mannosylerythritol lipid is a potent inducer of apoptosis and differentiation of mouse melanoma cells in culture. Cancer Res 59:482–486

Habibi A, Babaei F (2017) Biological treatment of real oilfield-produced water by bioaugmentation with sophorolipid-producing Candida catenulata. Environ Process 4:891–906. https://doi.org/10.1007/s40710-017-0268-1

Fei D, Zhou G-W, Yu Z-Q et al (2020) Low-toxic and nonirritant biosurfactant surfactin and its performances in detergent formulations. J Surfactant Deterg 23:109–118. https://doi.org/10.1002/jsde.12356

OECD (1992) OECD guideline for testing of chemicals(301)

Lima TMS, Procópio LC, Brandão FD et al (2011) Biodegradability of bacterial surfactants. Biodegradation 22:585–592. https://doi.org/10.1007/s10532-010-9431-3

Cappello S, Crisari A, Denaro R et al (2011) Biodegradation of a Bioemulsificant exopolysaccharide (EPS2003) by marine bacteria. Water Air Soil Pollut 214:645–652. https://doi.org/10.1007/s11270-010-0452-7

Xiaohong P, Xinhua Z, Lixiang Z (2009) Effect of biosurfactant on the sorption of phenanthrene onto original and H2O2-treated soils. J Environ Sci 21:1378–1385. https://doi.org/10.1016/S1001-0742(08)62429-8

Hirata Y, Ryu M, Oda Y et al (2009) Novel characteristics of sophorolipids, yeast glycolipid biosurfactants, as biodegradable low-foaming surfactants. J Biosci Bioeng 108:142–146. https://doi.org/10.1016/j.jbiosc.2009.03.012

Kim H-S, Jeon J-W, Kim S-B et al (2002) Surface and physico-chemical properties of a glycolipid biosurfactant, mannosylerythritol lipid, from Candida antarctica. Biotechnol Lett:1637–1641

Kohl C (2018) Umweltentlastung durch den Einsatz mikrobiell hergestellter Biotenside in Körperpflegemitteln sowie Wasch-, Pflege- und Reinigungsmitteln, Stuttgart

Ghazali R, Ahmad S (2004) Biodegradability and ecotoxicity of palm stearin-based methyl ester sulphonates. J Oil Palm Res:39–44

Gamia MT, Ribosa I, Campos E et al (1997) Ecological properties of alkylglucosides. Chemosphere 35:545–556. https://doi.org/10.1016/S0045-6535(97)00119-7

Guilbot J, Kerverdo S, Milius A et al (2013) Life cycle assessment of surfactants: the case of an alkyl polyglucoside used as a self emulsifier in cosmetics. Green Chem 15:3337. https://doi.org/10.1039/c3gc41338a

Lokesh K, West C, Kuylenstierna JC et al (2019) Economic and agronomic impact assessment of wheat straw based alkyl polyglucoside produced using green chemical approaches. J Clean Prod 209:283–296. https://doi.org/10.1016/j.jclepro.2018.10.220

Brière R, Loubet P, Glogic E et al (2018) Life cycle assessment of the production of surface-active alkyl polyglycosides from acid-assisted ball-milled wheat straw compared to the conventional production based on corn-starch. Green Chem 20:2135–2141. https://doi.org/10.1039/c7gc03189k

Rebello S, Anoopkumar A, Sindhu R et al (2020) Comparative life-cycle analysis of synthetic detergents and biosurfactants – an overview. In: Refining biomass residues for sustainable energy and bioproducts. Elsevier, pp 511–521
1

Electronic Supplementary Material
Rights and permissions

Open Access This chapter is licensed under the terms of the Creative Commons Attribution 4.0 International License (http://creativecommons.org/licenses/by/4.0/), which permits use, sharing, adaptation, distribution and reproduction in any medium or format, as long as you give appropriate credit to the original author(s) and the source, provide a link to the Creative Commons license and indicate if changes were made.

The images or other third party material in this chapter are included in the chapter's Creative Commons license, unless indicated otherwise in a credit line to the material. If material is not included in the chapter's Creative Commons license and your intended use is not permitted by statutory regulation or exceeds the permitted use, you will need to obtain permission directly from the copyright holder.
About this chapter
Cite this chapter
Briem, AK., Bippus, L., Oraby, A., Noll, P., Zibek, S., Albrecht, S. (2022). Environmental Impacts of Biosurfactants from a Life Cycle Perspective: A Systematic Literature Review. In: Hausmann, R., Henkel, M. (eds) Biosurfactants for the Biobased Economy. Advances in Biochemical Engineering/Biotechnology, vol 181. Springer, Cham. https://doi.org/10.1007/10_2021_194
DOI: https://doi.org/10.1007/10_2021_194

Published:

Publisher Name: Springer, Cham

Print ISBN: 978-3-031-07336-6

Online ISBN: 978-3-031-07337-3