Abstract
Gene flow from crops to wild relatives by sexual reproduction is one of the major issues in risk assessment for the cultivation of genetically engineered (GE) plants. The main factors which influence hybridization and introgression, the two processes of gene flow, as well as the accompanying containment measures of the transgene, are reviewed. The comparison of risks between Switzerland and Europe highlights the importance of regional studies. Differences were assessed for barley, beet and wheat. Moreover, transgene flow through several wild species acting as bridge (bridge species) has been up to now poorly investigated. Indeed, transgene flow may go beyond the closest wild relative, as in nature several wild species complexes hybridize. Its importance is assessed by several examples in Poaceae. Finally, the transgene itself has genetic and ecological consequences that are reviewed. Transgenic hybrids between crops and wild relatives may have lower fitness than the wild relatives, but in several cases, no cost was detected. On the other hand, the transgene provides advantages to the hybrids, in the case of selective value as a Bt transgene in the presence of herbivores. Genetic and ecological consequences of a transgene in a wild species are complex and depend on the type of transgene, its insertion site, the density of plants and ecological factors. More studies are needed for understanding the short and long term consequences of escape of a transgene in the wild.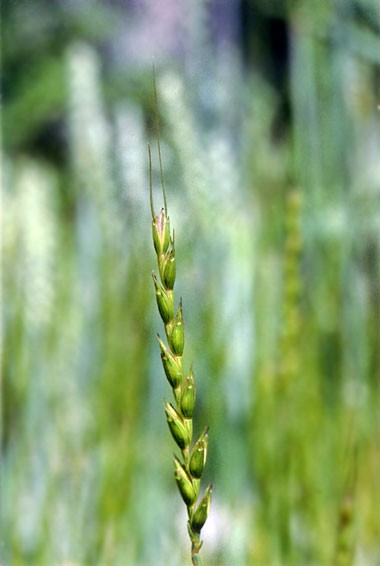 Risk assessment 
Transgene 
Genetically engineered plants 
Bridge species 
Switzerland 
References
1.

2.

Ellstrand NC, Prentice HC, Hancock JF (1999) Ann Rev Ecol Syst 30:539

Google Scholar

3.

Halfhill MD, Millwood RJ, Rymer PL, Stewart CN (2002) Environ Biosafety Res 1:19

PubMed

Google Scholar

4.

Ellstrand NC (2003) Dangerous Liaisons? When Cultivated Plants Mate with Their Wild Relatives. The John Hopkins University Press, Baltimore

Google Scholar

5.

6.

Wilkinson MJ, Elliott LJ, Allanguillaume J, Shaw MW, Norris C, Welters R, Alexander M, Sweet J, Mason D (2003) Science 302:457

PubMed

ADS

Google Scholar

7.

den Nijs HCM, Bartsch D, Sweet J (2004) Introgression from Genetically Modified Plants into Wild Relatives. CABI Publishing, Oxon, UK

Google Scholar

8.

Elliott LJ, Mason DC, Wilkinson MJ, Allainguillaume J, Norris C, Alexander M, Welters R (2004) J Appl Ecol 41:1174

Google Scholar

9.

10.

11.

12.

13.

14.

15.

Bannert M (2006) Simulation of transgenic pollen dispersal by use of different grain colour maize. Dissertation no. 16508 Swiss Federal Institute of Technology of Zürich

Google Scholar

16.

Watrud LS, Lee EH, Fairbrother A, Burdick C, Reichman JR, Bollman M, Storm M, King G, Van de Water PK (2004) Proc Natl Acad Sci USA 101:14533

PubMed

ADS

Google Scholar

17.

Lavigne C, Klein EK, Vallee P, Pierre J, Godelle B, Renard M (1998) Theor Appl Genet 96:886

Google Scholar

18.

Damgaard C, Kjellsson G (2005) Agric Ecosyst Environ 108:291

Google Scholar

19.

20.

Haygood R, Ives AR, Andow DA (2003) Proc R Soc Lond B Biol Sci 270:1879

Google Scholar

21.

22.

23.

Whitton J, Wolf DE, Arias DM, Snow AA, Rieseberg LH (1997) Theor Appl Genet 95:33

Google Scholar

24.

25.

26.

27.

28.

Remington DL, Thornsberry JM, Matsuoka Y, Wilson LM, Whitt SR, Doebley J, Kresovich S, Goodman MM, Buckler ES (2001) Proc Natl Acad Sci USA 98:11479

PubMed

ADS

Google Scholar

29.

Zemetra RS, Hansen J, Mallory-Smith CA (1998) Weed Sci 46:313

Google Scholar

30.

Seefeldt SS, Zemetra R, Young FL, Jones SS (1997) Weed Sci 46:632

Google Scholar

31.

Halfhill MD, Richards HA, Mabon SA, Stewart CN (2001) Theor Appl Genet 103:659

Google Scholar

32.

Schoenenberger N, Felber F, Savova-Bianchi D, Guadagnuolo R (2005) Theor Appl Genet 111:1338

PubMed

Google Scholar

33.

Schoenenberger N, Guadagnuolo R, Savova-Bianchi D, Küpfer P, Felber F (2006) Genetics 174:2061

PubMed

Google Scholar

34.

35.

36.

37.

38.

39.

40.

Savova D, Rufener Al Mazyad P, Felber F (1996) Bot Helv 106:197

Google Scholar

41.

Reichman JR, Watrud LS, Lee EH, Burdick CA, Bollman MA, Storm MJ, King GA, Mallory-Smith C (2006) Mol Ecol 15:4243

PubMed

Google Scholar

42.

Savova-Bianchi D, Keller-Senften J, Felber F (2002) Weed Res 42:325

Google Scholar

43.

Fernandes MIBM, Zanatta ACA, Prestes AM, Caetano VR, Barcellos AL, Angra DC, Pandolci V (2000) Genet Mol Biol 23:1051

Google Scholar

44.

Romero MD, Montes MJ, Sin E, Lopez-Braña I, Duce A, Martin-Sanchez JA, Andrés MF, Delibes A (1998) Theor Appl Genet 96:1135

Google Scholar

45.

Riley R, Kimber G (1966) Annu Rep Plant Breed Inst 1964–1965:6

Google Scholar

46.

Choudhary BR, Joshi P, Singh A (2000) Theor Appl Genet 101:990

Google Scholar

47.

Vroh BI, Baudoinm JP, Hau B, Mergeai G (1999) Euphytica 106:243

Google Scholar

48.

Chen J, Staub J, Qian Ch, Jiang J, Luo X, Zhuang F (2003) Theor Appl Genet 106:688

PubMed

Google Scholar

49.

Laferriere LT, Helgeson JP, Allen C (1999) Theor Appl Genet 98:1272

Google Scholar

50.

51.

Stace C (ed) (1975) Hybridization and the flora of the British Isles. Academic Press, London

Google Scholar

52.

53.

54.

Dumolin-Lapegue S, Kremer A, Petit RJ (1999) Evolution 53:1406

Google Scholar

55.

Griffin AR, Burgess IP, Wolf L (1988) Austr J Bot 36:41

Google Scholar

56.

57.

58.

59.

Grant V (1981) Plant speciation. Columbia University Press, New York

Google Scholar

60.

Arnold ML (1997) Natural hybridization and evolution. Oxford University Press, New York

Google Scholar

61.

62.

63.

64.

65.

Marchant AD, Arnold ML, Willinson P (1988) Heredity 61:321

Google Scholar

66.

67.

68.

Dahlgren RMT, Cliford HT, Yeo PF (1985) The families of the monocotyledons. Springer, Berlin Heidelberg New York

Google Scholar

69.

70.

71.

Wipff JK (2002) Gene flow in turf and forage grasses (

Poaceae

), In: Ecological and Agronomic Consequences of Gene Flow from Transgenic Crops to Wild Relatives, Workshop Proceedings. The Ohio State University, Columbus, Ohio, p 115–133

Google Scholar

72.

73.

Stebbins GL (1950) Variation and evolution in plants. Columbia University Press, New York

Google Scholar

74.

75.

76.

77.

78.

79.

80.

81.

82.

Terell EE (1979) Taxonomy, morphology, and phylogeny, In: Buckner RC, Bush LP (eds) Tall Fescue, Chapter 3. Agronomy Series No. 20. American Society of Agronomy, Crop Science Society of America, Soil Science Society of America, Inc., Madison

Google Scholar

83.

Jaworski A, Sulinowski S, Nowacki E (1975) Genet Pol 16:271

Google Scholar

84.

85.

86.

Bergelson J, Purrington CB, Palm CJ, LopezGutierrez JC (1996) Proc R Soc Lond B Biol Sci 263:1659

ADS

Google Scholar

87.

88.

89.

90.

Prescott VE, Campbell PM, Moore A, Mattes J, Rothenberg ME, Foster PS, Higgins TJV, Hogan SP (2005) J Agric Food Chem 53:9023

PubMed

Google Scholar

91.

92.

93.

94.

Hauser TP, Jørgensen RB, Østergård H (1998) Heredity 81:436

Google Scholar

95.

96.

97.

98.

Hooftmann DAP, Oostermeijer GB, Jacobs MMJ, den Nijs HCM (2005) J Appl Ecol 42:1086

Google Scholar

99.

Snow AA, Pilson D, Rieseberg LH, Paulsen MJ, Pleskac N, Reagon MR, Wolf DE, Selbo SM (2003) Ecol Appl 13:279

Google Scholar

100.

Vacher C, Weis AE, Hermann D, Kossler T, Young C, Hochberg ME (2004) Theor Appl Genet 109:806

PubMed

Google Scholar

101.

102.

Linder CR, Taha I, Seiler GJ, Snow AA, Rieseberg LH (1998) Theor Appl Genet 96:339

Google Scholar

103.

104.

Moser D, Gygax A, Bäumler B, Wyler N, Palese R (2002) Liste Rouge des fougères et plantes à fleurs menacées de Suisse. OFEV, Bern

Google Scholar

105.

106.

Snow AA, Andersen B, Jorgensen RB (1999) Mol Ecol 8:605

Google Scholar

107.

108.

Snow AA, Moran-Palma P, Rieseberg LH, Wszelaki A, Seiler GJ (1998) Am J Bot 85:794

Google Scholar

109.

Pohl-Orf M, Morak C, Wehres U, Saeglitz C, Driessen S, Lehnen M, Hesse P, Mücher T, von Soosten S, Schuphan I, Bartsch D (2000) The environmental impact of gene flow from sugar beet to wild beet – an ecological comparison of transgenic and natural virus tolerance genes. In: Fairbairn C, Scoles G, McHughen A (eds) Proc 6th Int Symp Biosafety of Genetically Modified Organisms, Saskatoon, Canada, p 51–55

Google Scholar

110.

111.

112.

113.

114.

115.

116.

117.

Clapham AR, Tutin TG, Warburg EF (1952) Flora of the British Isles. Cambridge University Press, Cambridge

Google Scholar

118.

119.

120.

Dandy JE (1958) List of British vascular plants. BSBI, London

Google Scholar

121.

122.

123.

Gymer PT (1971) The nature of hybrids between

Lolium perenne

L. and

Festuca pratensis

Huds., PhD Thesis, University of Nottingham

Google Scholar

124.

125.

126.

127.

Holmberg OR (1922) Hartmans Handbook i Skandinaviens Flora 1:151

Google Scholar

128.

Hubbard CE (1968) Grasses, 2nd Ed. Penguin Books, Harmondsworth

Google Scholar

129.

130.

131.

132.

133.

134.

135.

136.

137.

de Langhe J-E, Delvosalle L, Duvigneaud J, Lambinon J, Berghen CV (1973) Nouvelle Flore de la Belgique, du Grand Duché de Luxembourg, du Nord de la France et des Régions voisines. Edition du Patrimoine du Jardin botanique national de Belgique, Bruxelles

Google Scholar

138.

Lewis EJ (1966) The production and manipulation of new breeding material in

Lolium-Festuca

In: Proc 10th Int Grassland Congr, Helsinki, p 688

Google Scholar

139.

140.

141.

142.

143.

144.

145.

146.

147.

148.

149.

150.

Perring FH, Sell PD (1968) Critical supplement to the atlas of the British flora. Nelson, London

Google Scholar

151.

Petch CP, Swann EL (1968) Flora of Norfolk. Jarrold and Sons Ltd, Norwich

Google Scholar

152.

153.

Stace CA (1975) Hybridization and the Flora of the British Isles. Academic Press, London

Google Scholar

154.

155.

156.

157.

158.

159.

160.
Copyright information
© Springer-Verlag Berlin Heidelberg 2007