Abstract
Adenovirus vectors have attracted considerable interest over the past decade, with ongoing clinical development programs for applications ranging from replacement therapy for protein deficiencies to cancer therapeutics to prophylactic vaccines. Consequently, considerable product, process, analytical, and formulation development has been undertaken to support these programs. For example, "gutless" vectors have been developed in order to improve gene transfer capacity and durability of expression; new cell lines have been developed to minimize recombination events; production conditions have been optimized to improve volumetric productivities; analytical techniques and scaleable purification processes have advanced towards the goal of purified adenovirus becoming a "well-characterized biological"; and liquid formulations have been developed which maintain virus infectivity at 2–8°C for over 18 months. These and other advances in the production of adenovirus vectors are discussed in detail in this review. In addition, the needs for the next decade are highlighted.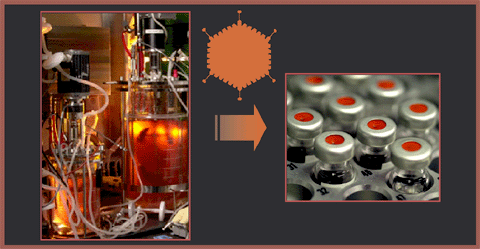 Adenovirus 
Analytical characterization 
Cell culture 
Cell lines 
Formulation 
Purification 
Abbreviations
AdV

adenovirus

Ad2

adenovirus type 2

Ad5

adenovirus type 5

AEX

anion exchange

ARM

adenovirus reference material

CPE

cytopathic effect

DELFIA

dissociation-enhanced flouroimmunoassay

ELISA

enzyme-linked immunosorbent assay

GMP

good manufacturing practice

hdAdV

helper-dependent adenovirus

HDEP

helper-dependent E1-positive particle

hpi

hours post-infection

MOI

multiplicity of infection

P/I

particle-to-infectivity ratio

Pfu

plaque-forming unit

RCA

replication-competent adenovirus

rpHPLC

reversed-phase high performance liquid chromatography

RSD

relative standard deviation

TCID50

tissue culture infectious dose at 50%

QPCR

quantitative polymerase chain reaction

vp

viral particles
Notes
Acknowledgments
We thank coworkers who contributed to the generation of unpublished data presented in this work (Fig. 2: Marie-Pierre Gentile and Gina Cremona; Fig. 4: Matthew Kalscheur, Marie-Pierre Gentile, and Benjamin Hughes; Figs. 8 and 9: Denise Nawrocki, Lynne Isopi, and Donna Williams) and Drs. Angelica Meneses-Acosta and Olivier Henry for providing data and assistance with Figs. 5 and 6. We also thank Dr. John Lewis and Dr. Katey Einterz Owen for reviewing portions of this manuscript and providing helpful suggestions.