Abstract
We review the use of lentiviral vectors in current human gene therapy applications that involve genetic modification of nondividing tissues with integrated transgenes. Safety issues, including insertional mutagenesis and replication-competent retroviruses, are discussed. Innate cellular defenses against retroviruses and their implications for human gene therapy with different lentiviral vectors are also addressed.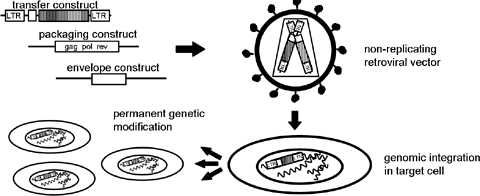 Keywords
Equine Infectious Anemia Virus 
Metachromatic Leukodystrophy 
Nondividing Cell 
Caprine Arthritis Encephalitis Virus 
Murine Leukemia Virus Vector 
These keywords were added by machine and not by the authors. This process is experimental and the keywords may be updated as the learning algorithm improves.
Notes
Acknowledgments
We thank Yasuhiro Ikeda for critically reviewing the manuscript. We apologize to those authors whose works were not cited in this selective review of more recent developments due to space limitations.