Use of Nanomaterials in Food Science
Abstract
The current global population is nearly 6 billion; due to this rapid population growth, there is a need to produce food in a more efficient, safe, and sustainable way, and it should be safe from the adverse effects of pathogenic organisms. A large proportion of population living in developing countries face daily food shortages as a result of environmental impacts or some other reasons like political instability, etc., while in the developed countries, food is surplus. For developing countries, the objective is to develop drought- and pest-resistant crops, with maximized yield. In developed countries, the food industry depends on consumer's demand for fresher and healthier foodstuffs. The present chapter describes the use of nanoparticles in food science.
Keywords
Nanomaterials 
Food science 
Food safety 
Packaging 
24.1

Introduction

The food market demands new technologies, which are essential to keep market leadership in the food processing industry to produce fresh, authentic, convenient, and flavorful food products, prolonging the product's shelf life and freshness with improved quality food (Alfadul and Elneshwy 2010). The new materials, products, and applications are anticipated to bring lots of advancements and improvements to the food and relevant sectors, impacting agriculture and food production, food processing, distribution, storage, nanoadditives, cleaning, and sensors for the detection of contaminants and developments of innovative products. Nanotechnology is an area of rising attention and unwraps new possibilities for the food industry. Nanotechnology integrates several disciplines, including physics, chemistry, biotechnology, and engineering.

There is a public opinion in general about nanotechnology applications, and it ranged from neutral to slightly positive one. There are suggestions that consumers should remain cautious about using nanofoods. The application of nanotechnology to the agricultural and food industries was first addressed by the US Department of Agriculture road map in September 2003 (Rashidi and Khosravi-Darani 2011). It has been predicted that nanotechnology will transform the complete food industry, changing all the way food is produced, processed, packaged, transported, and consumed. Food undergoes a variety of modifications in postharvest and processing that are likely to affect its biological and biochemical features, and here, nanotechnology developments could eventually also influence the food industry.

According to a definition in a report by the European Nanotechnology Gateway, a food is called nanofood when nanoparticles, or nanotechnology techniques, are used during cultivation, production, processing, or packaging of the food (Nanowerk 2019). It should be made clear here that it does not mean that it is atomically modified food or produced by nanomachines.

Applications of nano include smart packaging, on-demand preservatives, and interactive foods. Building on the concept of on-demand food, the idea of interactive food was to allow consumers to modify food depending on their own nutritional needs or tastes. There are many positive impacts of nanotechnology in the food industry, and these are expected to grow in the near future. Applications of nanomaterials will continue to affect the food industry commercially because of their unique and novel properties. New nanomaterials are developed that will make not only a difference in the taste of food but also safety and the health benefits that food is bound to deliver. This rapidly developing technology is concerned about every aspect of the food system starting from growth, packaging, processing, transportation, shelf life, and availability of nutrients. Therefore, nanotechnology may play a potential role in promoting the food industry.
24.2

Applications of Food Nanotechnology

Nanotechnology is the science of very small materials, and it can have a big impact in the food industry. Nanotechnology possesses a great potential in ensuring modification of color and flavor and nutritional values, increasing the shelf life of food, and monitoring the integrity of food via barcodes such as cold chain, i.e., whenever there is a slight change in food storage conditions because of its submicroscopic nature (Aigbogun et al.

2017

). It is an emerging area of science with potentials to generate radical new products and processes in the food sector. It is commonly distinguished between two forms of nanofood applications:
Food additives (nano inside)

Food packaging (nano outside)
Concepts in nanotechnology provide a sound framework for better understanding of the interactions and assembly behavior of food components into microstructures, which is likely to affect food structure, rheology, and functional properties at the submicroscopic scale (Sanguansri and Augustin
2006
). It can also modify permeation of materials by the incorporation of synthesized nanoparticles (zinc, silver, gold, etc.) for improved packaging system (Fig.
24.1
).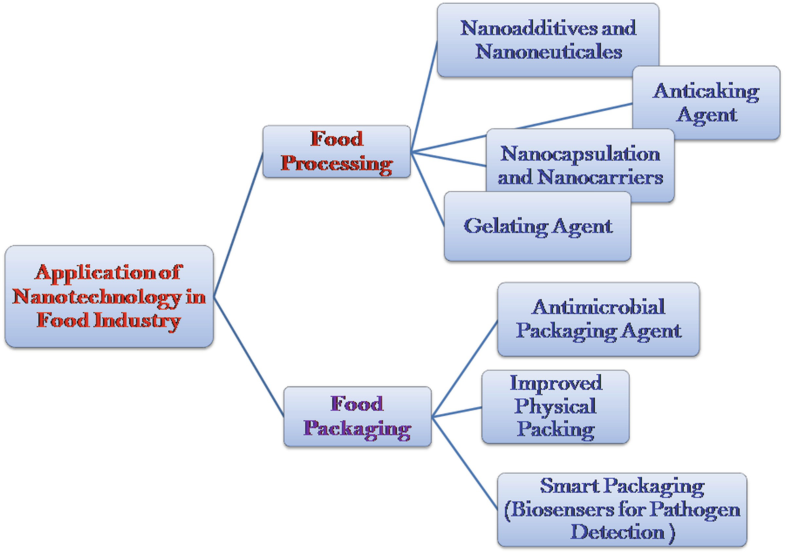 24.3

Emerging Challenges and Potential Solutions

With the developments in nanotechnology, its applicability to the food industry is likely to increase in the future. Of course, the success will depend on consumer acceptance. Various nanostructured materials (NSMs) ranging from inorganic metal, metal oxides, and their nanocomposites to nano-organic materials with bioactive agents have been applied in a wide range of food materials (Bajpai et al. 2018). Human exposure to these nanomaterials is regularly increasing, and its impact on health of the human and environment has become a point of public concern and interest. Although huge benefits are being offered by nanotechnology, the accumulation of nanostructured materials in human bodies and also in the environment has aroused several health and safety issues. This will require a uniform international regulatory framework for nanotechnology.

Different preparation technology could produce nanoparticles with different physical properties for their application in food. But, public perception regarding this new technology is still uncertain. Multiple guidelines of potential risks posed by nanomaterials have been released by different regulatory bodies like the US Environmental Protection Agency (USEPA), International Organization for Standardization and the Organization for Economic Cooperation and Development (IOSOECD), National Institute for Occupational Safety and Health (NIOSH), Health and Consumer Protection Directorate of the European Commission (HCPDEC), and Food and Drug Administration (FDA). It has been reported that these nanomaterials can improve food safety by increasing the efficacy of food packaging, shelf life, and nutritional value of food using additives without affecting the taste and physical characteristics of food products.

Nanotechnology is regularly gaining momentum; thus, it has become a very important tool for the food and bioprocessing industry to meet demands of increasing population growth all over the world. It has almost revolutionized conventional food science and food industry (He and Hwang 2016). It is also important to ascertain the toxicity of nanoparticles and the possible environmental and health hazards it may cause. Improvement in inorganic nanosubstance and microfluid manufacturing has permitted the preparation of effective and competent sensors to quickly detect/identify pathogens, microbes, or pesticides. The nanosensor or nanobiosensor should also be used in environmental contamination control in the food sectors. Functionalized food and nanosubstance should improve food value and protection as flavor and nutrient transporter.

It is still challenging to develop a healthy and sustainable food industry making use of nanoparticles in some or other forms. A large strength of the public is having a fear in using food engineered and genetically modified materials. Of course, one should be cautious in using nano-based materials in food science and the food industry but not afraid of its application. Although the fate and potential toxicity of nanomaterials are not fully known at this stage and such concerns require the education of public, ultimate success of such products will depend on acceptance by consumer. Time is not far off when nanofood technology will become a new frontier of this century, provided its harmful effects are fully controlled so that health and the environment are not adversely affected.
Copyright information
© Springer Nature Singapore Pte Ltd. 2020