Abstract
By summarizing research literature in both international sources and Chinese local journals on the information technology (IT) industries, and comparing the progress and development between China and India, this chapter provides a picture of the development patterns and their similarities and differences in the IT industries in the two countries. There are two kinds of IT industries, namely, hardware-based IT (primarily manufacturing and strongly protected by IP, especially patents) and software-based IT (primarily service, either separate or combined with manufacturing sectors, partially protected by the patent system), while Chinese firms are well developed in the first, Indian firms specialize in the second. In addition, the industrial culture (training system and language used, etc.) and organizational structure embedded in the industries provide unique advantages to Indian firms, making them internationally competitive but less so in the domestic market. In contrast, Chinese companies are developing faster in the domestic market and comparatively weak internationally. Throughout the chapter, a 2×2 situation is analyzed to contrast differences in terms of manufacturing vs. service, and of upstream sectors (industrial market) vs. downstream sectors (consumer market), with particular focus on IT software industries and on finding explanations for different IP functions in the two countries: IP functions in IT industry may be comparable with the pharmaceutical industry in China; however, this function is totally different from the situation in the pharmaceutical sector in India.
Keywords
IT 
IP 
Patent 
Hardware 
Software 
1

Introduction

China established a new republic and India became independent during the 1940s. Both countries are the most populous in the world; they implemented significant economic reforms during the 1970s and 1980s and achieved great success. According to the World Bank,1 China's economic development measured by GDP was US$59.2 billion in 1960 and US$1.09 trillion in 2015, while the Indian GDP was US$37.7 billion in 1960 and US$0.21 trillion in 2015, representing 18.4 times and 5.6 times growth, respectively. According to the World Economic Forum (WEF) annual report2 on global competitiveness between 2016 and 2017, China was ranked at the 28th position for three consecutive years, while India's position improved from the 55th in 2015 to the 39th in 2016. In terms of commodity and service export ratio to GDP from 1992 to 2013, China's ratio grew from 19.5% to 20.6%,3 while India's grew from 9% to 28.1%. Service exports have increased significantly in India.

There are strong connections and similarities between China and India on many fronts, such as historical exchange, geographical proximity, and similar population size and economic development level. However, on the other hand, there are also dissimilarities and strong competition between the two countries, commonly known as competition between the "Dragon and Elephant," especially in their IT industries. This chapter aims to answer the following two research questions:
1.

What are the differences between China and India in the development of their IT industries and also in terms of IP?

 

2.

What are the explanations for such differences between the two countries in their IT industries, particularly in the IT software sectors?

 
2

Economic Development Patterns and Characteristics in General
2.1

Development Patterns

Shi (

2010

)

4

summarized the economic development patterns of China and India as follows:
Most industrial countries develop through the following stages: agricultural → light industries (or consumer industries) → heavy industries → high-tech industries → IT-oriented industries. China is developing through the traditional route but with faster speed than other industrialized countries, while India is developing from an agricultural economy directly to service-oriented industrial status.

The market mechanism under the Chinese system emphasizes stronger government orientation, leading to larger-scale infrastructure rollout and manufacturing industries as leading sectors. China has a high domestic saving rate and phenomenal foreign reserves through international trade.

The market mechanism under Indian system could be described as domestic-consumer-oriented rather than investment-oriented, driven by local market demand rather than by exports, a fairly weak manufacturing sector, a dominant service sector, and a stronger software exports. It is therefore a dual economy, in which both tech-intensive high-tech and labor-intensive low-tech sectors exist, especially in IT industries.
2.2

Economic Development Characteristics

The economic development characteristics in the two countries can be summarized in the following table (Table

1

).

Table 1

Typical economic indicators in China and India
 

2000

2005

2010

2011

2013

2014

China

India

China

India

China

India

China

India

China

India

China

India

GDP per capita (US$)

955

457

1740

740

4515

1417

5445

1489

6992

1487

7594

1631

Capital formationa (% of GDP)

34.9

24.1

41.9

34.3

47.3

36.5

48.5

35.5

46.5

32.5

46.1

31.4

Consumption rate (% of GDP)

47.4

64.2

39.4

57.6

36.6

56.4

34.4

58.0

37.3

59.2

37.7

59.2

Government revenue against GDP (%)

7.1

11.5

9.7

12.1

11.3

12.9

11.3

11.4

/

/

/

/

Commodity trade (billion US$)

474.3

93.9

1421.9

242.5

2974.0

576.6

3641.9

767.2

4159

780.2

4303

777.8

Sets of mobile phones (per 1000)

66.6

3.4

298.5

80.0

/

/

/

/

/

/

922.7

744.8

Internet service (per million population)b

/

/

0.33

0.58

1.92

2.16

2.42

2.90

3.87

3.91

7.04

5.66
In terms of growth pattern, according to Chen (2014)5, India's economy has structural factors conducive to high growth, which has been surging during the past 10 years. Therefore, India too is on a fast growth trajectory. Conversely, China's development route is approaching a turning point – i.e., transforming from the existing quantitative-scale-based fast growth to qualitative-innovation-based growth, the success of which is dependent upon economic, social, and political factors.
Regarding IT industries, both countries have achieved tremendous progress, with Indian companies outperforming their Chinese counterparts by a fairly large volume. According to United Nations Conference on Trade and Development (UNCTAD),6 in China computer and IT service exports experienced an increase of 32 times, from US$0.46 billion in 2001 to US$15.4 billion in 2013, while Indian computer and IT service exports experienced an increase of 82 times, from US$5.9 billion in 2001 to US$495.2 billion in 2013.
2.3

Identifying and Explaining Similarities and Differences

Pye et al. (2006)7 did a multi-angle comparative study, which indicates that the similarities between the two countries are more significant than the differences. However, Zhao (2008)8 indicates that it is difficult to fully assess the real differences and judge which progress pattern is better from an economic development research perspective, and it appears that a more meaningful way for both countries to better achieve their goals is to learn from each other. In addition, regarding important driving forces, there are other studies emphasizing the differences between the two economies. Huang and Khanna (2003)9 reported that the Chinese economy has primarily developed through foreign direct investment (FDI), rather than through domestic private investment, which is very different from the Indian case. The Indian economy developed primarily through local companies' market power. Besides, the local banking system is more efficient in India. Therefore, local entrepreneurs can develop with the help of an efficient banking system and related capital markets. This market-based strength might be so competitive that India may outperform the Chinese economy. Research by Farrell et al. (2004)10 indicates that the Chinese economy is driven primarily by the manufacturing sector, with support from a higher rate of bank savings, larger-scale investment in fundamental facilities, and FDI, while India is lagging behind China in economic reform, national savings, and FDI, as well as facilities construction; however, India can attract foreign capital in the long run, based on its free and loosely controlled private business sector.

Quan (2006)11 and Li (2006)12 opine that the Indian economy may follow a greener type of development route, without too much government intervention, based on local intellectual and financial resources, and software-backed service industries; conversely, the growth of the Chinese economy is expected to happen under more direct and significant government intervention and a manufacturing-industry-backed system, which might be less dynamic and competitive in a micro-level business world. Shi (2007)13 points out that the economic growth path of India is consumption-based, in which the government has less control, while China's economic growth involves a more investment-based and stronger government-oriented development path.

To explain the differences between the two countries,14 a number of studies strive to provide some clues. For example, differences might be attributed to industrial restructuring and its evolution and be explained in terms of historical change and economic policy tools used in the two countries, which have strong influence on their economic reforms (Rahman and Andreu 2006)15. Difference in the governance environment and conditions in the initial stage of development can also be important (Hua 2006)16, primarily shown through market mechanism transformation, economic openness, and ways of economic growth. Differences in the choice of economic development paradigms (Shen and Sheng 2009)17, in the social systems and ways of related economic reforms (Zhang and Gu 2009; Yang 2011)18,19, and in timing of the economic reform and international environment can also be decisive (Zhou 2016)20.

In sum, the dichotomy of software vs. hardware

21

can provide key concepts for understanding the differences in the two countries:

22
"Software" problems in China: less efficient market mechanisms during economic reform, including less efficient market regulation, a less efficient financial system, weak social integrity, and so on. Stronger government intervention, less space for private companies, and less efficient governance of fair market operation

"Hardware" problems in India: less developed infrastructure, insufficient transportation highways, less developed urban facilities, etc.
3

IT Industries: Two Kinds of Technical and Business Sectors

Before discussing IT industry, there are a number of conceptual or definition issues to be addressed first. Such conceptual work is mainly related to the understanding of the technological nature (manufacturing or service related) and business nature (local or outsourcing market), which may further explain IP functions in the industries.

According to Yu and Yuan (

2012

)

23

, there are different ways of classifying IT industry, for example, North American Industrial Classification System, NAICS (

2012

) and OECD (

2007

). Of great importance is the classification of the industries in the manufacturing and services sectors (Table

2

).

Table 2

OECD classification of IT industry
Sub-sectors

Code

Sub-sectors

Manufacturing

3000

Office machines, accounting, and computing devices

3130

Insulating circuits and cables

3210

Electronic tubes, kinescopes, and other electronic components

3220

Televisions, radios, radio transmitters, line telephone and telegraph equipment, etc.

3230

Television receivers, radio receivers, video and audio recording and playing devices and other equipment

3312

Measuring, monitoring, testing, and navigating devices and their accessories, other than industrial manufacturing devices

3313

Industrial manufacturing equipment

Service

5150

Wholesale of machines, mechanical equipment, and materials

6420

Telecommunication

7123

Renting of office machines and other related devices

72

Computers and related activities
In fact, the IT service sector includes software development, information system integration, integrated circuit design, etc.; and it can also be classified based on organizational structures, such as IT consultancy, system integrators, vertical integration organizations, contracted software developers, management service, business outsourcing firms, etc. (Wang et al. 2014).
Generally speaking, for an analytical framework on IT industries, there is clearly a 2 × 2 pattern which could be applied to this study.
The First "2": Manufacturing vs. Service
There are clearly manufacturing sectors under the IT industry-producing equipment or devices, i.e., hardware, which are needed for IT services. On the other hand, there are clearly also service sectors under the IT industry which connect certain networks or software to customers in either the industrial or consumer market.
The Second "2": Industrial vs. Consumer Market
For IT hardware industry, particularly service/software development sector, there are also two other layers, one for industrial buyers in intra- or interindustrial service or connections, such as software of Enterprise Resource Planning II (ERP II),24 or accounting software, and another layer for the consumer market, which could range from individual communication networks to software for education and computer games.
It should be noted that in the case of comparing Chinese IT industry with Indian IT industries in terms of global value chain, domestic and international markets need to be further specified, as companies in the two countries can perform highly differently in domestic and international markets in both 2 × 2 situations.
4

Comparing the Two Countries

According to a report by the WEF in 2010, in the ranking list in worldwide IT sectors during 2004 and 2005, India fared slightly better than China, with two positions ahead: China's position was upgraded from its previous 51 to 41, while India was upgraded from 43 to 39. This ranking is composed of three parts, IT environment (further divided into another three, market environment, government policy orientation, and infrastructure), IT current stature, and IT adoption rate (again split into a further three, individual, commerce, and government).

In addition, financial data of IT service companies of China and India can be collected to contrast the two countries (Table

3

).

Table 3

Financial data of IT service companies – China and India – compared with US companies (unit: million US dollar, %, person)
Company

Country

Annual sales (A)

Overseas sales(B)

Overseas ratio (B/A)

Operating income (C)

OP Margin (C/A)

Software sales (D)

Software ratio (D/A)

Staff number (1000)

Service type

Accounting time

Infosys

India

4367

4320

98.7

1524

34.80

4.245

97.0

104.85

Software service

2009.3

TCS

6216

5681

91.4

1660

26.70

5.719

92.0

160.43

2010.3

Wipro

5.630

4328

76.9

1066

18.90

5123

91.0

91.70

2010.3

HUAWEI

China

24,065

14,535

60.4

2952

12.20

8962

37.2

110.00

Hardware and software

2010.4

ZTE

9721

4818

49.6

396

4.08

4001

41.2

70.00

2010.4

Hisense

2968

661

22.3

80

2.71

219

7.4

12.68

2010.3

Haier

21,887

5500

26.0

1000

4.57

1084

5.0

34.69

2011.1

Digital China

6475

1684

26.0

106

1.64

1775

27.4

10.00

Distribution, software

2010.7

IBM

USA

89,467

57.560

64.3

19,408

21.70

49,207

55.0

399.41

Hardware and software

2009.12

HP

107.026

68,426

63.9

9470

8.80

17,124

16.0

304.00

2009.10

Accenture

20,158

11,374

56.4

2470

12.30

20,159

100.0

177.00

2009.8
In the international market, Indian firms are more competitive than their Chinese counterparts. This is reflected in the collaborative partners of IT software companies in each country. According to study by Wang and others (2014),25 Chinese IT service firms collaborated more with local IT manufacturing firms or hardware companies (about 62% of the investigated companies), while Indian firms only accounted for 2.9% among the investigated firms; furthermore, in terms of overseas collaborations, Indian firms closely collaborated with larger multinational software companies such as Oracle and SAP, while Chinese firms were highly linked with larger IT hardware multinational enterprises, such as Motorola, Panasonic, and Microsoft, which clearly explains the software-oriented nature of Indian companies and hardware-oriented nature of Chinese firms. Fairly larger typical multinational enterprises (MNEs) in the IT software sector invested in India, especially in R&D centers, such as IBM with 6 billion US dollar in 3 years, Intel with more than 1 billion US dollar, Cisco with 1.1 billion US dollar, Microsoft with 1.7 billion US dollar, etc.26
Chinese companies have been falling behind their Indian counterparts by far in terms of international segmentation, sector profit margins, and particularly on macro-level international trade surplus since late 1990s. While Indian companies' software export ratio was only 4% in 1998, this increased to 22% in 2011, and the profit gains on IT service by Indian firms were even 90% greater than the total service export from India.
Based on the 2 × 2 investigation framework, an explanation model is designed to summarize the major differences between Chinese and Indian IT companies, as shown in Fig.
1
.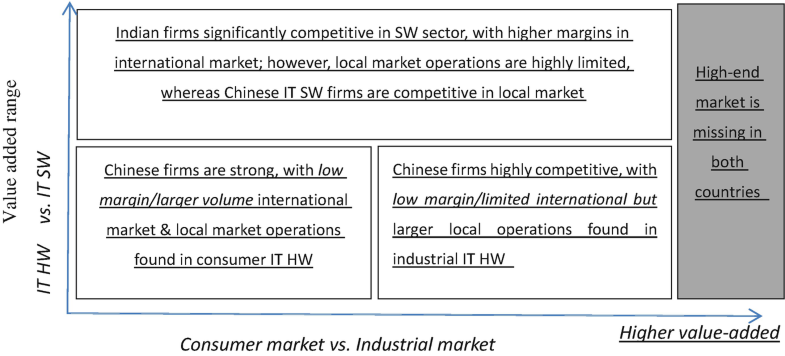 The Y axis represents the development character of the IT industries in manufacturing as well as in service. This may involve two types of sub-sectors, namely, IT service and software only and IT hardware manufacturing only. Further investigation may focus on areas where IT hardware and software merge together, such as the popular field of AI (artificial intelligence). Here we would rather focus only on separate fields. The X axis, on the other hand, represents the range of the product market, which includes industrial market and the consumer market. Clearly, Chinese IT firms are more competitive than Indian firms in hardware manufacturing, but focus more on the consumer market, with comparatively thinner profit margins, while Indian firms are more competitive than Chinese firms in software industrial sectors, and particularly in industrial and consumer markets, and have higher or larger profit margin. However, companies in both countries may have difficulties in competing in higher-value-added sections in both the IT hardware and software sectors with companies in more economically advanced countries such as North American and Western European countries.
Indian companies are highly competitive in the software sector in the international market and in mostly higher-value-added market segments, while Chinese software firms are competitive only in the domestic market. On the other hand, Chinese manufacturing companies are highly competitive in the international market on IT hardware products and in mostly mid- and lower-end market segments. However, connections from low- and mid-end manufacturing IT devices and equipment sectors to mid- and high-end service sectors in China do exist, implying further developmental strength to improve both sectors. It is the same situation in China's electric vehicle market, with many multinational corporations dominating the high-end market segments, such as Volkswagen, Toyota, Tesla, and BMW (see Chap.  17). However, in the case of Indian companies, there are clear disconnections between local manufacturing companies and IT software and service companies, which are also emphasized by Biswajit Dhar and Reji Joseph in Chap.  5. There are disconnections between manufacturing and design capabilities in India as well. Therefore, Chinese companies may combine increasingly updated manufacturing with relevant service sectors, while Indian companies may have to develop different paths and related markets for connecting software with hardware production in domestic manufacturing industries.
4.1

Government Policies on IT Industries

Although governments of both countries have IT industry policies, their individual choices are different.
4.1.1

China

China is more focused on applications of IT technologies in industries, especially telecommunications, and considers the software sector to be affiliated to those application fields. Another feature of Chinese economic development is the rollout of high-tech zones or parks. Since 1991, the so-called High-Tech Industrial Development Zones have made great progress. The number of High-Tech Industrial Development Zones approved by the State Council reached 156 in 2017, while the National Independent Innovation Demonstration Zones built by the High-Tech Industrial Development Zones has increased to 17. The total GDP value of the High-Tech Industrial Development Zones was reported as RMB 8.77 trillion yuan, accounting for 11.8% of China's GDP and for 18.6% of the total export of trade and services. Some 126,000 overseas returnees, 67,000 permanent residents, and 18,000 foreign experts have been reported to be working in those zones.27

Among 54 of the first group of such high-tech zones approved during the mid-1990s, the Xi'an High-Tech Industries Development Zone has been one of the most successful, especially in terms of mechanical, electronic, and software sectors, and naturally, together with other related zones for comprehensive innovation reforms, such as Free Trade Pilot Zones. According to the evaluation by the Ministry of Science and Technology in 2016, the Xi'an High-Tech Industries Development Zone is in the third place in high-tech knowledge creation and technological innovation and the fourth in sustainable development in China.28

Regarding software industries in Xi'an, more than 50,000 enterprises have been registered. In 2017, the total operating income reached RMB 1.45 trillion yuan, with a total foreign trade value of more than RMB 200 billion yuan. Nowadays, the software park (entitled New Software Town) in Xi'an acts as one of the four pillar industries (viz., information, advanced manufacturing, biomedicine and modern service industry) and is in fact the leader of the "Star Software Towns."29

Furthermore, the strength of the Xi'an Software Park is in the joint development of the software and information services industry with the cultural creativity industry of Xi'an High-Tech Zone. In 2017, the total income of the Xi'an High-Tech Industries Development Zone in software and information services has reached RMB 240 billion yuan, with an average growth rate of 20%. The exports realized a total amount of 1.446 billion US dollars, with annual average growth of 41%.

The development of Xi'an High-Tech Zone and Software Park has mainly benefited from the continual supply of talented software programmers. By 2017, there were 180,000 people working in the software and information services industry, with an annual addition of more than 10,000, among which over 65% are fresh college graduates.30
4.1.2

India

India is more focused on software as a priority or leading sector for other IT sectors, which may be easier to connect further with traditional industries. On the other hand, a study by Xu et al. (2010)31 indicates that there is a "satellite" style of high-tech surrounding cities in India. Such selectively developed "satellite economies" (such as Bangalore, New Delhi, Mumbai, and Hyderabad) might be too narrow for deepening national economic development. On the other hand, this knowledge-intensive and service-industry-oriented development mode may possess structural advantages for the international market, yet may suffer from less active local market demand.

Comparatively speaking, Indian policy on IT industries has been much more encouraging domestic IT firms than Chinese policy, which can be shown in the following aspects (Hao and Song

2004

):

32
Larger tax deduction: according to related policy of the Indian Ministry of Information Industries in 2003, companies with 100% software exports would have 100% tax deduction or zero tax for any company as long as it exported exclusively software till 2010.

Larger benefit for overseas companies: foreign software companies can invest in India with 100% shares if they have software export operations.

Larger import tax deduction: 216 different products related to IT industries could be imported without tax.
These aggressive policies toward the IT industry (particularly on the software sector) might be attributable to accumulated experiences of Indian firms in the international market, due to India's earlier entry (about 1997) into the Information Technology Agreement (ITA) (6 years earlier than China).33
4.2

Comparative Advantages of Chinese IT Companies

By using a logistic model on an S curve (technology life cycle theories), based on US Patent and Trademark Office (USTPO) data (competitive patent volume), Liu, F.C. et al. (2014)34 conducted a comparative study in relation to G7 countries and with China, for nine sub-industries in IT: three sectors in mature stage, namely, (1) mobile communication and remote information processing, (2) integrated circuits, and (3) intelligent robot; three sectors in growing stage, namely, (4) radio-frequency identification (RFID) and sensor network, (5) wideband and home use network, and (6) computer software; and three other sectors, namely, (7) digital TV and broadcasting, (8) panel display, and (9) personal computer (PC).

The research provides important findings on technology characters in those nine sub-industries by evaluating patent saturation level: both USA and China are in a comprehensive progress modes on most of the nine sub-industries in IT sectors. However, the development stages are different; the USA is developing in a fast growing pace in almost all sectors, particularly in six of those nine sub-industries, i.e., (1), (2), (4), (5), (6), and (7), while China is developing in a fast growing pace in sub-industries (3), (4), (6), (7), (8), and (9) (refer to the footnotes). This shows that China is on a growing development route on typical sectors in IT industries.

What are the comparative advantages of the Chinese IT companies? According to a study by Li and Zhong (

2013

)

35

, which surveyed 15 countries:

36
Both China and India belong to the second group among the 15 sample countries, including Canada, Japan, and Singapore, with better capability for industrial growth. In terms of overall capacity measure (mainly the value-added production in IT against the total value-added production in second or third industries,37 trade contribution, and human resource structures), China has a slightly higher capacity than India (there is only about 1% difference), while in terms of IT investment strength (investment to total national income), India has a better score than China (there is a about 29% difference).

In terms of mobile phone popularity rate, security on Internet servers, Internet popularity rate, etc., China's scores are much lower than India (about 50% lower). However, if measured by annual mobile phone communication time per person, China is much higher than India, which indicates that the consumption capacity is larger in China and may also imply higher potential of the IT market in China. Patenting volume in IT is much larger in China, when compared with other manufacturing sectors, even with pharmaceutical industries.
Research by Zuo and Chou (
2003
)
38
answers why Chinese companies are not performing as well as Indian companies, although the infrastructure for IT industry is much more well established in China than in India due to larger demand in the Chinese domestic markets (both industrial and consumer) for the computer software industry:
On average, the firm size in the Chinese software industry is smaller than that of Indian companies. Most Chinese software companies are start-ups. Even larger software companies are not so efficient if compared with Indian companies.

In terms of production output efficiency, productivity in Indian firms was higher on average (US$10,000 more per person than the level in Chinese firms).

Human resources: staff turnover is higher (10%) in Indian firms than in Chinese firms. However, low-end labor power cost is higher in Chinese firms than in Indian firms. Since there is greater blue-collar labor supply in India, Indian firms can continue to compete in the world market over a longer period of time.
4.3

Comparative Advantages of Indian IT Companies
4.3.1

Strengths

Indian software companies are indeed much stronger in the international market. Based on three measures from the World Bank on export scale, quality, and cost, India's software industry ranks higher than China. With R&D centers from a number of famous international IT companies located in the country, India is only second to the USA as a software supplier, with 16.7% of the world market share.

In addition, a number of local software companies in India, including TCS, Infosys, and Wipro, have already developed as global firms. Most outsourcing service companies in India have achieved Capability Maturity Model for Software

39

(CMM5)

40

certification, and in a globally operated market, 65% of the CMM5-certified companies are located in India. Significant progress of India's software industry can be shown also by the following facts, according to the Nationwide Association of Software Service Companies:
The Indian software industry's annual growth rate reached almost 50% during the 1990s, much faster than the world average (15%); export volume increased from US$4 million in 1980 to US$49.6 billion in 2010, penetrating 91 countries.

almost all large MNEs have service demand for Indian firms, typically more than 400 Fortune 500 MNEs order related software products from Indian firms each year.

Production and export volume rank within the top 5 in the world, and one of the top 5 software companies in the world is an Indian company.
As is mentioned later in Chap.  5, the outcomes of foreign direct investment (FDI) in R&D are significant in Indian IT industry. Hundreds of companies have invested in FDI in R&D in India, certainly it will bring opportunities for Indian domestic IT industry, however, with stronger IP power dominated by overseas firms.
The service sector in the IT industry in India is especially important. By applying trade (import and export) data on computer and information services in China and India, between 2005 and 2013, Guo and Zhang (2015)41 conducted a series of studies combining RCA (Reveal Comparative Advantage), TC (Trade Competitive, expressed as trade volume (trade exports + trade imports)/GDP (TIS (Tes + Tis)/GDP), an international openness index, and MS (market share), as a synthetic form of competitiveness evaluation framework to compare China and India. The study provides important conclusions: China is far behind India in the computer and IT services industries in both a single competitive index and synthetic competitive measures. Innovation strength in Indian companies can typically be listed as follows:
Besides advantages in language, cost, and readiness-to-serve (as India is 8–12 h ahead of the time in the USA, software problems occur in the US market can be quickly solved overnight by software companies operating in India), another important reason for the faster development of the Indian software industry is the higher concentration of the industry. Higher market concentration provides larger companies with better positioning to control the market and achieve higher margin. In contrast, with a lower concentration level, Chinese companies face a narrow domestic market and weakness in the international market.
Pillar industries usually enjoy higher production efficiency and higher growth, and such industries will have stronger externality effects on other industries. The software industry in India is a sector that already enables other sectors to develop, such as telecommunications, education, and others.42
According to a theory by Humphrey and Schmitz (2000),43 the value-added value chain in IT industry includes, from lower- toward higher-value-added sections, (1) coding, programming, testing, operating, and maintaining, (2) software project operating, (3) software package operating, (4) system operating, (5) IT consultancy and strategy design, (6) customer demand analysis, and (7) product design. Based on the real effect of the development of IT industry in global segmentation, (6) and (7) can be highly value-added and are usually controlled by MNEs in North America or Europe. Indian firms started from coding/programming via OEM for MNEs and developed increasingly as world-level outsourcing suppliers. However, they are still in section (2) and moving to section (3) (Zhou 2012).44
4.3.2

Reasons Attributed to Stronger Competitiveness

Surprisingly, there is a paucity of studies on the reasons, positive or negative, for the state of the IP industry in China. However, several major reasons have been attributed for the stronger competitiveness of India's IT software industry, as follows (Huang

2011

):

45
Stronger market and policy resources (including local firms and institutions, such as IT software export associations) for exports, and correspondingly, stronger demand from international companies via their outsourcing. As discussed in Sect.  5.2.3, Chap.  5, the electronics industry benefitted from proactive government policies ever since the mid-1980s: the New Electronics Policy (NEP), Computer Software Export, and Software Development and Training have facilitated the development of the software industry. Therefore, it can be inferred that those policy resources played an essential role in Indian software industry.

Stronger skilled workforce and just-in-time training system (6 publicly owned and nationwide universities and 25 regional colleges on IT for technicians and engineers as qualified human resources for the IT software sector in general). In fact, other efficient professional training programs and schools in India may play even more important roles, not to mention many other training programs arranged by larger IT companies themselves. For example, the largest private computer training network company, APTECH, owns more than 1000 online training centers nationwide in India and has maintained an average annual growth of 50% (Zhang and Zhang 2014).46 Boundary labor supply could be found in Indian IT software sectors. For example, in 2000, Indian employees in this sector were only estimated at 284,000, which increased to 2.3 million in 2010, with indirect employment of 8.2 million people. According to a report by Electronics and Computer Software Export Promotion Council (ESC),47 during 2012–2013, the IT service and ITeS (Information Technology Enabled Services) hired more than 2.97 million specialists and indirectly hired more than 9 million employees.

The higher quality of this IT software workforce is also mentioned by Chinese researchers in explaining the strength of Indian firms (Lin, 2006).48 According to Lin, these might be implied by a number of important facts: as of 2002, almost all larger software companies had achieved ISO9000 quality certificates, and among the 54 global software companies with CMM5 certificates, 27 were in India. Software packages contracted from Indian firms are usually highly trusted internationally, due to Indian firms' 95% satisfactory, on-time completion rate, with international qualification.

A better and stronger environment for excellent IT software companies to grow and develop into world-level enterprises as solution providers to integrate IT software into larger international platforms. Tata Consultancy Services, Infosys Technologies Ltd., and Wipro Technologies are good examples.

A stronger international financing mechanism for Indian IT software companies via primarily three channels: overseas direct investment in the IT software sector in India, overseas financial investment in India via stock markets, and direct financing by Indian companies in overseas markets.

A higher level of well-developed IT software science parks in India, which is similar to what has been developed in China. The authors in Chap.  5 also mention that the setting up of Software Technology Parks (STPs) have facilitated the growth of information technology enabled services (ITES) sector. In our view, those science parks are definitely strong supports to boom this industry.
4.3.3

Challenges

The Indian software outsourcing business is dominated by the four biggest IT software outsourcing companies (TATA, Infosys, Wipro, and Satyam) (JU

2011

),

49

with almost 60% of buyers from North America. In this case, Indian companies might be overly exposed to the international market in the event of big losses, such as the 2008 financial crisis.

50

According to Huang et al. (

2014

),

51

since the outsourcing market is fully based on the international market, Indian IT software firms face risks and possible obstacles in the future on the following points:
Highly limited domestic market demand for the software service industry. Although India is the country with the second biggest population in the world, and its continuously growing working population has spurred domestic demand for many industries – the rising demand for automobiles is one such example (see Chap.  18). The lower level of information use and exchange in domestic industries limit local market development for the software service. It is estimated that contribution of Indian information service to local market was only less than 60% of total supplies, while India has larger demand for hardware due to lower level of IT facilities in India (Huang et al. 2014).

Demand for information service is missing, which led to less intermedia product input to connecting hardware and software sectors in India. According to macro-level input-output data in India, the intermedia demand in information service sector is the lowest if compared with the USA, Japan, and China.

Less information facilities support for the IT software industry in India. For example, Internet connection users per 100 inhabitants was 12.6 in India compared with 42.3 in China and 81.0 in the USA. Other facility shortage problems lie in electricity supplies and less capacity in hardware or device productions for IT devices.
5

IP Factors in China and India
5.1

National-Level Patent Strategies

The "Indian Miracle"52 would not have occurred without the support of strong IP strategies. There are national-level patent strategies in India, for example, promoting public-welfare-based litigation for Indian firms in the international community, and maintaining a preventive patent database etc., which protected Indian firms from patent snatching by non-Indian entities (Yi 2014). With such effective strategic preparation in terms of IP function, India can also respond quickly and effectively to IP infringement claims from foreign companies through a highly protective IP system locally. For example, in the case of Bayer suing a local company – Natco Pharma – in India (Yi 2014),53 a compulsory license against Bayer was granted and upheld by the Indian Supreme Court.

In terms of national-level patent strategies on the part of the public sector, China seems to lag behind India, as China's National IP Strategy (2008–2020) emphasizes more the creation and exploitation of IP rights by private sectors.
5.2

Firm-Level IP Strategies

A research by Wang et al. (2014) has also revealed that Indian IT service firms invest less in R&D (only 3.7% of their business revenue) than Chinese firms (7.2% of total revenue) in their operations, which can be clearly attributed to the nature of outsourcing-dominated operations in Indian firms.

There are bigger differences in IT R&D and IP assets (patents, in particular) in companies in the two countries. Indian firms are weaker in self-owned IP assets in IT industries, in both hardware and software. In fact, based on the high volume of outsourcing arrangements by Indian firms, self-owned IP assets are not important for Indian companies in IT industries, particularly in the software sector. This is especially true if compared with Chinese firms. However, Indian firms are stronger and more efficient in operation of foreign patent resources via outsourcing arrangements. Although IP and especially patent resources are increasingly addressed by most IT companies in China, especially by large leading firms, competing directly with IT companies in North America and European MNEs, there is still a clear lag.

Indian firms' patenting in China is very limited, if compared with local Chinese IT firms. According to Li and Lu (2017),54 up to April 2014, there were only 2337 patent applications filed by Indian companies with the Chinese National Intellectual Property Administration (patent office); among them, 2124 were invention patents. Six sectors, namely, pharmaceuticals, chemical material and manufacturing, special equipment manufacturing, computer and electronic device manufacturing, electrical and mechanical engineering, and instrument manufacturing, were the largest in patenting volume by Indian firms.
6

Conclusion

China and India have followed different development paths in IT evolution. In China's case, it is defined as forward integration, as it has combined the domestic market with international market. In India's case, it is defined as backward integration, as it started from international markets and developed back to the domestic market. Also, based on heavy involvement of Indian firms in IT software outsourcing arrangement by MNEs, the IP or patent resources are not important, unlike the Chinese firms' case. However, since both countries are developing rapidly following their own chosen economic developmental paths, IP resources and the function of IP capital will play an important role in the near future.

Typical differences among IT companies in the two countries include (1) Indian companies enjoy high international market penetration (high-end international markets) in the IT service sector, while Chinese companies control low- and mid-end international markets in the manufacturing sectors; (2) there are close connections between manufacturing and service sectors in China, which are lacking in India and may further determine the potential competitiveness of companies in the industries in India. Due to limitations of advanced technologies of companies in both countries, India and China lack competitiveness in higher-value-added areas in both the manufacturing and service sectors in IT industries.
References
Chen, P. (2007). Study on clusters of information technology sectors in Bangalore in India.

Commercial Report, 11

, 125–128.(in Chinese).

Google Scholar

Chen, Y. (2014).

TMT industry-trans-boundary integration of traditional industries: Accelerated economic transformation, rising cross-border integration model

. Shanghai: Qilu Securities Research Institute.

Google Scholar

Chen, J. D., & Chen, J. Z. (2005). Comparative study on pattern of economic development and transformation between China and India.

South Asian Research Quarterly, 2

, 7–15. (in Chinese).

Google Scholar

China High-Tech Industry Development Promotion Association Intellectual Property Strategy Research Group. (2013). How to avoid China's structural collapse risk of knowledge economy and its prevention strategies.

Science and Technology for Development.  

https://doi.org/10.11842/chips.2013.03.006

.

Farrell, D. et al. (2004). China and India, the race to growth.

The McKinsey Quarterly

, pp. 110–111.

Google Scholar

Guo, X., & Zhang, X. (2015). Comparing the competitive power of China and India's computer and information services trade.

Business Economics, 11

, 92–94.

Google Scholar

Hao, S. M., & Song, L. (2004). Comparative study on China and India's IT industry policies and commitments.

International Business – Journal of Foreign Economic and Trade University, 4

, 11. (in Chinese).

Google Scholar

Hua, M. (2006). Comparative study on pattern of economic development between China and India – Similar principle but different methodologies.

Journal of FU DAN Academic

(Social Science Edition), (6), 36–50. (in Chinese)

Google Scholar

Huang, L. (2011). Analysis of the role of India's software and information industry in economic development.

South Asia Quarterly, 147

(4). (in Chinese).

Google Scholar

Huang, Y. Q., Quan, H., & Li, X. Y. (2014). Sustainable development in IT service outsourcing sector in India – From industrial value chain perspective.

World Economic Research, 5

, 81–86. (in Chinese).

Google Scholar

Humphrey, J., & Schmitz, H. (2000)

Governance and upgrading: Linking industrial cluster and global value chain [J]

(IDS Working Paper 120). Brighton: Institute of Development Studies.

Google Scholar

Ju, Z. Q. (2011). Analysis and forecast of IT outsourcing industry in China and India.

China Market, 45

, 76–77. (in Chinese).

Google Scholar

Li, M. (2006). The different development path–comparative study between China and India.

Journal of HU BEI Institute of Engineering, 26

(4), 28–31. (in Chinese).

Google Scholar

Li, Y. J., & Lu, X. R. (2017). India in BRICS: Investigation via patenting of Indian companies in China on investment.

Science, Technology, and Industries, 17

(11), 113–117. (in Chinese).

Google Scholar

Li, H. C., & Zhong, W. R. (2013). Evaluation of development capabilities in IT Industries in China.

Science and Technology Management, 06

, 119–125. (in Chinese).

Google Scholar

Lin, C. J. (2006). Computer software and IT outsourcing business in India and Indian modernization.

South Asia Research, 2

, 36–39. (in Chinese).

Google Scholar

Liu, F. C., et al. (2014). Comparative study on technology development trajectory among G7 countries and China – Patent analysis with USTPO data.

China Soft Science, 09

, 22–33. (in Chinese).

Google Scholar

Pye, L. W., et al. (2006). Asia's giants: Comparing China and India.

Foreign Affairs, 5

, 177.

Google Scholar

Quan, H. (2006). Comparative study on economic development mode between China and India – ¨World Factory¨ and ¨World Office¨.

Scientific Decision, 12

, 34–36. (in Chinese).

Google Scholar

Rahman, R. D., & Andreu, J. M. (2006).

China and India: Towards global economic supremacy?

Foundation: Academic.

Google Scholar

Shen, K. Y., & Sheng, W. (2009). China and India: Thinking of economic reform and development.

Guang Dong Social Science, 1

, 19–25. (in Chinese).

Google Scholar

Shi, L. (2007). The dragon and elephant – Comparative study on pattern of economic growth between China and India.

China Statistic Journal, 1

, 22–23. (in Chinese).

Google Scholar

Shi, Y. (2010). Nature of Indian pattern and its impact on Chinese economic development.

Economic Development in SEZ (Special Economic Zone), 03

, 86–87. (in Chinese).

Google Scholar

Wang, K. L., & Su, J. (2000). Comparative study on software industries between China and India.

Science and Technology Guide, 03

, 29–32. (in Chinese).

Google Scholar

Wang, J., Kouassi, D., Conet, T., Liu, H. X., Wu, Z. S., & Wu, Q. (2014). Analysis on network of IT service innovation system: A comparative study between China and India.

Science and Technology Progress and Policy, 31

(4), 46–49. (in Chinese).

Google Scholar

Xu, J. W., et al. (2010). Advantages, innovations, and breakthrough in value chain – Cases from software Industries in Ireland and India.

Economic Geography, 02

, 193–199. (in Chinese).

Google Scholar

Yang, Y. S. (2011). How to explain differences in economic growth between China and India—Review from perspective of systematic change.

Economic Theories and Economic Management, 5

, 82–89. (in Chinese).

Google Scholar

Li, Y., & Lu, X. (2017). India of BRICs: Viewing India's investment in China through patent applications in China.

Science, Technology, and Industries, 17

(11). (in Chinese).

Google Scholar

Yu, C. H., & Yuan, Q. J. (2012). Classification and evolution of information technology and communication in international standard industrial classification system.

Statistics & Decisions, 06

, 12–15. (in Chinese).

Google Scholar

Zhang, Y., & Gu, Y. (2009). Comparative study on economic potentiality between China and India.

Economic Research, 5

, 21–30. (in Chinese).

Google Scholar

Zhang, Y. T., & Yang, W. W. (2012). Study on nature of industrial structure in Indian economy.

South Asian Research Quarterly, 02

, 50–56+111. (in Chinese).

Google Scholar

Zhang, T. H., & Zhang, Q. L. (2014).

IT education and training in India and the implication to China, no. 12

(pp. 49–52). (in Chinese).

Google Scholar

Zhao, J. (2008). Rational thinking on comparative study on economic development between China and India.

Journal of South East Asia Research, 3

, 32–36. (in Chinese).

Google Scholar

Zhou, D. (2012).

Indian IT development strategies in the post-financial-crises era, no. 2

(pp. 81–87). (in Chinese).

Google Scholar

Zhou, X. (2016). Comparative study on pattern of development between China and India.

Commercial Report, 27

, 206. (in Chinese).

Google Scholar

Zuo, D. X., & Chou, X. Y. (2003). Export strategies in Indian software industries and their implications to Chinese firms.

Managerial Operation and Management, 04

, 50–52. (in Chinese).

Google Scholar
Copyright information
© The Author(s) 2019
Open Access This chapter is licensed under the terms of the Creative Commons Attribution 4.0 International License (http://creativecommons.org/licenses/by/4.0/), which permits use, sharing, adaptation, distribution and reproduction in any medium or format, as long as you give appropriate credit to the original author(s) and the source, provide a link to the Creative Commons license and indicate if changes were made.
The images or other third party material in this chapter are included in the chapter's Creative Commons license, unless indicated otherwise in a credit line to the material. If material is not included in the chapter's Creative Commons license and your intended use is not permitted by statutory regulation or exceeds the permitted use, you will need to obtain permission directly from the copyright holder.