Acute Respiratory Distress Syndrome
Abstract
Acute Respiratory Distress Syndrome (ARDS) is a well-described disease process that can have numerous underlying causes, is commonly seen in the critical care setting, and is often under-recognized. ARDS is characterized by pulmonary edema with refractory hypoxemia, and was traditionally associated with a high mortality rate. The past few decades have generated many studies examining therapeutic interventions for ARDS; however, there are few Level 1 evidence-based interventions to this day that have been shown to improve mortality and outcomes. Lung protective ventilation remains the most studied and evidence-based intervention for the treatment of ARDS.
Keywords
Acute Respiratory Distress Syndrome 
Acute lung injury 
Lung protective ventilation 
Positive end-expiratory pressure 
Berlin definition 
26.1

Introduction

In 1967, Ashbaugh and colleagues first described a respiratory distress syndrome in 12 patients with acute onset of tachypnea, refractory hypoxemia, loss of lung compliance, and diffuse alveolar infiltrates on chest X-ray (CXR) [

1

]. They noted that these patients had features similar to infantile respiratory distress syndrome, and that they did not respond to standard treatment. Over the years, many different definitions for Acute Respiratory Distress Syndrome (ARDS) have been proposed, with the American European Consensus Conference (AECC) most commonly used in the past and the Berlin definition (Table

26.1

) being the most commonly used presently. The Berlin definition of ARDS was published in 2012 and was endorsed by the European Society of Intensive Care Medicine (ESICM), the American Thoracic Society (ATS), and the Society of Critical Care Medicine (SCCM) [

2

]. They defined ARDS as new or worsening respiratory symptoms within 1 week of clinical insult with bilateral opacities on CXR (Fig.

26.1

) or computerized tomography (CT) scan (Fig.

26.2

), not fully explained by cardiac failure or fluid overload. They further classified ARDS into three categories (Table

26.2

) based on the arterial oxygen tension: fractional inspired oxygen ratio (PaO

2

/FiO

2

) and with a minimum positive end-expiratory pressure (PEEP) of 5. The Berlin definition is notably different from prior definitions in that it recognizes that a CT scan can be used in lieu of a chest radiograph, acknowledges that diagnosis can occur in the presence of cardiac failure, and includes a minimum PEEP of 5 cm H

2

O (or CPAP for mild ARDS). The Berlin definition simplifies the prior definition by removing the classification of acute lung injury (ALI) and instead utilizing mild, moderate, and severe ARDS classifications. These classifications remain important to the definition of ARDS due to differences in mortality, as well as treatment options.

Table 26.1

ARDS definition comparisons
 

AECC

Berlin

Onset

Acute

Within a week of known clinical insult or new/worsening respiratory symptoms

Imaging

Bilateral infiltrates on CXR

Bilateral infiltrates on CXR or CT scan

Oxygenation

ALI—PaO2/FiO2 ≤ 300 mmHg

ARDS—PaO2/FiO2 ≤ 200 mmHg

Divided into mild, moderate, and severe as described in Table 26.2

PAWP

<18 mmHg or no clinical evidence of left atrial hypertension

None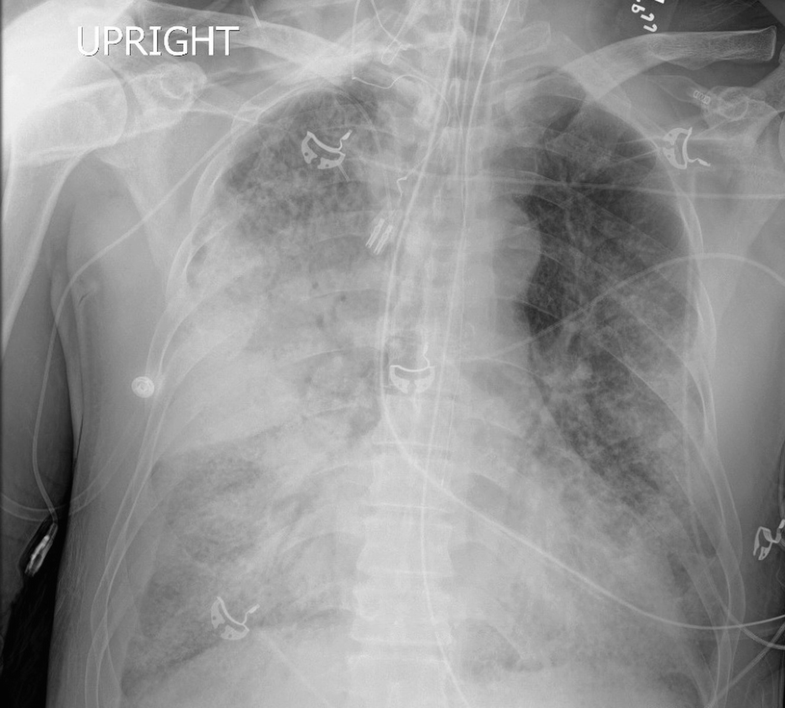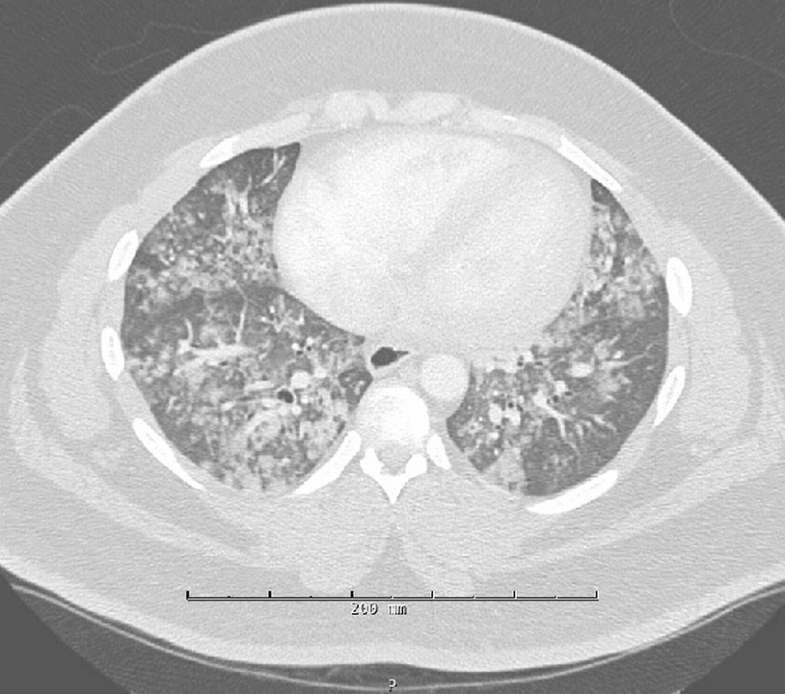 Table 26.2
Berlin definition categories for Acute Respiratory Distress Syndrome (ARDS)
| | |
| --- | --- |
| Mild | PaO2/FiO2 ratio 201–300 mmHg with PEEP or CPAP ≥5 cm H2O |
| Moderate | PaO2/FiO2 ratio 101–200 mmHg with PEEP ≥5 cm H2O |
| Severe | PaO2/FiO2 ratio ≤ 100 mmHg with PEEP ≥5 cm H2O |
26.2

Epidemiology

Many studies have investigated the incidence of ARDS in acute respiratory failure. An internal report of the National Heart and Lung Institute from 1972 revealed an incidence of ARDS in the USA of 75/100,000 population/year. The Acute Lung Injury: Epidemiology and Natural history (ALIEN) study evaluated patient data from Spain and estimated an incidence of 7.2/100,000 population/year and an ICU mortality of 42% despite lung protective ventilation [3]. A broader study, which looked at 459 ICUs across 50 different countries, concluded that ARDS represented 10.4% of total ICU admissions and 23.4% of all patients on mechanical ventilation [4]. They also noted that ARDS continues to be underdiagnosed, with only 60% of patients qualifying for ARDS under the Berlin definition being recognized by clinicians.

Risk factors for ARDS include both direct and indirect lung injury. Direct lung injury can occur with pneumonia (bacterial, viral, fungal, and opportunistic), gastric content aspiration, pulmonary contusion, inhalation injury, and drowning. Indirect lung injury includes sepsis, trauma, pancreatitis, burns, drug overdose, and transfusion-related acute lung injury (TRALI) [2]. The majority of ARDS cases are related to pneumonia, gastric aspiration, and sepsis [5].

Aside from lung injury, it has been hypothesized that genetic predisposition may increase the risk for developing ARDS. Although no single gene has been identified as a culprit, over 40 genes have been associated with ARDS. These include angiotensin-converting enzyme (ACE), epidermal growth factor (EGF), factor V, IL6, IL8, IL10, surfactant protein B, tumor necrosis factor-alpha (TNF), and Toll-like receptor 1 (TLR1) [6] among others. ACE has the clearest association with ARDS, which came into light when ACE2 was identified in in vitro studies as a potential receptor for the coronavirus that caused SARS [7]. This was confirmed by showing that ACE2 expression in cells that initially were not susceptible to the SARS infection would allow entry of the virus into the cell [8]. This has led to the possibility of recombinant ACE2 protein as a potential treatment for preventing the spread of SARS and protecting infected patients from worsening lung failure. Studies are also being conducted to better define the role of ACE2 in other emerging lung infections such as avian influenza A.
26.3

Pathophysiology

ARDS consists of three distinct phases: the exudative phase, the proliferative phase, and the fibrotic phase. The exudative phase occurs within 1–7 days after the initial insult to the lung. The initial insult may be a direct insult to the alveolar epithelium (pneumonia) or an indirect insult such as pancreatitis. This phase is characterized by immune cell-mediated damage of the alveolar capillary endothelial cells and alveolar epithelial cells. The result is a loss of the alveolar barrier and accumulation of protein-rich edema with the formation of a protein-rich hyaline membrane. Alveolar M1 macrophages secrete cytokines (IL-1, 6, 8, and 10), tumor necrosis factor-alpha, and lipid mediators. In response to these pro-inflammatory cytokines, neutrophils are recruited to the area [9] as well as activation of alveolar epithelial cells and effector T-cells, which leads to sustained inflammation and tissue injury [10]. The resulting inflammatory exudate directly affects type II alveolar cells, leading to inactivation of surfactant and impairment of alveolar function. This cascade of injuries and decreased pulmonary compliance leads to worsening gas exchange, increasing ventilation–perfusion mismatch, and refractory hypoxia which can be further worsened by mechanical stretch injury.

The proliferative phase of ARDS occurs from day 7 to 21 and attempts to repair the damages from the exudative phase. This occurs as M1 macrophages transition into M2 macrophages and help clear debris from the inflammatory process. This also leads to signaling type II alveolar cells which stimulate fibrin matrix scaffolds, synthesize surfactant, and differentiate into type I alveolar cells. As the epithelial lining recovers, protein channels and tight junctions are reestablished, which helps remove alveolar edema.

The final phase of ARDS, the fibrotic phase, does not consistently occur in all patients. This phase consists of extensive alveolar duct and interstitial fibrosis, and emphysema-like changes can be observed. Destruction of pulmonary vasculature and fibrosis leads to increased pulmonary hypertension. This phase is associated with a significant increase in mortality and may require long-term support on mechanical ventilation.
26.4

Treatment

Treatment of ARDS consists of identification and treatment of the underlying cause, while minimizing ventilator-induced lung injury and ensuring adequate gas exchange. This method of mechanical ventilation is termed "lung protective ventilation." Noninvasive mechanical ventilation (NIV) is typically not used in patients with ARDS due to the high respiratory failure rates leading to intubation along with the concern for complications associated with delay in mechanical ventilation. A recent meta-analysis showed an intubation rate of up to 86% and a mortality rate ranging from 15 to 71% with NIV [11].
26.5

Conclusion

Acute Respiratory Distress Syndrome is a complicated disease process and, despite advancements in medicine and technology, continues to have a high rate of mortality and utilizes significant resources. Furthermore, early identification of patients with the diagnosis of ARDS continues to remain poor. The hallmark of ARDS management continues to be supportive care with treatment of the underlying process and low tidal volume ventilation. Despite numerous studies, few interventions have shown consistent mortality benefit. Therefore, it is important to remember that treatment should be personalized for each patient based on the clinical scenario and degree of disease severity.
Key Points
Acute Respiratory Distress Syndrome results from direct or indirect insult to the alveolar epithelium resulting in damage to alveolar capillary cells.

Acute Respiratory Distress Syndrome remains under-diagnosed and has an ICU mortality of up to 42%.

The mainstay of treatment in Acute Respiratory Distress Syndrome is supportive care and lung protective mechanical ventilation.
Copyright information
© Springer Nature Singapore Pte Ltd. 2019