An Alternative Approach for Anticancer Compounds Production Through Plant Tissue Culture Techniques
Abstract
Higher plants produce various anticancer secondary metabolites (colchicine, camptothecin, combretastatin, paclitaxel, plumbagin, podophyllotoxin, psoralen, vincristine, vinblastine, etc.). The indiscriminate harvesting of these plants from the wild for the metabolites and inadequate efforts for cultivation led to a decrease in natural populations. However, these metabolites/compounds exist in low quantities, and it is economically not feasible to obtain them in large scale. Moreover, the accumulation of these metabolites varies from its geographical and environmental conditions. Alternatively, economically feasible production strategies should be investigated in order to overcome these problems and to overproduce the metabolites of therapeutic importance. To this perspective, advances in plant cell and tissue cultures, mainly culturing of cells/tissues, suspension cultures, precursor feeding, hairy root cultures, and bioreactors using cell suspensions/hairy root cultures are evaluated as the feasible and cost-effective alternative means for the production of economically important compounds. The present chapter summarizes the latest techniques/strategies for the overproduction of anticancer metabolites using plant cell and tissue culture approaches.
Keywords
Anticancer compounds 
Bioreactors 
Cambial meristematic cells 
Hairy root cultures 
Plant tissue cultures 
22.1

Introduction

Cancer is one of the leading causes of death in the world. It has been reported by the World Health Organization (WHO) that about 8.8 million people died worldwide in 2015 due to cancer, nearly 1 in 6 of all the deaths globally. In 2016, unfortunately 595,690 people died due to cancer out of 1,685,210 new cases of cancer diagnosed. Currently, there are many types of treatments available for cancer. However, a patient receives the treatment based on the cancer type and how advanced it is. The available treatments include chemotherapy, radiation therapy, immunotherapy, surgery, etc. However, these treatments are not free from side effects. For example, radiation therapy affects healthy cells also along with cancer cells, while plant-based drugs are successfully employed for the treatment of cancer with lesser side effects (Somasundaram et al. 2010). In 1960s vinblastine and vincristine are the two natural anticancer compounds introduced into the market to treat Hodgkin's lymphoma and acute childhood leukemia, respectively. Likewise another plant-based anticancer compound paclitaxel is used to treat breast cancer and ovarian cancer, while camptothecin is used to treat gastric, rectal, colon, and bladder cancers. Another important natural compound, podophyllotoxin confers a great efficacy against lymphosarcoma and Hodgkin's disease (Nissen et al. 1972). Discovery and introduction of these compounds to the market supported further drug discovery programs utilizing natural resources or products. However, the cost of these compounds in the market appears to be very high. For example, vincristine 1 kg costs around 20,000 US$, and annual world market cost for this compound is about 5 million US$. Similarly, the demand and cost of camptothecin and podophyllotoxin (etoposide, a semisynthetic derivative of podophyllotoxin) seem to be in the range of vincristine (Khani et al. 2012; Atanas et al. 2015; Shiv et al. 2016).

From the past decades, mankind depends on plants as a source of pharmaceuticals to treat various cancers. Plant-based drugs (natural products) play a significant role in the treatment of cancer. However, these compounds are produced in plants at very minute quantities, and hence, there is no adequate supply of these compounds owing to increased number of cancer incidences in recent years. Thus, there is a high demand for these plant-based anticancer compounds globally. Biotechnological approaches using plant cell cultures are the attractive and alternative means for the product enhancement of plant-derived anticancer compounds (Ramachandra Rao and Ravishankar

2002

). These approaches offer a defined production system, which ensures the production of novel compounds and stable supply of products without any alteration in the quality and yield. To overcome this supply crisis, many scientists have adopted various plant biotechnology protocols/techniques for the enhanced production of anticancer compounds (Table

22.1

). In fact, there have been many plant biotechnology techniques used for mass production of anticancer compounds (Fig.

22.1

). Presently, the demand for plant-derived anticancer compounds is steadily increasing, but their production in parent plants in the wild is at below the required level (Fig.

22.2

). Therefore, plant cell and tissue cultures will be a promising, cost-effective, and viable alternative for the increased production of anticancer compounds in a commercial level. The present chapter summarizes the latest techniques/strategies for the overproduction of anticancer metabolites using plant cell and tissue culture approaches.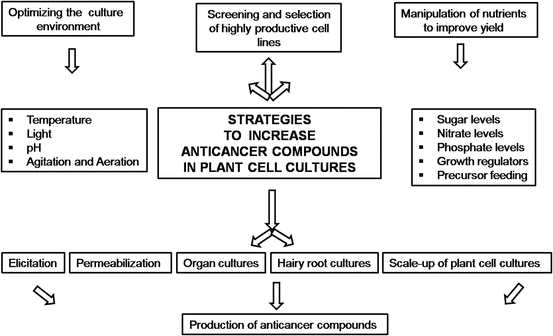 Table 22.1
Summary of various techniques used to enhance the production of anticancer compounds
Plant name

Anticancer compound

Culture type

Yield

References

Taxus cuspidata

Taxol

Cell suspension cultures

12.2 mg/l

Mirjalili and Linden (1995)

T. baccata

Paclitaxel

Bioreactor cultures

1.5 mg/l

Srinivasan et al. (1995)

T. media

Paclitaxel; baccatin III

5 l Stirred reactor

21.1 mg/l

Cusido et al. (2002)

56.0 mg/l

Camptotheca acuminata

Camptothecin

Hairy root culture

1 mg/g DW

Lorence et al. (2004)

Taxus media

Paclitaxel

Cell suspension cultures

1.25 mg/g DW

Baebler et al. (2005)

T. baccata

Paclitaxel

Airlift bioreactor (4 l);

12.03–20.79 mg/l;

Bentebibel et al. (2005)

Baccatin III

Wave bioreactor (2 l);

Stirred bioreactor (5 l)

7.78 mg/l;

5.06 mg/l

T. baccata

Taxol

Precursor feeding

13.75 mg/l

Khosroushahi et al. (2006)

P. peltatum

Podophyllotoxin

Adventitious roots

0.588 mg/g DW

Anbazhagan et al. (2008)

O. prostrata

Camptothecin

Adventitious root cultures

0.19%

Martin et al. (2008)

Liunm mucronatum

Podophyllotoxin

Hairy roots

5.78 mg/g DW

Samadi et al. (2014)

O. mungos

Camptothecin

In vitro regeneration

0.0768%

Namdeo et al. (2012)

Psoralea corylifolia

Psoralen

Precursor feeding

2.5 mg/g FW

Mohammad Parast et al. (2014)

Plumbago rosea

Plumbagin

Embryogenic cell suspension cultures

1 mg/g DW

Silja et al. (2014)

Plumbago rosea

Plumbagin

Adventitious root cultures

1.23%

Silja and Satheeshkumar (2015)

Catharanthus roseus

Vinblastine and vincristine

Callus

0.5623 and 0.1651 μg/g DW

Iskandar and Iriawati (2016)

Ophiorrhiza mungos

Camptothecin

Cell suspension cultures

0.8 mg/g DW

Deepthi and Satheeshkumar (2016)
22.2

Approaches to Overproduce Anticancer Compounds Production Using Plant Cell Culture
22.3

Organ Cultures

Product enhancement through differentiated cultures has an advantage over undifferentiated cells. It has been said that during plant development presence of some of the desired metabolites is confined to a particular tissue or organ. Production of anticancer compounds through in vitro regenerated plants has tremendous importance because of high production in differentiated tissues and more stability in organ cultures (Roja 1994). A study by Sankar-Thomas and Lieberei (2011) suggested the low profile of camptothecin levels in undifferentiated calli compared to differentiated tissues of C. acuminata organ cultures. Thus biosynthesis of camptothecin requires tissues or organs of differentiated stages. The study supported the use and advantages of organ cultures over undifferentiated cultures. Similarly, higher levels of camptothecin (66–111%) accumulated in the regenerated O. pumila plants as compared with that in the wild plant. Likewise, 15 μg/g tissue dry weight vinblastine was produced in multiple shoots of C. roseus (Miura et al. 1988). Two-month-old plantlets produced 0.11%–0.36% taxol in T. canadensis and 0.01%–0.1% in T. baccata (Zhiri et al. 1994), while T. baccata shoot tip cultures produced taxol from 0.03 to 0.46 mg/kg (Jaziri et al. 1990). In addition to shoot cultures, root cultures are also promising to produce plant metabolites. The highest amount of camptothecin was obtained from the roots of early-stage seedlings of C. acuminata Decaisne (Nyssaceae) and also reported the decrease in camptothecin content in aged seedlings (Valletta et al. 2007). Similarly, Kaushik et al. (2015) evaluated the camptothecin yield in micropropagated plants of O. mungos and found that tissue culture-raised clones had 0.0438 ± 0.18% of camptothecin content, while the mother plant contained 0.043 ± 0.16%. This showed a similar chemical profile between wild-grown and micropropagated plants. More recently, maximum camptothecin content (0.12% w/w) was found to occur in the root samples of in vitro regenerated N. nimmoniana. Further, it has been reported that camptothecin content varied in plant parts (leaves, stems, and roots). The amount of camptothecin in leaves and stem was reported to be 0.0013% w/w and 0.026% w/w, respectively (Prakash et al. 2016). Moreover, the compounds produced through root cultures are very difficult to harvest and show slower growth. Therefore, an alternative method is required to produce root-derived compounds, and as of now, hairy root cultures are the best system to produce root-derived compounds which are described in the following sections.
22.4

Adventitious Root Cultures

Adventitious root system is an alternative to the conventional tissue culture methods for studying the biochemical events occurring during the secondary metabolite production and also to understand the effect of various factors on the normal metabolic pathways of the culture system. They can be produced under natural or various stress conditions and also induced by mechanical damage or tissue regeneration. Hence, it can be considered as more natural for not containing any chimeric DNA. Adventitious roots can be produced using any plant part (node, stem, leaf, non-pericycle tissues, or any other organ) as an explant. Adventitious root cultures have more genetic stability than any other culture systems (Casson and Lindsey 2003). They can also be used as a source of food storage organs and site of synthesis and accumulation of produced natural products. Adventitious roots exhibit higher multiplication and biomass accumulation and show an elevated secondary metabolite biosynthesis (Murthy et al. 2014). Product enhancement of desired metabolites depends on changes in the culture conditions by using different elicitors and growth promoters, precursors. etc. The metabolites thus produced by adventitious cultures can be cost-effective and used as antioxidants, food ingredients, pharmaceuticals, and therapeutic agents. An efficient culture system for the product enhancement in Andrographis paniculata adventitious roots has been evaluated for the andrographolide production (Praveen et al. 2009). Compared to callus suspension cultures, adventitious root cultures showed an increase in andrographolide amount. A cytotoxic quinoline alkaloid, camptothecin, and its derivatives were used for the treatment of cancer. The anticancer property of camptothecin is exhibited by its reversible binding to the topoisomerase-1 enzyme and inhibits the DNA replication by stabilizing the enzyme/DNA complex (Deepthi and Satheeshkumar 2016). Martin et al. (2008) successfully established the adventitious root culture system which has been evaluated as a promising approach for the production of camptothecin in O. prostrata. In root cultures of O. mungos, 3.4-fold higher amount of camptothecin has been produced by changing the medium composition and plant growth regulators (Deepthi and Satheeshkumar 2016). Differentiated cultures like hairy roots and adventitious roots of O. pumila produce higher amounts of camptothecin (Saito et al. 2001).
22.5

Hairy Root Cultures

Camptothecin is a monoterpenoid indole alkaloid produced in the plants which belong to Rubiaceae, Apocynaceae, Nyssaceae, and Loganiaceae (Cui et al. 2015). In a study reported by Ochoa-Villarreal et al. (2016), hairy root cultures were established infecting plant explants with A. rhizogenes, a Gram-negative soil bacterium that transfers its plasmid DNA that carries the genes which encode enzymes responsible for auxin biosynthesis which induce hairy roots. Thus accumulated auxin at the site of A. rhizogenes infection influences the surrounding cells mitotically to produce hairy roots. The differentiated hairy roots exhibit high growth rate, independent of growth hormones, high genetic stability, lateral branching, and lack of geotropism. These attributes make the hairy roots to accumulate the desired anticancer plant metabolites.

An efficient hairy root culture was established for the enhancement of camptothecin in O. pumila (Saito et al. 2001). Significant improvements in the camptothecin production were achieved by releasing into the adsorption medium using Diaion HP-20 (a polystyrene resin). Nearly a twofold improvement in plumbagin was observed with combined elicitation of methyl jasmonate and chitosan in Plumbago indica hairy root cultures (Gangopadhyay et al. 2011). Likewise there are Ophiorrhiza pumila, N. foetida, C. acuminata, O. liukiuensis, and O. kuroiwai (Lorence et al. 2004) are some of the few potential plant species which can be explored with genetic transformation to improve camptothecin production in the future. From these observations, it could be speculated that hairy root culture could be a sustainable strategy for the product enhancement of anticancer compounds and also useful for the understanding and elucidation of metabolic pathway and factors responsible for the metabolite synthesis.
22.6

Immobilizations

Slow growth rate and limited metabolite production can further offer the utilization of an alternative system for the product enhancement of anticancer compounds in vitro. In this context, immobilized plant cell and tissue cultures offer the continuous production of the desired metabolites. Immobilization is advantageous in the following contexts: (a) improved viability of cells in stationary phase, facilitating ease of maintenance and recovery, (b) simplified downstream processing (in case of secretary products), (c) cost-effective and lesser chance of contamination obtained through utilization of high cell density in small-scale bioreactors, (d) low shear stress for shaking cultures, (e) increased product accumulation, (f) improves flow rates by utilizing flow through reactors, and (g) knocks down the problems associated with mixing and aeration such as fluid viscosity in suspension cultures (Dicosmo and Misawa 1995). Matrices like agar, agarose, carrageen, polyurethane foam, alginate, and vanadium sulfate are used for the immobilization of plant cells and tissues and release of produced metabolites (anticancer compounds) into the medium (van der Heijden et al. 1989). It has been suggested that the adsorption method of immobilization is superior over cell entrapment (Dicosmo and Misawa 1995). The immobilization process ensures the sustenance of cells for a longer period of time and reduces the cost incurred on production of desired anticancer compounds (Moreno et al. 1995).

The surface immobilization of cultured cells of Catharanthus roseus, Nicotiana tabacum, and Glycine max has been achieved for the production of useful metabolites. Komaraiah et al. (2003) produced the plumbagin 21 times higher than control cultures by using immobilization followed by elicitation with chitosan. Increased production of baccatin and paclitaxel was reported changing alginate concentration (Bentebibel et al. 2005). Taxane production was improved with 2% calcium alginate in shake flasks and in bioreactor cultures (Bentebibel et al. 2005). Release of taxol and baccatin III from the plant cells into the culture medium was enhanced by 2.5- and 3.6-fold, respectively, using vanadium sulfate (Cusido et al. 1999).
22.7

Bioreactor and Scale-Up Process

Bioreactors are devices or systems that are used to carry out biological processes to produce the desired products. Sudo et al. (2002) have produced camptothecin in cultures of O. pumila in a 3 l bioreactor. A total yield of 22 mg was obtained after 8 weeks of culture period. An approximate amount of total camptothecin released into the culture medium was found to be 17% (3.6 mg). Additionally, for the easy purification, the excreted camptothecin could be adsorbed with polystyrene resin Diaion HP-20. Taxol production by cell suspensions of T. baccata in bioreactors was reported by Srinivasan et al. (1995). Paclitaxel and baccatin III were enhanced in different types of bioreactors by combining with an immobilization event (Bentebibel et al. 2005). Among them, stirred bioreactor potentially induced 43.43 mg/l paclitaxel at 16 days of culture period which is equal to 2.71 mg/l per day. Likewise, Navia-Osorio et al. (2002) established an efficient culture system for the production of taxol and baccatin III in T. baccata var. fastigiata and T. wallichiana suspension cultures using 20 l airlift bioreactor. When both the cell line at their maximum growth stage of accumulating the metabolites (28 days) T. wallichiana (21.04 mg/l) was superior to the T. baccata (12.04 mg/l) in the accumulation patterns of taxol and baccatin III. Further, they observed the release of taxol (40%) and baccatin III (67%) into the release of taxol and baccatin III into the growth medium. A commercial producer, rootec GmbH, Seuzach, Switzerland, has established an efficient bioreactor for the production of camptothecin in hairy roots production at large scale (Wildi et al. 2003). In this system, culture medium is sprayed continuously to grow roots on racks, and then continuous and semi-continuous modes are used to harvest the camptothecin.
22.8

Cambial Meristematic Cells as a Source of Anticancer Compound Production

Cambial meristematic cells provide an attractive alternative to traditional dedifferentiated cells for the synthesis of anticancer compounds. For example, elicitation of T. cuspidata cambial meristematic cells (CMCs) with methyl jasmonate induced paclitaxel production (Lee et al. 2010). Contrarily, the production of paclitaxel in T. cuspidata dedifferentiated cell lines (DDCs) derived from either needle or embryos was recorded to be reduced; aggregation of plant cells in cell suspension cultures was confirmed as the negative sign for the product yield (Joshi et al. 1996). Pronounced cell aggregates are typically found in DDCs in this context, and the reduced aggregation size of CMCs is observed between two and three cells per cluster. Using a 3 l airlift bioreactor, T. cuspidata CMCs produced 98 mg/kg of fresh cell weight (FCW) after 10 days of elicitation with MeJA, whereas needle- or embryo-derived DDCs produced only 11 and 13 mg/kg of FCW. In a 20 l airlift bioreactor, 268 mg/kg of paclitaxel is synthesized by CMCs. Contrast to this, no paclitaxel production was detected by either T. cuspidata needle- or embryo-derived DDC lines. Apart from paclitaxel, CMCs produced higher amounts of taxamarin A and C which are abietane tricyclic diterpenoids derivatives from Taxus species (Yang et al. 1999). Traditional DDCs which show some limitations for the synthesis of natural products such as fresh cell weight, cell aggregation, product yield, and sensitivity to shear stress represent significant obstacles. These problems associated with DDCs can be overcome by CMCs that provide a sustainable and cost-effective production of plant anticancer compounds.
22.9

Conclusions and Future Prospects

In conclusion, plant cell and tissue cultures can serve as an alternative means for the enhanced production of anticancer compounds. In this chapter, the strategies and approaches that are employed for the product enhancement of anticancer compounds are described. Every strategy and approach has got its own advantages and disadvantages over each other. Hence, there is a need for the substantial improvement for the product enhancement in lifesaving anticancer compounds on a commercial scale in order to bring down the cost of these compounds. Elucidation and understanding of the biosynthesis pathways of anticancer compounds and their regulation and seasonal influence on the production of anticancer compounds in respective plants in the wild are the prime concerns that help to overcome the difficulties experienced by various scientific groups for the overproduction of anticancer plant metabolites using plant cell and tissue cultures. Identification of suitable precursors, optimization of elicitors, medium composition growth regulators and culture conditions are the important parameters that are associated with product enhancement in plant cell cultures. A comprehensive knowledge of these factors and conditions will be of great importance for manipulating the desired metabolite production through product/metabolic engineering. Application genetic tools or advanced molecular techniques could be helpful to overproduce anticancer compounds through heterologous production of desired metabolites in lower organisms like bacteria and yeast. Paucity of information and knowledge about functions of enzymes, their regulation, respective genes sequence information and their expression associated with anticancer compounds are the setbacks in product enhancement by metabolic engineering, although there are some success stories reported pertaining to anthocyanin biosynthesis. Future studies pertaining to production of anticancer compounds using plant cell and tissue cultures should focus on addressing these aforementioned issues so as to resolve the complexities associated with plant secondary metabolites over production. With the knowledge gained, the attempts should focus on desired metabolite product enhancement through heterologous gene expression and metabolic engineering in lower organisms to develop cost-effective technologies for the large-scale production of anticancer compounds so as to ensure their availability at low prices affordable to the common man.
Copyright information
© Springer Nature Singapore Pte Ltd. 2018