Involvement of the QB Binding Protein (Mr 32000) in the Adaptation of the Photosynthetic Apparatus to Light Intensity
Abstract
Sublethal concentrations of exclusively those inhibitors of photosynthe-tic electron transport known to bind to a photosystem II constituent of Mr 32000, also called D-1 protein, were observed to cause shade type appearance in the blue-green alga Anacystis nidulans wildtype in strong white light (4500 lux), whereas lower concentrations of these inhibitors allowed for adaptation to the high light intensity (Figs. 1 and 3).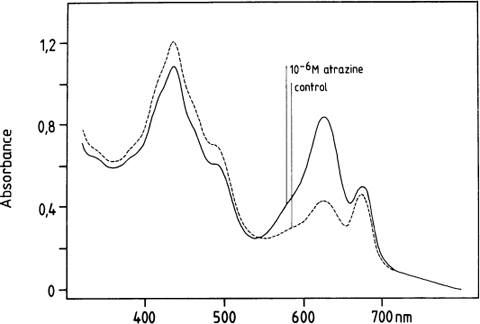 Keywords
Photosynthetic Electron Transport 
Sublethal Concentration 
Strong Light 
Electron Transport Inhibitor 
White Light Intensity 
These keywords were added by machine and not by the authors. This process is experimental and the keywords may be updated as the learning algorithm improves.
Copyright information
© Springer Science+Business Media Dordrecht 1987