Chemical and Isotopic Compositions of Hydrothermal Fluids at Snail, Archaean, Pika, and Urashima Sites in the Southern Mariana Trough
Abstract
Hydrothermal fluids were collected from five hydrothermal fields around the Southern Mariana Trough backarc spreading center for chemical and isotopic analyses. Yamanaka site was interpreted as inactive, so we present results from Snail, Archaean, Pika and Urashima sites. The slightly low pH and negative alkalinity suggests a little bit input of magmatic volatiles, supported by high CO2 concentrations. Consequently low pH would lead to the hydrothermal fluids rich in Fe compared to the MOR hydrothermal fluids.
Keywords
Backarc spreading center 
Geochemistry 
Hydrothermal fluid 
Iron TAIGA 
Magmatic volatile 
Southern Mariana 
45.1

Introduction

The southern part of the Mariana Trough is an active backarc spreading center that had propagated southward (Fig. 

45.1a

) (Fryer

1995

). Several hydrothermal fields have been mapped around 12°50′N in an alignment perpendicular to the spreading axis (Fig. 

45.1b

) (Wheat et al.

2003

; Ishibashi et al.

2004

; Utsumi et al.

2004

; Kakegawa et al.

2008

; Nakamura et al.

2013

). This area is far from continents and large islands, so terrestrial organic matter is absent, and the primary production in surface seawater is poor. On the seafloor, sinking organic matter is very sparse, but flourishing ecosystems are sustained around hydrothermal fields despite high temperatures and pressures (Deming and Baross

1993

; Takai and Horikoshi

1999

; Kelley et al.

2002

). Ecosystems utilizing Fe for energy have been extensively documented, especially around low-temperature hydrothermal vents (e.g., Boyd and Scott

2001

; Edwards

2004

; Edwards et al.

2003

,

2011

; Little et al.

2004

; Kato et al.

2009

; Langley et al.

2009

; Toner et al.

2009

). Ecosystems based on metabolism of inorganic materials are of interest for their potential insight into the origins of life (e.g., Alt

1988

; Juniper and Fouquet

1988

; Duhig et al.

1992

; Juniper and Tebo

1995

; Hofmann and Farmer

2000

; Reysenbach and Cady

2001

).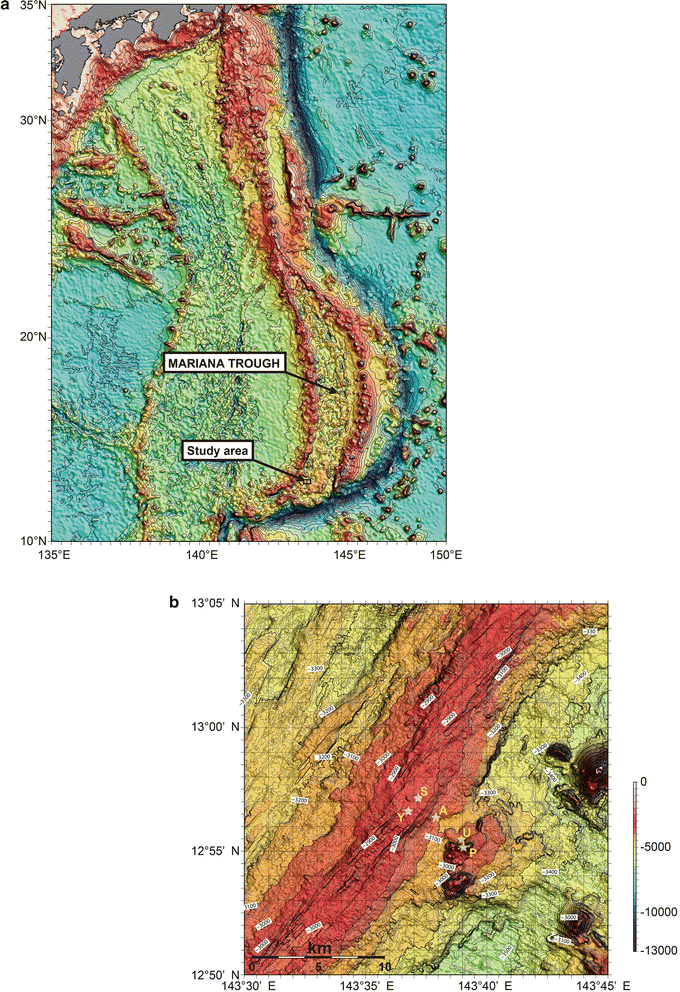 In the context of the TAIGA project, hydrothermal activity in the Southern Mariana Trough is recognized as Sulfur TAIGA and Iron TAIGA (Urabe et al. Chap.  1), and the project aims to elucidate what kind of ecosystems are prevalent, what kind of metabolisms they employ, and what kind of chemical environments they live in (Urabe et al. 2009). In this tectonic setting, in which hydrothermal activities are extending southward, how ecosystems propagate may shed light on more general questions about the evolution of life processes. Also, a fundamental question about mass flux at Earth's surface is the influence of subducting materials and magmatic volatiles. Extremely acidic fluids affected by magmatic volatiles raise the solubility of metals and mobilize them from rocks to fluids (Gamo et al. 1997b, 2006; Gena et al. 2001; Yang and Scott 2006). This aspect of the metal supply may have a great influence on Fe-utilizing ecosystems. It was with these topics in mind that we investigated the chemical and isotopic compositions of hydrothermal fluids in the Southern Mariana Trough.
45.2

Geological Setting

In the Mariana Trough, the Pacific plate subducts beneath the Philippine Sea plate, and the shape of the trough is convex to the east as a result of backarc spreading (Fig. 45.1a). Spreading activity started between 5 and 10 Ma (Hussong and Uyeda 1981; Karig 1971; Bibee et al. 1980; Eguchi 1984; Yamazaki and Stern 1997), and the northern part of the Mariana Trough represents the early stage of rifting of a backarc basin (Yamazaki et al. 1993). The central part of the Mariana Trough, from 16° to 20°N, represents the early stage of backarc basin spreading, and the volcanic arc and backarc are clearly distinguishable (e.g., Hart et al. 1972; Hawkins 1977; Fryer et al. 1981; Natland and Tarney 1981). The backarc is very close to the volcanic arc south of 16°N, and the spreading center of the backarc is ambiguous south of 12.5°N (Hawkins 1977; Smoot 1990). The hydrothermal fields in this study are located around 13°N. Five hydrothermal systems have been discovered around 13°N, which are aligned perpendicular to the axis (Fig. 45.1b). The Snail and Yamanaka sites are on the spreading axis, and the Archaean, Urashima, and Pika sites are off the axis. Around the area, hydrothermal activities have been documented in the TOTO caldera (Gamo et al. 2004), Forecast vent field (Johnson et al. 1993), and Alice Springs field (Craig et al. 1987; Gamo 1993; Gamo et al. 1997a). Descriptions of these hydrothermal systems are found in the InterRidge Vents Database (Beaulieu 2013).
45.3

Materials and Methods
45.3.1

Sampling Methods

Hydrothermal fluids were collected during YK03-09 (October, 2009), TN167A (March, 2004), YK05-09 (July, 2005), YK10-10 (August, 2010), YK10-13 (October, 2010), and NT12-24 (September, 2012) (Suppl. 45.1a and 45.1b) using the ROCS and the WHATS (Tsunogai et al. 2003; Saegusa et al. 2006). The WHATS is multi-bottle gastight sampling system, which avoids degassing and contamination by tightly closing the valves of sample bottles in situ. During sampling, the bottle inlet was held as close as possible to the hydrothermal vent, but in typical operation the inlet sometimes drops off the vent and draws in seawater. With allowance for a small degree of seawater admixture, the sample represents the average composition of hydrothermal fluid during the sampling period. The fluid temperature was recorded during sampling. The samples were collected with two bottles at each vent, one for gas analyses and the other for fluid analyses.

The sample for fluid analyses was first subsampled into two 5-mL vials for measurement of pH, alkalinity, and H2S concentration. The remaining fluid was then filtered using a 0.45-μm pore-size disk filter attached to a plastic syringe and distributed into 15- and 30-mL plastic bottles. The 15-mL subsample was measured for NH4 + and Si concentrations on board, and Cl− and SO4 2− concentrations on land. The 30-mL subsample was combined with 300 μL of 3N HNO3 on board the tender ship and then measured for major and minor elements on shore.

The sample bottle for gas analyses was processed as soon as possible (Konno et al. 2006); the fluid in the bottle was transferred to a 300-mL evacuated glass container, then acidified with amidosulfuric acid to convert all dissolved carbonate species to CO2 in the headspace of the container. The fluid was treated with sufficient HgCl2 to thoroughly convert H2S to HgS in the vacuum line. The gas phase was transferred to a 50-mL evacuated stainless steel container for gas analyses on shore, and then the residual fluid in the container was filtered for measurement of major elements on shore.
45.3.2

Analysis

The pH was measured by electrode with a precision of ±0.02 (Gieskes et al. 1991). The calibration was done using buffers of pH 4.01 and pH 6.86 once a day before the measurements. Alkalinity was measured by HCl titration, which endpoint was determined by the Gran's plot, with a precision of ±2 % (Gieskes et al. 1991). The concentration of H2S was measured by colorimetry using methylene blue with a precision of ±10 %. Ammonia concentration was measured by colorimetry using phenol blue with a precision of ±8 %. The Si concentration was determined by colorimetry using molybdate blue with a precision of ±1 %. Chlorinity was analyzed by the Mohr method with a precision of ±1 %. The SO4 2− concentration was determined by ion chromatography with a precision of ±4 %. Major and minor elements (Na, Ca, Mg, Sr, Ba, Mn, Fe, Si, B, and Li) were analyzed by inductively coupled plasma atomic emission spectroscopy (ICP-AES). The K concentration was analyzed by atomic absorption spectrometry. The Na concentration was also calculated independently on the basis of charge balance.

Gas concentrations of O2, N2, CO2, H2, and He were measured by using gas chromatography with a thermal conductivity detector. CH4 concentration and its stable carbon isotope ratio were determined with a continuous-flow isotope ratio mass spectrometer (CF-irMS) (Tsunogai et al. 2000). The hydrogen isotope ratio (D/H) of CH4 was analyzed by using a CF-irMS with a precision of ±10 ‰. The hydrogen isotope ratio of H2 was analyzed by using a CF-irMS with a precision of ±4 ‰ (Komatsu et al. 2011). Helium isotope ratios (3He/4He) were measured by using noble gas mass spectrometry with a precision of ±2 % (Sano et al. 2006). The ratio of 4He to 20Ne was determined by using quadrupole mass spectrometry with a precision of ±10 % (Sano et al. 2006). Dissolved organic matter was measured with a Shimadzu TOC-5000 total organic carbon analyzer with a high-temperature catalytic method.
45.4

Results

The analytical results for hydrothermal fluids from the five sites are shown in Suppl. 45.1a for fluid chemistry and Suppl. 45.1b for gas chemistry, together with the maximum and average temperatures recorded during sampling.
45.5

Summary

Hydrothermal fluids were sampled from several hydrothermal activities around the Southern Mariana backarc spreading center, and analyzed for chemical and isotopic compositions. The fluid chemistry around the Southern Mariana Trough would be influenced by a little input of magmatic volatiles, leading to low pH and high CO2 concentrations, consequently the hydrothermal fluids are characterized by rich in Fe alongside of the MOR hydrothermal fluids.
Notes
Acknowledgments
We thank the captains and crews of the Yokosuka and Natsushima and the commanders and operation teams of the Shinkai 6500 and Hyper-Dolphin for sampling. Constructive and helpful reviews by Dr. Shinsuke Kawagucci and Dr. Takezo Shibuya are gratefully acknowledged. This study was supported by the Grant-in-Aid for Scientific Research on Innovative Areas of the Ministry of Education, Culture, Science and Technology (MEXT) "TAIGA project (Trans-crustal Advection and In situ biogeochemical processes of Global sub-seafloor Aquifer)," and partly by International Research Hub Project for Climate Change and Coral Reef/Island Dynamics from the University of the Ryukyus.
Copyright information
© The Author(s) 2015
Open Access This chapter is distributed under the terms of the Creative Commons Attribution Noncommercial License, which permits any noncommercial use, distribution, and reproduction in any medium, provided the original author(s) and source are credited.