Abstract
This chapter provides an introduction to metal hydrides of A5B19 compounds.
26.1

Introduction

In 1997, reinvestigating the hydrogen storage properties of the La–Ni system in the composition range 77.8–83.2 at% Ni, Yamamoto et al. [

97Y1

] reported the existence of a new phase with stoichiometry La

5

Ni

19

, leading to a revision of the La-Ni phase diagram (Fig.

26.1

). The existence of this 5/19 phase at high temperatures was experimentally confirmed by other groups [

00Z1

,

09P1

,

99I1

] and validated by DFT [

11C1

] and CALPHAD calculations [

03A1

]. Since that, several works have been devoted to the structural and thermodynamic characterizations of this hydride-forming family of compounds. It is worth to note that due to the complexity of the phase diagram in the range 78–84 at.% of Ni and to the very narrow domain of existence of the

A5B19

compound, single phase materials are very hard to produce by classical high temperature metallurgy. Therefore, most of the works reported in the literature are related to multiphasic samples with coexistence of several phases (mainly

AB3

,

A2B7

, and

AB5

ones).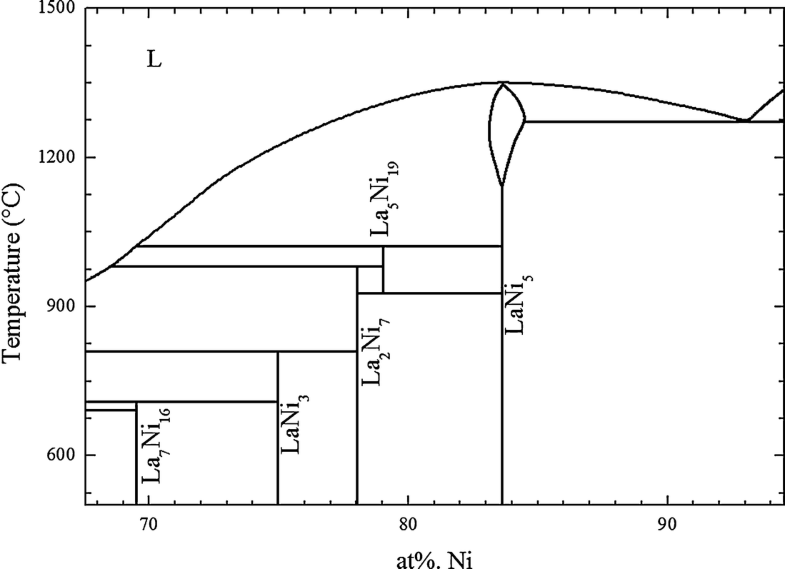 Copyright information
© Springer-Verlag GmbH Germany 2018