Water Pollutants Classification and Its Effects on Environment
Part of the Carbon Nanostructures book series (CARBON)
Abstract
With increasing urbanization and advancement of science, researches in nanotechnology and nanomaterial development are experiencing unprecedented expansion. Nanoparticle pollution is considered to be the most difficult pollution being managed and controlled. This chapter briefly describes the different types of water pollutants with a more detailed discussion on nanoparticle pollution. The chapter also gives an effort to visualize the challenges associated with dealing with nanoparticle waste.
1

Introduction

Urbanization has encouraged migration of people from villages to urban areas. This has resulted in a number of environmental problems, such as difficulty in water supply with desirable quality and quantity, wastewater generation and its collection, treatment, and disposal. In urban areas, for industrial and domestic uses, the sources of water are generally reservoirs, rivers, lakes, and wells. Out of this total water supplied, generally from 60 to 80% is discharged as wastewater after use. In developing countries for most of the cities, wastewater is let out partially treated or untreated [1] and it either percolates into the ground and in turn contaminates the groundwater or it is discharged into the natural drainage system causing pollution in downstream water bodies.

The importance of water quality as a factor constraining water use has often gone unacknowledged in the analyses of water scarcity. Water scarcity is a function not only of volumetric supply but also of quality sufficient to meet the desired demand. The drinking water demand is perhaps the largest demand for high-quality water apart from many industrial uses, which also require high-quality water. Agriculture, by far the largest consumer of water, also suffers when water supply becomes saline due to over-exploitation of groundwater. In most of the developing countries, water pollution comes from sources like domestic sewage, industrial effluents, leachates, and runoff from solid waste dumps and agricultural land. Domestic sewage and sullage are the main sources of water pollution in underdeveloped courtiers, especially in and around large urban centers. Regular monitoring of water quality in the rivers and wells in the country revealed that the total coliform counts in some places far exceeds the desired level in water to be fit for human consumption [1]. In this regard, it is vital to understand the types of pollutants that are getting released in different water bodies and the technological solutions available for treatment of these pollutants, so that by adopting appropriate measures, by selecting technology depending on the pollutant present in the wastewater, pollution of the water body can be controlled.
2

Classification of Water Pollutants

The various types of water pollutants can be classified into the following major categories:

(1) Organic pollutants, (2) Pathogens, (3) Nutrients and agriculture runoff, (4) Suspended solids and sediments, (5) Inorganic pollutants (salts and metals), (6) Thermal pollution, (7) Radioactive pollutants, and (8) Nanopollutants.
2.1

Organic Pollutants

Organic pollutants can be further divided into the following categories:
(a)

Oxygen demanding wastes

The wastewaters, such as domestic and municipal sewage, wastewater from all food processing industries, canning industries, dairies, slaughterhouses, paper and pulp mills, tanneries, breweries, distilleries, have considerable concentration of biodegradable organic compounds either in suspended, colloidal, or dissolved form. This organic matter present in these wastewaters undergoes degradation and decomposition by bacterial activity. The dissolved oxygen (DO) available in the water body will be consumed for aerobic oxidation of organic matter present in the wastewater. Hence, depletion of the DO will be a serious problem adversely affecting aquatic life. Generally DO above 5–6 mg/L is required for supporting life except for channel catfish, guppy, or eel, where 3.0–3.5 mg/L is acceptable [2]. This decrease of DO is an index of pollution.

 

(b)

Synthetic Organic Compounds

In recent years, several new organic compounds have reached surface water and other aquatic bodies through intensive human activities. That is the case of petroleum and its derivatives, chlorinated and phenolic pesticides and industrial wastes, most of the synthetic dyes, polyaromatic hydrocarbons, pharmaceutical active compounds, and endocrine disruptors [3]. Synthetic organic compounds are also likely to enter the ecosystem through various man-made activities such as the production of these compounds, spillage during transportation, and their uses in different applications. These include halogenated organics, aliphatic and aromatic hydrocarbons, synthetic pesticides, synthetic detergents, food additives, pharmaceuticals, insecticides, paints, synthetic fibers, plastics, solvents, and volatile organic compounds (VOCs) [4]. Different research studies indicated that some of these molecules are recalcitrant and persistent in treated water because they are refractory to conventional biological treatment and they are called "Bio-Refractory Organic Compounds (Bio-ROCs)." This is mainly due to their toxicity that inhibits microbial metabolism completely or partially (e.g., antibiotics, antiseptics, hydrophobic solvents), their particular physical properties such as weak aqueous solubility or limited adsorption ability and their complex molecular structure (e.g., carbamazepine, naproxen). Bio-refractory compounds found in industrial wastewaters include benzene, chloroform, methyl chloride, styrene, tetrachloroethylene, trichloroethane, and toluene [4]. The detection of these compounds in water is now possible even at ng/L magnitude, because of the important improvements in analytical methods.

The presence of these compounds in treated waters and even in drinking water is a very serious issue. Adverse effects of emerging contaminants, on flora, fauna, humans and biological treatment processes performance, are intensively reviewed elsewhere  [3]. In addition to their potential toxicity, bio-refractory compounds can cause taste and odor problems in water [4]. Even concentration of some of these in traces may make water unfit for different uses. The detergents can form foams, and volatile substances may cause an explosion in sewers. Polychlorinated biphenyls (PCBs) are used in the industries since the 1930s, which are complex mixtures of chlorobiphenyls. Being fat-soluble, they move readily through the environment and within the tissues or cells. Once introduced into the environment, these compounds are exceedingly persistent and their stability to chemical reagents is also high. Furthermore, chlorination of these compounds can form chlorinated hydrocarbons that are suspected of being carcinogenic to human [4].

 

(c)

Oil

Oil is a natural product which results from the plant remains fossilized over millions of years, under marine conditions. It is a complex mixture of hydrocarbons and it is biodegradable, though the rate is different for different oils, tar being the most difficult to degrade. Oil enters into the water bodies through oil spills, leak from oil pipes, and wastewater from production and refineries. Being lighter than water, it spreads over the surface of water, separating the contact of water with air, hence resulting in reduction of DO [3]. This pollutant is also responsible for endangering water birds and coastal plants due to coating of oils and adversely affecting their normal activities. It also results in reduction of light transmission through surface waters, thereby reducing the photosynthetic activity of the aquatic plants. Oil includes polycyclic aromatic hydrocarbons (PAH), some of which are known to be carcinogenic [5].

 
2.2

Pathogens

Pathogenic microorganisms enter the water bodies either through sewage as a major source or through the wastewater from industries like slaughterhouses. Viruses and bacteria can cause waterborne diseases, such as cholera, typhoid, dysentery, polio, and infectious hepatitis in human [6].
2.3

Nutrients and Agricultural Runoff

Agricultural runoff, wastewater from fertilizer industry and sewage contains substantial concentration of nutrients like nitrogen and phosphorous. These water supply nutrients to the plants and may stimulate the growth of algae and other aquatic weeds in receiving water bodies. Thus, the value of the water body is degraded. In the long run, due to excessive algal growth and accumulation of dead cells of algae along with subsequent decomposition, DO in the water body reduces, leading to eutrophication and finally causing a dead pool of water. People swimming in eutrophic waters containing blue-green algae can have skin and eye irritation, gastroenteritis, and vomiting. High nitrogen levels in the water supply cause a potential risk, especially to infants under six months. This is when the methemoglobin results in a decrease in the oxygen-carrying capacity of the blood (blue baby disease) as nitrate ions in the blood readily oxidize ferrous ions in the hemoglobin [7].
2.4

Suspended Solids and Sediments

These comprise of silt, sand, and minerals eroded from land. These appear in the water through the surface runoff during the rainy season and through municipal sewers. This can lead to siltation and reduction in storage capacities of reservoirs. The presence of suspended solids can block the sunlight penetration into the water, which is required for photosynthesis by bottom vegetation. Deposition of the solids in the quiescent stretches of the stream or ocean bottom can impair the normal aquatic life and affect the diversity of the aquatic ecosystem. If the deposited solids are organic in nature, they will undergo decomposition leading to development of anaerobic conditions. Finer suspended solids, such as silt and coal dust, may injure the gills of fishes and cause asphyxiation.
2.5

Inorganic Pollutants

Apart from the organic matter discharged in the water bodies through sewage and industrial wastewater, high concentration of heavy metals and other inorganic pollutants contaminate the water. These pollutants are nonbiodegradable and persist in the environment. These pollutants include mineral acids, inorganic salts, trace elements, metals, metallic compounds, complexes of metals with organic compounds, cyanides, sulfates, etc. Accumulation of heavy metals may have an adverse effect on aquatic flora and fauna and may constitute a public health problem, when contaminated organisms are used for food. Algal growth due to nitrogen and phosphorous compounds can be observed. Metals in high concentration can be toxic to biota, e.g., Hg, Cu, Cd, Pb, As, and Se. Copper greater than 0.1 mg/L is toxic to microorganisms. Cadmium exposure may cause kidney damage, and long-term exposure of the same may cause skeletal damage. It has also been identified as a human carcinogen [3]. Acute mercury exposure may give rise to lung damage. Chronic poisoning is characterized by neurological and psychological symptoms, such as tremor, changes in personality, restlessness, anxiety, sleep disturbance, and depression. Metallic mercury may cause kidney damage. Metallic mercury is an allergen, which may cause contact eczema, and mercury from amalgam fillings may give rise to oral lichen [8]. The symptoms of acute lead poisoning are headache, irritability, abdominal pain, and various symptoms related to the nervous system. Inorganic arsenic is acutely toxic, and intake of large quantities leads to gastrointestinal symptoms, severe disturbances of the cardiovascular and central nervous systems, and eventually death. In survivors, bone marrow depression, hemolysis, hepatomegaly, melanosis, polyneuropathy, and encephalopathy may be observed. Ingestion of inorganic arsenic may induce peripheral vascular disease, which in its extreme form leading to gangrenous changes [3].
2.6

Thermal Pollution

Considerable thermal pollution results due to discharge of hot water from thermal power plants, nuclear power plants, and industries where water is used as a coolant. Because of hot water discharge, the temperature of water body increases, which reduces the DO content of the water, thus adversely affecting the aquatic life. This alters the spectrum of organisms, which can adopt to live at that temperature and DO level. When organic matter is also present, the bacterial action increases due to rise in temperature, hence, resulting in rapid decrease of DO [3]. The discharge of hot water leads to the thermal stratification in the water body, where hot water remains on the top.
2.7

Radioactive Pollutants

Radioactive contamination, also called radiological contamination, is the deposition of or the presence of radioactive substances on surfaces or within solids, liquids, or gases (including the human body), where their presence is unintended or undesirable. Such contamination presents a hazard because of the radioactive decay of the contaminants, which emit harmful ionizing radiation such as alpha particles or beta particles, gamma rays or neutrons. The degree of hazard is determined by the concentration of the contaminants, the energy of the radiation being emitted, the type of radiation, and the proximity of the contamination to organs of the body. Radioactive materials originate from mining and processing of ores, use in research, agriculture, medical and industrial activities using isotopes, such as I-131, P-32, Co-60, Ca-45, S-35, C-14, radioactive discharge from nuclear power plants and nuclear reactors, e.g., Sr-90, Cesium, Cs-137, Plutonium Pu-248, Uranium-238, Uranium-235, use and testing of nuclear weapons. The major sources of radioactive pollution on land and water include: (1) The nuclear fuel cycle, the extraction, separation and refinement of materials for use in nuclear weapons and nuclear power and (2) the day-to-day operations of nuclear power plants. At every stage in the production of nuclear fuels, contaminants are left behind [4]. The mining of uranium, for example, produces highly radioactive tailings which can be blown into the air, contaminate soil, or leach into bodies of water. The primary harm from nuclear waste comes from radiation, which can cause health problems in humans and other living organisms and degrade the quality of surrounding air, water, and soil. These isotopes are toxic to the life forms; they accumulate in the bones, teeth and can cause serious disorders. The safe concentration for lifetime consumption is 1 × 10−7 µCi/ml [4].
2.8

Nanoparticle Pollution

Nanotechnology and nanomaterial development are experiencing unprecedented expansion in the twenty-first century due to their unique physical and chemical properties, which includes enhanced catalytic, antimicrobial, and oxidative properties; with almost 30,000 papers being published every year for the last five years (Fig. 

1

). Today, nanoscale materials are used in a variety of different areas such as water purification, electronic, biomedical, pharmaceutical, cosmetic, energy and environmental, catalytic and material applications. Because of the potential of this technology, there has been a worldwide increase in investment in nanotechnology research and development [

9

].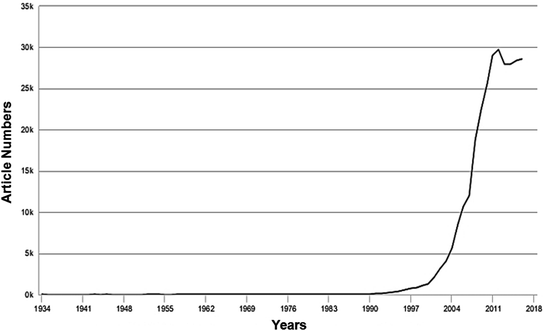 The reason nanotechnology commands so much attention and holds such possibilities lies in the unique properties these materials possess at nanoscale. Materials that may seem inert at millimeter or micron scale may have very different properties at nanoscale. Below the 100-nm-size threshold, both the surface area-to-mass ratio and the proportion of the total number of atoms at the surface of a structure are large enough that surface properties become important. This can lead to an altered chemical reactivity as well as altered thermal and electrical conductivities and tensile strength. At this scale, quantum effects may begin to apply themselves, changing optical, electrical, and magnetic behavior of the material [10]. Another attraction of nanoparticles is that their properties can be significantly altered by changing the surface characteristics, for example, engineering surfaces of nanoparticles with proteins and polymers, adding/subtracting atoms to alter the band-gap (range of electron energy levels) of a quantum dot or coating the surface of particles to reduce agglomeration. Nanoparticles can have many applications depending on their surface characteristics, e.g., reacting to certain wavelengths in the case of semiconductor quantum dots for use as sensors, or specific area targeting for drug delivery.
As the market share of nanofunctionalized products increases, so too does the potential for environmental exposure and contamination [11]. Nanoparticle pollution is also called "invisible pollution" and considered to be the most difficult pollution being managed and controlled. Long-term exposure to nanoparticles may cause serious damage to the human's respiratory tract, lung diseases, heart diseases, and premature death [12].
2.9

Challenges

The major challenges associated with nanoparticles are related to lack of knowledge/study. There are no generic principles for personnel working in the waste industry on how to handle various forms of nanowastes. Currently, the quantities or concentrations of nanomaterials in waste streams or in the environment remain unknown and reports being published vary widely [14]. Apparently, it may be assumed that the current quantities are low; however, with rapid introduction of new nanoproducts into the market, and discovery of new nanomaterials of unknown impacts to the environment, this scenario is likely to change dramatically. There is a paucity of toxicity data and its relationship to the physicochemical properties of nanomaterials. The complexity of managing nanowastes is also due to the property of dynamic transformation of the same. It is highly essential to develop universal principles and technologies of managing these wastes urgently, because a case-by-case approach recommended presently may prove uneconomical, laborious, and even impractical considering the number and types of nanomaterials, their different sizes and properties. The development of nanoproducts has outpaced the technological advancement to detect nanomaterials in environmental systems. Difficulties in measuring of nanoparticles are related to measuring trace levels against a high background of natural colloids [14]. In view of these, new legislative and regulatory hurdles are being observed in dealing with these new forms of waste streams. Hence, further efforts are required to set standards for nanomaterials detection, characterization, and treatment. Even the ill-effects and the dynamics of characteristics of nanomaterials are not well understood, demanding further systematic approach to the study of nanomaterials.
2.10

Conclusions

The safety/toxicity aspects of nanomaterials have lagged far behind the rate at which they are being produced. This can be attributed to the lack of any guidelines and the absence of a consensus among researchers on experimental protocols or study designs in this field, as well as the unique properties of nanoscale materials, which cause problems during the toxicological assessment of novel nanomaterials in the environment. All of these factors give rise to conflicting and irreproducible results and slow down the growth of this field. This chapter made an attempt to critically compile and analyze, from the available pool of information, different methods and challenges/issues associated with nanomaterials that could potentially be present in the environment.
References and Future Readings
Copyright information
© Springer International Publishing AG, part of Springer Nature 2018