Climate Change and Seed Systems of Roots, Tubers and Bananas: The Cases of Potato in Kenya and Sweetpotato in Mozambique
Abstract
Root, tuber and banana (RTB) crops are key to food security, nutrition and income for approximately 300 million poor people in the humid tropics of sub-Saharan Africa (SSA). Climate change and limited access to quality seed due to underdeveloped seed systems pose challenges which could unravel the benefits of RTB crops. Here, we present measures taken to address these challenges based on two case studies in Kenya and Mozambique. The Mozambique case study analyses the introduction of drought-resistant orange-fleshed sweetpotato varieties to address household food security and nutrition insecurity while strengthening resilience to climatic shocks. The study in Kenya focusses on the development of seed systems to address the chronic shortage of quality potato seed, which has led to over 50% yield loss. Given the need for strict quality control to manage the high risk of seed degeneration in vegetatively propagated crops, developing seed systems that deliver climate-smart varieties requires a multi-disciplinary approach to ensure that the scientific, technical, socio-economic and gender aspects are considered to ensure sustainability of interventions.
Keywords
RTB crops 
Climate shocks 
Resilience 
Seed systems 
Climate-smart varieties 
9.1

The Significance of RTB Crops for Food and Income Security Under Climate Change

Throughout the humid African tropics, root, tuber and banana (RTB) crops are the most important food staple. Approximately 300 million people in developing countries depend on RTB value chains (namely cassava, potato, sweetpotato, bananas and yams) for food security and income (Thiele et al. 2017). Indeed, foods derived from RTB crops contribute significantly to caloric needs, from nearly 25% in Nigeria to close to 60% in the Democratic Republic of Congo (RTB 2016). Being bulky and perishable, RTB crops are commonly grown for local consumption (Bentley et al. 2016).

The potential of RTB production to contribute to food security in sub-Saharan Africa (SSA) has not yet been realized due to low productivity. Underdeveloped seed systems have been unable to disseminate clean seed of climate-smart varieties of RTB crops . Potato yields in most of SSA have stagnated at 8–15 t/ha, largely as a consequence of limited access to quality seed (Demo et al. 2015). In Kenya, Uganda and Ethiopia, nearly 75% of the potato fields are contaminated with Ralstonia solanacearum (a long surviving, soil-borne bacterial pathogen), and less than 5% of farmers have access to quality seed (Gildemacher et al. 2009). However, rates of food production can double, and possibly triple, without expanding the area under production, by developing seed systems that deliver abiotic and biotic stress-tolerant varieties.

We present two case studies that describe the introduction of climate-smart varieties of potato in Kenya and orange-fleshed sweetpotato (OFSP) in Mozambique , and the associated challenges in their delivery through seed systems.
9.2

Challenges to RTB Seed Systems

Unlike true seed crops, RTB crops are vegetatively propagated crops (VPCs) and their seed systems have received limited investment. Since VPCs tend to remain true to varietal type for generations, farmers tend to save seed over several years. However, there is a problem with this approach; multiplying the VPC seed without acquiring fresh seed to flush through diseased stock can risk degeneration––the process when pests and diseases accumulate over successive cycles of propagation (Bentley et al. 2016). More efficient seed systems that deliver climate-smart varieties and reduce the spread of disease are required to reduce the yield gap in RTB crops.

As shown in Table

9.1

, there are challenges to encouraging investment along RTB seed systems, such as the bulky and perishable nature of the planting material. Investment must therefore be focussed near the seed users who are often in isolated, rural areas. Furthermore, the low multiplication ratios mean seed production is more expensive and requires more time than for grain crops.

Table 9.1

Key characteristics of propagation material of potato and sweetpotato, as compared to maize
| Characteristics | Maize | Potato | Sweetpotatog |
| --- | --- | --- | --- |
| Consumed plant part | Seeds | Tubers | Roots |
| Most common propagation material | Seeds | Tubers | Vine cuttings |
| Multiplication ratio | 1:300 | 1:7.5–10 | 1:3 (a vine may yield 2 or 3 cuttings 30 cm long) |
| Bulkiness | 20 kg/ha | 2000 kg/hab | Approx. 666 kg/ha depending on variety and stage of wilting (33,300 cuttings of 25–30 cm) |
| Storability of harvested seed | Up to 1 year | Up to 6 months | 2–3 days |
| Seed cost (USD/ha) | USD16 to USD27a | Up to 50–70% of the total production costc: USD2,527/ha (Chiled); USD818/ha (Idahoe); USD1090/ha (Peruf) | Highly variable. For Tanzania: USD2 bundle of 300 vines (900 cuttings), circa USD76/ha |
| Main pest and diseases causing seed degeneration | Seed degeneration is due to contamination by pollen from other varieties | Potato virus X, potato virus Y, potato leafroll virus, Ralstonia, Rhizoctonia, Pectobacterium, Spongospora, Globodera, Meloidogyne, Tecia, Symmetrischema, Phthorimaea, etc.c | Viruses: a complex sweetpotato chlorotic stunt virus and sweetpotato feathery mottle virus transmitted by whitefly and aphids. Weevils also damage and are transmitted through seed, namely Cylas brunneus and C. puncticollis |
The benefits of climate-smart varieties can only be realized by addressing weaknesses in the delivery chain through functioning seed systems, directly linking seed systems as a key tool to address climate change. The complexity of the production and logistics systems must also be expertly addressed in order to speed up the delivery of well adapted varieties to markets.
9.3

Case Studies
9.3.1

Improving Access to Quality Seed of Climate-Smart Potato Varieties in Kenya

Potato (Solanum tuberosum L.) is a key staple and fast expanding commercial crop in SSA with more than 1.6 million hectares under production and five million potato farmers (FAOSTAT 2017). In SSA and other tropical regions, potato production is limited to the cooler highlands that lie between 1600 and 3000 m above sea level (masl), and where night temperatures drop below the 16–18 °C required for tuberisation (Haverkort and Harris 1987). However, highland farmers are at risk of unpredictable rainfall and increasing temperatures caused by climate change and variability that affect farm productivity under rain-fed conditions. Potato growing is highly susceptible to precipitation variation and 575 mm is the minimum rainfall required per cropping season to obtain reasonable yields of 20 t/ha. Erratic rainfall in Kenya during the 2016–2017 drought reduced yields obtained by seed potato multipliers by 56%, from 15 to 7 t/ha. This was after a reduction in rainfall from a seasonal mean of 737 to 126 mm (International Potato Center 2017a). Potential future impacts of climate change will exacerbate this trend (Zemba et al. 2013).

In Kenya, certified seed production meets approximately 5% of demand, which has slowly increased from 0.6% in 2009 (International Potato Center 2016). The majority of farmers obtain seed from informal sources or save a portion of their harvest as seed for several generations. This is the case in most potato-producing countries in SSA, where certification protocols are not put into practice. The low yields plaguing this region (8–15 t/ha compared to realistic yields of 20–30 t/ha obtainable under smallholder farmer conditions) are largely a consequence of farmers' limited access to quality seed of biotic and abiotic stress tolerant climate-smart varieties (Demo et al. 2015).
9.3.2

Adapting Sweetpotato Varieties and Seed Systems Combatting Drought and Food Insecurity in Mozambique

Mozambique has experienced 13 significant drought years between 1979 and 20161 and represents the challenge across much of SSA, where an estimated 2.3 million people needed humanitarian assistance between January and March 2017 (FSIN 2017). Levels of chronic undernutrition are high among children under five in the region, with 71.2% estimated to be vitamin A deficient (VAD) (Aguayo et al. 2005).

High levels of VAD in young children prompted researchers to introduce beta-carotene rich sweetpotato into Mozambique in the late 1990s, because one root (125 g) of an OFSP variety can meet a young child's daily vitamin A needs (Low et al. 2017). Sweetpotato (Ipomoea batatas L.) has long been a staple in Mozambique, but the dominant varieties are white-fleshed with no beta-carotene, which the body converts into vitamin A. Initial efforts focused on testing contending varieties from around the world, resulting in the release of nine OFSP varieties in 2000. In 2002 these varieties were widely distributed in southern Mozambique as a post-flood disaster recovery initiative. They performed well in southern and central Mozambique until three seasons of consecutive drought hit in 2005.

Among the most popular of these first-generation varieties was the American-bred Resisto, which outyielded local varieties, matured earlier (at 4 months), had a deep orange flesh, moderate dry matter (24%) and the smooth oblong shape favoured by marketers. In the dry season, when farmers plant a second crop in valley bottoms with residual moisture. Resisto produced more roots than the dominant, reputedly drought tolerant local variety Canasumana, but it had no vines left at the time of harvest. In contrast, Canasumana had abundant foliage left (Low et al. 2001). In tropical areas, sweetpotato is largely propagated from vine cuttings of the previous crop, therefore not maintaining sufficient quantities of vigorous vines resulted in a shortage of Resisto planting material the following season.

In recognition that OFSP was well liked by the population, especially young children, but that better adapted varieties were needed, funds were raised to support breeding in Mozambique. As over 50% of sweetpotato production was lost (both white- and orange-fleshed) in the prolonged 2005 drought, the first step was to collect all landraces throughout the country that had survived. In total, 147 accessions (both landraces and improved materials) were characterized morphologically and molecularly. The best (in terms of high yield performance under water-stressed and non-water stressed condition) were selected as parents to develop drought-tolerant OFSP.

Breeding varieties to survive drought is a complex process. Drought can occur at any point in the development cycle of the crop, and the varieties selected need to perform well under water-stressed and non-water stressed conditions (Andrade et al. 2016a; Makunde et al. 2017). For a variety to be permanently adopted, it needs to have vigorous vines and roots left in the ground at harvest (a traditional source of planting material) must sprout well at the beginning of the rains. With regards to taste, a floury texture is preferred, a characteristic associated with dry matter contents of 28% or above.

The standard protocol historically used for many sweetpotato breeding programs required a variety to develop over a period of 8 years, including: the crossing of the new parents and generation of seed; the growing out of clones from those seeds; a selection process over a number of years, specifically evaluating the variety's agronomic and organoleptic characteristics with active farmer participation. The Accelerated Breeding Scheme (ABS), unlike this traditional approach, exploits the fact that each clone is a potential variety and has more sites earlier in the breeding cycle, including one stress environment for the trait of interest (in this case a drought-prone site). The ABS reduces the breeding cycle from 8 to 4–5 years (Grüneberg et al. 2015).

By applying the ABS, 15 new drought-tolerant OFSP varieties were released in Mozambique in 2011 (Andrade et al. 2016b). An additional four OFSP varieties were released in 2016 (Andrade et al. 2016c). Some of these varieties have widely-adapted and others performed well in specific agroecologies with a range of maturity periods. Many farmers prefer the six improved early-maturing varieties, which are ready in 3–4 months, because they enable them to manage rainy seasons of unpredictable lengths (Alvaro et al. 2017). Some of the later maturing varieties are deeper rooting which can be advantageous, because when the soil dries and cracks, weevils can reach the roots and the deeper the root, the harder it is for the weevil to reach it (Low et al. 2009).

There is strong evidence to suggest that combining OFSP introduction with community-level nutrition education increases the intake of vitamin A in young children and their mothers, and reduces VAD in children under 5 years of age (Low et al.

2007

; Hotz et al.

2012

; Brauw et al.

2013

). However, a major challenge in drought prone areas has been ensuring quality planting material is available when the rains begin (Fig.

9.2

). In bimodal areas, vine retention is not a major issue because farmers often use cuttings from an existing crop to start a new one. This explains the larger per capita production of sweetpotato in East and Central Africa than in unimodal Southern Africa. In drought-prone areas, some farmers with access to valley bottoms with residual moisture use this land for a second crop. Other farmers water small plots near their homes, and some invest in irrigation. The most common method, however, is to leave roots in the ground, ready to sprout when the rains start. The drawback is that the roots are often attacked by weevils or other diseases, which reduces both the quantity and quality of subsequent root output (Gibson et al.

2011

).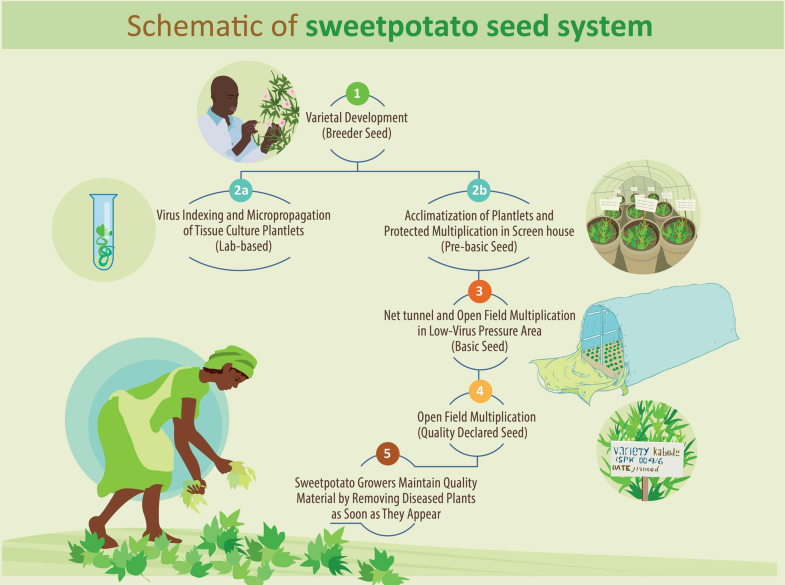 A method known as Triple S (Storage in Sand and Sprouting) improves upon this traditional practice. Developed in drought-prone areas of Uganda, the method selects pest-free roots at harvest, layers them in a container of sand and stores them in the home for up to 7 months. Some 6–8 weeks before the rains are expected to start, the sprouted roots are planted in a nursery and watered twice a week, producing approximately 40 cuttings per root. Being ready to plant when the rains begin, they enable yield gains ranging from 25% to 300% (Namanda et al. 2013). This technology is now being adapted to local conditions and promoted in six other countries, including Mozambique. It is a low-cost, knowledge-based technology that enables farmers to adapt to drought, and the technique can also be used to store larger roots for consumption for an additional 2–4 months.
9.4

Implications for Development

As described in the potato and sweetpotato case studies, adapting smallholder farming to climate change can be achieved by growing varieties that can cope with high temperatures, erratic rainfall patterns, and even drought. However, functional seed systems are essential for delivering such varieties and providing healthy seed. Research is revolutionizing this adaption to climate change, from new breeding approaches (e.g. ABS), multiplication techniques (e.g. apical cuttings) and on-farm seed management techniques (e.g. Triple S), to new approaches for engaging with specialized seed producers, seed users, markets and regulatory agencies. The clear links between climate change, improved varieties and seed systems illustrate the importance of interdisciplinary collaborations to ensure that scientific, technical, socio-economic and gender aspects are considered in such interventions.

Given the need for strict quality control to manage the high risk of seed degeneration in VPCs, developing seed systems to deliver climate-smart varieties requires a multi-stakeholder approach, especially if support for a project is limited. Sustaining seed systems beyond project life is a key challenge that can be addressed through well-targeted partnerships that drive the process while supporting those who use the system with the technologies to deliver them.
Footnotes
1.

Significant drought in parts of the country in 1979, 1981, 1987, 1990, 1998, 2001, 2005, 2007, 2008, 2010, 2015, 2016.
Copyright information
© The Author(s) 2019
Open Access This chapter is licensed under the terms of the Creative Commons Attribution 4.0 International License (http://creativecommons.org/licenses/by/4.0/), which permits use, sharing, adaptation, distribution and reproduction in any medium or format, as long as you give appropriate credit to the original author(s) and the source, provide a link to the Creative Commons license and indicate if changes were made.
The images or other third party material in this chapter are included in the chapter's Creative Commons license, unless indicated otherwise in a credit line to the material. If material is not included in the chapter's Creative Commons license and your intended use is not permitted by statutory regulation or exceeds the permitted use, you will need to obtain permission directly from the copyright holder.