The Many Faces of Nonadherence in Adolescents
Abstract
Allergic diseases affect millions of adolescents and cause significant morbidity. Effective treatments for these diseases exist; however adolescents sometimes have trouble integrating these treatments into their daily lives. Nonadherence puts the adolescent at risk of poor outcomes ranging from poorly controlled chronic symptoms to life-threatening reactions, or, in rare instances, death. Adolescents' decisions to adhere to treatment are complex and are often not dependent on any specific factor, but are the result of the interplay of many different variables. Contributing factors include denial of the disease, comorbidities such as anxiety and depression, the perceived severity of the disease and the effectiveness of treatment, knowledge and skills related to disease and treatment, family and peer support, side effects and other treatment-related factors such as cost, and how the treatment can be practically implemented into the daily life of the adolescent through routines and integration to schedules and school policies. Understanding which factors contribute to an adolescent's adherence can help to individualize management solutions so the adolescent is motivated to adhere and is able to integrate treatment into their daily life.
Keywords
Adherence 
Asthma 
Allergies 
Allergic diseases 
Adolescent 
Nonadherence 
Medication 
Treatment 
Introduction
Allergic diseases, such as allergic rhinitis, asthma, and eczema, affect millions of adolescents [1, 2, 3, 4]. These conditions cause significant morbidity and mortality. For example, it is estimated that uncontrolled asthma was associated with nearly 14 million missed school days in the United States in 2013 [5]. Many treatments exist which can help manage the symptoms of these diseases and prevent acute exacerbations. Unfortunately, many adolescents have trouble integrating these treatments into their daily lives. As a result of nonadherence, adolescents put themselves at risk of poor outcomes ranging from poorly controlled chronic symptoms to death. For example, children and adolescents who have asthma and lower levels of adherence to controller medications have higher risk of asthma exacerbation [6]. There are many factors which contribute to adolescents' medication taking behavior. Understanding the many faces of nonadherence can help healthcare professionals, parents, and adolescents develop strategies to successfully integrate treatment into their daily lives, thereby reducing their risk of adverse outcomes and improving their quality of life.
This chapter will review the complex nature of multiple different factors which can all contribute to nonadherence among adolescents with allergic diseases (see Table
4.1
). The examples used throughout this chapter will focus on asthma, as this is the allergic condition with the most robust literature and understanding of factors associated with nonadherence. However, many of the principles discussed herein can be applied to other allergic diseases such as allergic rhinitis, atopic dermatitis, and food allergies. The approaches described to address nonadherence in the adolescent patient with asthma can be extrapolated to these other conditions as well.
Table 4.1
Multiple factors involved in nonadherence
| Drug factors | Nondrug factors |
| --- | --- |
| Improper use of devices (inhalers) | Lack of instruction regarding proper use |
| Cost of medication | Concern about side effects |
| Difficult dosing (multiple times/day) | Dissatisfaction with health care professionals |
| Side effects | Poor supervision, training, or follow-up |
| Dislike of medication | Anger/denial about condition |
| Limited access to pharmacy | Underestimation of disease severity |
|   | Forgetfulness |
Clinical Vignettes
Asthma
Susan is a 15-year-old girl. Susan is very competitive and likes to play soccer. Susan also has mild asthma. To manage her asthma, she is prescribed a daily low-dose controller medicine as well as a rescue inhaler. Her asthma is triggered by exercise as well as by seasonal allergies. Her mother reminds her to take her medication, and she is usually good about managing her asthma. Recently, she moved to a new school and has told her mother that "she's not a kid anymore and doesn't need to be babied."
Food Allergies
James is a 13-year-old boy. James likes to hike and play baseball. James is also allergic to peanuts, but he doesn't like to talk about it. As a precaution James is supposed to carry his epinephrine auto-injector with him at all times. Unfortunately, the auto-injector is very expensive. In addition, James is often "on the go" and frequently forgets to carry his auto-injector with him. Fortunately, James does not have to use it very often. He also finds it difficult to speak up in groups and is reluctant to "announce" that he has a food allergy when going out to restaurants with friends or his baseball team.
Allergic Rhinitis
Mary is an 18-year-old girl. In the spring, Mary graduated from high school and over the summer moved to a new town to start college . Mary has a roommate Beth who has a cat. Recently, Mary was diagnosed with allergic rhinitis. To manage her symptoms, Mary was prescribed a nasal spray. Mary dislikes using the nasal spray and often self-treats with an over-the-counter antihistamine. The antihistamine, however, often makes her drowsy, so she often goes without and experiences symptoms as a result. Beth also lets her cat go throughout their apartment, including on Mary's bed.
Factors Which Affect Adolescents' Treatment Adherence Behavior
An adolescent's ability to adhere to treatment is challenging and often not dependent upon any specific factor, but ultimately the result of many different factors contributing to one another (see Fig.
4.1
). These factors include the adolescent's self-perception, their condition, the treatments prescribed to manage their condition, and their understanding of others' (e.g., family, friends, community, society) perceptions. In addition to their personal perceptions, the knowledge or skills of the adolescent contribute to their ability to adhere, as does their ability to make treatment part of their routine and integrate it into their busy schedules. Intrinsic factors related to the condition or the treatment, such as a medication's propensity for causing undesirable effects, also affect adolescents' decision-making. Finally, factors external to the adolescent, such as school policies, affect adolescents' abilities to adhere to their prescribed treatment regimens.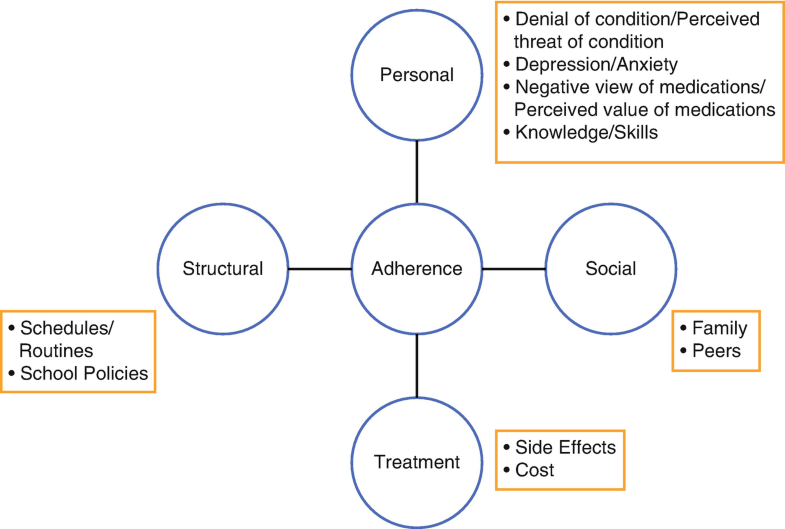 Conclusion
Nonadherence in adolescents with allergic diseases is not a simple behavior. There are many factors which contribute to nonadherence in the adolescent. Many times, nonadherence is unintentional, such as when the adolescent forgets to take the medication, which has a variety of causes, but could also be intentional due to factors such as dislike of medicine, not believing the disease is a threat, or not finding the medication to be effective. Understanding adolescents' reasons for nonadherence, either intentional or unintentional, is a helpful first step to tailor strategies to help overcome barriers to adherence and facilitate integration of the treatment into the adolescent's daily life.
Copyright information
© Springer International Publishing AG, part of Springer Nature 2018