Abstract
Tension has existed for decades between the central Thai Government and the ethnic minority communities over access to and use of land and forest along the Salween River. This chapter argues that existing law and policy in Thailand have not acknowledged the rights to these resources for the ethnic minorities living along the Salween River, even as their livelihoods have long depended upon them.
9.1

Introduction

Tension has existed for decades between the central Thai Government and the ethnic minority communities over access to and use of land and forest along the Salween River. Thailand's national law and policy have not acknowledged the rights to these resources for the ethnic minorities living along the Salween River, even as their livelihoods have long depended upon them (Vandergeest/Peluso 1995). Compounding these challenges is the Hatgyi Dam proposed to be built just across the border in Myanmar that the Electricity Generating Authority of Thailand (EGAT) has backed through a largely opaque decision-making (Magee/Kelley 2009; Middleton et al., Chap.  3, this volume).

This chapter focuses on three Karen villages along the Thai side of the Salween River in Sob Moei and Mae Sariang districts of Mae Hong Son province, and the implications for them of Thailand's national law and its ongoing evolution. I will show how state officials' activities toward these communities, backed by their claims of the legitimacy of the national law, have impacted the ethnic minority people living there. I also show how the communities have responded to these challenges from the state through their own assertions for legitimacy based upon their history, their local traditional practices, and their claims of indigeneity. Overall, I argue that the use of national law is not only about the state trying to regulate livelihood practices, but it is also a challenge to the definition of Karen identity in these villages.

Karen people have lived in this area along the Salween River for centuries. The rich forest is central to their way of living and livelihoods, including providing for food, medicine and building materials. However, with the establishment of the Salween National Park in 1993 in the area village lands were enclosed within it, thus defining many of the livelihood activities of these communities illegal. Article 16 of the National Park Act (1961) prohibits community members from using or gathering any products from the land and forest within the National Park. This is further complicated by the fact that a significant portion of the population in these three villages do not have citizenship, and under the Land Act (1954) non-Thai citizens are prohibited from owning land. Within the communities themselves, Thai and non-Thai citizens have de facto ownership of land; however, this is not recognized by the Thai government.

This chapter argues that there remains an institutional bias in Thai laws and policies that serves to marginalize the interests of ethnic minority people. Government officials have racialized upland ethnic minority communities as backwards and as a national problem that contribute to deforestation, drug use and proliferation, and national security (Vandergeest 2003: 27). This is evident, for example, in the track-record of forest management planning of the Department of National Parks, Wildlife and Plant Conservation (DNP). It labels upland ethnic minority communities, like the Karen, as forest destroyers, accusing traditional practices like shifting cultivation as the major cause of deforestation within the country (Johnson/Forsyth 2002; Vandergeest 2003; Roth 2004; Forsyth/Walker 2008; Wittayapak 2008).

The structure of the chapter is as follows. First, I introduce the three case study villages and discuss about how the communities use the land, forest, and river. Then I discuss the national law and policies that affect these communities, specifically regarding citizenship, community rights, the land law, the forest law and policies related to hydropower projects, and the communities' response. In the chapter's conclusion, I analyze the tension between local practice and national law and how this is a challenge to the definition of Karen identity.
9.2

Local Context: Indigenous Karen and Livelihoods in Villages on the Salween

Community members along the Salween River in Thailand, particularly those that will be directly affected by the Hatgyi dam, are mostly Karen ethnicity (Karen Research Team et al.

2005

). This chapter focuses on three communities: Sob Moei village and Mae Sam Lab village in Mae Sam Lab sub-district, Sob Moei district, and Tha Ta Fang village in Mae Youm sub-district, Mae Sariang district, Mae Hong Son province. Tha Ta Fang and Mae Sam Lab villages border the Salween National Park that was established in 1993, and Sob Moei borders the Salween Conservation Area established in 1963. All three villagers are predominantly Karen, but each have their own unique history, which is introduced briefly in the following sections (Fig. 

9.1

: Location of Salween National Park and Tha Ta Fang, Mae Sam Lab and Sob Moei villages).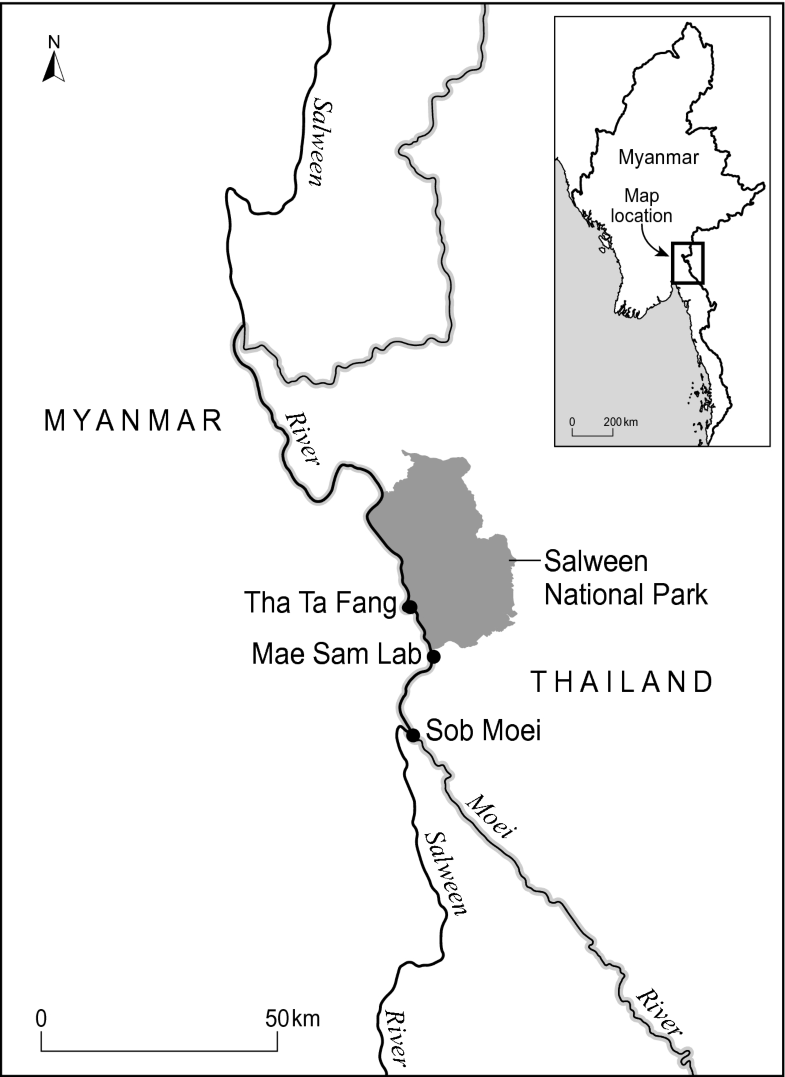 9.3

National Law and Challenges to the Salween Karen Community
9.4

Tensions Between National Law and Local Practice: Implications for Karen Indigeneity and Culture

The discussion above on land and forest law reveals how the government's objective of preserving land and forests challenges ethnic minority people in their customary use of land. Yet, the history of the three communities detailed in this chapter reveals that they have practiced traditional livelihoods along the Salween River for a long time. The administrative part of the government has released some regulations to resolve this problem. Three of them are particularly important: the Cabinet Resolution of 30 June 1998 regarding land rights resolution for ethnic minorities; the Cabinet Resolution of 3 August 2010 regarding Karen traditional protection, which includes rotation farming; and the Office of the Prime Minister's regulation of 2010 regarding land right documentation for "community land titles." These three regulations offer alternative resolutions to protecting ethnic minority's rights to land that have been largely dominated by the four forest laws. The verdicts mentioned in this chapter have stressed that even though the communities have lived on and used the land before it was classified as preservation area, they are still vulnerable to being declared as illegal settlers (HRLA 2015).

The problem of using the law to limit, control, and deprive civil and natural resource rights to upland minority populations has a long history in Thailand (Vandergeest 2003; Wittayapak 2008). Since 1957, the government has created an image of ethnic minority groups in Northern Thailand as security risks and involved in forest destruction. The National Security Council has further stigmatized them by using the negative discourse of "hill tribe." Its meaning implies their diminished humanity as lower class and inferior people. This discourse becomes a way for the state to maintain control and deny rights to upland populations. Ethnic minority space in Thai society has been vigorously limited by law, policy, and field operations (Laungaramsri 1998). While indigenous community rights to land and forest are discriminated by the forest law, there is much evidence that the livelihoods of the ethnic minority and indigenous people do not harm forests or the environment. Research has clearly proven that Karen communities can use their traditional knowledge to protect the forest while they do rotation farming and collect resources from the forest for food and sale for earning an income (Kanchanapan 2004; Forsyth/Walker 2008).2

Although the country has changed and developed further since these discourses first emerged, the image of ethnic minorities still has not improved. Instead, arguably it has gotten worse. It continues to stigmatize ethnic minority and indigenous people as national security threats, and endangering the new government's drug policy and reforestation efforts. In practice, projects have been created to target these "hill tribe" communities and force their relocation from national parks, accompanied by policies for forest reclamation, or increasing the area of forest in the country. These policies have significantly affected many indigenous communities (Laungaramsri 1998). In Tha Ta Fang, Mae Sam Lab, and Sob Moei, over half of the population are still not able to obtain Thai citizen ID cards. Thus, they have little legal recourse against the government should the DNP or RFD decide they are violating forest policies or land laws. Moreover, policies, like the forest preservation policy, which prohibits land titling on mountainous areas with a greater than 35% slope, represent a systemic prejudice against upland minority populations within the legal system.

Although many upland minority people, like those in the villages discussed in this chapter, can claim customary use and rights, the law does not privilege those rights and instead the discourse of "hill tribe" labels them as offenders and forest destroyers. In 2011, the National Park, Wildlife, and Plant Species Department, under the Ministry of Natural Resource and Environment, released the "Economic Modeling of Some Environmental Impacts of Deforestation" that calculated the economic cost of forest destruction. The damage was determined in terms of the release of stored carbon and the cost of reducing the assumed increase in temperature based on the required electricity to reduce the temperature using air conditioning (Meetam 2016). Here, the same discourse that motivates claims about "hill tribe" as forest destroyers accuses the ethnic minority and indigenous community livelihoods as causing global warming by rotation farming and tree cutting.
9.5

Conclusion

Most of the community in Sob Moei, Mae Sam Lab, and Tha Ta Fang villages discussed in this chapter are Karen indigenous people. They have lived in these communities alongside the Salween River for more than a generation; however, many of the people are non-Thai citizens and thus are deprived of their civil rights. Their livelihoods rely: on land for rotation farming, growing paddy rice, and river bank gardens where they plant rice and vegetables; on forests for collecting natural resources for building materials and food, and for selling the products; and on the Salween River for fishing, farming, and transportation. Regarding these natural resources, they also have local governance arrangements to protect them and control their use through a combination of customary rules and unofficial agreements between the community and local officials.

However, the government's laws on forests, land, and citizenship have caused serious tensions between the government officers, especially forestry officers, and local community livelihoods. Meanwhile, the government has also strongly backed the Hatgyi dam project, which if built would create serious impacts on the livelihoods of these communities. The apparent purpose of these laws and policies is the central government's desire for 'pure' forest area and to support the business of water development projects, to the exclusion of human rights and natural resource protection. However, in practice the local forest officers cannot uphold these forest laws and policies fully, as there are also contradictions between the forest laws and government regulations that seek alternative mechanisms to solve the conflict between forest law and ethnic community livelihoods. Through these alternative mechanisms, the communities have tried to negotiate with the local forest officers on land and forest use rights.

This chapter reveals that the use of national law is not only about the state trying to regulate livelihood practices, but it is also a challenge to the definition of Karen identity in these villages. The conflict between law and policy with indigenous community rights has been a critical issue for more than three decades. The government has become increasingly aware of the problem, but still intends to retain these laws and the villagers' use of natural resources under its control. It reflects an imagination of the "hill tribe," which is influenced by a national security discourse that links ethnic minority people to drug selling, forest destruction, and being non-Thai citizens. Thus, even as many indigenous communities have lived in these areas for a long time, the national law and policy still deny their right to access natural resources and land.

Given the challenges described in this chapter, the community members in Sob Moei, Mae Sam Lab, and Tha Ta Fang villages request the right to maintain their livelihood. First, they ask that their right to land for traditional farming for food security be officially recognized by the Thai state, which would include both individual rights and collective rights depending upon the community's consensus. Second, they ask for the right to collect wild products be recognized to meet their daily needs, such as food, materials for building, as well as to collect products to sell for an income. The Hatgyi dam is also a common concern. Here, these communities want both the government and the private company to: ensure adequate community participation; recognize the challenges faced by the communities including how difficult it is to change their way of life, the limited options for resettlement available to them, and their relative disadvantage in negotiating given their current non-Thai citizen status; and acknowledge and incorporate community knowledge into decision-making.
Footnotes
1.

Rotation farming, also called swidden agriculture or shifting cultivation, consists of partial forest clearance, multiple cropping, shallow cultivation, and field rotation to produce food and sometimes cash crops. It is a system, through use of a prolonged fallow phase, that allows woody vegetation to return to a site that had been cleared for annual crops, before it is once again cleared for cultivation.

2.

Although not the focus of this chapter, it is important to note that the Thai state has also sought to promote Thai culture with upland communities, including Thai language schools, pictures of the Thai monarchy, and temples with Thai monks to which local communities send young males to be ordained, all of which can be understood as a part of the process of nation-building, but also functions as a different means of influencing upland areas (Walker 2001; Laungaramsri 2001; Lamb 2018).
Copyright information
© The Author(s) 2019
Open Access This chapter is licensed under the terms of the Creative Commons Attribution 4.0 International License (http://creativecommons.org/licenses/by/4.0/), which permits use, sharing, adaptation, distribution and reproduction in any medium or format, as long as you give appropriate credit to the original author(s) and the source, provide a link to the Creative Commons license and indicate if changes were made.
The images or other third party material in this chapter are included in the chapter's Creative Commons license, unless indicated otherwise in a credit line to the material. If material is not included in the chapter's Creative Commons license and your intended use is not permitted by statutory regulation or exceeds the permitted use, you will need to obtain permission directly from the copyright holder.