Abstract
The beneficial effects of liquorice in treating chills, colds, and coughs have been fully discussed in Ayurveda, as well as in the texts of ancient Egyptians, Greeks, and Romans. The plant has been prescribed for dropsy during the period of famous Hippocrates. The reason being that it was quite helpful as thirst-quenching drugs (Biondi et al. in J Nat Prod 68:1099–1102, 2005; Mamedov and Egamberdieva in Herbals and human health-phytochemistry. Springer Nature Publishers, 41 pp, 2017). No doubt, the clinical use of liquorice in modern medicine started around 1930; Pedanios Dioscorides of Anazarba (Adana), first century AD-Father of Pharmacists, mentions that it is highly effective in the treatment of stomach and intestinal ulcers. In Ayurveda, people in ancient Hindu culture have used it for improving sexual vigor.
8.1

Traditional Uses

The beneficial effects of liquorice in treating chills, colds, and coughs have been fully discussed in Ayurveda, as well as in the texts of ancient Egyptians, Greeks, and Romans. The plant has been prescribed for dropsy during the period of famous Hippocrates. The reason being that it was quite helpful as thirst-quenching drugs (Biondi et al. 2005; Mamedov and Egamberdieva 2017). Although the clinical use of liquorice in modern medicine started around 1930, its effectiveness in the treatment of stomach and intestinal ulcers has been mentioned in the first century AD by Pedanios Dioscorides of Anazarba from Adana in present day Turkey, who is also regarded as the "Father of Pharmacists". In Ayurveda, people in ancient Hindu culture have used it for improving sexual vigor. Chinese have been using it as a tea for strength and endurance (Davis and Morris 1991). The liquorice roots have been used in the traditional medicine against treating chest and lung diseases, pneumonia, bronchitis, arthritis, bronchial asthma, kidney diseases, heart diseases, gastric ulcer, mouth ulcers, coughs, swellings, excessive salivation, fluid retention, low blood pressure, allergies, catarrhs of the upper respiratory tract, liver toxicity, hyperglycemia, Addison's disease, and pancreatic disorders, flatulence, sexual debility, skin diseases, leucorrhoea, hoarseness, and certain viral infections (Blumenthal et al. 2000; Anonymous 2005; Armanini et al. 2002; Sharma et al. 2013; Mamedov and Egamberdieva 2017). In Europe, particularly Britain, France, and Germany, present-day pharmacopeias are in general agreement on the medicinal application of this plant. It is used for the treatment of influenza, eye diseases, uterine complaints, biliousness, liver disease, and arthritis as per the reports published on Indian medicine (Saxena 2005; Mamedov and Egamberdieva 2017). The plant is in use in China since very early times and has been applied to treat acne and pimples, nervous disorders such as hysteria, irritability, epilepsy, as well as reduce the toxic or drastic action of other herbs, and to harmonize herbal formulas (Zhu 1998). The studies undertaken by Kong et al. (1984) reveal that liquorice root extract is used to treat diarrhea in mice, whereas Hong et al. (1988) have demonstrated its strong diuretic activity in rats. G. glabra extract has also been used to treat emotional irritability in adults and stress (Tsuda et al. 1986; Shirinyan et al. 1988). The extract has also been used to treat allergic dermatitis and eczema (Sokolov and Zamotayev 1985; Sheehan and Atherton 1992). According to Yang et al. (2015), liquorice has been used for the treatment of gastro and respiratory diseases in traditional treatments as well as for the alleviation of toxicity to other drugs. In traditional Chinese medicine, it is also honored as the "excellent coordinator" as it harmonizes the activities of other ingredients by promoting their rapid absorption into the bloodstream, organs, and target cells (Yang et al. 2015).
8.2

Industrial Uses

Liquorice is among the highly significant medicinal plant species in the trade and business circles of many countries, largely through imports to many countries (Ved and Goraya

2007

; Altay et al.

2016

). It continues to be used as a pharmacological agent as well as an ingredient in tobacco and confectionery throughout the East and West countries. Studies over the past 50 years have yielded information which has prompted new interest in the pharmacological and physiological effects of this plant (Roshan et al.

2012

). In 2007, the value of liquorice trade was around 42 million US$, and evaluation of glycyrrhizin as a natural sweetener has added to its use, and this is further extended because of its application as a pharmaceutical agent in view of its anti-inflammatory and hepatoprotective features (Shibata

2000

; Parker

2007

). Very extensive studied have been carried out on the chemical constituents of this plant with regard to isolation of glycyrrhizin as well as many triterpene saponins and flavonoids (Nomura and Fukai

1998

). The cosmetics industry too is using the flavonoids isolated from liquorice on a large scale. Therefore, liquorice has been used as a pharmaceutical agent, in cosmetics, as a sweetener, food additive, flavor additive for tobacco, and in confectionery food (Fig. 

8.1

).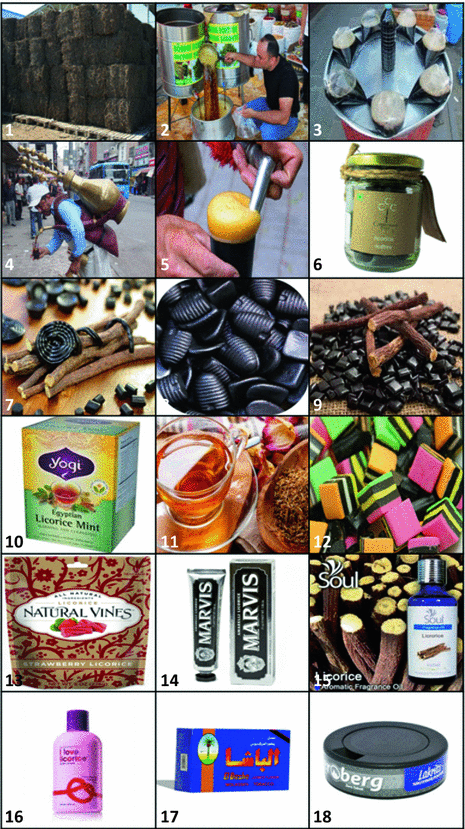 During 2001–2005, the imports of liquorice roots at the global level have increased by 3% in value on an average basis. The amount has reached a level of 31.7 million dollars in 2005. On the other hand, the imports of its extracts have gone up by 5% on yearly basis during 2000–2004, and the amount reported for 2005 is said to lie around 92.3 million dollars. The global import value of its extracts is three times more than for roots. The reason being former is a processed value-added product (Stanikzai
2007
). Italy and Spain are the main competitors of this plant in Europe. The manufacturing of its extract is conducted on a wide scale in Spain, southern France, Sicily, Calabria, Austria, southern Russia, Greece, and Asia. In Asia, Pakistan, India, China, Iran, and Turkmenistan are the main producers of liquorice extracts (Stanikzai
2007
). The main producers and exporters of this plant as underground parts are as follows: Iran, Russia, and China, while the major exporters of the extract are as follows: USA, France, Italy, Iran, Iraq, Israel, Japan, and Turkey (Fig. 
8.2
a–d) as well as China. The main importer of the roots is America, which is also the main exporter of the extract. Japan is the second largest importer with about 10,000 tons of roots and 200–250 tons dry extracts per year. France and Italy are European pioneers in importing liquorice, main sources being China and Russia. It is worth mentioning here that a small part is used in medicine, while the major part is used for flavoring (Batanouny et al.
1999
). Turkey also exports liquorice, both as roots and extract. The exported countries are America, Europe, Africa, Middle East, and some Asian countries (Akan and Balos
2008
). This trade has been going on since first days of the establishment of Turkish Republic, and main exporting area has been Izmir. In 2010 alone, the Turkey has exported around 300,000 tons liquorice roots with an export value totalling 525 million dollars (Yoğunlu
2011
).
The cultivation areas of this plant in nature extend between Turkey and China together with Southern European countries (Rauchensteiner et al. 2005; Khalesi 2015). One of the major producers is Chinese who use it as plant medicine with yearly trading of US 60 billion dollars (Dubey et al. 2008). Although ginseng is the first herbal medicine in China, liquorice distributed mostly in the northwest of country holds the second place. The species evaluated are as follows: G. uralensis, G. inflata, and G. glabra (Chen et al. 2013). China is expected to become a net importer. Second largest producer on global scale is Iran, where Shiraz, the region located in the southwest of Iran, is the main manufacturer of Iranian liquorice with the variety of G. violacca (Ghahraman 1999; Khalesi 2015). Iran has lately faced severe difficulties in the supply of liquorice to the new customers because of the economic sanctions by Europe and America (Khalesi 2015). In Europe, the main producers are listed as follows: the Netherlands, Spain, and Italy, with a total production of about few hundred tons (Khalesi 2015). The manufacturers of extracts are however, only in China and Iran. The average price for liquorice extract is estimated to lie around 6 Euro per kg, whereas Chinese liquorice is the most expensive due to its high Glycyrrhizic acid content (always above 4.0%) (Cirillo et al. 2011). Main importers of its products on global scale are Japan, Korea, Germany, the Netherlands, and America (Khalesi 2015).
Commercially, liquorice is added to chewing gum, chocolate candy, cigarettes, smoking mixtures, chewing tobacco, and snuff as sweetening agents (Tyler et al.
1988
; De Klerk et al.
1997
). It gives sparkle and aroma to confectionary products and beer, respectively, and serves as a preservative in food industry. Liquorice is also frequently employed to mask the taste of bitter drugs such as aloe, quinine, and others. The surfactant properties of the saponins facilitate the absorption of poorly absorbed drugs, such as anthraquinone glycosides (Tyler et al.
1988
). Some of the products which have glycyrrhizinic acid are presented in Table 
8.1
(De Klerk et al.
1997
). In addition to industrial uses of glycyrrhizin , it is included as an adhesive agent in insecticides as well wetting agent (surfactant). The liquorice extract residues have been successfully used to extinguish fires in a fire-foam suspension right from 1906 (Houseman
1944
). Similarly, it has been used as an emulsifier in UK, to create foam in drinks and alcoholic beverages (Lucas
1976
; Houseman
1944
). These applications have continued from late 1940s up to 1950s (Roshan et al.
2012
). It is also used to insulate fiberboard and serves as a compost for growing mushrooms and as feed for cattle, horses, and chickens (Armanini et al.
2005
; Isbrucker and Burdock
2006
; Timofeyer
1984
; Yumatni et al.
1980
).
Table 8.1
Products containing considerable amounts of glycyrrhizinic acid (De Klerk et al. 1997)
| | |
| --- | --- |
| Confectionery | Liquorice sticks, bricks, cakes, toffee, pipes, bars, balls, tubes, Catherine wheels, pastilles and allsorts, Sorbits chewing gum, and Stimorol chewing gum |
| Health products | Liquorice-flavored diet gum, Throat pearls, Liquorice-flavored cough mixtures, Herbal cough mixtures, and Liquorice tea |
| All types of liquorice root | Russian, Iranian, Chinese, Turkish, Afghan and unknown origin chewing tobacco, and alcoholic drinks |
Liquorice is a common and useful ingredient in cosmetic sector. It is used for depigmentation, as an emollient and soothing agent (Nomura et al. 2002). Modern-day herbalist Jeanne Rose recommends making a steam facial with liquorice, comfrey, together with chamomile or lavender. The topical treatment with a gel containing 2% liquorice extract has successfully lead to significant improvement in erythema, edema, and pruritus in a clinical study (Saeedi et al. 2003). Its extracts are also used as skin depigmenting agents and are effective in the treatment of postinflammatory hyperpigmentation, in particular the one caused by chemical peeling and laser therapy (Callender et al. 2011). It helps to open the pores and allows the other cleansing and healing herbs to penetrate the skin. The use of liquorice root as a shampoo ingredient has been reported to suppress the secretion of scalp sebum for a week after shampooing, thereby postponing the oily sheen (Fig. 8.1). It is also used in mouthwash and toothpastes as a sweetening and flavoring agent, sometimes mixed with anise and used in liqueurs as well as in herbal teas.
The liquorice adds flavor, color, and a foamy head when added to the beer and stout preparations. It can at the same time intensify other flavors. The plant has been commercially in use for the preparation of pastries, ice creams, puddings, soy sauce, and soy-based meat substitutes (Rogers 2014). It has been and is used in a number of foods, mainly condiments and confectionery due to its sweet flavor. The soy sauce and sweet chili sauce both contain liquorice powder as a condiment which gives unique sweet flavor, referred to as mellow in English (Kao et al. 2014). In the confectionery products, flavoring with liquorice plant root extract is a common practice; similarly, candies like red vines and London drops are also flavored with it. Tobacco manufacturers use it in considerable amounts in their products. The block, powder, and extract of this plant are used in tobacco for multiple purposes (Kao et al. 2014). According to Carmines et al. (2005), it is added to tobacco to enhance and harmonize the flavor of smoke, reduce mouth and throat dryness, improve the moisture-holding feature of tobacco to increase its stability and shelf life, act as a surface-active agent during the spraying process of the casing ingredients, improve uniformity of the flavor absorption, and minimize the rough smoke character by balancing the overall flavor profile of the tobacco smoke. Although excessive consumption is reported to produce harmful consequences (Rao 1993), it is generally recognized as safe, indicating that it does not represent a hazard to the public when used properly. Liquorice is reported to be the common and useful ingredient in cosmetics (Kao et al. 2014). The extract is also reported to inhibit the rate-limiting first step of the oxidation of tyrosinase (Kim and Uyama 2005). This brings it to the forefront as an effective treatment for melasma (Sheth and Pandya 2011). Moreover, the extract is highly useful in the treatment of aphthous ulcers (Burgess et al. 2008); even its deglycyrrhizinated form (DLG) produces a positive effect (Das et al. 1989).
8.2.1

Liquorice as an Industrial Resource: A Case Study from Japan

According to Hayashi and Sudo (2009) for the production of glycyrrhizin , cosmetics, and food additives, very large quantities of liquorice derived from G. glabra and G. inflata (Xinjiang-Gancao) are imported by Japan as raw materials. Dongbei-Gancao (Tohoku-Kanzo in Japanese) and Xibei-Gancao (Seihoku-Kanzo in Japanese) are also imported from China but are mainly used in the preparation of Japanese Kampo medicines, mainly derived from G. uralensis.

The trade statistics related to liquorice import in Japan reveal that since it is not produced locally in Japan, they import it from China, Afghanistan, Turkmenistan, Uzbekistan, and Pakistan (Hayashi and Sudo 2009). The total amount imported has been 10,723,342 kg in 1987, but in 2007, it has decreased to 1,377,213 kg. At present, the major proportion of glycyrrhizin is extracted. Its purification is done in China and few other countries. In view of this, import for glycyrrhizin production has decreased in Japan (Hayashi and Sudo 2009). A part of it imported from China is the medicinal liquorice, which is more expensive than the one used for glycyrrhizin production as well as few other products. Some are also imported from Australia; 144,710 kg of liquorice has been imported from Australia in 2007, which is quite remarkable. Currently, it is cultivated on a farm owned by a Japanese glycyrrhizin-manufacturing company, namely, Maruzen Pharmaceuticals Co. Ltd., which is used for glycyrrhizin production together with other products (Hayashi and Sudo 2009).
8.2.1.1

Applications of Liquorice and Its Derivatives in Japan (Hayashi and Sudo 2009)

In Japan, enzymatically modified licorice extract (α-glycosyl-glycyrrhizin) and enzymatically hydrolyzed licorice extract (glycyrrhetinic acid 3-O-glucuronide) are also used as sweeteners (Hayashi and Sudo 2009). The former is produced by treating the extract with cyclodextrin glycosyltransferase, and it is used as a sweetener because of it has higher solubility and better taste than the untreated licorice extract (Liu et al. 2000). The latter is obtained by enzymatic hydrolyzation of the licorice extract. The sweetness of this licorice is attributable to glycyrrhetinic acid 3-O-glucuronide (Kuramoto et al. 1994), which imparts a strong sweetness that is approximately 941 times that of sucrose (Mizutani et al. 1994).