Mediation in Finnish Schools: From Conflicts to Restoration
Abstract
In his article, I describe the basis, progress and models of mediation in Finnish schools. Mediation has been offered as an alternative and restorative conflict management practice for intervention of misbehaviour and bullying since 2001. I present participation and learning approaches along with relevant literature as this constitutes the basis for the development and implementation of school mediation programmes. In the article, I also discuss how misbehaviour and bullying can be prevented by improving social skills and pupil participation in school with a restorative approach and mediation. In the last part of the article, I describe mediation practices in Finnish schools and present the latest statistics on school mediation training, the use of school mediation and surveys on user satisfaction. In conclusion, I discuss the impact of mediation and restorative practices. The article is connected to the discourse in the field of education about increasing pupil participation and strengthening children's rights by implementing child-friendly methods to conflict management in schools.
Keywords
Restorative Practices 
Restorative Approach 
Finnish National Core Curriculum 
Peer Mediation 
Restorative Justice 
These keywords were added by machine and not by the authors. This process is experimental and the keywords may be updated as the learning algorithm improves.
1

Introduction

In the Finnish school context , restorative practices and mediation are used as an alternative and child friendly process when managing challenging situations, misbehaviour and bullying in schools. Basically, the aim is to increase democracy and pupil participation, strengthen relationships and improve learning of social skills even in conflict situations. Conflicts are seen as learning possibilities, and pupils are understood as an active and capable experts in their peer groups when solving different kind of social situations. In Finland, a restorative approach and mediation have been implemented in schools since 2001 when the programme for mediation in basic schools was established. In Sect. 2, some perspectives from literature and research reports on restorative approach in schools are discussed. In Sect. 3, the history, programme and practices of mediation in Finnish schools are described with the outcomes of mediation activity according the statistics from year 2016. The last section provides conclusions and summary insight.
2

Restorative Justice in the School Context

A restorative approach in schools has its backgrounds in restorative justice. Restorative justice is said to have its roots in many cultures' traditional interaction patterns, in which participation and face-to-face encounters have played a significant role in solving different situations. Often mentioned as a first stage is the development of conflict management with young people in New Zealand: Maori communities were unhappy with the way their young people, who were in trouble because of criminal behaviour, were dealt by the criminal system. The Maori people felt that the system was against their own traditional custom of involving friends and family in resolving the situation. Instead of excluding young people from the community, the Maoris preferred to strive together to discuss harmful behaviour to reach common understanding on how youngsters could be reintegrated to their community (Peachey 1989; Hopkins 2006; McCold 2006; van Wormer et al. 2012; Ervasti and Nylund 2014; Hopkins and Gellin 2016). McCold (2006), who has been one of the developers of restorative practices in schools in the United States, has claimed that in the beginning restorative justice was mediation and sees that practice actually precedes restorative justice. He says that mediation, circles and conferencing were the methods that developed at the same time and they influenced to each other (McCold 2006). Zehr (2002), for his part, shares the perspective that development of restorative justice has been affected by the way restorative circles were used in traditional cultures. However, Zehr states that mediation should not be considered self-evidently as a restorative method. It should rather be observed whether mediation practices do have restorative values and principles included or not before arguing mediation as a restorative process (Zehr 2002).

Although the origins or definitions of restorative justice or mediation are still under discussion, mediation has became a widely used alternative conflict resolution method in many levels of societies (Ervasti and Nylund 2014; Kinnunen 2012). Mediation is understood as a process where an impartial third party facilitates the conflict of parties, so that they can find a common and satisfactory solution to their conflict. In restorative mediation, the main purpose is to give the right of participation to parties in conflict to ensure that the parties can meet in a safe situation, they are heard and that they can influence the process and commit to the solutions (Elonheimo 2010; Pehrman 2011; Ervasti and Nylund 2014). Conflict is seen as a learning situation, which works both reactively as well as proactively. Individuals are seen as experts of their own living circumstances and, therefore, the important focus is to empower them for their lives and future just there where they live (Christie 1977; Poikela 2010; Gellin 2011).

Looking from the aspect of participation and child friendly approach, when using mediation in schools one basic focus is to give children information and experience of restorative practices. Mediation in schools can be seen as a learning situation where children learn not only to manage conflicts but also to use their right of participating and being heard, which are the rights especially addressed in the UN Convention on the Rights of the Child (CRC 1989, article 12) and in the Guidelines of the Ministers of the Council of Europe on Child Friendly Justice (2011). The Finnish National Core Curriculum for Basic Education (2014) addresses also the UN Convention on the Right of the Child by noting that the convention gives the judicial aspect to basic education. The core curriculum points out convention principles of equality and child's best and right to protection, as well as a child's right to be heard, opinions to be respected and a child's rights to good life and development (The Finnish National Core Curriculum 2014). Once the meaning and practice of mediation is learned and understood in a school, an individual can also in future turn to available mediation services in Finnish society, when needed. The other aim of restorative approach in schools is to empower children to participate actively in their local communities. When using mediation even among children in kindergartens and schools, common information of mediation processes can reach also the members of families and other citizens.

The Special Representative of the UN Secretary General (SRSG) on Violence against Children published in 2013 a document Promoting Restorative Justice for Children. Under the framework of International Juvenile Justice Observatory (IJJO), Chapman et al. (2015a) produced the European Model for Restorative Justice with Children and Young People, which built upon the content of the SRSG's report. The authors points out that the primary purpose of restorative justice is to restore justice. Moreover, it can be applied within families, schools, communities, organisations, civil society and the State to provide peaceful conflict resolution and contribute to cohesive and democratic societies. The approach for restorative justice with children and young people includes a holistic approach based upon the best interests of the child involving effective communication and co-ordination among different service providers. Restorative approach seeks to protect children from violence through restorative processes that are child-sensitive and respect the rights of children whether they are perpetrators of harm or victimised by others. The authors are under lying three capitals that restorative approach produces: (1) Cultural capital: the key values and beliefs that inform the purpose, meaning and processes of restorative justice with children and young people in Europe. (2) Social capital: the key parties that engage in restorative processes and their needs and relationships that bring them together to prevent or repair harm. (3) Intellectual capital: the knowledge and expertise that is required to facilitate the restorative processes (Chapman et al. 2015a).
2.1

Mediation is Considered as a Method of Learning Conflict Management in Schools

Looking from the point of learning, the perspectives of Christie (1977, 1983) are significant particularly in the school context. He argued that conflicts should been seen as a learning processes for social skills. From that point, parties to the conflict should be supported—not punished or exclused. He stated that the criminal justice system has taken conflicts away from the parties and, thereby, they have became other people's property. He saw that by taking the ownership away from parties also the possibility for learning was missed. He outlined procedures that restores the participants' rights to their own conflicts and encouraged to search for alternatives for punishment, not only for alternative forms of punishment. Christie stated that both the offender and the surrounding community know what is wrong, and a crime should be considered a starting point for dialogue instead of being answered by causing pain. The key concepts of the restorative theory—repairing harm, human relations, chance and commitment—create a strong contrast with the traditional punishment-focused justice that delivers shame, exclusion and punishments (Christie 1977, 1983).

Poikela (2010) associates restorative approach with learning and argues that restorative learning has much to do with reflection. He divides restorative learning into two levels. Firstly, restorative learning takes place naturally in an individual's social context. A person's pervious experiences and education, as well as possible trainings, affect his or her ability to maintain and update his/her capabilities in constantly changing life situations. On this level, a person can maintain his/her focus and balance the relationship between himself or herself and the environment. As the second level, Poikela sees a situation where an individual is lacking the first level capabilities and is thus in need of support and guidance. When a person's focus resources have been stagnated, he/she needs support to solve conflicts, make decisions, and regain balance between himself or herself and the changing environment. Reflection, which means the reassessing of one's learning and capabilities, is a means of maintaining and updating learning. Poikela states that the core of learning is reflection that is the key to both directing activity and understanding the assessment (Poikela 2010). A concrete experience or observance is the starting point for learning, and reflection on action takes place in relation to reflection in action, i.e. behaviour and seen activity. Between observance and activity an understanding takes place, which is called reflection for action. Poikela emphasises the importance of reflection in all phases of learning (Poikela 2009).

Morrison and Vaandering (2012) sees that in school context the punitive regulatory framework has been for decades leaning on the form of exclusionary practices, such as referrals, suspensions and expulsions, even though evidence indicates clearly the ineffectiveness and damaging impact of exclusions. They argue that in contrast to a punitive approach a restorative justice framework employs a responsive regulatory approach that identifies social engagement as a key element for safe schools. Morrison and Vaandering emphasises that rather than focusing on external sanctioning systems such as rewards and punishment, restorative justice is focusing on a motivational lever that is embedded in the value base of conflict management. When the traditional approach investigate what law and code of conduct has been broken, who did it and what is a correct punishment, the restorative approach examines what happened, who has been affected and how to repair the harm done. The process includes those closest to the harm and those closest to the community affected. This is distinct to punitive process, where typically the problem and wrong doer are sent away from the community where the harm occurred. Morrison and Vaandering argues that restorative justice in educational policy creates school communities that move from the predominant paradigm of regulatory formalism, to a paradigm that is more responsive because it enable a process to address the harm through nurturing a human capacity for restitution, resolution and reconciliation (Morrison and Vaandering 2012).

Also Chapman et al. (2015b) sees that restorative philosophy reframes school's curriculums into a policy where strengthening relationships is one of the main focus areas. The policy would not simply list rules that should not be broken, but would define how all members of the school should communicate with each other and how they should respond to harm and conflict. The policy would be an integration of restorative culture and practices. Restorative relationships between staff and children, between children and between staff members are based upon language and communication that expresses respect and assumes personal responsibility (Chapman et al. 2015b).
2.2

Mediation Strengthens Social Skills and Relationships

Mediation in schools is usually argued by a learning aspect as opened above, but also the aspect of strengthening social skills not only for school life but also for the future is often addressed. In several research studies, restorative practices are reported to strengthen a child's rights to be heard and participate, increase democracy and conflict management, improve a child's social skills, increase the capability to take responsibility, decrease social exclusion or labelling, and strengthen preventing misbehaviour and bullying in schools (Hopkins 2006; McCold 2006; Zehr 2002; Thorsborne 2016; Gellin 2011; Gellin et al. 2012). However, there are challenges also reported. Also vital is the need to investigate more closely from different perspectives the results of research reports when developing mediation practices in Finnish schools, as described here.

Hopkins (2006) gives her view on what a restorative school is like. She says that the ethics of justice and caring should be the basis of all activity in the school community. Hopkins states that school communities today face many challenges and that restorative thinking can support and get results in the following issues: the increase of safety and peace as well as the improvement of the school climate, the decrease of isolation and exclusion, a grown sense of community, an increased participation, the decrease of bullying and other disturbing behaviour in the whole school community as well as the avoidance of exhaustion amongst the staff. Hopkins describes two different learning possibilities for pupils that depend on the approach that a teacher chooses in a conflict situation. Firstly, she argues that if a teacher starts a discussion with the word "Why?", the question causes a need to defend one's actions and the only thing that a pupil learns is that its better to not get caught in a similar situation or its best to learn to explain the situation in a way that oneself is presented in the best possible light, even if this means lying. Secondly, Hopkins describes practices in a restorative school where the teacher has already learned to apply restorative methods in a conflict situation. According to restorative thinking, the teacher sees a conflict as a learning situation and instead of punishment, the teacher is interested in solutions and supports the pupil in considering the situation from the point of view of the whole class. The teacher listens, but does not rate the situation on any scale of true-false or good-bad. With the restorative approach the teacher helps to reconnect the pupil with the community that he/she has been excluded from by supporting the pupil's own solutions affecting his/her behaviour in such a way that he/she is ready to return to class (Hopkins 2006).

Also, Bonafé-Schmitt (2012) sees that learning is an essential aspect of mediation in schools. He discusses the results of a school mediation programme in Lyon and argues the aim of mediation is not based on discipline. Instead, mediation gives an alternative process where social learning is addressed. Bonafé-Schmitt consider school as a forum to learn skills for citizenship. He notes that with the concrete conflict management method that mediation offers, an individual is not only learning to solve problems at school but also in future in any society he or she participates. As a critical point, Bonafé-Schmitt addresses the role of mediator in balancing the power in parties' relations, so that a satisfied agreement can be found. He points out that when understanding mediation as a co-operative negotiation, the motivation to participate to mediation can increase. Bonafé-Schmitt sees that because of participatory and co-operative aspects of mediation, the natural attitude to conflicts as a part of social life can be reached (Bonafé-Schmitt 2012). Marklund (2007) studied how the principles of mediation were followed in school mediation situations in one school mediation programme in northern Sweden. She states in her conclusion that it is often the adult mediator's burden to try to determine which of the parties is right and which one is wrong. Marklund states that the most difficult part of mediation for adult mediators was to maintain a facilitative role. She compared this to pupil mediator's mediation work and observed that the peer mediators had less difficulty in understanding and accepting the fact that there can be two equally "true" versions of the same story. Marklund describes how peer mediators felt proud of having helped their friends (Marklund 2007).

In the literary overview Restorative Justice in U.S. Schools: A Research Review writers Fronius et al. (2016) note that there are many different restorative practices used in schools, but in all of them the main basis is to give participatory methods as an alternative to punitive ones in schools. Restorative practices are used in conflicts of breaking school rules as well as in cases of bullying. After observing different research reports from the United States, they conclude that, according to the reports, the restorative approach had changed pupil's behaviour more effectively than punishments, teachers had better relations with their pupils, pupils respected school staff members more than earlier and there was less needs to intervene in social rela tionships in a classroom than before using the restorative approach. They found that in reports improvement of a positive school atmosphere, tolerance and support were also reported as impacts of restorative approach. However, they noticed that to reach these benefits restorative practices should be implemented in a school culture and ethics. They also criticised that any comparative research has not yet been completed in the field (Fronius et al. 2016).
2.3

Mediation in Schools Needs Commitment to Principles of Restorative Approach

Hopkins (2006) argues that commitment to a whole school approach is essential when implementing restorative practices in schools. She sees that it is important to produce a restorative "mindset" before starting to use restorative practices. Without understanding the values and principles of restorative approach, practices have no real effects, she states. She found as a critical point that there occurred resistance to a new way of thinking by some staff members and noticed also that lack of support by the head of a school created challenges when implementing the restorative approach. By proper training and careful information these barriers could be overcome, concludes Hopkins. She lists recommendations with which restorative practices can be implemented into the school's everyday life. Hopkins sees that it is important at first step to train the school leaders and senior staff to understand the restorative approach and restorative methods. After the training, this group can plan how to train the school's entire personnel and how all the pupils are informed of and trained in the new practices. Hopkins considers it of upmost importance that after the start-up of the activity, there is real follow-up and updates on it to support the restorative approach in the school's everyday life. Hopkins concludes by stating that the restor ative approach and methods should be mentioned in the school curriculum, and it is useful for a school to build a network with other schools in which the restorative approach is being applied (Hopkins 2006).

Marklund (2007) has researched the results of one mediation programme in Swedish schools and sees that if we only observe conflict as a negative phenomenon with negative effects we cannot see the possibilities to transform hidden in conflicts. She defines that a conflict between parties as a situation where the needs of the parties has not been met or fulfilled. How conflicts are experienced varies from pupil to another and that is why dialogue is needed when solving problems. Through a structured mediation process learning can take place and lead to the growth of social skills. As a conclusion, Marklund argues that there is a need for effective methods to manage conflicts in schools and states that mediation could be such a method. In her research, she found that mediation was experienced as a suitable tool to manage conflicts in schools. She also found five principles that should be followed in mediation to achieve the benefits of mediation. At first mediation should be understood as a peaceful process where no power or forcing can be used. Secondly, parties should participate in mediation at their own will. Thirdly, Marklund underlines that mediation is confidential, which means that nothing said in mediation can later be used against to any party. She argues that in mediation, the aim is to find compensation to a conflict and solution that can be accepted by parties and their near society. As a fifth principle, Marklund addresses the role of mediator as a facilitator that helps the parties to go through the process and find the solution together (Marklund 2007).
3

School Mediation in Finland
3.1

History and Basic Elements of Mediation Activity in Finnish Schools

The Finnish Forum for Mediation (FFM) was founded in 2003 to act as a Finnish mediation co-operation organisation whose ideology is based on the modern mediation movement. Its board represents the entire mediation field though its members' expertise and activities outside the forum. FFM is a voluntary and independent non-governmental organisation that aims to participate and influence society development by reinforcing the civil society and bettering the society's well-being through mediation. School mediation, as well as the family mediation and workplace mediation, has been developed in separate projects in the framework of FFM. One important aspect for co-operation in the board has been to find the interfaces between the mediation work done in the different levels of society to strengthen conspi cuousness and use of mediation nationwide. When looking from the field of education, it is essential to notice that by using mediation as a conflict management tool even in a school, the school societies are connected to the conflict management activities that are available in their local communities and also in the Finnish society, at large.

In Finland, progress of school mediation and restorative approach in schools started in 2000 when a group of youth workers under the Finnish Red Cross were invited by education officers of the City of Helsinki to develop a new participatory way to manage misbehaviour and bullying in schools. The programme was called VERSO (comes from the Finnish word vertaissovittelu, which means peer mediation, while verso as such means in Finnish a new tiny plant growing up from the soil) and, at the first stage, the programme developed a training to teach pupils act as peer mediators and adult staff members to mentor their practice in a school. First trainings were established in 2001 in a secondary school and, because of promising feedback (see the data later in this section), there were soon both primary and secondary schools asking for trainings to start the programme. In 2003, the VERSO programme was moved from the Finnish Red Cross to the framework of Finnish Forum for Mediation, just for having a closer connection to the co-operation of other mediation activities and projects in Finland. In 2005, the programme got funding from the Ministry of Education for 2 years and ever since there has been full time workers to develop, evaluate and offer trainings in the programme nationwide. In 2007, the programme got more permanent funding from the Ministry of Social Affairs and Health. According the statistics from 2007 to 2017, a total of 649 schools have been trained to use the VERSO programme in their schools, of which 609 are comprehensive schools and 40 are vocational institute departments. According to the Statistics Finland, there were 2339 comprehensive schools, 342 upper secondary schools and 99 vocational institutes in Finland for the year 2016, but the number of schools is still decreasing.1

Coming back to the Finnish school context, the Finnish National Core Curriculum for Basic Education (2014) was implemented from the beginning of autumn 2016. The Finnish National Core Curriculum provides a uniform foundation for local curricula, thus enhancing equality in education throughout the country. The curricula of each municipality and school steer instruction in more detail, taking local needs and perspectives into consideration. Some of the key goals of the new curricula include strengthening pupil participation , increasing the meaningfulness of study, making it possible for each pupil to experience success and giving lifelong and wide skills also for active citizenship in future. Children and youths are guided in taking more responsibility for their schoolwork, but also given more support in their studies. The pupils' experiences, feelings, interests and interaction with others lay the foundation for learning. The teacher's task is to guide the pupils into lifelong learning by taking the individual learning approaches of each pupil into consideration. The Finnish National Core Curriculum is giving strong support for increasing participation of children in their schools as well addressing the possibilities to learn mediation and negotiation during school years.

According the paragraph 3.3. one of the educational aims is that "pupils learn to take responsibility, make decisions and keep agreements by experience. They learn the important role of rules, agreements and trust. They learn cooperation and they have opportunities to practice skills for negotiation, mediation and conflict management as well as critical thinking. Pupils are encouraged to see the other point of view when thinking of their own suggestions and especially notice equality, fairness and meaning of sustainable development of life" (The Finnish National Core Curriculum 2014).

The fact that mediation is mentioned as a one social skill to learn in the Finnish National Core Curriculum (2014), as opened above, can been seen based on the previous 17 years of development and practice of mediation in schools. The aim of the VERSO programme is to implement mediation as a conflict management tool so that both pupil and staff members can work restoratively in daily co-operation. Pupils act as peer mediators with the support of trained school staff members that work as mediation advisors in their school. Teachers that have participated in advanced VERSO programme's mediation training can use mediation in different kind of conflict situations and can implement restorative methods, such as circles, also in their didactics so that pupil learn to participate, impress their ideas and thoughts and do co-operation as part of daily learning in classrooms. Like Kiilakoski (2009) notes schools should be seen not only a places of learning of academic skills but also a social spaces where interaction and communication are in important role. Doing together during lessons is one way to learn these social skills. Thus, restorative practices are giving valuable methods for this co-operation. When a pupil get used to work together it is easier to manage also conflicts together whenever they occur. One aim of the restorative approach in schools is to understand conflicts as a learning situations, where by using mediation parties of a conflict can meet and discuss in safe situation to find a common solution to their conflict. The idea is to notice and work with the conflict as soon as possible so that a conflict will not escalate to more serious one. However, even in serious issues mediation can be used to solve the situation with the support and participation of all those that are involved in and affected by the case (Gellin 2007, 2010; Gellin et al. 2012).

In Finland, mediation in schools is facilitated by trained pupils (peer mediators) or by trained staff members (adult mediators). In Fig.

1

describes the case flow in daily practice.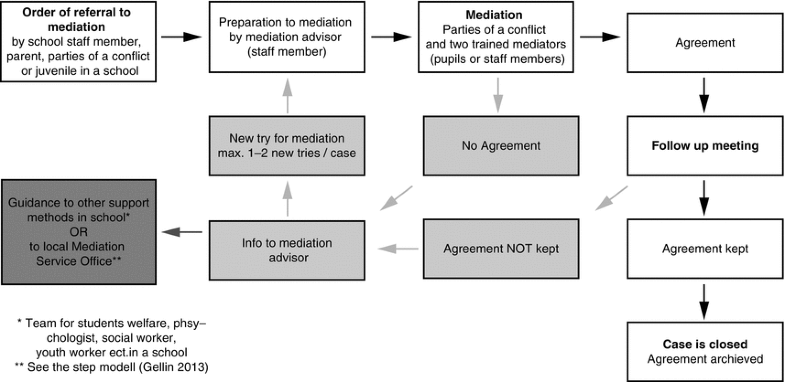 In the case of conflict, the person that notices the situation or does the intervention or who is a party in that conflict can make the referral to mediation. There is always a team of adult school staff members—called mediation advisors or mentors—that mentor the practice and evaluate the case to decide in what process a case will be managed.
Peer mediation as a method follows a clear process in which trained pupil mediators slightly older than the parties of a conflict help the parties to themselves find a solution to their conflict. During the mediation, the parties get to tell their side of the conflict, describe their feelings and think about different solutions to the conflict. The mediators have no power to give out punishments and are bound to confidentiality. Typical cases mediated in peer mediation are verbal such as nicknaming or spreading rumors, physical such as slapping and pushing, or others such as threatening, isolating, forcing, borrowing or hiding property without permission.
In adult-led mediation one or two trained adult mediators facilitate a conflict that has observed to be better suitable for adult-led mediation process. Parents and head masters are informed about the case and are also invited to participate to the process. It is addressed to take care that the principles of restorative approach are followed during the process. The conflicts that are referred to adult-led mediation are, for example, bullying cases that have been going on for long, property violations when financial compensation have to also be discussed, conflicts between a teacher and a pupil or conflicts between a teacher and parents.
In any event, regardless if mediation is led by peer mediators or adult mediators, in the end of mediation situation the parties are making an agreement. After decided period, usually after 1 or 2 weeks, the mediators and parties meet again for a follow-up meeting. If the follow-up shows that promises has been kept, the case can be closed and the agreement is archived by the mediation advisor. If mediation does not produce agreement to the case or if in follow-up it is found that promises are not kept, the case returns to a mediation advisor who evaluates the new or adequate method to be used for the case. In case the mediation methods used at a school are not seen adequate or have not solved the case, the conflict can be referred to be mediated by the local victim offender mediation offices or the parties are guided to work with other professionals, such as social workers, in a school (Gellin 2010; Chapman et al. 2015a).
3.2

Outcomes of Mediation Activities in Finnish Schools

As mentioned before, the trainings for restorative approach and mediation for Finnish schools have been developed by the VERSO programme in the framework of the Finnish Forum for Mediation and the Ministry of Social Affairs and Health, which grants and evaluates the programme every year. An evaluation has been a requirement from the Ministry's side. Moreover, surveys and inquiries have been done regularly to develop the practice and trainings in the field. Every second year the wider report and data analysis of effectivity must be collected and summarised with a template established by the Ministry. The report of the data from 2016 collected and analysed by VERSO programme for this evaluation was let to the Ministry in March 2017. To provide valuable insight into mediation activities and outcomes in Finnish schools, selected findings are presented here, and the whole report will be published in Finnish on the home page of the VERSO progamme after having feedback from the Ministry. The main issues that are required in the report concerns activity of target group and volunteers in schools, quantitative data of indicators like number of cases mediated and also short opinions asked about the action from the field. Every year also a financial budget report needs to be included. During 2016 and in the spring period 2017, the workers of the VERSO programme collected the data asked about the activity in 2016 with statistic forms and surveys developed to complete the report for the Ministry.

In 2016, the VERSO programme offered a total of 269 trainings for schools in different part of the country. When starting peer mediation in a school, three phases of training are included: training for staff members to share the basic information of restorative practices and practical issues on how to implement peer mediation as one method for conflict management, peer mediation training for selected group of pupils and practical training for voluntary staff members to act as advisors for peer mediators in a school. Almost one-half (47%) of trainings were for starting peer mediation. Further trainings are offered for schools that have followed the programme of peer mediation 1 year or more, when there is usually a need to train more peer mediators. Also further training is divided in three phases, such as the starting training. In 2016, 33% of trainings were for further training. Advanced training for school staff members is a longer process where there are practice periods between the lecture days, so that learned skills can be implemented and reflected during the course. In 2016, there were 33 training modules for advanced courses, which was 12% of all trainings. According the statistics, until the end of the year 2016 there has been 704 educators who participated in advanced trainings since 2010. From the total 704 participants 348 person worked in basic education in 67 different comprehensive schools and 270 person worked in vocational institute departments in 22 different municipalities and 86 were kindergarten staff members from 8 municipalities. The participants are teachers, headmasters, special needs teachers, social councellors, student/study counsellors, youth workers and staff members from kindergartens.

In peer mediation, starting trainings there were 2142 people participating. In further trainings, there were 1300 participants in 2016. Feedback of trainings was asked in two sampling periods (March and November) after the trainings, and all persons that participated in trainings during sampling periods (=total 537 persons) gave back fulfilled questionnaire forms. Seventy-seven per cent of the answers were from pupils and 23% from staff members. The majority found trainings valuable, as 60% noticed that training was very beneficial and 38% said that trainings were quite beneficial. Only 2% had an opinion that the training was only a little beneficial. Almost all of the answerers had an opinion that they have learned to mediate, as 54% informed that they got very good skills for mediation and 46% impressed to have gotten quite good skills. Only 2% said that they got only few skills for mediation during the training. Also, the majority (93%) of trained peer mediators said that they are ready to mediate, and as well as the majority (93%) of staff members noticed that they are ready to refer cases to mediation when recognized after training.

The questionnaire about mediation cases and numbers of active mediators and their mentors was sent to 56 schools that have had their trainings for mediation in year 2014 or 2015. A total of 30 schools returned their answers in time (response rate = 53.6%).

To evaluate the effects of the mediation work done, the data was collected after further trainings in 2016. The aim of the further trainings was to teach with the experticy of experienced peer mediators and their adult mentors new voluntary pupils and staff members to work as peer mediators and mentors in their school. The questionnaire was given in 10 different further trainings to 67 participants that had worked as voluntary actors in the programme in their school during recent years. Fulfilled answer forms were received from all of them (response rate = 100%). The questions are formulated as simple as possible so that also younger pupil can answer to them. Of this, 73% of answers were from pupils and 27% from staff members. In next three figures some opinions from the informants are opened.
4

Concluding Remarks

In conclusion, a restorative approach and mediation in schools can be considered as one dimension to mediation activities and services in Finnish society. It is obvious that when reaching experiences and information of restorative conflict management methods already in a school, pupils can become more aware of the rights and possibilities they can use when there are conflicts during their school years or later during lifetime. Although restorative practices may not totally replace punitive methods in schools, in those schools where VERSO programme is actively used, mediation has been considered as a first practice to use in conflict situation. Thus, a restorative approach has strengthened understanding of the importance of a participatory and child friendly approach and social learning in conflict management. Statistics also indicate with no doubt that most conflicts have been successfully resolved in mediation in schools that use the VERSO programme.

The results discussed in this paper about mediation activity in Finnish schools give a picture that mediation is a working method when managing different kind of conflicts in schools. Learning of conflict resolution and improving social capacity are the main benefits that mediation practice can give to participants, as well as to those involved in mediation in their schools. However, not all members of school societies are ready the move on to restorative values when discussing bullying and misbehaviour in schools. Mediation should be offered as an alternative method when managing conflicts, and one way to decrease the resistance of using mediation is to collect and share proper and clear information of the mediation practice and principles of a restorative approach. This is an ongoing task for those offering the trainings for mediation, schools that are implementing a mediation practice, decision makers in the field of education and for academics in universities.

In Finland, in those schools that are following VERSO programme, restorative practices are used both in proactive tools in a classroom and as a reactive method when managing conflict situations during daily work in a school. As an exception to situation in many other countries, the VERSO programme has had an opportunity to work as a nationwide programme due to the co-operation and economic support from the Ministry of Social Affairs and Health. This situation gives also the basic ground and advantage for systematic evaluation and development of the approach and practices offered by the VERSO programme. Quantitative data discussed in this paper gives some understanding of the progress of action. When having both pupils and staff members trained to mediate, mediation can be used flexibly as a method for early intervention to conflicts before social tension escalates to more traumatic misbehaviour. This co-operation between pupils and staff members is valuable not only from the point of view of social learning and creating atmosphere of trust to each other, but also because challenges a hectic rhythm to school days often cause to daily work and social life in schools. However, this paper does not discuss the quality of the practices or deeper experiences reached in practice. Neither does this paper describe how restorative principles in practice in schools has been fulfilled. Peer mediation has been implemented in Finnish schools since 2001, and the trainings for whole school restorative approach have been offered since 2010. The activity of trainings and ongoing need for the trainings, as well as the feedback of the practice, give an understanding that a restorative approach and mediation are valued more and more in the field of Finnish education.

It is obvious that academic research is still needed to study the effectiveness and results of restorative approach in schools. It is important to evaluate such issues that are producing the benefits that are connected to restorative practices in order to find and understand the elements that creates quality in practices so that the schools can fully benefit from a restorative approach. Both pedagogical and youth cultural aspects should be included in these observations. Currently, the report of the doctorate research on restorative approach in Finnish schools is under completing work by the writer of this article. In that research, it has been asked if and how restorative values has been implemented and how restorative practices and mediation have affected the daily profession of educators that have actively used a restor ative approach and mediation in their work. The research is based on qualitative data, and the analysis has followed the Grounded Theory process. As first findings of the results, it seems that to produce a whole school restorative approach there are three needs for educators to be fulfilled: adopting a restorative mindset, practicing actively restorative participation and considering conflicts as learning possibilities to be managed with restorative mediation. What are these concepts, how they can be produced and what challenges there are in implementing will be discussed in the coming dissertation, hopefully before the end of 2018.
Copyright information
© The Author(s) 2018
Open Access This chapter is licensed under the terms of the Creative Commons Attribution 4.0 International License (http://creativecommons.org/licenses/by/4.0/), which permits use, sharing, adaptation, distribution and reproduction in any medium or format, as long as you give appropriate credit to the original author(s) and the source, provide a link to the Creative Commons license and indicate if changes were made. The images or other third party material in this book are included in the book's Creative Commons license, unless indicated otherwise in a credit line to the material. If material is not included in the book's Creative Commons license and your intended use is not permitted by statutory regulation or exceeds the permitted use, you will need to obtain permission directly from the copyright holder.