Abstract
Traumatic events are experienced by most people at some point in their life. Following a traumatic event many individuals return to previous functioning and some feel an increased sense of efficacy. However, a sizable minority experience adverse psychological and behavioral effects. These effects include distress reactions, health risk behaviors, and psychiatric disorders. Workplace traumatic events and responses most studied in physicians include exposure to injured and dying patients, medical errors and complications, bullying, disasters, and workplace violence. Developmental issues confer specific risks for medical students and residents, as well as early and late career physicians. Prevention measures which reduce exposure to workplace trauma are optimal. Physicians exposed to traumatic events will benefit from the use of prompt, evidence-based interventions. Many will seek and benefit from self-help interventions and peer support, but some may need formal assessment and treatment through employee assistance programs and traditional psychiatric care. Effective prevention and treatment can enhance physician well-being and career retention as well as patient outcomes.
Keywords
Physician 
Work 
Trauma 
Stress 
2.1

Scope of the Problem

Exposure to traumatic events is an unavoidable part of medical practice. From the beginning of medical education when students first lay eyes on cadavers through their later years as seasoned physicians, the very nature of medicine is to come closer to death and serious injury than the rest of society. Physicians also experience traumatic events such as workplace violence at rates higher than most occupations. When natural and man-made disasters occur, hospitals and physicians bear the brunt of caring for those injured and sickened. Significant literature exists on the impact of traumatic events and disaster on individuals and populations. Evidence suggests that physicians experience witnessing injury and death differently and employ different methods of coping. Strategies to mitigate stress and distress due to work-associated trauma should take into account these differences. For this reason, any discussion of physician health and mental well-being must include how physicians experience traumatic events and their immediate and persisting effects.

In order to understand work-associated trauma, it is first necessary to properly define terms. Medical and other literature liberally use the terms trauma and traumatized to describe a broad range of stressful life events including traumatic events, stressors, and adversity. More significantly, there is a tendency to blur the boundary between events and reactions. From a diagnostic and research perspective, it is useful to be more precise and circumscribed in defining trauma. Trauma, derived from the Greek word meaning "wound," in its simplest definition is a physical or mental injury. The diagnostic criteria for Posttraumatic Stress Disorder (PTSD) describe traumatic events as exposure to actual or threatened death, serious injury or sexual violence through direct experience, witnessing, or repeated or extreme exposure to aversive details (DSM-5, 2013). Traumatic events are defined by these characteristics, whether or not the individual goes on to develop symptoms. Traumatic stress refers to the range of distress responses, health risk behaviors, and psychiatric disorders that can occur in response to traumatic events. Stressors are defined as external stimuli that disrupt the equilibrium of an individual. Adversity refers to longer-term, sociological and community-based negative stressors that affect individuals or groups. For the purposes of this chapter we will discuss a broad range of stressors and adversity that lead to psychological responses, most of them will be traumatic events.

Physicians and other healthcare workers have the potential for exposure to a wide range of traumatic events. Table

2.1

summarizes some common traumatic events experienced by physicians. Caring for large numbers of patients or patients with whom the physician can identify strongly can induce traumatic stress in caregivers. Exposure to chemical, radiological, or infectious agents can be a traumatic event. Finally, physicians can be subject to adversity in the work environment through harassment, bullying, threats, and assault in the workplace. The following sections will discuss various traumatic events, stressors, and adversity related to the healthcare workplace and their impact on physician mental health.

Table 2.1

Examples of traumatic events experienced by physicians

Unexpected or sudden patient death

Medical errors and complications

Treating seriously ill or injured children

Exposure to chemical, radiologic, or infectious agents

Natural disasters/man-made disasters

 – Large numbers of sick and injuredpatients

 – Loss of infrastructure and resources to care for patients

 – Making triage decisions and rationing care

 – Family members injured or in danger

Mass violence

 – Treating seriously injured patients

 – Large numbers of wounded patients

 – Attack in or near healthcare facility

Workplace violence
2.2

Causes and Consequences

Literature on the effects of traumatic events comes largely from studies of individual and community responses to emergency and disaster events. Most individuals exposed to traumatic events will emerge with limited or no adverse effects, promptly and effectively resuming their social and occupational roles (resilience). Some may even experience an increased sense of competence, self-efficacy, and belief in their ability to manage future stressors (often termed "posttraumatic growth"). However, a sizable minority will experience a range of adverse psychological and behavioral effects, including distress reactions, health risk behaviors, and psychiatric disorders (see Fig.

2.1

).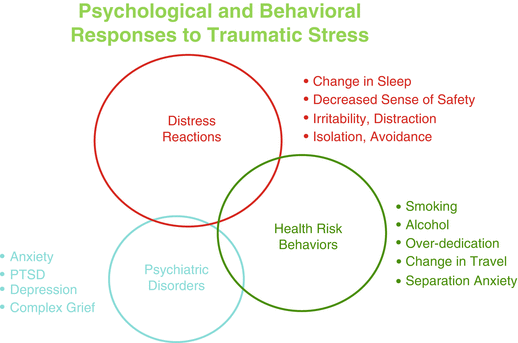 Following a traumatic event, distress reactions are most common. Individuals often feel anger and vulnerability. A loss of faith and demoralization may also occur. Many individuals experience insomnia, irritability, and feelings of distractibility (Rundell and Ursano 1996). Some individuals display physical symptoms as a manifestation of psychological distress, ultimately presenting to healthcare settings. Somatic complaints such as headache, dizziness, nausea, fatigue, and weakness are common in the wake of a traumatic event, even when an identifiable physical disorder cannot be found (Ford 1997). Most who seek care present to primary care and emergency settings. An awareness of distress reactions as a frequent consequence of traumatic events is important for primary care and emergency providers to avoid misattribution of these symptoms to other medical causes, ultimately delaying definitive care.
Health risk behaviors are also increased following traumatic events. Increased use of alcohol, caffeine, and tobacco are common mechanisms for self-medicating distress or symptoms of traumatic stress (Vlahov et al. 2002). A decreased sense of safety may lead to restricting of activities and isolation, which reduce access to helpful social support networks (Rubin et al. 2005). Intimate partner and community violence may increase as distress escalates (Harville et al. 2011).
Psychiatric disorders develop in some individuals following traumatic events. The most studied of these is Posttraumatic Stress Disorder (PTSD) (Ursano et al.
2010
). Many studies suggest that approximately 10–20% of those exposed to a traumatic event will develop PTSD, though many more individuals will experience milder symptoms, which can persist and become problematic (Goldmann and Galea
2014
). The course of PTSD varies, though intentional acts of violence often result in escalating symptoms over time (see Fig.
2.2
). PTSD is not the only trauma-related disorder, nor perhaps the most common (Fullerton and Ursano
1997
). Some studies find depression to occur even more frequently than PTSD following disaster (Miguel-Tobal et al.
2006
), with others experiencing generalized anxiety disorder, panic disorder, and increased substance use (North et al.
2002
).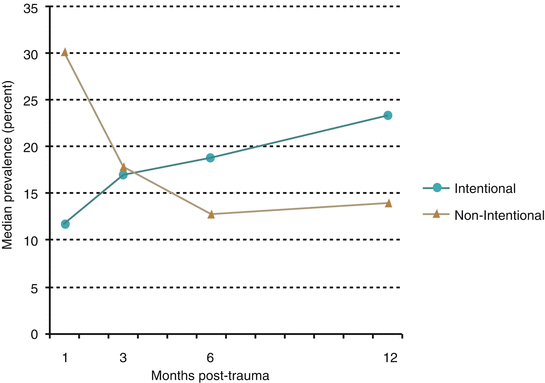 There are certain characteristics of traumatic events that have the ability to amplify or mitigate traumatic stress responses. Duration and intensity of exposure to traumatic events are the most consistent factors predicting adverse outcomes in exposed populations. Natural disasters tend to generate lower levels of impairment than technological disasters or episodes of mass violence (Norris et al. 2002). Events that are the result of intentional human action tend to result in the most severe psychological impact. Events with significant uncertainty about immediate risk and the potential for lasting effects, such as exposure to infectious diseases or nuclear material, tend to generate unique, widespread, and lasting psychological effects.
There is a dose-related response to traumatic events that impacts the likelihood of traumatic stress. For example, a vascular surgeon amputating the leg of a single patient in a day is unlikely to develop a distress response or psychiatric disorder. The same surgeon having to amputate seven legs following a terrorist blast has a significantly increased likelihood of experiencing insomnia, increased alcohol use, or feelings of detachment from family and coworkers.
2.3

Developmental Issues

Physicians' professional stage of development impacts their experience of psychological trauma. Medical students have little authority or responsibility and may experience additional distress due to mistreatment from both fellow professionals and patients. Residents ("house officers") have increased responsibility and accountability, but with limited authority, for patient care and potential adverse outcomes. Staff physicians bear the ultimate responsibility for patient outcomes and have the greatest exposure to adverse patient interactions. Understanding the unique vulnerabilities for physicians at various developmental stages offers the opportunity to enhance prevention efforts designed to minimize exposure to traumatic stress.
2.3.1

Medical Students

Imbalances of power and control play a significant role in the experience of traumatic stress for medical students. This power differential leaves students vulnerable to mistreatment. Student mistreatment occurs along a spectrum from public humiliation to physical or sexual assault. In this regard, it is very similar to forms of interpersonal violence. Though advocacy for medical student well-being has increased in recent years, mistreatment or "hazing" of students often goes unreported, making true estimates of its frequency extremely difficult. The American Association of Medical Colleges reports the rate of student mistreatment around 17% (AAMC 2011). However, other studies of medical students in the USA and other countries have found reported rates to be much higher (Frank et al. 2006; Rautio et al. 2005). A recent study found that 64 and 76% of medical students reported at least one incident of mistreatment by faculty and residents, respectively (Cook et al. 2014).

Student mistreatment is extremely stressful for victims and confers increased risk for poor health outcomes and psychological symptoms. In a study of medical students during their clinical year at Brown University, Heru and colleagues observed that most students reported experiencing mistreatment or observing another student being mistreated (Heru et al. 2009). They also found more than half the students experiencing mistreatment reported Impact of Events Scale-Revised scores that exceeded the threshold for posttraumatic stress disorder. Students who are abused indicate these experiences have a significant effect on their specialty selection and career trajectory (Haviland et al. 2011).

Students may also experience elements of medical education curricula as traumatic events. As mentioned previously, gross anatomy teaching requires exposure to and dissection of deceased human remains. It is traditionally viewed as a right-of-passage and a milestone by which preclinical students begin the process of transitioning from layperson to physician by crossing the boundary of the human body. The dissection experience produces distress in about half of medical students (Sandor et al. 2015). Fear of stigmatization and being perceived as unfit to serve as a physician prevent many students from talking about these reactions. During the dissection experience, identification with human remains (i.e., "this could be my grandmother") increases distress. Seeing the hands and face of the cadaver increases this effect. Exposing students to the least distressing body parts first and teaching students cognitive coping strategies may reduce adverse effects. Normalizing a range of emotional and physiologic reactions during dissection and encouraging open discussion of these reduces stigma and barriers to help seeking and promotes healthy peer interactions that become useful later in their medical careers.

Simulation training has rapidly proliferated in medical education in the twenty-first century, is generally well-received by students, and offers new and innovative methods of teaching (Takayesu et al. 2006). High stress simulation, such as those involving severe trauma or death to patients, has been found to be extremely stressful for students and may result in significant and lasting distress (Pai et al. 2014). Monitoring of student well-being in the development of simulation activities and follow-up assessment or debriefing in the post-simulation time period can allow educators to identify and provide interventions for students experiencing traumatic stress.
2.3.2

Residents ("House Officers" or Junior Doctors [UK])

Residency serves as a significant and extended period of professional transition with numerous stressors, adversity and traumatic events. Becoming a resident or "house officer" removes a physician trainee from the protection of medical student status, imposing increased responsibility and accountability with limited authority and autonomy. In contrast to medical students, residents typically have increased exposure to patients and physician staff as well as a greater degree of physiologic deprivation through erratic food intake and reduced sleep. Increased interaction with staff and patients exposes residents to mistreatment, bullying, workplace violence, and medical errors and complications.

House officers work extremely long hours conducting patient care, often leaving little time for social interactions outside the work environment. Existing relationships may be severely strained during this 3–5-year period of training. Opportunities are limited to broaden a support network outside of the socialization that occurs in the setting of medical training. Consequently, residents' social networks are largely predetermined, composed primarily of other house officers exposed to the same stressors and deprivation. Because social support is critical to reducing the impact of distressing experiences, residents may be particularly vulnerable to the adverse effects of traumatic events encountered during training.

The adverse effects of stress on residents may be reduced by early training on understanding and coping with occupational hazards, decreasing exposure to stressful events, adequately addressing physiologic needs, and enhancing social support systems.
2.3.3

Early and Late Career Physicians

Following training, physicians may be exposed to a wide range of traumatic events throughout the cycle of their careers. The status of being an attending physician brings unique developmental issues that can impact both the experience of traumatic stressors and the ways in which physicians choose to respond to these events.

Following training, early career physicians are given authority, responsibility, and accountability for patient care. This can be experienced as a positive transition, affording increased levels of esteem and financial compensation. It may also represent a loss of certain protective factors afforded to those in a training environment. Early-career, post-residency physicians may feel significant stress bearing the full responsibility for patient care, including medical errors or adverse outcomes. A lack of adequate preparation for this new role may amplify feelings of uncertainty or distress. Following specialty training, physicians may also feel ill-prepared to manage the challenges inherent in their healthcare system. Uncertainty about policies and procedures, where to obtain needed resources, and the hectic schedule of a junior physician can leave these individuals increasingly vulnerable to the adverse effects of work trauma.

Late-career physicians may be vulnerable to burnout after years of managing the demands of both patient care and a constantly evolving healthcare system (see also Chap.  1). Specialties that involve patient care in high volumes or extreme intensity may be particularly vulnerable, such as primary care, mental health, emergency, and trauma specialties. Following years of practice, physicians may become cynical about patient care as well as the healthcare systems in which they work. Feelings of helplessness and hopelessness about the ability to effect change diminish motivation and a sense of well-being. Frustration or anger may also leave physicians more vulnerable to the stress inherent in routine patient care as well as higher stress challenges that inevitably emerge. Finding meaning in work, collaborative approaches to patient care, and developing skills to navigate administrative challenges within a healthcare system serve as protective factors.
2.4

Assessment, Intervention, and Treatment

Thorough assessment and prompt, evidence-based intervention following traumatic events aid physician recovery and optimize performance. Important considerations include prevention measures, barriers to care, and the role of leadership. Assessment should examine a broad range of behavioral and psychological reactions to traumatic events as well as level of impairment. Evidence-based treatments focus on reducing distress, enhancing well-being and optimizing social and occupational functioning.
2.5

Key Points
Physician work-associated traumatic events are both common and unavoidable.

In considering responses to traumatic events, it is important to maintain the distinction between the events and responses to them.

Traumatic events include those experienced by non-physicians such as natural disasters and mass violence as well as unique experiences such as exposure to death and dying and the expectation of providing care during infectious disease outbreaks.

The full complement of traumatic events, stressors, and adversities reviewed in this chapter identify potential times for intervention by healthcare organizations and training institutions.

Common responses to traumatic events include distress reactions, health risk behaviors, and psychiatric disorders.

Awareness of these predictable responses as well as unique developmental vulnerabilities can guide appropriate interventions.

The goals of intervention are to reduce levels of distress in affected physicians, restore their ability to provide care, and minimize the likelihood of lasting symptoms or impairment.

System-based efforts should identify and mitigate vulnerabilities to reduce the likelihood of traumatic events, educate physicians on expectable responses, and open the door for self-help, peer support, and formal assessment and treatment.

Interventions for traumatic stress should incorporate the five principles of Psychological First Aid: safety, calming, self-efficacy, connectedness, and optimism.

Providing a range of patient-centered, evidence-based interventions and formal treatment options can enhance compliance and increase well-being for physicians who have experienced traumatic events.
Copyright information
© Springer International Publishing AG 2017