Respiratory Failure in a Patient with Idiopathic Pulmonary Fibrosis
Abstract
Idiopathic pulmonary fibrosis, in its advanced stages, commonly causes chronic respiratory failure. Additionally, patients with fibrotic lung disease can develop acute respiratory failure due to a myriad of causes, though one of the most common and most deadly is an acute exacerbation of idiopathic pulmonary fibrosis. In this chapter we review the differential diagnosis for patients with idiopathic pulmonary fibrosis who present with acute respiratory failure. Furthermore, we review the available evidence pertinent to the intensivist when these patients are cared for in the intensive care unit. Lastly, we explore treatment controversies (Extracorporeal Life Support, corticosteroids, non-invasive ventilation strategies) that are employed by some centers, but with limited evidence.
Keywords
Acute exacerbation of idiopathic pulmonary fibrosis (AE-IPF) 
Idiopathic Pulmonary Fibrosis (IPF) 
Intensive Care Unit (ICU) 
Critical Care 
Interstitial Lung Disease (ILD) 
Mechanical Ventilation (MV) 
Case Presentation
A 65 year old gentleman with Idiopathic Pulmonary Fibrosis (IPF) diagnosed 2 years prior by imaging and surgical lung biopsy is evaluated for acute on chronic shortness of breath. Previously he was able to take care of his activities of daily living with supplemental oxygen administered by nasal cannula at 4 l/min. One day prior to presentation his breathlessness rapidly escalated over the course of a day, with inability to ambulate or bathe, prompting evaluation. He had no fevers, sick exposures, change in his baseline cough, or lower extremity edema. He is on no treatment other than oxygen for his condition.
Upon evaluation in the emergency room he is noted to require 100 % oxygen to maintain his oxygen saturation, although saturation continued to fall with minimal movement. Arterial blood gas showed a pH of 7.5, PCO2 of 44, PaO2 of 65 with saturation of 91 % on 100 % oxygen by face mask. His hypoxemia continued to worsen and he required invasive mechanical ventilation. He was admitted to the intensive care unit (ICU).
On evaluation, beta naturetic peptide and echocardiogram were normal and he was without signs of volume overload. White blood cell count was elevated to 14,000 per mm
3
(normal 4,000–10,000 per mm
3
). A computed tomography of the chest was completed and lung windows are shown in Fig.
30.1
alongside his baseline CT scan. Contrast to enhance the pulmonary vasculature showed no evidence of venothromboembolism. Bronchoscopy is completed and alveolar lavage was negative for infectious organisms including respiratory virus polymerase chain reaction (PCR).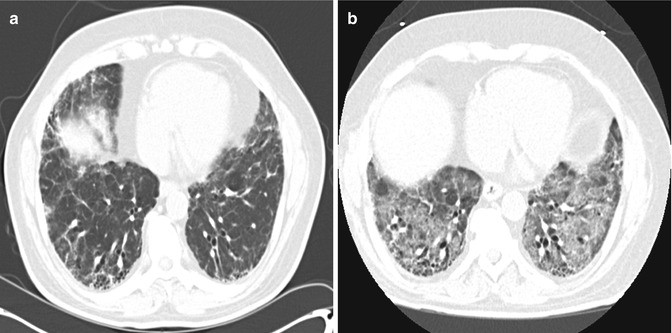 Question
What is the likely diagnosis?
Answer
The patient has most likely suffered an acute exacerbation of IPF (AE-IPF).
The triggers as well as etiologies for AE-IPF are not known. The cardinal features are acute clinical worsening (<30 days) in a patient with known or newly diagnosed IPF with acceleration of dyspnea and/or hypoxemia and new radiologic changes, typically ground glass opacities, on a background of fibrotic disease (example Fig. 30.1) [1, 2]. The underlying pathologic insult is classically described as diffuse alveolar damage [3], the histologic finding of ARDS, which has been superimposed on usual interstitial pneumonia. Common concomitant symptoms mimic a viral lower respiratory tract infection with fever, malaise, flu like symptoms and cough; though these symptoms are not needed to make the diagnosis [1, 2]. Infection is the chief differential diagnosis. Ideally, infection is excluded by bronchoalveolar lavage (BAL) as in the case presentation; however given the worsening hypoxemia in addition to typical poor baseline pulmonary health a BAL may precipitate a life-threatening impairment in gas exchange. If the lower airways cannot be sampled by BAL, treatment for typical bacterial organisms or hospital acquired organisms if applicable are employed presumptively. If structural lung disease exists (as most patients usually have traction bronchiectasis) it may be worthwhile to treat Pseudomonas on an empiric basis. Other conditions that need to be excluded are pneumothorax, pulmonary hypertension, left ventricular failure from systolic or diastolic dysfunction, pulmonary embolism, or acute respiratory distress syndrome of other known causes (i.e. sepsis, pancreatitis, trauma, pneumonia. For more detail see Chap.  21). Cross-sectional imaging is used to rule out small pneumothorax not seen as well as to confirm radiologic changes, which usually are ground glass in appearance, but dense infiltrates can also be seen. A CT pulmonary angiogram has the advantage of evaluating for pulmonary embolus in patients without renal failure.
In sum, AE-IPF is diagnosed when a patient with IPF has acute worsening of dyspnea and/or hypoxemia as well as new ground glass opacities on CT after exclusion of the conditions below. Diffuse alveolar damage is the typical underlying histopathology.
Copyright information
© Springer International Publishing Switzerland 2017