Ventilator-Associated Pneumonia and Other Complications
Abstract
Ventilator-associated pneumonia occurs in patients who have been intubated for two to three days with significant exposure to hospital-acquired organisms. Treatment should be initiated rapidly and cover P. aeruginosa, Escheriochia coli, Klebsiella pneumonia, and Acinetobacter species as well as methicillin-resistant S. aureus. Within 72 h or with the availability of culture results, antibiotics should be narrowed. Active research is on-going to identify patients at risk for ventilator-associated complications and to minimize the likelihood of infection in these patients.
Keywords
Ventilator-associated pneumonia 
multidrug resistant organisms 
ventilator-associated events 
Case Presentation
A 55-year-old woman with a history of type 2 diabetes mellitus, chronic obstructive pulmonary disease, obesity hypoventilation syndrome, and sleep apnea, along with coronary artery disease with a 3-vessel bypass five years prior, developed new onset shortness of breath and fever after babysitting her 3-year-old grandchild. She arrived at the emergency room with worsening respiratory status. Her ventilation rapidly deteriorated despite the use of noninvasive positive pressure ventilation and she became minimally responsive, prompting endotracheal intubation and admission to the medical intensive care unit. A chest x-ray at that time showed a lobar infiltrate. Cultures from endotracheal aspirates were negative. After three days of management of her COPD with intravenous steroids, antibiotic coverage with levofloxacin, and inhaled bronchodilator therapy, her oxygenation continued to improve. She continued to fail her spontaneous breathing trial, however, and remained intubated. On ICU day 5, however, she developed a new fever and her oxygenation worsened. Having previously been down to an FiO
2
of 0.3, this fraction was increased to 0.5, and her PEEP was increased to 10 cm from 5 cm of water to maintain adequate oxygenation. A chest xray now shows diffuse, bilateral infiltrates (Fig.
29.1
).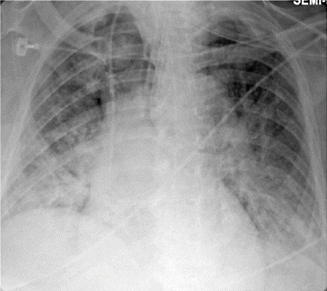 Question
What is this patient's diagnosis?
Answer
Ventilator-Associated Pneumonia (VAP)
Despite aggressive and supportive management, pneumonias that arise from hospital settings remain a challenging and enduring clinical entity. Ventilator-associated pneumonia is defined as pneumonia in those patients who have been intubated for at least two to three days, with worsening radiographic features, increasing secretions, bronchospasm, or hemoptysis, or with worsening status on the ventilator. While early treatment is essential, rapid de-escalation of antibiotics in the face of negative culture results is also important. Sampling of the respiratory tract is necessary to further guide management and noninvasive sampling is preferred [1]. Samples may be obtained either through tracheobronchial aspiration, bronchoalveolar lavage, mini-BAL, or protected specimen brush (PSB). Careful observation of individual hospitals' bacterial antibiogram is essential to provide treatment targeted to the resistance profile of each institution. The most common MDR pathogens include P. aeruginosa, Escheriochia coli, Klebsiella pneumonia, and Acinetobacter species as well as methicillin-resistant S. aureus [2].
Principles of Management
Rapid Identification and Empiric Treatment of VAP Is Essential
A high suspicion for VAP followed by rapid diagnosis and treatment is critically important. Zilberberg and colleagues found that among nearly 400 patients alive at 48 h with HCAP, inappropriate empiric antibiotic therapy was associated with a significant increase in mortality (30 % versus 18.3 %, p = 0.013; OR 2.88 95 % CI 1.46–5.67 in multivariable logistic regression). Treatment escalation did not change the risk of death in this single-center study [3]. Unfortunately, treatment is often delayed. In one study among 107 patients, 30.7 % of patients had their therapy for VAP inappropriately delayed, defined as ≥ 24 h passing between VAP onset and providing the appropriate antimicrobial treatment. A delay in writing the antibiotic orders was the primary reason for delay in therapy in 75 % of cases [4].
Treat Patients with VAP Broadly for Multidrug Resistant Organisms
Patients with VAP should universally initiated on therapy for (1) MRSA (for example, with vancomycin or linezolid) and for (2) resistant gram-negatives, such as Pseudomonas aeruginosa, Klebsiella pneumoniase, and Acinetobacter species. Treatment options could include: antipseudomonal cephalosporins (cefepime or ceftazidime), antipseudomonal carbapenems (imipenem or meropenem), β-Lactam/β-lactamase inhibitor (piperacillin-tazobactam). For patients for whom combination therapy is considered (see Evidence Contour below), addition of an antipseudomonal flouroquinolone or an aminoglycoside should be considered. The dominant pathogens in one's local ICU should also contribute to decision making for appropriate choices of therapy but should be guided by the overall principles of the ATS/IDSA guidelines, as demonstrated by the IMPACT HAP collaboration [5, 6].
In addition to MDR risk factors, appropriate antimicrobial therapy should consider the patient's risk factors for: (1) extended-spectrum beta-lactamase-producing Enterobactereriaceae; (2) Legionella; and (3) anaerobes. If ESBL Enterobactereiaceae is suspected, a carbapenem should be used. Concerns about Legionella should prompt use of a macrolide or fluroquinolone over an aminoglycoside. Some providers would treat patients with recent aspiration events for anaerobes, using clindamycin, β-Lactam/β-lactamase inhibitors, or a carbapenem.
For all other patients for whom the suspicion of VAP is low, appropriate therapy should be guided by the patient's risk factors for multidrug resistant organisms. In the absence of risk factors for MDR organisms, the ATS/IDSA guidelines recommend antibiotic therapy that targets Streptococcus pneumonia, Haemophilus influenza, Methicillin-sensitive Staphylococcus aureus, and antibiotic-sensitive enteric gram negatives: ceftriaxone or levofloxacin, moxifloxacin, or ciprofloxacin, ampicillin/sulbactam or ertapenem [2]. While not all patients with HCAP have MDR organisms, distinguishing between the two may be difficult with recent residence in a nursing home or hospitalization for more than 48 h in the past 3 months appearing to increase the patient's risk the most [7, 8].
Duration of Therapy – 8 or 15 Days
Patients with ventilator-associated pneumonia should have the duration of antimicrobial therapy guided by type of organism. In a study of 401 patients using a randomized controlled design, there was no difference in mortality in the arm treated for 8 days versus 15 days, although patients with Pseudomonas spp. had higher rates of recurrence [9]. A subsequent meta-analysis demonstrated patients with lactose non-fermenting gram-negative bacilli had nearly a 2-fold increased odds of recurrence with shorter therapy courses [10]. However, more recent systematic reviews and the ATS/IDSA 2016 guideline [2] has challenged this distinction. The current recommendation for all VAP, including non-fermenting gram-negative bacilli, is to treat for a short course (7 or 8 days) [11].
Rapidly De-Escalate Antimicrobial Therapy
It is critical to de-escalate antimicrobial therapy when a specific pathogen has been identified, or when cultures are negative at around 72 h. This helps prevent over-use of antibiotics and the development of resistance. Observational data provide a strong safety signal. In a study of surgical patients, neither mortality (34 % versus 42 %) nor recurrent pneumonias (27 % versus 35 %) differed between patients with VAP who underwent de-escalation versus those who did not [12]. Among 398 patients with VAP in Kollef et al., de-escalation of therapy occurred for 22 % of patients. These patients had a lower mortality rate (17 %) than those patients who underwent escalation (43 %) or who had not change to their regimens (24 %) [13].
Another possible guide to safely de-escalate antibiotic therapy may be procalcitonin levels. In subgroup analyses of the PRORATA trial, investigators found that patients with ventilator-associated pneumonia assigned to the study arm (where antibiotics were discontinued after procalcitonin levels reached <0.5 μg) had 3.1 fewer days (95 % CI 0.7 days – 5.6 days) than those patients assigned to the control arm, without a difference in mortality found in the overall study [14]. Other studies that have looked at procalcitonin to guide therapy for undifferentiated septic shock or in broader settings have replicated that mortality does not appear to be affected when procalcitonin is used to guide therapy, although the findings on duration of antibiotics is more heterogeneous [15, 16]. Current recommendations, however, are to continue to use clinical evidence rather than biomarkers [2].
Clinicians Should Remain Vigilant for Other Causes of Fever in the ICU
Not all fevers are pneumonia, even in ICU patients with radiographic infiltrates. If patients are not improving at 48–72 h and respiratory cultures taken before antibiotics are negative, be vigilant for other causes of fever (such as central line infections, etc.) and for complications of pneumonia (such as empyema). This scenario should also prompt reconsideration of the potential presence of resistant pathogens, and it may warrant consultation with infectious disease specialists.
Copyright information
© Springer International Publishing Switzerland 2017