Graphical Abstract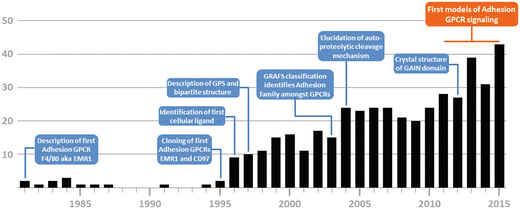 Abstract
Since the discovery of adhesion G-protein-coupled receptors (aGPCRs) 20 years ago, reverse genetics approaches have dominated the elucidation of their function and work mechanisms. Seminal findings in this field comprise the description of aGPCRs as seven-transmembrane (7TM) molecules with an extended extracellular region, the identification of matricellular ligands that bind to distinct protein folds at the N-terminus, the clarification of an autoproteolytic cleavage event at a juxtamembranous GPCR proteolysis site (GPS), the elucidation of the crystal structure of the GPCR autoproteolysis-inducing (GAIN) domain that embeds the GPS and connects the receptor fragments, the demonstration that a short N-terminal sequence of the seven-transmembrane (7TM) region can serve as a tethered agonist, and, recently, the notification that aGPCRs can serve as mechanosensors. We here discuss how these discoveries have moved forward aGPCR research and, finally, linked the field to the GPCR field. We argue that crucial questions remain to be addressed before we can fully appreciate the biological nature of these fascinating receptors.
Keywords
Adhesion GPCRs 
History 
Biology 
Structure 
Signaling 
Pharmacology 
Notes
Acknowledgments
The writing of this manuscript was supported by the Deutsche Forschungsgemeinschaft (Research Unit 2149) and by grants of the Thyssen Foundation (2015-00387) to JH and the Russian Science Foundation (14-14-01195) to AGP.
Competing Financial Interests The authors declare no competing financial interests.
Copyright information
© Springer International Publishing AG 2016