Abstract
Challenges that threaten the long-term survival of nonhuman primates (NHP) include habitat fragmentation, hunting, and increasingly, infectious diseases. In addition to direct mortality from noninfectious diseases (e.g., hunting) and infectious diseases (e.g., Ebola), human-driven alterations of environments that support NHP often contribute to a decline in population viability. This decline is frequently the result of physiological stress, poor reproduction, decreased immunity, and exposure to novel pathogens. To better understand the diseases that threaten NHP populations, a conservation medicine approach—the application of medicine to augment the conservation of wildlife and ecosystems—is imperative so that we may provide management solutions to help ensure the long-term survival of NHP. Additionally, it is crucial that we gain a better understanding of pathogens at the interface of nonhuman and human primates since the zoonotic potential may create conservation challenges, or alternatively may provide the impetus for conservation actions to be practiced (e.g., minimize bushmeat trade).
Keywords
Anthropocene 
Emerging infectious diseases 
Human–nonhuman primate interface 
One health 
Zoonoses 
Introduction
The pressures limiting the long-term survival of many wildlife species, including nonhuman primates (NHP), are largely human-driven (anthropogenic). These pressures include climate change, habitat degradation and fragmentation, invasive species, trade in wildlife, and exposure to emerging pathogens, all of which are associated with the human population growth which surpassed seven billion individuals in 2012. In fact, these anthropogenic changes have led many to contend that the Earth is presently in a new "Anthropocene" epoch (Crutzen 2002). Simply stated, humans are the drivers of planetary health.
Humans have transformed between one-third and one-half of the land surface, and now appropriate over 40 % of the net primary terrestrial productivity, consume 35 % of the productivity of the oceanic shelf, and use 60 % of the freshwater run-off each year (Vitousek et al. 1986; Pauly and Christensen 1995; Postel et al. 1996; Rojstaczer et al. 2001). Additionally, with an estimated 50 % increase in animal-based protein for human consumption by the year 2020, it is inevitable that human use of resources will continue to rise (Delgado et al. 2001). Lastly, the estimated billions of live wildlife animals and animal products, including NHP, that are traded annually also place heavy burdens that threaten the long-term survival of species (Rosen and Smith 2010). In addition to the direct impacts of the wildlife trade on conservation are the potentially devastating impacts from cross-species microbial mixing and exposure to novel pathogens.
There are many examples of disease-related population declines and extirpations, as well as an increasing number of species' extinctions related to pathogen exposure (Cunningham and Daszak 1998; Skerratt et al. 2007). (In this chapter, the word pathogen will be used for all infectious and parasitic agents including viruses, bacteria, fungi, and parasites.) Diseases have ecological impacts on multiple scales, affecting individuals (survival, reproduction), populations (population size, gene flow), communities (shifts in dominant or abundant species, changes in species composition), and ecosystems (changes in ecosystem structure, function, and resilience) (Deem et al. 2008). All these potential disease-related impacts should be considered in NHP conservation initiatives, since an increasing number of disease events have been demonstrated to influence NHP populations (Wallis 2000). During the recent decades of increasing anthropogenic conservation challenges, including the threat of diseases, the need for a holistic approach for conservation and health care—conservation medicine—was realized.
Conservation medicine is an ecologically driven and conservation-minded approach which first appeared in the literature in the 1990s (Koch 1996). Although there are a number of definitions for conservation medicine, at the core is the realization that the health of environments, and the animals and people within, are intimately related. Conservation medicine may best be defined as a transdisciplinary approach to study the relationship between human, animal, and ecosystem health to ensure the conservation of all biodiversity, including Homo sapiens (Koch 1996; Deem et al. 2000; Aguirre et al. 2002; Jakob-Hoff and Warren 2012; Deem 2015). In its simplest form, it is the application of medicine to augment the conservation of wildlife and ecosystems, while ensuring human public health. A conservation medicine approach may involve the documentation, evaluation, monitoring, modifying, and/or prevention of diseases in wildlife (Deem et al. 2001). Following on the heels of this holistic conservation medicine approach, for planetary health care was a "new" initiative termed One Health.
Starting in the 2000s, the One Health initiative has become widely accepted in both human and veterinary medicine, although initially the human medical profession may have more fully embraced the term, due in large part to the increasing recognition of globally significant zoonotic emerging infectious diseases (EIDs) that threat human public health (Taylor et al. 2001; Kahn et al. 2007). However, the veterinary community also now embraces One Health, and indeed historically, it was a veterinary epidemiologist who coined the term One Medicine in the mid-twentieth Century (Schwabe 1984; Gibbs 2014). Many view this term as the building block for both conservation medicine and One Health. And if one wishes to go further in history, it was as early as the 1800s that a physician, Rudolf Virchow stated "Between animal and human medicine, there is no dividing line—nor should there be" (Klauder 1958).
A One Health approach may be based less on an ecological understanding than conservation medicine. In fact, an early definition of the One Health concept stated that One Health is an initiative that aims to merge animal and human health science to benefit both (Enserink 2007). This definition, with the lack of ecosystem as one component of the triad, may miss the underlying, "Anthropocene" drivers of the health concerns that increasingly threaten human and animal health and biodiversity conservation. However, similar to conservation medicine, there have been a number of newer definitions of One Health that factor ecosystem health alongside humans and animals. One unifying theme has been that One Health is a strategy that strives to expand transdisciplinary collaborations and communications to improve health care for humans, animals, and the environment (Kahn et al. 2012). This defining theme is rather analogous to conservation medicine and thus semantics aside, we may see One Health and conservation medicine as two names for across discipline strategies to improve health care for the planet. In this chapter, we will call this holistic health care approach, focusing across ecosystems, animals and humans, conservation medicine since our primary objective is the long-term conservation of NHP species globally.
Conservation Challenges Threatening NHP Survival
The long-term survival of many NHP species demands a conservation medicine approach. In today's "Anthropocene epoch," threats to NHP conservation are similar to other taxa and as such are mostly anthropogenic. Habitat loss and degradation, encroachment of humans and their domestic animals into NHP habitat, hunting for the pet and bushmeat trades, and increasingly infectious disease events continue to intensify and threaten NHP survival (Walsh et al.
2003
; Chapman et al.
2005
; Wich et al.
2011
; LeBreton et al.
2012
; Schwitzer et al.
2014
). Human population growth and the rapid destruction of forested habitat are bringing humans and NHP into ever-increasing contact (Fig.
1
).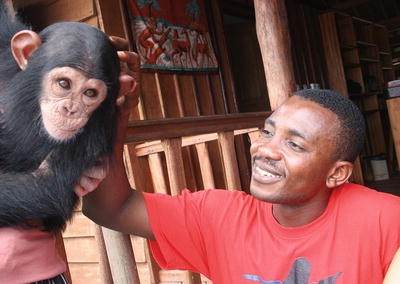 Although the exact number of NHP species is unknown, as new species are still being discovered and taxonomic reshuffling occurs, the IUCN Red List of threatened species has 92 % of all NHP species classified as critically endangered, endangered, vulnerable, near threatened or of least concern (http://www.iucnredlist.org, accessed January 24, 2015). For example, all of the great apes are listed as endangered or critically endangered, and 94 % of the world's lemur species are listed as critically endangered, endangered, or vulnerable (Walsh et al. 2008; Schwitzer et al. 2014).
One major component of NHP conservation, and human public health, is the current realization that infectious diseases increasingly threaten species across the globe. In fact, anthropogenic global modifications are the most important variables associated with disease events in wildlife, including NHP, today (Dobson and Foufopoulos 2001). As the threat of EID has become a tangible risk for NHP and human public health, this area of study has become increasingly important within NHP conservation (Wolfe et al. 1998; Wallis and Lee 1999; Wallis 2000; Daszak et al. 2000; Chapman et al. 2005). Zoonotic pathogens—those agents shared between animals and humans—comprise 60.3 % of EIDs in humans, and of these, 71.8 % have originated from wildlife hosts and include sudden acute respiratory syndrome (SARS), avian influenza, Ebola, monkeypox, and West Nile virus (Jones et al. 2008). Although all animals may serve as a reservoir of zoonotic pathogens, NHP are one of the most common taxa to share infectious agents with humans.
One reason that pathogen sharing between NHP and humans is so common is because as our closest relatives they are the weakest barrier to cross-species transmission. An expression of this lack of a barrier is that primates constitute only 0.5 % of all vertebrate species but have contributed about 20 % of our major human diseases (Wolfe et al. 2007). Conversely, it has been well documented that infection with human pathogens may have fatal consequences for immunologically naïve NHP in captivity (Ruch 1959; Brack 1987). Now there is evidence of similar events, with potentially catastrophic effects, in free-living NHP populations (Wolfe et al. 1998; Wallis and Lee 1999; Leroy et al. 2004). Chimpanzees, bonobos, and gorillas, as the NHP most phylogenetically similar to humans, are also the most highly susceptible to human pathogens, especially viruses (Benirschke and Adams 1980; Brack 1987; Ott-Joslin 1993; Wallis and Lee 1999; Wolfe et al. 1998; Murphy 2012; Gilardi et al. 2014).
Of most concern at the NHP-human interface is hunting. Primates can make up over 10 % of captured animals in some areas (Wilkie and Carpenter 1999; Fa et al. 2003; Willcox and Nambu 2007). The handling and consumption of NHP bushmeat provides an effective means for the spread of pathogens from NHP to humans. The best-known example for NHP-human transmission is the emergence of HIV, which originated from the simian variant of the virus SIV (Gao et al. 1999; Hahn et al. 2000; Wolfe and Switzer 2009). Other important examples involve HTLV-1, which originated from STLV-1, simian foamy viruses, and Ebola virus (Morell 1995; Makuwa et al. 2004; Engel et al. 2006; Wolfe and Switzer 2009). Ebola is a grave public health concern, but is also capable of extreme great ape population impacts including a documented 80 % decline of gorilla and chimpanzee populations in the Gabon/Republic of Congo border region in the early 2000s (Huijbregts et al. 2003; Walsh et al. 2003; Leroy et al. 2004).
The opposite transmission event—human-to-NHP (anthropozoonoses)—historically has been less frequently reported. Few cases of human to NHP pathogen transmission have been demonstrated conclusively, but examples include giardia, sarcoptes mange, metapneumonia and other respiratory viruses, and herpes virus into NHP through ecotourism and conservation activities (Nizeyi et al. 1999; Cranfield et al. 2002; Kalema-Zikusoka et al. 2002; Kaur et al. 2008; Köndgen et al. 2008; Gilardi et al. 2014). Other examples of infectious agents of NHP conservation concern that have a human link include Cryptosporidium, Plasmodium knowlesi, and measles (Hirsch et al. 1995; Wolfe et al. 1998; Rouquet et al. 2005). These human-to-NHP transmission events are significant for NHP conservation, but also substantiate the fact that pathogen sharing is bidirectional (Chen et al. 2011; Palacios et al. 2011).
Although possibly less direct than pathogen exposure, potentially devastating impacts for NHP survival from human presence are those stressors (e.g., habitat fragmentation and degradation) that may cause behavioral modifications, reproduction decline, and poor immunity, along with traumatic injuries (e.g., snares), all of which may contribute to poor population viability (Chapman and Peres
2001
; Junge et al.
2011
; Cranfield et al.
2002
, Oates
2013
). Additionally, a number of research projects and management efforts for NHP conservation involve handling of animals that may require anesthesia and other veterinary techniques (Deem et al.
2001
). Conservation medicine offers a transdisciplinary approach and in this chapter, we will present some of the more common applications that are imperative for the long-term survival of NHP populations (Fig.
2
).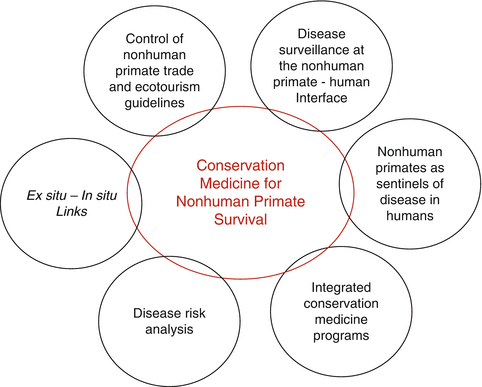 Conservation Medicine for NHP Conservation
Conclusions
The many conservation challenges that threaten the long-term survival of NHP species are complex. These mostly anthropogenic threats, from habitat degradation to hunting to zoonoses/anthropozoonoses may differ depending on the species of NHP and/or geographical region, but most present serious health concerns for free-living NHP populations. The continuum from infectious disease epidemics, that may extirpate entire populations, to the more chronic stressors of habitat degradation and human encroachment, decreasing immunity and reproductive success, demand a conservation medicine approach. Additionally, with the zoonotic link between NHP and humans, which is predicted to become more serious as stable ecosystems and large genetically diverse populations of NHP are increasingly stressed by humans, the need for a conservation medicine approach has never been more urgent. Transdisciplinary conservation medicine teams may include ecologists, primatologists, veterinary and medical professionals, sociologists, anthropologists, and politicians, along with local stakeholders and laypersons. These teams are necessary to achieve the primary goal of minimizing the human created stressors and diseases that threaten the survival of NHP. As they say, "it takes a village."
Copyright information
© Springer International Publishing Switzerland 2016