Conceptual and Historical Reflections on Chance (and Related Concepts)
Part of the The Frontiers Collection book series (FRONTCOLL)
Abstract
In everyday language, the use of such words as "chance," "coincidence," "luck," "fortune" or "randomness" strongly overlap. In fact, in some languages, such as German, they coincide in one word (Zufall). In others, there is a clear separation between chance events with positive connotations (e.g., "luck," "fortune") and those with bad ones (e.g., "accident," "hazard"). In this essay, we try to sketch the main lines of development of several of these concepts from the ancient Greeks up to modern times, or more precisely, from Democritus and Aristotle up to the world of quantum mechanics. Three elements emerge with particular force. First, "chance," "fortune," "randomness," etc. are in some instances invoked as explanations of events, but in others designate events that occur without an explanations. Second, the meaning of these terms only becomes clear when one understands which alternatives they exclude. Finally, it is conspicuous to see how, after a rigid exclusion of "chance" or "randomness" from the domain of scientific explanation in the early modern period, they were restored to full glory in nineteenth- and twentieth-century biology and physics.
There exists a cluster of words with which we designate events that in some way or another surprise us, either because we didn't expect them, or because they are out of the ordinary, or because they seem inexplicable. "Chance," "coincidence," "randomness," and "luck" are words that belong to this category of surprise. Sure enough, each of them has more technical meanings, particularly when used in specific scientific and non-scientific contexts; take, for example, a mathematically precise notion such as Martin-Löf randomness.1 But as far as everyday language is concerned, our terms strongly overlap. Phrases such as "I met him by chance," "this was an extraordinary coincidence," "I was randomly chosen," or "I was lucky enough to escape" all gesture at the fact that we couldn't have predicted what in fact happened to us or to someone else.
All of these terms are popular, and some are used with great frequency. And yet, it is very difficult to say what exactly they mean. It is impossible to develop either a coherent theory or a single narrative around them. They are simply too soft conceptually, too imprecise, and in fact even contradictory. Most people would probably agree with the Enlightenment philosopher David Hume that "chance, when strictly examined, is a mere negative word, and means not any real power which has anywhere a being in nature." (Hume 1748, Ch. 8.1).
One important reason why it is impossible to give a coherent account of this negative word and of its siblings is that they are used both to offer an explanation and to signal the lack of an explanation! Two examples will suffice to demonstrate this. In the sentence, "She didn't know the game, and that she won was sheer luck," the word "luck" signals the absence of a good explanation (such as routine or skill) to account for the fact that someone won at a game. The logic is quite different in the sentence, "through this lucky coincidence, she managed to win the elections." Here, the "lucky coincidence" offers an abbreviated explanation. The "coincidence" might refer to the fact that Harry, the obvious candidate, had suffered a stroke, and Lucy, his opponent, had on the same day been imprisoned, so that Theodora, whose ambitions had previously seemed implausible, could now win the elections. While in the first sentence the expression "sheer luck" signals the absence of a convincing causal explanation, in the second the expression "lucky coincidence" provides the explanation, while obviously also indicating its unforeseen nature.
Depending on the context, "chance," "coincidence," "randomness," or "luck" do not only indicate the presence or absence of a recognizable causal logic, but they also indicate unknown probabilities, which might or might not be calculable. "Chances are that you won't make it," or "If you are lucky, you might still catch that train," are phrases which imply an embryonic form of probabilistic reasoning of the type "what are the odds that x happens?"
Explanation, lack thereof, or intuited probabilities: it is in this ill-defined, swampy area that the terms we are examining here are located. As a consequence, Madam Fortune, the mythological personification that rules over these swamps, will necessarily also assume multiple roles. At one extreme, she will manifest herself as a divine figure that determines our fate; reference to her will in that case provide a coherent answer for explaining why things that for us had been unpredictable had nevertheless happened. At the other extreme, she is as helplessly exposed to circumstances as we are. A fickle woman placed on the allegorizing weather vane who is swept about by the winds, she is herself the object of unpredictable influences. Explaining an event through fortune characterized in the latter way amounts to empty prattle, as it merely moves unpredictability to a different level.
Despite the elusive and contradictory explanatory value of this cluster of words, there are interesting things than can be said about them. In our first section, we will first try an etymological approach. There, we will encounter a strong presence of falling dice as well as of lots, straws and other literally "aleatoric" objects of gaming and decision making, including the emblematic Wheel of Fortune. But we will also witness a strong and unresolved tension between viewing fortune and chance as a final (possibly divine) explanation for unexpected occurrences, and that of depicting them as merely a higher level of unpredictable randomness.
Our main approach is, however, historical. We will in some detail survey a number of key moments in the history of scientific (or natural philosophical) thought, from the divine fate of Greek tragedy and the chance swerve of Epicurean atoms through the deterministic machine world à la Descartes up to the reintroduction of chance and randomness in scientific theories as diverse as evolutionary theory and quantum physics. In this section, we will see that, as a general rule, philosophy and science have repeatedly tried to drive chance and coincidence out of their domain—unless they could stand for a precise type of causal factor that was required for a specific type of physical explanation—but that, time and again, chance entered anew through the back door.
We will end by concluding that our terms are best understood ex negativo. In order to understand what scientists or philosophers of past and present ages mean when they attribute something to chance, coincidence, randomness or luck, it is indispensable to understand what it is that they wish to exclude. Is it necessity, fate, determinism, causal knowledge, regularity, high probability, or something else? Given the obvious vagueness and contradictoriness of the connotations of our original set of words, it will come as no surprise to see that their contraries are just as ill-defined. Still, there is a strong heuristic advantage to this exercise. Being aware of what it is that we wish to exclude, we, the readers of this essay, will at least have some greater clarity of what it is that we implicitly wish to affirm with our underdetermined words.
1

Etymological Prelude
1.1

Dice and Other Falling Objects

We have opened this essay with the observation that "chance," "coincidence," "randomness," and "luck" may possess precise meanings in specific scientific and cultural circumstances, but that in everyday language, their meanings overlap.2 Let us now add that this overlap is much greater in one language than in another. A particularly striking case is German (and the same is true for Dutch), where the word "Zufall" covers all four English terms: "eine zufällige Begegnung" is "a chance encounter"; "ein seltsamer Zufall" is translated as "a rare coincidence"; "ein zufälliger Passant" would be "a random passer-by"; and "ein Zufallstreffer" could be translated as "piece of good luck." Now, Zufall, this all-encompassing German word, is an old but literal translation of the Latin accidens: "something that falls down" or "upon."

Cadere, the Latin verb for "to fall," stands in fact at the root of several of the words that we are investigating in these pages. To begin with, there is of course the Latin noun casus, "the fall," a word that can describe the falling of snow, but also everything else that literally "befalls" us, however improbable it may be. Casus is therefore also the Latin word for "chance," "coincidence," or "luck." In Italian, it has retained precisely that meaning: "Sei per caso in città domani?" is literally "Are you by chance in town tomorrow?" The English word "case," which barely hides its Latin origin, has lost most of the original significance of casus, although the adjective "casual" still retains some of it, as when we speak of a "casual meeting."

What "befalls" us can be pleasant or unpleasant. Whereas Zufall is neutral in that respect (an event can be a glücklicher or unglücklicher Zufall), the Latin accidens, of which Zufall is a translation, has in many languages assumed a predominantly negative connotation. While the adverb "accidentally" still means "by chance," the noun "accident" has clearly negative connotations. The phrase, "It was an accident," would nowadays never be used with reference to a "fortune" won at the lottery, but most certainly so as to explain why the window is broken. The same negative connotation of "accident" is found in French or Italian, while in German, the oddly inauspicious prefix un- in Unfall does the same trick. Significantly, the French word hazard, which ultimately seems to go back to an Arabic expression relating to the throwing of dice, has had the same double fate as "accident": while par hazard is emotionally neutral, simply meaning "by chance," the English "hazard" and "hazardous"—as in "hazardous waste"—are negatively charged.

But the element of "falling" is even more pervasive than that. Just like "case," the English word "chance" also derives in the last instance from the Latin verb cadere. It has however made a certain detour, deriving ultimately from cadentia, "the ways in which the dice fall," which later became chéance in old French. Just like "hazard," which—as mentioned before—may derive from an Arabic word that also refers to the unpredictable way in which the dice fall, "chance" eventually came to designate whatever happens without us being able to determine it. Seen in this light, Julius Caesar's famous pronouncement, "The die is cast" (alea iacta est), which announced his much thought-over decision to cross the Rubicon and start a civil war, would be an oddly inappropriate metaphor, given that Caesar's was everything but a random decision. But in fact, it appears that he spoke the phrase in Greek, citing a line from a comedy by Menander; the Greek phrase anerrhiphtho kubos should in fact be translated as alea iacta esto, "let the die be thrown," referring not to the decision taken, but instead to the uncertain outcome of the enterprise that was to follow from it (Lewis and Short 1879, s.v. alea).

The word "coincidence" derives from the Latin verb cadere in a more visible way. A "coincidence" takes place when things "fall" (cadere) "together" (co[n]-) and "upon" (-in) something. The word is not ancient Latin, but medieval, and it seems to have first been used in astrology, where coincidentia referred to the joint influence of multiple planets. This genealogy gives us an indication of a basic difference between "chance" and "coincidence": the latter requires more than one thing to happen at the same time. In the sentence, "By chance, I was born into a rich family," you could not replace the first word by "by coincidence." Meeting your neighbour in a far-away vacation location, by contrast, certainly qualifies as a coincidence; after all, you both had to travel there in order for your paths to cross.

These various shades of "falling" are instructive. It is certainly noteworthy how many terms there are in English and other languages that express surprise at a certain event or "occasion" (yet another such word) in terms of a "fall." It is as if the casus, "chance" or Zufall always fell down from above, literally "out of the blue." The proverbial "stroke of luck" would therefore have to be represented by the gesture of a fast downward arm movement.

More indirectly, the same is true for other words, such as "luck," which—though related to Germanic words for happiness and fortune—seems to have entered English as a gambling term. Like "accident," it might originally have referred to the way in which the dice fall, although this time with a uniquely positive connotation. The "falling" of the casus has here been confined to the descent of circumscribed objects on the gambling table. Still, the downward direction has remained intact.
1.2

Fortuna, Wheels and the Lottery

Still related to gambling, but involving quite a different type of movement, is the Wheel of Fortune. In late Antiquity and medieval times, this wheel was the constant attribute of the goddess Fortuna, who was spinning it (either blindfolded, or else maliciously watching) as men and women were literally "rising to fortune" or descending rapidly, "losing their fortune." Whether blind or seeing, Madam Fortune was a puppeteer, we mortals were her puppets. But then, as we have mentioned earlier, she was also regularly depicted in a passive role, herself the victim of unpredictable change. A particularly striking depiction of this latter figure was given by the Roman tragedian Pacuvius, who sketched the following portrait: "Philosophers proffer the view that Fortune is insane and blind and stupid, /And they teach that she stands on a round, spherical rock: /They assert that, where chance (fors) pushes that rock, there Fortuna will fall."3 Once one realizes that the word fors, "chance," stands at the root of the name of the goddess Fortuna, one begins to stare down the mirror cabinet of an infinite regress: we get a situation in which we humans rise and fall, tied to the Wheel of Fortune, while the goddess herself falls from the ball on which she stands, pushed in turn by "chance" (of which one had mistakenly expected her to be the ruler and embodiment).

In his demolition of the pantheon of pagan deities, Saint Augustine in The City of God directs his glance also at Fortuna (Book IV, Ch. 18). Why, he asks, is Fortuna traditionally associated with "felicity"—the Romans had initially endowed her with a cornucopia, and had thus viewed her as an exclusively positive figure—although we know that one can also have "bad fortune?" Such an identification doesn't make any sense, according to Augustine. Further, why should Fortuna be considered a goddess, if she can also bring about bad things? Plato tells us clearly that it is the essence of gods to be good; "how, then, is the goddess Fortuna sometimes good and sometimes bad? Is it perhaps that when she is bad, she is not a goddess, but is suddenly transformed into a malignant demon?" (Augustine 1998, 164). And finally, what should we make of the fact that the name of the goddess is also derived from the word fortuito, that is, "by accident?" How can she be a goddess if what we ascribe to her happened accidentally? In a few lines, Augustine exposes all the contradictions that reside in the concept of a deified principle of randomness, and all the inner tensions between a principle that should account at the same time for luck, happiness, destiny, the vicissitudes of life and personal success.

It is surprising to see that despite Saint Augustine's debunking, Fortuna was highly popular in the Middle Ages. In the meantime, however, her cornucopia had definitely disappeared for the wheel (Vogt 2011). Fortuna had changed from the positive figure ridiculed by Augustine into a highly ambivalent one. This may come as a surprise, as the idea of the random rise and fall of people (and peoples) is of course profoundly un-Christian, as it contradicts the notion of providence. And yet, it survived, and in fact thrived, in the hands of medieval Christianity. Dante Alighieri eulogizes Fortuna as nothing less than the first creature of God, who rules over the world and makes it spin about according to her occult whims, which are ominously invisible "like the serpent in the grass." With respect to God and to humans, she is "general servant and leader," respectively (Divina Commedia, "Inferno," VII.78–84).

It has been argued that the popularity of Fortuna in the Middle Ages is due to the late Roman author Boethius, in whose

Consolation of Philosophy

Fortuna makes a striking appearance, declaring:
This is my art, this the game I never cease to play. I turn the wheel that spins. I delight to see the high come down and the low ascend. Mount up, if you wish, but only on condition that you will not think it a hardship to come down when the rules of my game [ratio ludicri mei] require it (Boethius 1897, II.2p, trans. modified).
Curiously, while Fortuna goes about her pagan business of causing the rise and fall of people, she seems (at least in this passage), to give us the choice between participating in the "ludicrous game" or abstaining from it. In fact, she quickly recalls to her listener the brutal fall of the Lydian king Croesus. The theme of the fall of kings—and here we are back with the previous etymology, of the casus and the "accident"—was popular throughout the Middle Ages. The Carmina Burana warns the powerful of the inevitable turning of the wheel: "too high up/ sits the king at the peak/ let him beware of ruin!"4 In fact, a particularly popular image was that of four kings attached to a wheel, with one ascending (regnabo, "I will rule"), one on top (regno, "I rule"), one dethroned and descending (regnavi, "I have ruled"), and one at the bottom (sum sine regno, "I have no kingdom").
However, Boethius' Fortuna does not only seem to give us the choice between taking a ride on her wheel or leaving it, but Boethius himself, in Stoic fashion, recommends that we should seek our tranquillity irrespective of the vicissitudes afflicting our personal lives. Moreover, he suggests that there is a higher, maybe Platonic or else providentially Christian level at which it all makes sense. It has in fact been suggested that the ubiquitous medieval representations of Fortuna should be interpreted through the influence of Boethius (Vollmer
2009
). The advantage of this explanation is that it helps us explain how it was possible that the pagan Wheel of Fortune could end up defining the shape and iconographical program of cathedral roses and church interiors (see Fig. 
1
).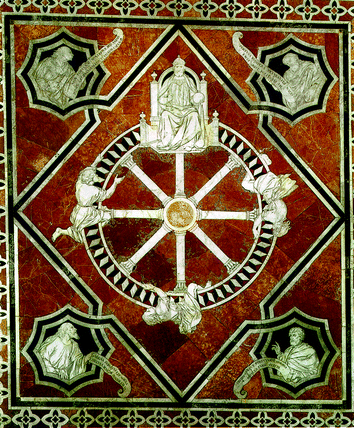 An entirely demythologized, contemporary version of the Wheel of Fortune is the lottery wheel, which is inscribed by numbers corresponding to lottery tickets and a pointer pointing to the rim. The wheel is spun, and when it comes to a standstill, the ticket carrying the number corresponding to the number indicated by the pointer wins. With this device, we have arrived at our last set of terms. Originally, the "lot" was any object—a piece of straw, a chip of wood with a name on it, or, as in so many earlier examples, a die—that was used to determine someone's share, for example in an inheritance. A "lot" of land (and even the trivial "parking lot") still refer to that process of "random allotment" as does the phrase, "what falls to a person by lot." But when we recall the figure of Fortuna spinning her wheel, or deciding the outcome of the draw or the casting of dice, we will understand how "lot" and "lottery" could also come to refer to any "(ill-)fortune" that life has in store for us. The village lottery may assign a lot of land to us; the phrase "It was my lot to be born poor" refers instead to a lottery in which I was not able to buy even my own ticket.
1.3

Randomness and Reckoning with Fortune

With the "randomness" of the lottery's decision-making process, we have arrived at the last word in our etymological survey. There was once an Old Frankish word, *rant, cognate to the English "running," which eventually became randir, "to run fast," in Old French, as well as randon, meaning "rush" and "disorder." From the French, it migrated to English, where it became "at random," which originally meant, "at great speed" and hence "without order" and "haphazardly." By 1650, it had acquired one of its current meanings, by referring to events that took place "without definite aim or purpose." Originally, it was actor-bound: an individual was said to act "randomly," that is, without purpose, for example by pointing at someone while blindfolded. The use of the word as an adjective, as well as the identification of "chance events" with "random events," seem to be of more recent date. Of even more recent date are the mathematical theories of randomness, which are an extension of classical probability theory, or the quantum-mechanical randomizers.

These recent developments are interesting from a philosophical perspective. For once one equates randomness with chance, and once chance becomes calculable, as it did over the past three and a half centuries thanks to the mathematical determination of probability, one somehow also domesticates chance, randomness, and possibly even one's lot. Looking at a set of global statistics, one may now state: "The odds were high that I would be born poor." In Boethius' Consolation (II.3p), we have Fortune asking defiantly: "Do you wish to count out the score with Fortune?" (Visne igitur cum fortuna calculum ponere?). Through the mathematization of probability, we are attempting to do just that: "Reckon with fortune." As several chapters in this book document, this reckoning has taken on high forms of abstraction in various disciplines.

And yet, despite all domestication of chance, luck, fortune, coincidence and randomness in the specialized disciplines, the old meanings have not disappeared. Fortuna may no longer be a deity, but the surprise, the rage, the joy, and the bewilderment that something particular happened to us, of all people, that it had to happen just then and there, has not vanished. Nor have most of the terms and expressions that the Greeks, the Romans and our medieval ancestors used.

Did, then, our etymological exercise tell us anything useful? If we had hoped for a conceptual convergence between the words investigated here, then we were (predictably) deluded. Between the goddess who spins the wheel, the blind and hasty rush forward, life's lottery, the ubiquitous falling of dice, and all other unpredictable coincidences and accidents, there is little that amounts to any overarching notion of how we must "account" for the unforeseen events in life, nature or history. The divergent uses of the words we investigated, and even of single words, is however illuminating. To remind ourselves of the most dramatically ambivalent word, "fortune," we have seen that Fortuna could appear as a goddess of "good fortune," with her cornucopia at the ready; she could be a (still personified) semi-independent cosmic force governing over chance, coincidence and randomness; she could be a way of life that one could choose to follow or else ignore; but "fortune" could also be the well-deserved result of hard work, the danger being, however, that it might corrupt our character.

To be aware of the internal tensions between the various sub-meanings of the words seems to us an important step towards a comprehension of what these words can possibly be intended to achieve. But their full complexity only becomes apparent once one places them into the philosophical and scientific context in which their role in the causal nexus of things was examined. This is what needs to be done next.
3

A Conclusion ex negativo

Our first, etymological, approach has taught us something about the common element of several of the words in our cluster. As our eyes are usually directed ahead of us, a falling object will tend to surprise us. We stop, in shock or pleasantly surprised, to contemplate the unexpected arrival. Such a situational and emotional description of our cluster of concepts—inspired as it was by the verb "falling" that underlies casus, "coincidence," "accident" as well as a number of words related to the falling of dice—will, however, only take us so far. In specific situations, such as when we receive a random assignment or try to calculate our chances of winning in the lottery, the archetypal situation of the falling object will seem quite remote. Moreover, we have seen that languages don't divide the words along similar lines. No English or French word is as broad as the German Zufall, and what has a neutral meaning in one language, such as the French hazard or the Latin accidens, has negative connotations in another.

Our second, main approach has been begriffsgeschichtlich. We don't need to repeat the conclusions of that section once more. Suffice it to say here that Hegel would be dismayed: we have not been able to detect any dialectical progress from the ancient Greeks up to today's physicists in the way in which scientists and philosophers resolved the perennial tension between the predictable and the unpredictable; between the necessary and the contingent; between necessity and chance; or to dismiss fate, fortune, the accidental and the random. Given the developments in evolutionary biology and quantum physics of the past 150 years, it seems rather as if "chance," "randomness," and "coincidence" had been restored to a place of respectability that they had previously lost. Indeed, whether our personal surprise at a given event is merely a sign of personal ignorance or is instead a necessary feature of this universe has once again been elevated to the status of unresolved question.

One thing is certain. Time and again, throughout our pages, it has become evident that any of the words with which we have been engaged could only be understood if we also understood the type of explanation that it attempted to exclude. And precisely because the alternative did not have a stable identity, it was obvious that its anti-pole also had to change meaning. In the course of our chapter, we have found the word "chance" opposed to "fate," "purpose," "providence," "natural laws," "determinism," or simply to "the knowledge of causes." Given this heterogeneous list, it is evident that the common opposite, "chance," was doomed to be a slippery concept.

The helpfulness of understanding our words ex negativo, that is, from their respective contraries, should be evident. It helps understand, for example, the conceptual clash between the ancient atomists and Aristotle. As we recall, Democritus and Leucippus had proposed that the world had come about by necessity, through a blind and mechanical process of atomic combination, because "nothing exists at random." But what they regarded as "necessity" was in Aristotle's terminology mere "chance," because the atomists' cosmogony took place without any plan or purpose. Or take the disagreements over whether divine providence allowed for any fortuitous events. If "chance" is taken to mean that something happened without divine foreknowledge, as Cicero postulated, providentialism is indeed incompatible with it. If "chance" means, by contrast, that "something other than was intended happens on account of other reason," as Boethius argued, then it is compatible with providentialism in the precise sense that the intentions in question are ours, not God's. Or, again, take the conflict between Leibniz and Clarke over whether "a will without reason" amounts to "the chance of the Epicureans" (Leibniz), or whether instead an act of will per definition excludes the "blind necessity of fate" (Clarke). Similarly, when Hugo Boxel objected that necessity was the contrary of freedom, not of chance, as Spinoza had assumed, the latter remarked on "the difficulties experienced by two people following different principles, and trying to agree on a matter." Finally, take the redefinition of "chance" in the early modern period, in which someone like David Hume could claim that there is "no such thing as Chance in the world" (Chance written with a capital 'C'), adding that in a probabilistic sense, one was justified in speaking of "chances," written with a lower cap.

It is often mockingly asserted that philosophy is that academic discipline that deals with questions that have no answers, or, more maliciously, that the reason why philosophers can still engage with two thousand year-old texts is because there has been no philosophical progress in all those centuries. If there should be any truth to this view, it must with equal right be applied to the philosophical aspects of all modern sciences (those grown-up daughters of what up to the seventeenth century was "natural philosophy"). After all, we have seen, maybe with surprise, how in each moment of scientific reflection on the relationship between natural causality, determinacy, and chance, the ancient Greek vocabulary tends to re-emerge. What has been overly evident in C. S. Peirce's decision to re-introduce a Greek term (namely tuchê) for a philosophy based on "chance" is true more generally. The "fortune" of our cluster of words has indeed followed the logic of the Wheel of Fortune: tuchê, "chance," or "randomness," temporarily deposed and "without kingdom," have returned to the top of the wheel, to rule.

In a book dealing with ancient Greek concepts of nature, the famous physicist Erwin Schrödinger once wrote:
By the laws of physics we are forced in each moment to do whatever we do. What is the point then in considering whether it is right or wrong? Where is there any room for a moral law, if the omnipotent law of nature does not provide it with a chance to speak? Today, the antinomy is as unresolved as it was twenty-three centuries ago (Schrödinger 1956, 18).
Copyright information
© The Author(s) 2016
<SimplePara><Emphasis Type="Bold">Open Access</Emphasis> This chapter is licensed under the terms of the Creative Commons Attribution-NonCommercial 2.5 International License (http://creativecommons.org/licenses/by-nc/2.5/), which permits any noncommercial use, sharing, adaptation, distribution and reproduction in any medium or format, as long as you give appropriate credit to the original author(s) and the source, provide a link to the Creative Commons license and indicate if changes were made. </SimplePara> <SimplePara>The images or other third party material in this chapter are included in the chapter's Creative Commons license, unless indicated otherwise in a credit line to the material. If material is not included in the chapter's Creative Commons license and your intended use is not permitted by statutory regulation or exceeds the permitted use, you will need to obtain permission directly from the copyright holder.</SimplePara>