Beauveria bassiana: Biocontrol Beyond Lepidopteran Pests
Part of the Soil Biology book series (SOILBIOL, volume 43)
Abstract
Beauveria bassiana has been extensively employed since the last century for biocontrol of lepidopteran pests. B. bassiana has also been explored for diverse functions including bioremediation of toxic industrial effluents and heavy-metal polluted soils. Investigations on multifarious applications of chemically diverse secondary metabolites of this entomopathogenic fungus offer promising implications in pharmaceutical and agricultural sectors. In addition, the development of eco-friendly bioremediation strategies using abiotic stress-tolerant strains of B. bassiana will contribute to maintain the sustainability of agroecosystem.
Keywords
Entomopathogenic Fungus 
Knockout Mutant 
Conidial Germination 
Insect Cuticle 
Endophytic Colonization 
These keywords were added by machine and not by the authors. This process is experimental and the keywords may be updated as the learning algorithm improves.
10.1

Introduction

Beauveria bassiana, the anamorph stage of Cordyceps bassiana, is a facultative cosmopolitan entomopathogen with an extremely broad host range. First discovered by Agostino Bassi de Lodi (Keswani et al. 2013) in larval silkworms, the fungus grows as a white (hyaline) mold producing single-celled, haploid, and hydrophobic conidia. RNA-sequence transcriptomic studies have revealed the startling ability of this fungus to adapt to varied environmental niches including survival and interactions outside the insect host (Xiao et al. 2012). Thus, the ecological habitat of this entomopathogen extends from the simple insect–host interaction to a broader perspective including plant rhizosphere with a well-equipped growth-promotion attribute (Bruck 2010). A diverse array of plant groups, including the agronomic, medicinal, and cash crops, serve as a host for the endophytic form of this fungus (Ownley et al. 2008; Gurulingappa et al. 2010).

Microbial control of plant pathogens and insect pests not only reduces the dependence on chemical pesticides but also increases sustainability of agriculture. Although the number of registered microbial products has increased in recent years, many potential biopesticides either have not been developed for commercial use or have had limited success due to their pathogen or pest specificity. Moreover, its inconsistent performance across environments, or a lack of understanding of the mechanism(s) of biocontrol, results into ineffective use. Hypocrean fungi, such as

B. bassiana

, offer a quick respite to this problem as they become established as epiphytes and endophytes, thereby enhancing the induced resistance of the plant or direct disease suppression by antibiosis, competition, or mycoparasitism (Ownley et al.

2010

). The detailed host range of

B. bassiana

has been shown in Table 

10.1

.

Table 10.1

Various host ranges of B. bassiana
Fungi

Bacteria

Pests

Rhizoctonia solani

Xanthomonas axonopodis pv. malvacearum

(Coleoptera order)

Lathrobium brunnipes, Calvia quattuordecimguttata, Phytodecta olivacea, Otiorhynchus sulcatus, Sitona lineatus, S. sulcifrons, S. macularius, S. hispidulus, Anthonomus pomorum, Hylastes ater

Pythium ultimum, P. debaryanum, P. myriotylum

Clostridium perfringens

(Hymenoptera order)

Ichneumonidae, Lasius fuliginosus, Vespula spp., Bombus pratorum

Sclerotinia sclerotiorum

Listeria monocytogenes

(Heteroptera order)

Picromerus bidens, Anthocoris nemorum

Alternaria solani, A. tenuis

Yersinia enterocolitica

(Homoptera order)

Eulecanium spp.

Colletotrichum gloeosporioides

Salmonella enterica

(Diptera order)

Leria serrata

Fusarium oxysporum, F. moniliforme, F. graminearum, F. avenaceum

Shigella dysenteriae

(Lepidoptera order)

Hepialus spp., Hypocrita jacobaea, Cydia nigricana

Aspergillus niger, A. parasiticus

Staphylococcus aureus

 

Septoria nodorum

Enterococcus faecium

 
B. bassiana has been included in a schedule as an amendment in the Insecticide Act, 1968, for commercial production as biopesticide and published in the Gazette of India dated 26th March 1999 (Keswani et al. 2013). However, its availability is still limited to some selected states in our country (Singh 2013). The present chapter focuses on the crucial attributes of B. bassiana that are responsible for its biocontrol activity. In addition, certain strain improvement techniques have also been taken under consideration that would augment the in situ action of the fungus. Besides, the heavy-metal remediation by B. bassiana has also been discussed.
10.1.1

Entomopathogenic vs. Endophytic Nature of B. bassiana

B. bassiana is the most appreciated endophytic fungal entomopathogen to date, with a widespread commercial availability as a potent mycopesticide. The fungus establishes itself as an endophyte either naturally, e.g., by stomatal penetration, or with the aid of inoculation methods such as soil drenches, seed coatings and immersions, radicle dressings, root and rhizome immersions, stem injection, and foliar and flower sprays. Hence, it is widely acknowledged as a success in a variety of plants such as grasses; agricultural crops, viz., tomato, cotton, corn, and potato; the medicinal group including opium poppy, cocoa, and coffee; and trees such as Carpinus caroliniana and western white pine (Vega et al. 2008; Ownley et al. 2008). The most preferred protocol for endophytic colonization of B. bassiana includes the use of formulations augmented with solid inert carriers or diluents such as diatomaceous earth, talc, clay, vermiculite, corn cob grits, and alginate gels (Wagner and Lewis 2000; Parsa et al. 2013). Irrespective of the multifarious inoculation techniques, the extent of colonization depends on the type of plant part evaluated, the inoculation method used, and the initial spore density on the plant tissue (Posada et al. 2007; Ownley et al. 2008). While leaves respond best to foliar sprays, roots colonize only to drench inoculation with stems responding equally to both forms. A plausible yet untested hypothesis suggests that the extent of endophytic colonization correlates positively with the extent of endophyte-mediated resistance by the host.

The insecticidal attribute of B. bassiana recommends its use in biopesticide industry with particular reference to the malaria-causing mosquito vector. The spores of B. bassiana have a high affinity for the female Anopheles mosquito. However, for proper infestation, spore sufficiency and direct contact with the insect is required so that the fungus can efficiently penetrate and germinate the insect cuticle. Female Anopheles stephensi, the causal agent of human malaria in Asia, relishes on the dead and dying caterpillars heavily infested with B. bassiana, thereby letting themselves be infested in turn with this fungus. George et al. (2013) premiered a caterpillar sans innovative technique of using oil-formulated dried spores sprayed on a cloth that resulted in the fungal infestation efficiency of 95 % in the mosquitoes. However, the utility of B. bassiana larvicide can be good when we have regulated resistance in bacterial Bacillus sphaericus and chemical larvicides.
10.2

Formulation Types of B. bassiana

Novel isolates of B. bassiana have been recommended for developing an efficient bioformulation of biopesticide and mycopesticide. Primarily, three basic types of formulations have been proposed for B. bassiana.
10.2.1

Conidia Mixed with Metabolites

Eyal (1993) developed a novel formulation using a saprophytic isolate producing oosporin in high yield and evaluated its efficacy as biopesticide. This bioformulation comprising of the fungal conidia (the biologically active form of the fungus) treated with oosporin (produced by submerged culture) provides an effective pest control measure particularly against Aphididae, Delphacidae, Cicadellidae, Cercopidae, Aleyrodidae, Coccidae, Coleoptera, and Lepidoptera. Moreover, it also showed potent application against mealybugs, spider mites, and other foliar insects. The mode of application involves prilling of the mycelia as it assures the retention of the biological activity of the product until application. At the time of application, the dried prill is reactivated post-wetting and further used for treating soil, seed, root, or plant (Eyal et al. 1994). In addition, the amendment with food attractants or vegetable oils rich in oleic, linoleic, and linolenic acids in bioformulation has proved a robust application in stimulation of necrophagy (Jackson et al. 2010).
10.2.2

Extracted Protein

An alternative mode of application suggests the use of finely emulated beauverial protein extract, weighing about 5 kDa, either as granule, wettable powder, or dust combined with inert materials, such as inorganic or botanical, or in liquid form such as aerosol, foam, gel, suspension, or emulsifiable concentrates. The suggested protein content in the bioformulation ranges from 1 to 95 % of the total weight of the pesticide in dry form, while the liquid formulation consists of 1–60 % of the total weight of solids in liquid phase (Leckie and Stewart 2006).
10.2.3

Endophytic Beauveria

Another novel isolate displaying endophytic colonization, reported by Vidal and Tefera (2011), is much cashed upon for commercialization purpose. The said isolate not only enjoys a broad prey range, including root weevils, wireworms, maggots, bugs, aphids, beetles, soil grubs, root maggots, termites, and ants, but also inhabits a diverse range of hosts, such as the vegetable crops and the cash crops. The added advantage of using endophytic isolates is that they posses tolerance against environmental stresses, such as UV, high temperature, rainfall, etc. The fungal strain grows along with the host, and its additional entomopathogenic quality renders a substantial lifelong protection to the host plants, particularly to agriculture crops. The mode of incorporation involves dispersion, spray, gel, emulsion, layer, cream, coating, dip, encapsulation, or granule. Moreover, they may also be incorporated as conventional microparticles or microcapsules.
10.3

Bioremediation of Heavy Metals: Potential Capacity of B. bassiana in the Biosorption of Heavy Metals

Heavy metals render a cumulative harm to the living system by denaturation of enzymes and proteins, production of ROS, displacement of essential metal ions from biomolecules leading to conformational changes, and damage of membrane integrity. Fungi are comparatively more tolerant to heavy-metal stress and thrive well in the acidified environment owing to their adaptation of several strategies of rendering the metal ions into innocuous forms. Hence, their use in bioremediation of industrial effluents and wastewaters containing heavy metals has been reported globally (Rajapaksha et al. 2004). The main principle for bioremediation is biosorption that primarily utilizes amino, carboxyl, hydroxyl, and carbonyl groups of the cell wall for metal binding as elucidated by FTIR analysis. A plethora of fungal species, such as Aspergillus niger, Mucor rouxii, Rhizopus spp., etc., have been reported to be utilized in heavy-metal remediation. Besides this, B. bassiana is reported to efficiently adsorb Cd and Pb from aqueous metal solutions. Physicochemical factors like solution pH and contact time at room temperature positively affected the rate of metal biosorption (Tomko et al. 2006).

Another strategy of heavy-metal uptake by fungal species involves immobilization followed by precipitation. Fungal metal leaching is promoted by proton efflux or metabolites with chelating properties. Metal immobilization can also occur through other processes of reductive metal precipitation such as synthesis of metallic nanoparticles that suggests its novel applications in the corrosion control of metal and stone artifacts. B. bassiana is reported to be endowed with the ability of heavy-metal chelation using oxalates as organic chelators. The beauverial oxalate reportedly chelates a variety of metals, involving iron (iron oxalates were directly sequestered on the fungal hyphae), copper (formation of characteristic "Liesegang rings" due to simultaneous diffusion and precipitation of copper oxalates), and silver (coprecipitation of copper and silver oxalates) (Joseph et al. 2012).
10.4

Secondary Metabolites of B. bassiana: A Boon in Disguise

B. bassiana

produces a plethora of secondary metabolites having multifarious roles not only in pest control but in other human benefits too (Fig. 

10.1

). Some of the essential secondary metabolites of this fungus have been discussed below.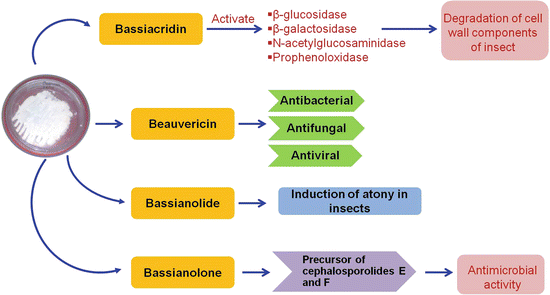 10.5

Internal Machinery that Renders the Fungal Bioformulation a Success
10.6

Strain Improvement in B. bassiana

The entomopathogenic ability of B. bassiana has been extensively studied and advocated in insect pest management (Roberts and St Leger 2004; Wang et al. 2004; Thomas and Read 2007). However, a major hindrance toward its commercialization and application is its slower action compared to chemical insecticides, which enables the infected insects to cause a serious damage to crops until controlled (St Leger et al. 1996). To overcome such obstacles, there have been constant efforts for the improvement of the desired strains which render their quick action and high reproducibility. Various approaches have been employed to develop enhanced B. bassiana strains, including the recovery of mutants after UV-light irradiation (Hegedus and Khachatourians 1995; Meirelles et al. 1997). Other reported methods involve genetic recombination (Viaud et al. 1998) and genetic constructs (Fan et al. 2007; Fang et al. 2005; Joshi et al. 1995; Sandhu et al. 2001).

Genetic engineering, involving the identification and manipulation of the virulent genes, has elevated the insecticidal efficacy and biocontrol potential of the fungus. The expression of a neurotoxin AAIT from the scorpion Androctonus australis and an insect cuticle-degrading protease PR1A from Metarhizium anisopliae has permitted a high efficiency of B. bassiana. When assayed against the larvae of Masson's pine caterpillar Dendrolimus punctatus and the wax moth G. mellonella, engineered strains required less spores to kill 50 % of pine caterpillars (LD50) (Lu et al. 2008).

Insect cuticle is mainly composed of chitin, embedded with proteins and acts as a primary barrier against pathogen attack. B. bassiana produces chitinases and proteases to disintegrate insect cuticle. Two chitinases (Bbchit1 and Bbchit2) have been reported in B. bassiana lacking a chitin-binding domain. However, hybrid chitinases were developed in which Bbchit1 was fused to chitin-binding domains derived from plant, bacterial, or insect sources. The hybrid chitinase gene was transformed in B. bassiana, and the transformed strains confirmed higher levels of virulence resulting in 23 % less time to kill the targeted insects (Fang et al. 2005).

Protoplast fusion may provide as a striking method for genetic improvement of biocontrol efficacy of B. bassiana. Paris (1977) first described the construction of parasexual heterokaryons through a protoplast fusion between two strains of Beauveria tenella. Till date, many intraspecific and interspecific fusions have been reported in genus Beauveria. The fusants obtained through protoplast fusion of B. bassiana with B. sulfurescens have been reported to possess enhanced antagonistic activity against Colorado potato beetle (Leptinotarsa decemlineata) and European corn borer (Ostrinia nubilalis) (Couteaudier et al. 1996).

T-DNA insertion mutagenesis is being used to identify and isolate the genes governing thermotolerance and osmotolerance. A pool of T-DNA inserts of B. bassiana have been constructed for detection of mutants deficient in thermotolerance and osmotolerance ability. Five mutants were reported which posses high conidial yield, virulence, and resistance to adverse conditions (Luo et al. 2009).
10.7

Conclusion

B. bassiana is a profusely growing saprophytic as well as endophytic fungus. However, many of its potentials remain unrealized till date. This chapter was a small attempt to enhance the knowledge of some of the beneficial attributes of B. bassiana. The bioformulations of this fungus will not only be realized in pathogen control but will also augment the remediation of heavy metals. These attributes of B. bassiana are in perfect synchronization with the environment and when optimized will lead to surplus production, thereby reducing its price and making the formulations readily available.
Notes
Acknowledgements
Chetan Keswani and Shatrupa Ray are grateful to Banaras Hindu University, Varanasi, for providing the CRET-UGC fellowship.
Copyright information
© Springer International Publishing Switzerland 2015