Abstract
Internet-connected devices, such as smartphones, smartwatches, and laptops, have become ubiquitous in modern life, reaching ever deeper into our private spheres. Among the sensors most commonly found in such devices are microphones. While various privacy concerns related to microphone-equipped devices have been raised and thoroughly discussed, the threat of unexpected inferences from audio data remains largely overlooked. Drawing from literature of diverse disciplines, this paper presents an overview of sensitive pieces of information that can, with the help of advanced data analysis methods, be derived from human speech and other acoustic elements in recorded audio. In addition to the linguistic content of speech, a speaker's voice characteristics and manner of expression may implicitly contain a rich array of personal information, including cues to a speaker's biometric identity, personality, physical traits, geographical origin, emotions, level of intoxication and sleepiness, age, gender, and health condition. Even a person's socioeconomic status can be reflected in certain speech patterns. The findings compiled in this paper demonstrate that recent advances in voice and speech processing induce a new generation of privacy threats.
Keywords
Audio 
Voice 
Speech 
Microphone 
Privacy 
Inference 
Side channel 
1

Introduction

Since the invention of the phonograph in the late 19th century, it has been technically possible to record and reproduce sounds. For a long time, this technology was exclusively used to capture pieces of audio, such as songs, audio tracks for movies, or voice memos, and for the telecommunication between humans. With recent advances in automatic speech recognition, it has also become possible and increasingly popular to interact via voice with computer systems [96].

Microphones are ubiquitous in modern life. They are present in a variety of electronic devices, including not only phones, headsets, intercoms, tablet computers, dictation machines and baby monitors, but also toys, household appliances, laptops, cameras, smartwatches, cars, remote controls, and smart speakers.

There is no question that microphone-equipped devices are useful and important in many areas. It is hard to imagine a future, or even a present, without them. However, as a growing proportion of audio recordings is disseminated through insecure communication networks and processed on remote servers out of the user's control, the ubiquity of microphones may pose a serious threat to consumer privacy. Research and public debates have addressed this concern, with published reports looking into technical and legal aspects regarding data collection, processing, and storage, as well as access and deletion rights of the data subjects [18, 32, 96]. Yet, the recent privacy discourse has paid too little attention to the wealth of information that may unexpectedly be contained in audio recordings.

Certain characteristics of human speech can carry more information than the words themselves [94]. With the help of intelligent analysis methods, insights can not only be derived from a speaker's accent, dialect, sociolect, lexical diversity, patterns of word use, speaking rate and rhythms, but also from acoustic properties of speech, such as intonation, pitch, perturbation, loudness, and formant frequencies. A range of statistics can be applied to extract hundreds or even thousands of utilizable speech parameters from just a short sequence of recorded audio [19, 80].

Based on literature of diverse scientific disciplines, including signal processing, psychology, neuroscience, affective computing, computational paralinguistics, speech communication science, phonetics, and biomedical engineering, Sect. 2 of this paper presents an overview of sensitive inferences that can be drawn from linguistic and acoustic patterns in audio data. Specifically, we cover inferences about a user's biometric identity (Sect. 2.1), body measures (Sect. 2.2), moods and emotions (Sect. 2.3), age and gender (Sect. 2.4), personality traits (Sect. 2.5), intention to deceive (Sect. 2.6), sleepiness and intoxication (Sect. 2.7), native language (Sect. 2.8), physical health (Sect. 2.9), mental health (Sect. 2.10), impression made on other people (Sect. 2.11), and socioeconomic status (Sect. 2.12). Additionally, we examine information that can be extracted from the ambient noise and background sounds in a voice recording (Sect. 2.13). Section 3 provides a discussion of the presented findings with regard to their limitations and societal implications, followed by a conclusion in Sect. 4.
2

Inference of Personal Information from Voice Recordings

Based on experimental studies from the academic literature, this section presents existing approaches to infer information about recorded speakers and their context from speech, non-verbal human sounds, and environmental background sounds commonly found in audio recordings. Where available, published patents are also referenced to illustrate the current state of the art and point to potential real-world applications.

Figure 

1

provides an introductory overview of the types of audio features and the categories of inferences discussed in this paper.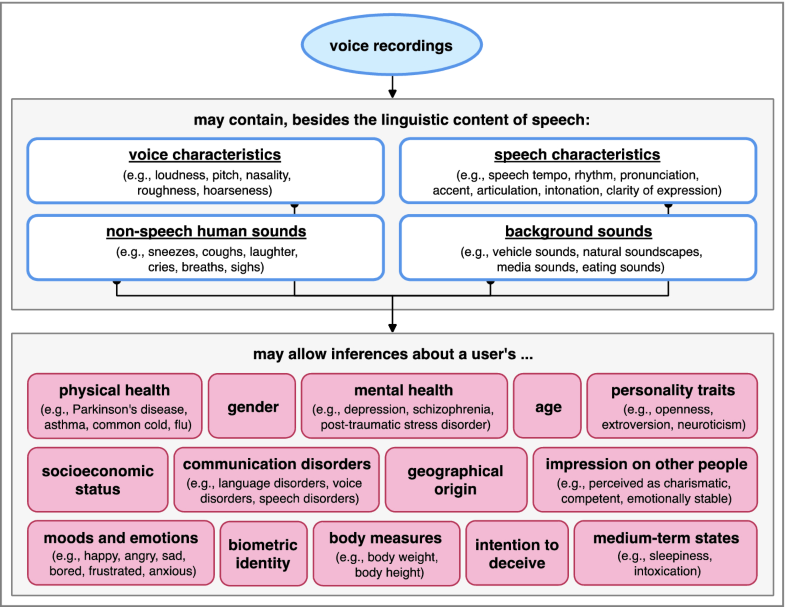 3

Discussion and Implications

As illustrated in the previous section, sensitive inferences can be drawn from human speech and other sounds commonly found in recorded audio. Apart from the linguistic content of a voice recording, a speaker's patterns of word use, manner of pronunciation, and voice characteristics can implicitly contain information about his or her biometric identity, body features, gender, age, personality traits, mental and physical health condition, emotions, intention to deceive, degree of intoxication and sleepiness, geographical origin, and socioeconomic status.

While there is a rich and growing body of research to support the above statement, it has to be acknowledged that many of the studies cited in this paper achieved their classification results under ideal laboratory conditions (e.g., scripted speech, high quality microphones, close-capture recordings, no background noise) [10, 20, 30, 36, 55, 60, 70, 82, 94, 107], which may raise doubt about the generalizability of their inference methods. Also, while impressive accuracies have been reached, it should not be neglected that nearly all of the mentioned approaches still exhibit considerable error rates.

On the other hand, since methods for voice and speech analysis are often subject to non-disclosure agreements, the most advanced know-how arguably rests within the industry and is not publicly available. It can be assumed that numerous corporate and governmental actors with access to speech data from consumer devices possess much larger amounts of training data and more advanced technical capabilities than the researchers cited in this paper. Amazon, for example, spent more than $23 billion on research and development in 2017 alone, has sold more than 100 million Alexa-enabled devices and, according to the company's latest annual report, "customers spoke to Alexa tens of billions more times in 2018 compared to 2017" [108]. Moreover, companies can link speech data with auxiliary datasets (e.g., social media data, browsing behavior, purchase histories) to draw other sensitive inferences [47] while the methods considered in this paper exclusively rely on human speech and other sounds commonly found in recorded audio. Looking forward, we expect the risk of unintended information disclosure from speech data to grow further with the continuing proliferation of microphone-equipped devices and the development of more efficient inference algorithms. Deep learning, for instance, still appears to offer significant improvement potential for automated voice analysis [3, 19].

While recognizing the above facts and developments as a substantial privacy threat, it is not our intention to deny the many advantages that speech applications offer in areas like public health, productivity, and convenience. Devices with voice control, for instance, improve the lives of people with physical disabilities and enhance safety in situations where touch-based user interfaces are dangerous to use, e.g., while driving a car. Similarly, the detection of health issues from voice samples (see Sect. 2.9) could help in treating illnesses more effectively and reduce healthcare costs.

But since inferred information can be misused in countless ways [17, 18], robust data protection mechanisms are needed in order to reap the benefits of voice and speech analysis in a socially acceptable manner. At the technical level, many approaches have been developed for privacy protection at different stages of the data life cycle, including operations over encrypted data, differential privacy, data anonymization, secure multi-party computation, and privacy-preserving data processing on edge devices [46, 72, 106]. Various privacy safeguards have been specifically designed or adjusted for audio mining applications. These include voice binarization, hashing techniques for speech data, fully homomorphic inference systems, differential private learning, the computation of audio data in separate entrusted units, and speaker de-identification by voice transformation [72, 73]. A comprehensive review of cryptography-based solutions for speech data is provided in [72]. Privacy risks can also be moderated by storing and processing only the audio data required for an application's functionality. For example, where only the linguistic content is required, voice recordings can be converted to text in order to eliminate all voice-related information and thereby minimize the potential for undesired inferences.

In advocating data collection transparency and informational self-determination, the recent privacy discourse has put a focus on the recording mode of microphone-equipped devices, where a distinction can be made between "manually activated," "speech activated," and "always on" [34]. However, data scandals show that reporting modes cannot always be trusted [105]. And even where audio is only recorded and transmitted with a user's explicit consent, sensitive inferences may unnoticeably be drawn from collected speech data, ultimately leaving the user without control over his or her privacy. Enabling the unrestricted screening of audio data for potentially revealing patterns and correlations, recordings are often available to providers of cloud-based services in unencrypted form – an example being voice-based virtual assistants [1, 22]. With personal data being the foundation for highly profitable business models and strategic surveillance practices, it is certainly not unusual for speech data to be processed in an unauthorized or unexpected manner. This is well illustrated by recently exposed cases where Amazon, Google, and Apple ordered human contractors to listen to private voice recordings of their customers [22].

The findings compiled in this paper reveal a serious threat to consumer privacy and show that more research is needed into the societal implications of voice and speech processing. In addition to investigating the technical feasibility of inferences from speech data in more detail, future research should explore technical and legal countermeasures to the presented problem, including ways to enforce existing data protection laws more effectively. Of course, the problem of undesired inferences goes far beyond microphones and needs to be addressed for other data sources as well. For example, in recent work, we have also investigated the wealth of sensitive information that can be implicitly contained in data from air quality sensors, infrared motion detectors, smart meters [56], accelerometers [57], and eye tracking sensors [58]. It becomes apparent that sensors in many everyday electronic devices can reveal significantly more information than one would assume based on their advertised functionality. The crafting of solutions to either limit the immense amounts of knowledge and power this creates for certain organizations, or to at least avert negative consequences for society, will be an important challenge for privacy and civil rights advocates over the years to come.
4

Conclusion

Microphones are widely used in connected devices, where they have a large variety of possible applications. While recognizing the benefits of voice and speech analysis, this paper highlights the growing privacy threat of unexpected inferences from audio data. Besides the linguistic content, a voice recording can implicitly contain information about a speaker's identity, personality, body shape, mental and physical health, age, gender, emotions, geographical origin, and socioeconomic status – and may thereby potentially reveal much more information than a speaker wishes and expects to communicate.

Further research is required into the privacy implications of microphone-equipped devices, taking into account the evolving state of the art in data mining technology. As it is impossible, however, to meaningfully determine the limits of inference methods developed behind closed doors, voice recordings – even where the linguistic content does not seem rich and revealing – should be regarded and treated as highly sensitive by default. Since existing technical and legal countermeasures are limited and do not yet offer reliable protection against large-scale misuses of audio data and undesired inferences, more effective safeguards and means of enforcement are urgently needed. We hope that the knowledge compiled in this paper can serve as a basis for consumer education and will help lawmakers and fellow researchers in assessing the richness and potential sensitivity of speech data.
Copyright information
© The Author(s) 2020
Open Access This chapter is licensed under the terms of the Creative Commons Attribution 4.0 International License (http://creativecommons.org/licenses/by/4.0/), which permits use, sharing, adaptation, distribution and reproduction in any medium or format, as long as you give appropriate credit to the original author(s) and the source, provide a link to the Creative Commons license and indicate if changes were made.
The images or other third party material in this chapter are included in the chapter's Creative Commons license, unless indicated otherwise in a credit line to the material. If material is not included in the chapter's Creative Commons license and your intended use is not permitted by statutory regulation or exceeds the permitted use, you will need to obtain permission directly from the copyright holder.