Abstract
Since its introduction in the clinics in early 2000s, the proteasome inhibitor bortezomib (BTZ) significantly improved the prognosis of patients with multiple myeloma (MM) and mantle cell lymphoma (MCL), two of the most challenging B cell malignancies in western countries. However, relapses following BTZ therapy are frequent, while primary resistance to this agent remains a major limitation for further development of its therapeutic potential. In the present chapter, we recapitulate the molecular mechanisms associated with intrinsic and acquired resistance to BTZ learning from MM and MCL experience, including mutations of crucial genes and activation of prosurvival signalling pathways inherent to malignant B cells. We also outline the preclinical and clinical evaluations of some potential druggable targets associated to BTZ resistance, considering the most meaningful findings of the past 10 years. Although our understanding of BTZ resistance is far from being completed, recent discoveries are contributing to develop new approaches to treat relapsed MM and MCL patients.
Keywords
BTZ resistance 
Proteasome 
Ubiquitin 
Mantle cell lymphoma 
Multiple myeloma 
6.1

Introduction

Proteolysis is tightly regulated in eukaryotes through the superposition of sophisticated molecular mechanisms to ensure protein homeostasis. One of the major proteolytic activities is driven by the 26S proteasome that holds a catalytic core particle (CP) or 20S [1]. The proteolytic activity of the 26S proteasome requires the previous ubiquitylation of protein targets mediated by a cascade of thiol-ester reactions implicating at least 3 enzymes named activating (E1), conjugating (E2) and ubiquitin ligases (E3). Removal or remodelling of ubiquitin chains condition the stability, localisation and function of the modified target proteins. The ubiquitin tagging step and the 26S-mediated proteolysis constitute the Ubiquitin–Proteasome System (UPS). Some proteins directly degraded by the CP do not require ubiquitin tagging and are therefore destroyed by an ubiquitin-independent process. The CP can also include proteasome subunits that are specifically involved in the immune response, constituting the immunoproteasome. Furthermore, the CP can be associated to other regulatory subunits such as 11S, which have specialised cellular functions [1]. In sum, the proteasome acts as a central hub of cellular proteolysis, having an impact on multiple processes such as cell cycle, DNA repair, cell differentiation, immune response, amino acid recycling or apoptosis. For this reason, the proteasome became a privileged target for drug development to treat diverse disorders including cancers, infections and inflammation-related diseases, among others [2]. The proteasome inhibitor (PI) bortezomib (BTZ), also known as Velcade, was, in 2003 and 2006, the first Food and Drug Administration (FDA)-approved PI for the treatment of two haematological malignancies: multiple myeloma (MM) and chemotherapy-resistant mantle cell lymphoma (MCL), respectively. Despite the success of BTZ therapy, inherent and acquired resistance in patients were observed, encouraging the development of a new generation of PIs, as well as small molecules targeting enzymes of the UPS. Full understanding of the mechanisms underlying BTZ resistance in cancer is a prerequisite to design new strategies to recover sensitivity to these agents, or to use alternative treatments to lower apoptosis threshold in BTZ-resistant cells. To elucidate these mechanisms several laboratories have characterised a number of patient-derived MM and MCL cell lines with natural or acquired resistance to BTZ. In this chapter we summarise mechanisms of PI resistance reported in the last decade. Even if some of these acquired resistance mechanisms have not yet been confirmed in patients, their discovery may have an impact in upcoming clinical studies. We also review potential strategies to overcome PIs resistance mechanisms, including the use of new signalling pathways inhibitors regulating protein homeostasis.
6.2

Cancers Treated with Proteasome Inhibitors

Resistance to proteasome inhibitors has been observed in various cancer types including haematological, pancreatic or breast cancer [3]. Two of the best responding cancers are MM and MCL and for this reason, more knowledge has been accumulated on BTZ resistance for these haematologic disorders [4].
6.2.1

Multiple Myeloma

MM is a plasma cell malignancy with bone marrow (BM) infiltration of clonal cells and monoclonal immunoglobulin protein in the serum and/or urine of patients. Genomic techniques have allowed a better understanding of the genetic abnormalities of MM by providing a better landscape of this collection of diseases with a common clinical phenotype [5]. Several genetic alterations including chromosomal translocations of the immunoglobulin heavy chain (IGH) gene leading to the overexpression of D-type cyclins, have been considered as primary events. Not less important are the secondary mutations and clonal evolution. The most frequent mutations occur in KRAS, NRAS, FAM46C, DIS3 and TP53, among others. These mutations affect multiple signalling pathways by altering the mRNA levels but also protein expression and stability. In the past decade, this knowledge has contributed to remarkable changes in the clinical practices, such as the implementation of more effective therapies including new classes of drugs like PIs. The combination of BTZ with immunomodulatory drugs (IMiDs) such as lenalidomide or dexamethasone are currently among the most effective treatments in MM (see Sect. 6.4). The success of BTZ as a MM treatment underlies its broad impact on the stability and activity of vital cellular factors.
6.2.2

Mantle Cell Lymphoma

MCL is an aggressive non-Hodgkin lymphoma (NHL) arising from pre-germinal centre of mature B cells and is typically incurable due to the inevitable development of drug resistance, leading to the worst prognosis among NHL subtypes [6]. Classical MCL cells show minimal mutations in the IGH variable region gene (IGHV) and express the transcription factor SOX11. Patients present tumours in lymph nodes or extra-nodal sites and cells overexpressing cyclin D1 are prone to acquisition of additional abnormalities in cell cycle, DNA damage response, or cell survival pathways, leading to a more aggressive disease behaviour. Less typical are leukemic non-nodal MCL developed through the germinal centre with IGHV somatic hypermutation and minimal SOX11 expression. These patients present MCL cells in peripheral blood, BM and spleen. Leukemic non-nodal MCL behaves in a more indolent way with genetic stability over time. Secondary genetic abnormalities, such as TP53 mutations, result in a more aggressive disease associated with poor outcome. Since BTZ was approved by the FDA in 2006 for the treatment of relapsed/refractory (R/R) MCL, numerous phenomena have been described to explain innate or acquired resistance observed in more than half of patients [7]. It is known that the development of resistance to BTZ in MCL is an adaptive process, which takes place gradually and includes metabolic changes and/or deregulated (re)activation of adaptive processes like plasmacytic differentiation, autophagy, or improper activation of intracellular signalling pathways such as PI3K/AKT/mTOR axis or NF-κB, among others.
6.2.3

Proteasomes and Chemical Inhibitors

Proteasomes are macromolecular proteolytic complexes with distinct roles under multiple physiologic or pathologic situations. The 26S proteasome is composed by a 19S regulatory particle that recognises ubiquitin chain as degradation signals [1]. The catalytic core or 20S subunit contains 7 α and 7 β subunits of which β5, β2 and β1 hold the chymotrypsin-like, trypsin-like and peptidyl-glutamyl peptide-hydrolysing activity. Alternative β subunits named β5i, β2i and β1i are expressed in haematopoietic cells in response to pro-inflammatory signals such as cytokines or γ interferon and integrate the immunoproteasome. The 20S core can also associate with 11S, another regulatory particle also known as PA28, REG or PA26 which contributes to the action of the immunoproteasome but can also drive proteolysis in other cellular compartments such as the nucleus [1]. Given the role of the proteasome in the degradation of many critical cellular factors, its potential as therapeutic target attracted the interest of many pharmaceutical companies.

Approved in the 2000s by the FDA, BTZ has been used for decades as one pivotal treatment in MM and MCL. However, its association with neuropathy and the acquisition of resistance in the clinics highlighted the need to develop new PIs that would be more effective, less toxic and would reduce the occurrence of resistance. Each of these aspects was considered for the development of second generation PIs such as marizomib (MRZ), carfilzomib (CFZ), ixazomib (IXZ) and oprozomib (OPZ) [

3

] (Table

6.1

). Unlike BTZ, some of them target all the catalytic sites of the proteasome, like MRZ. They carry a different administration way and reversibility than BTZ, hence reducing off-target effects and toxicities in patients. MRZ and OPZ are in early clinical development, and CFZ and IXZ have been already approved in combined treatment for R/R MM. However, preclinical adaptation to these new agents has already been reported, strengthening the need for alternative strategies to face PI resistance [

8

].

Table 6.1

Proteasome inhibitors
PI

Action

Family

Target

IC50 (nM)

Bortezomib

Reversible

Boronate

β5c

β5i

β1c

7

4

74

Carfilzomib

Irreversible

Epoxyketone

β5c

β5i

5

33

Oprozomib

CFZ oral analogue

Irreversible

Epoxyketone

β5c

β5i

36

82

Ixazomib

Reversible

Boronate

β5c

β5i

3

31

Marizomib

Irreversible

β-Lactone

β5c

β2c

β1c

2.5

26

330

ONX0914

Irreversible

Epoxyketone

β5c

β5i

28

280
6.3

Molecular Origin of the Resistance to Bortezomib

In the last decade, several molecular mechanisms involved in BTZ resistance have been proposed. During the progression of the disease, complex genomic alterations promote the activation of different signalling cascades that contribute to the development of the resistant phenotype. These include defects in the initiation/regulation of cellular stress, cell differentiation, apoptosis and autophagy, in combination with mutations and alterations in the expression of the drug target. On the other hand, microenvironmental factors and epigenetics can be another source of inherent resistance mechanism, as these events can modulate the expression of critical genes, including tumour suppressors [

9

]. The acquired resistance to BTZ is also multifactorial including, among others alterations, the levels of expression of proteasome subunits, crosstalk with other proteolytic pathways or overexpression of efflux pumps (Fig.

6.1

)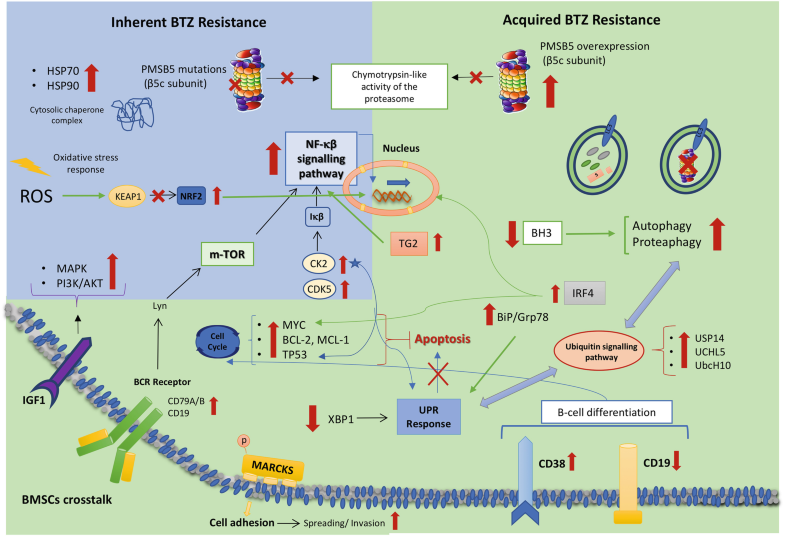 .
6.3.1

Inherent Resistance

In this part of the chapter, we will review available data about molecular mechanisms that have been proposed so far to be at the origin of the inherent BTZ-resistant phenotype in MM and MCL.
6.3.1.1

Mutations in PSMB5 Proteasome Subunit

PSMB5 mutations are known to lower PI binding capacity and to impair the chymotrypsin-like catalytic activity of the 20S proteasome [10, 11] giving a benefit under PI stress. However, both in in vitro and in vivo settings, mutations were detected only in tumour cells that received heavy PI-based therapies, suggesting that the selected mutations emerge lately during the process of clonal selection besides the apparition of the resistant phenotype. Moreover, in vivo, at the time of relapse, cells exhibiting PSMB5 mutations could partially or totally disappear, questioning the role of such mutations at late stages of the disease [12]. Finally, the relevance of PSMB5 gene mutation in BTZ resistance has recently been challenged. Soriano and colleagues have shown that proteasome activity is dispensable in BTZ- and CFZ-resistant MM cell lines suggesting that PSMB5 mutations are likewise not required or involved in the development of BTZ resistance [10] (Fig. 6.1).

In support, no mutations of

PSMB5

were found for years in MM primary cells, even using targeted or high-throughput sequencing techniques on large cohorts of patients including refractory patients or in relapse. The relevance of

PSMB5

mutations and their functional impact were suggested recently. Four

PSMB5

mutations were detected in a single MM patient that received prolonged BTZ-based treatments (Table

6.2

) [

12

]. According to the Darwinian model of myeloma evolution, mutations evolved independently in different tumour subclones. For instance, C63Y and A27P are lost during the course of the disease, whereas A20T and M45I are maintained longer. When tested in vitro, all mutations were functionally relevant and provided PI resistance but at different degree according to both the mutation itself (A20 and M45 having a higher impact than C63 and A27), and the tested PI (BTZ, CFZ or IXZ). The response pattern was similar for BTZ and IXZ, but not for CFZ. CFZ response was less affected by

PSMB5

mutations, likely due to its unique structure and binding [

12

]. No mutations of PSMB5, PSMB6 and PSMB7 were ever described in CFZ-adapted MM cell lines [

10

].

Table 6.2

PSMB5 mutations associated to BTZ resistance in MCL and MM
6.3.1.2

Apoptosis Failure

Defective apoptosis signalling is a key oncogenic mechanism of drug resistance in haematological malignancies, mainly attributed to the deregulation of B cell lymphoma-2 (BCL-2) family members. This family of proteins is composed by prosurvival proteins such as BCL-2, BCL-XL, MCL-1, BCLW and BFL1/A1, as well as proapoptotic factors, represented by multidomain (BAX, BAK and BOK) and BH3-only (BIM, PUMA, NOXA, BAD, BID, BMF, BIK and HRK) proteins. Once activated upon cytotoxic or stress signals, the BH3-only proteins interact with their prosurvival counterparts, leading to the release and oligomerisation of BAX and BAK, permeabilisation of the mitochondrial outer membrane, and the cytosolic release of apoptogenic factors, culminating in the activation of the caspase family of proteases and ultimately, cell death [14].

In MCL cells, BTZ has been described to evoke intracellular accumulation of MCL-1, which harbours a PEST sequence at the origin of its targeting to the proteasome for its degradation. As MCL-1 can physiologically interact with and block the proapoptotic signalling of NOXA, which is transcriptionally activated upon cell exposure to BTZ, the increase in MCL-1 levels can counteract NOXA-mediated activation of BAK, thus delaying the onset of cell death. Therefore, blocking NOXA expression or inhibiting MCL-1 was used to modulate the response to BTZ in MCL [15] (See Sect. 6.4).

Despite concomitant overexpression of several antiapoptotic proteins of the BCL-2 family, MM cells depend primarily on MCL-1 for survival as demonstrated by the use of small-molecule MCL-1 inhibitor and the knockdown of MCL-1 [16, 17]. MM cells are tightly dependent on their microenvironment known to promote MCL-1 expression in plasma cells. For example, bone marrow stromal cells (BMSCs) provide survival signals such as interleukin-6 (IL-6), vascular endothelial growth factor and insulin-like growth factor. IL-6 upregulates MCL-1 transcription and induces MCL-1 dependence [18]. Recently, it has been shown that the long non-coding RNA (lncRNA) H19 is present in the serum of MM patients and that an H19/miR-29b-3p axis promotes MCL-1 translation and BTZ resistance [19]. Thus, MCL-1 is certainly an important target for coping with MM drug resistance.
6.3.1.3

Signalling Cascades

The NF-κB pathway is activated via canonical and non-canonical signalling mechanisms. The canonical pathway regulates inflammatory responses, immune regulation, and cell proliferation, whereas the non-canonical signalling cascade leads to B cell maturation and lymphoid organogenesis. These pathways regulate the expression of genes involved in cell survival and tumour-promoting cytokines. Therefore, its activation has a profound impact in tumorigenesis. The NF-κB pathway can be potentially targeted and is expected to have a high impact on the viability of malignant B cells, due to its interplay with other crucial pathways activated during B cell differentiation, such as B cell receptor (BCR), PI3K/AKT/mTOR, and toll-like receptor (TLR) signalling axes. Constitutive NF-κB activity is often present in MCL and MM. The inhibition of NF-κB is a primary mechanism to induce cell apoptosis after BTZ treatment and plays a role in evading the effect of this treatment in BTZ-resistant phenotypes [20].

A high NF-κB activity was found in tumour cells of BTZ refractory MM patients and in in vitro models of cell adhesion-mediated drug resistance (CAM-DR), reinforcing the notion that the NF-κB pathway signals BTZ resistance [21, 22]. In MCL, this constitutive NF-κB signalling and consequent lack of response to BTZ has been linked to a proteasome-independent degradation of the intrinsic NF-κB inhibitor, IκBα [20]. However, a number of studies have pointed out a lack of correlation between NF-κB activity and BTZ resistance status [23].

NF-κB pathway is also regulated by casein kinase 2 (CK2). CK2 is a multifaceted serine/threonine kinase involved in several cellular processes, and is overexpressed and overactive in many blood tumours. CK2 regulates signalling cascades and molecules that are targeted by BTZ. For instance, it modulates IκBα protein turnover, p53 function, AKT activation, and has a role in the control of endoplasmic reticulum (ER) stress and unfolded protein response (UPR) (see Sect. 6.3.2.3). Inhibition of CK2 enhances BTZ cytotoxic effect in MCL cell lines by down modulating NF-κB and signal transducer and activator of transcription 3 (STAT3) signalling cascades and by potentiating the proteotoxic effects of proteasome blockade. Altogether these results suggest that levels of CK2 are involved in MCL resistance to BTZ [24].

The BCR includes a heterodimer of CD79A/B molecules, and CD19, a key co-receptor. The upregulation of those molecules have been proposed to promote BTZ resistance in MCL cells. While BCR regulates cell survival and proliferation of MCL cells, in MM it has been only linked to monoclonal gammopathy of undetermined significance (MGUS), a premalignant phase of MM [25]. A human phospho-kinase array further pointed out an overexpression of phosphorylated BCR kinases LYN, LCK, and YES as well as a sustained downstream activation of PI3K/AKT/mTOR axis in BTZ-resistant cells. Among these kinases, LYN was functionally associated with the resistance phenotype, rending cells more sensitive to the SRC kinase inhibitor dasatinib and allowing to synergistic activity of the dasatinib/BTZ combination in vitro [26].

In MCL, the redox status has also been pointed out as a crucial mediator of BTZ efficacy, as PIs lead to the generation of large amounts of reactive oxygen species (ROS), modulating at least in part the transcription of NOXA and thus contributing to the cytotoxic activity of proteasome inhibition [27]. The nuclear factor NF-E2 p45-related factor 2 (NRF2) was identified as a key regulator of this response. Indeed, while under physiological conditions it is sequestrated by Kelch-like ECH-Associated Protein 1 (KEAP1) in the cytosol, when KEAP1 is oxidised by ROS, NRF2 is released to the nucleus where it initiates the transcription of genes involved in the adaptive oxidative stress response. Upon BTZ exposure, BTZ-sensitive MCL cells display a sharp increase in the expression of NRF2 target genes, as well as genes related to protein ubiquitylation or proteasome components, while resistant tumours show minimal changes. Accordingly, an elevated expression of NRF2 target genes at the basal level, predicts a poor sensitivity to proteasome inhibition [28]. In line with this, a recent study has highlighted the capacity of ROS to modulate some cancer stem cells (CSCs)-like subpopulations in MCL cell lines and primary cultures and to regulate cell sensitivity to BTZ. Authors showed that O2- was involved in the inhibition of CSC-like cells and in the sensitisation of MCL to BTZ, while H2O2 favoured a CSC-like phenotype, impairing BTZ-induced cell death [29]. This process was associated with transcriptional regulation of two O2- and H2O2 targets, namely MCL-1, and ZEB-1, a WNT-regulated transcription factor that interfered with MCL response to chemotherapeutics. This resulted in the activation of proliferation-associated genes including MYC and CCND1 and the induction of an antiapoptotic gene signature [30].
6.3.2

Acquired Resistance

PI-acquired resistance has multifactorial and interconnected causes and PI-resistant cells show cross-resistant profiles. Among the main mechanisms recognised in MM and/or MCL are upregulation of 20S proteasome subunits including β5c, downregulation of 19S proteasome subunits and overexpression of efflux pumps. Adaptive metabolic changes, modulation of the unfolded protein response, and alteration of autophagy signalling contribute also to PI resistance in MM cells.
6.4

Potential Targets to Recover Proteasome Inhibitors Sensitivity

Given the resistance to PIs observed in some patients, alternative drugs have been tested to overcome resistance as single or combinatorial treatments. Many agents have shown promising preclinical results in terms of safety, specificity and efficacy to treat PI-resistant MM and MCL cells. Already existent or new therapeutic drugs are used to tackle the adaptation of the cells to PIs (Table

6.3

). Cellular mechanisms involved in PI resistance are hence targeted by a wide range of drugs, some of the most relevant are described below.

Table 6.3

Drugs currently used to recover sensitivity to BTZ
Drug name(s)

Mechanism

Molecular target

Pathology

References

P5091

Ubiquitin signal

USP7

MM

[75]

b-AP15

Ubiquitin signal

USP14 and UCHL5

MM MCL

SJB3-019A

Ubiquitin signal

USP1

MM

[78]

O-phenanthroline

Ubiquitin signal

RPN11

MM

[79]

Capzimin

Ubiquitin signal

RPN11

MM

[79]

WP1130

Ubiquitin signal

USP9X, USP5

MM

[80]

EOAI3402143

Ubiquitin signal

USP9X and USP24

MM

[80]

VLX1570

Ubiquitin signal

USP14

MM

[81]

Verapamil

Drug transport

ABCB1

MM

[9]

Reserpine

Drug transport

ABCB1

MM

[9]

Nelfinavir

Drug transport

ABCB1

MM

Lopinavir

Drug transport

ABCB1

MM

[42]

Bafilomycin A

Autophagy

Vacuolar ATPase ATP6V1A

MM, MCL

Chloroquine

Autophagy

Lysosome

MCL

[38]

Verteporfin

Autophagy

p62

MCL

[38]

Orlistat

Autophagy

Fatty acid synthase

MCL

[84]

Perifosine

mTOR/Akt

Akt, PI3K

MM

[85]

Dactolisib NVP-BEZ235

mTOR/Akt

PI3K, mTOR

MCL

[86]

Temsirolimus (Torisel)

mTOR/Akt

mTOR

MCL

[87]

Deforolimus (Ridaforolimus)

mTOR/Akt

mTOR

MCL

[88]

Perillyl alcohol

NF-κB

TG2 signalling

MM MCL

[89]

Selinexor

NF-κB

XPO1

MM

[90]

Ibrutinib (Imbruvica)

NF-κB

BTK

MM MCL

Degrasyn

NF-κB

STAT, DUBs

MCL

[94]

Obatoclax

Bcl-2 proteins

NOXA

MCL

cAMP

Bcl-2 proteins

Mcl-1

MM

[96]

Lenalidomide (Revlimid)

IMiD

CRBN, TNFSF11, CDH5, PTGS2

MCL

Pomalidomide

IMiD

CRBN, TNF, PTGS2

MM

Dexamethasone

Glucocorticoid

Immunosuppressant

NR3C1, NR0B1, ANXA1, NOS2

MM

JQ1

BET bromodomain inhibitors

BRD4

MM

CPI203

BET bromodomain inhibitors

BRD4

MM MCL

PROTACs (ARV-825)

BET-specific target

BRD4 and other BET

MM

[105]

Birabresib (OTX015)

BET bromodomain inhibitors

BRD2,3,4

MM

[101]

Ricolinostat (ACY-1215)

Epigenetic regulators

HDAC6

MM MCL

Decitabine

Epigenetic regulators

DNA methyl transferase

MCL

[107]

Vorinostat

Epigenetic regulators

HDACI

MM MCL

[108]
6.5

Concluding Remarks

Molecular mechanisms that explain inherent or acquired BTZ resistance have been essentially explored in MM and MCL. The identified alterations include mutations in proteasomal subunits and activation of prosurvival signalling pathways that have impact in cell cycle, cell differentiation, apoptosis, and stabilisation of critical cellular factors. Inside the cell, UPS and ALS are major regulators of protein homeostasis and contribute to maintain the balance required to accomplish all protein functions, including the capacity of the cells to respond to BTZ. Beside the malignant cell itself, microenvironment is a crucial factor for impairing PI activity, especially in MM cells, which are heavily dependent on external factors for their growth and response to drugs.

New molecular mechanisms are regularly discovered that have been associated with drug resistance. Some of these mechanisms could be implicated in PI resistance, enhancing the complexity of this process. In the hypothesis of a multifactorial origin, the conception of new and more efficient approaches tackling PI resistance should include combinatorial approaches simultaneously targeting multiple cellular mechanism. In the case of MCL and MM, the development of new types of drug such as IMiDs and BETis used in combination with PIs led to promising results in vivo. Nevertheless, combinatorial treatment could also increase off-target effects and for this reason a better assessment of these treatments has to be performed before been used in patients. The perfect strategy to overcome drug resistance in MM, MCL and other cancer types is far from being identified. Improving our knowledge on the molecular mechanisms implicated in resistance would also open the possibility to elaborate more efficient treatments while reducing the undesired side effects on healthy cells.
Notes
Acknowledgments
MGS and MSR are part of the UbiCODE project and received funding from the European Union's Horizon 2020 research and innovation program under the Marie Skłodowska-Curie grant agreement No 765445. GQ is a fellow from the French Ministry of Education. MSR is also funded by the Institut National du Cancer, France (PLBIO16-251), LASSERLAB-EUROPE grant number 654148 and CONACyT-SRE (Mexico) grant 0280365.
BS acknowledges support from Ligue contre le Cancer and Fondation Française pour la Recherche contre le Myélome et les Gammapathies. GR was financially supported by Fondo de Investigación Sanitaria PI15/00102 and PI18/01383, European Regional Development Fund (ERDF) 'Una manera de hacer Europa'.
Copyright information
© Springer Nature Switzerland AG 2020