A Parametric Framework for Solar Tensile Structures
Bridging the Gap Between Conception and Construction
Abstract
This paper presents a design framework that bridges the divide between creative design-practice and real-word construction. We outline how physical form-finding becomes the core of a tight parametric setup, via digital dynamic relaxation. Even though very specific, this computational method aids creative design exploration, while simultaneously considering relevant constraints for construction and fabrication of a novel sun-sail structure.
The proof of concept is embedded in our broader field of experimentation into lightweight and tensile organic photovoltaic (OPV) structures. The demonstrator presented (Fig. 
1
) is the result of an academic education and research project, intended for the development and prototypical realization of such an innovative typology combining solar shading with energy production.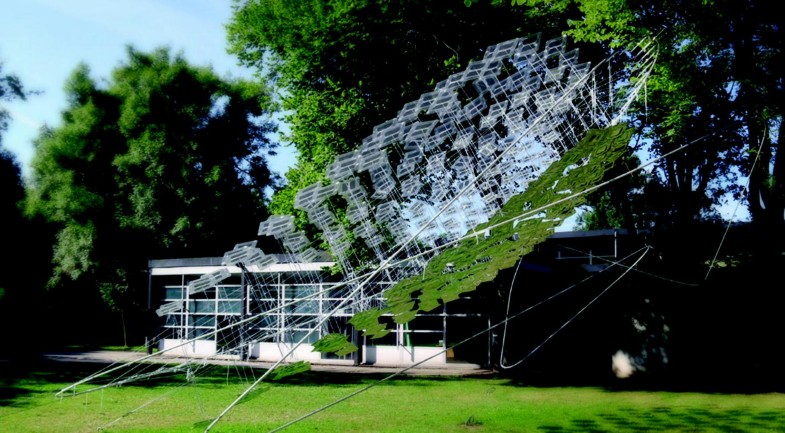 First, we discuss the de facto gap between design conception and real-world construction. Usually this is a serious interface problem for implementing both, methods of creative design practice and fabrication constraints within a single computational model. Second, we introduce our own concept, titled 'Loose Fit' that is based on the notion of the information master builder (Kolarevic 2003) with the aim to increase accessibility of computational design methods. Lastly, we demonstrate through our case study, how a tight design brief based on form-finding methods and analysis of tension structures, allowed relaxing a set of other constraints. Thus, bridging the gap between creative design and construction.
Keywords
Associative geometry modeling 
Digital simulation 
Research through Design-Build 
Form-Finding 
Design methodology 
Copyright information
© Springer Nature Switzerland AG 2020