Abstract
The Introduction shows that the book is not a conventional biography on Mary Elizabeth Barber. It is a critical examination of the knowledge the British-born settler scientist produced from the 1840s to the 1880s and the insights we gain into knowledge production in a settler colony. This chapter is an overview of the research fields: the social history of knowledge and science and white women in the historiography of science in a (settler) colonial context. Hammel takes what she calls a 'relational' approach and cross-contextualises Barber with analogous, parallel and contrary cases. Barber is thus seen within a broader context, and new insights are offered about what enabled or halted her knowledge production. The book is by no means a simple celebration of a hitherto marginalised historical actor; rather, Barber is used to debunk existing biases.
Keywords
Mary Elizabeth Barber 
Relational history 
Gender 
Natural History 
History of Science 
Ghosts 'are a haunting reminder of an ignored past', Banu Subramaniam, professor and chair of women, gender and sexuality studies at the University of Massachusetts, Amherst, asserts in her exploration of the politics of science. It is our duty as historians to render these ghosts visible by 'confront[ing] the past, or [else] the dead never go away, history never sleeps, the truth can never be erased, forgotten, or foreclosed'.1 Shaping Natural History and Settler Society: Mary Elizabeth Barber and the Nineteenth-Century Cape addresses a number of interconnected 'ghosts', or 'ignored pasts', specifically women's contributions to science, the involvement of the South in global knowledge networks and the role of knowledge production in colonial dispossession.
This is a demythologisation of the male-dominated practices of Victorian science and of 'colonial knowledge'. It is a reconstruction of the scientific work of British-born and Cape-raised scientist Mary Elizabeth Barber (née Bowker) and her associates. Barber serves as a prism to explore Victorian natural history and to demonstrate the ways it changed throughout the course of her career from the 1840s to the late 1880s. It is an exploration of her compatriots' and metropolitan colleagues' negotiations and interrelations of gender, race and class in science. The British historian of science, Jim Endersby, has reconsidered three themes which dominate the understanding of Victorian science: the reception of Darwinism, the spread of colonialism and the birth of science as a profession.2 This study adds gender, settler colonialism and South-North engagement in the making of modern science to the exploration. It illuminates the social, political and economic circumstances which shaped Barber's career and determines the nature of the impact which Darwin's books, on the one hand, and the theories and practices forged at the Cape, on the other, had on natural history and society. It correlates these to topics which have generally been studied in isolation from each other: the historical reception of natural history and science in Europe, the British Empire and beyond.
It contributes to the history of science in Southern Africa and the historical reception of Darwinism at the Cape.3 By focusing on an early botanist, ornithologist and entomologist, this book wishes to contribute to a dynamic recent literature on the role of women scholars as collectors, illustrators and authors in the field sciences in Southern Africa.4 Despite developing a strong interest in animal and plant studies and environmental humanities, this study follows an understanding of history as the study of human beings within their temporal and spatial contexts.
When writing about Mary Elizabeth Barber's career, it is important to bear in mind that the word 'scientist' did not exist before the British philosopher and historian of science, William Whewell (1794–1866), coined the term in 1834. Interestingly, he introduced it in a review of a publication by Scottish science writer and polymath, Mary Fairfax Somerville.5 There were very few women scientists like Somerville, and most of them devoted themselves to a single field of expertise. The kind of career Barber was constructing for herself had no precedents. From the 1830s to the 1880s, the lines between what was considered an amateur and who was regarded a professional scientist were still being drawn. Indeed, there were very few individuals who could claim to earn a living from science at the time, and those who did, enjoyed only a low social standing in a scientific community which was still dominated by unpaid gentlemen-scientists such as Charles Darwin.
Mary Elizabeth Bowker was born in 1818 in the village of South Newton, some four miles South of Stonehenge, in Wiltshire, where her parents were farming. Desiring a better future for his eight sons and single daughter than the one he foresaw for them in economically depressed Britain, Barber's father, Miles Bowker, sought a move to the US, British Canada or Australia. However, prospects for gentlemen-farmers in the newly advertised settlement at the Cape suddenly became attractive. In 1819, the British government offered hundred acres of land to any British man older than eighteen, who was prepared to immigrate to the Cape Colony.6 The Bowker family did so and arrived in May 1820 among the so-called 1820 Settlers—parties of white British colonists which were granted land by the British government and the Cape authorities and settled in the eastern part of the Cape Colony in 1820. Henceforward, young Mary Elizabeth would find herself growing up in the second richest floristic region in Southern Africa, on an extended farm near the Kleinemond River, about thirteen kilometres east of Port Alfred, on the eastern frontier of the Cape Colony. She would spend the rest of her life in the Cape.
As a child, Barber soon began to explore her environment. She is said to have been an autodidactic genius who taught herself to read and write when she was four.7 Her father set up a farm school for all his children and those of his employees. Her parents' or teachers' enthusiasm for botany, natural history and natural philosophy may indeed have been contagious?8
She would ultimately paint many more than the one hundred watercolours of plants, butterflies, birds, reptiles and landscapes that remain to this day.9 Sixteen of her scientific articles as well as a volume of poems were published.10 To achieve the publication of her articles, she corresponded with some of the most distinguished British experts in her fields, such as the entomologist Roland Trimen, the botanists William Henry Harvey and Joseph Dalton Hooker, and the ornithologist Edgar Leopold Layard. In doing so, she contributed not only to botany but also to entomology, ornithology, geology, archaeology and palaeontology. While her letters to these experts at the institutions they held an official position at have survived, their letters to her unfortunately have not.
Yet, the remaining sources provide insights into her scientific practices: her many gardens which served as laboratories, where she could observe, paint and experiment with plants and animals, and the collecting and observing of all the natural objects she encountered wherever she went. In her correspondences, Barber emphasised that she did everything in her power to obtain specimens. For example, she reported how, in an effort to procure blossoms from what she thought was the largest aloe species in the world, she began 'shooting off their stems with a rifle bullet!', a method which she considered to be 'rather a novel way of gathering flowers', and which she felt distinguished herself markedly from women collectors.11 Perhaps, fittingly, this particular aloe specimen did turn out to be the largest yet found in Africa, with a height of up to fifteen metres. The tree aloe was eventually named Aloe barberae (now Aloidendron barberae) in her honour—one among at least ten botanical specimens, genera and butterfly species which were named after or 'discovered' by her.12
During the early years of her scientific career, from 1853 till 1868, Barber lived and worked on the farm Highlands, situated on a long ridge about twenty-four kilometres West of Grahamstown (Makhanda),
13
which was the second highest point in the Albany district, and thus particularly well-suited for sheep farming. This remote farm allowed her to focus on her scientific pursuits and provided little distraction. She could immerse herself in the surrounding nature, observe and experiment for long periods of time. The family then lived on the diamond fields in Griqualand West in the 1870s and then moved to the Vaal River. In the 1880s and 1890s, Barber stayed at Junction Drift near Cradock, in Grahamstown, in Malvern near Durban, in Pietermaritzburg and in various other locations in Albany and the Eastern part of the Cape Colony. She also resided in Cape Town for several brief periods, and once, when she was 70, she travelled to Britain and Europe for a short visit (Fig.
1.1
).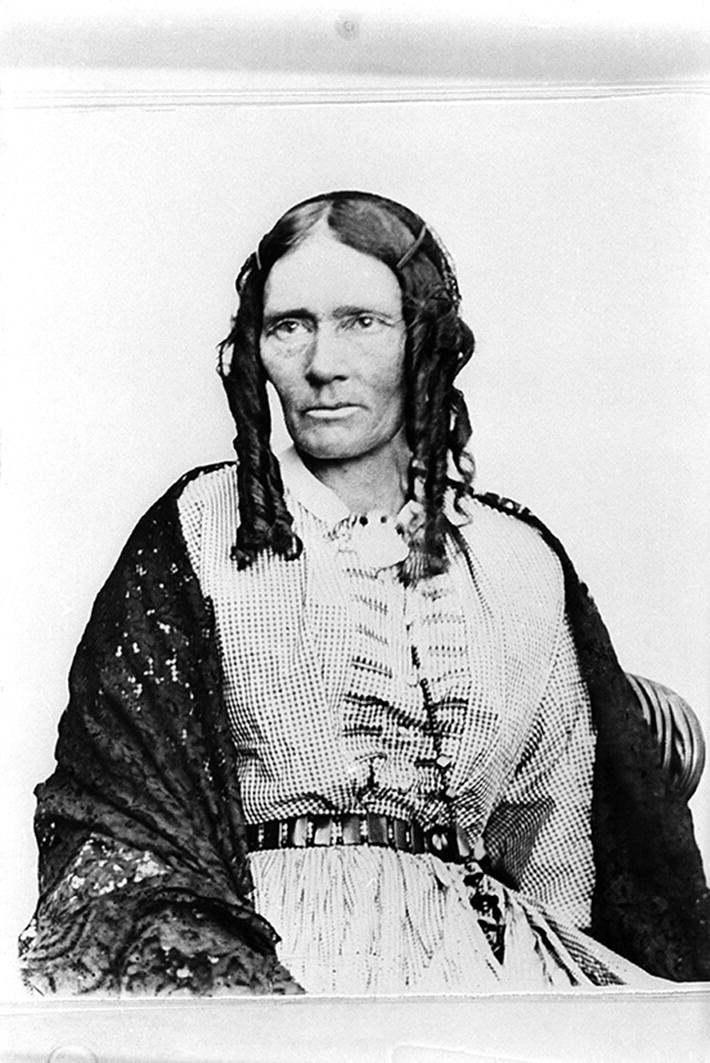 Barber shaped key issues concerning the status of nineteenth-century natural history. For example, the acknowledged botanist and entomologist was one of the first Cape-based supporters of Darwin's theory of evolution by natural selection and opened the practices of 'gentlemanly science' to professionals, amateurs and women. As a shaper of scientific practices and a forger of new theories, Barber's career offers a telling prism through which to explore trends in the development of science and society in the nineteenth-century Cape.
By exploring the impact of the colonial 'periphery' on scientific disciplines, a valuable corrective is provided to the hitherto dominant and Eurocentric approaches, which have viewed modern science as having emerged from the global North before disseminating itself throughout the South.14 The Cape, like other Southern colonial settings, has not yet been recognised as 'a source of refined knowledge', but rather, as Jean and John Comaroff—both professors of African and African American Studies and of Anthropology at Harvard University—have argued, as a 'reservoir of raw fact: of the historical, natural, and ethnographic minutiae from which Euromodernity might fashion its testable theories and transcendent truths, its axioms and certitudes, its premises, postulates, and principles'.15
Barber also offers a prism to assess the role of women in natural history and society in a settler colonial setting. Women were accepted as collectors and illustrators, roles in which they acted as helpmates to men naturalists without invoking any personal scientific ambitions. Ambitious women, such as Barber, who wanted to be recognised as naturalists in their own right, thus faced numerous obstacles and difficulties. The complexities of their marginalisation and other challenges which women academics faced are explored throughout this book.
This study of Barber focuses on Europeans in Europe, in the Cape Colony and other colonies. It is concerned with how Barber constructed herself as a 'white African' in her 'imagined community' of Anglophone Cape Colonials to legitimise her claim of belonging in her adopted homeland. Barber had internalised the discourses of settler colonialism, which reinforced her conviction in a white 'civilising' presence on the African continent, which, in turn, stood for 'progress' and 'modernisation'.16 The emergence of her ideas from both the context of the times and her own life experiences, and how these evolved in conjunction with her endeavours in the emerging fields of botany, entomology, ornithology and archaeology are of particular interest. A special focus lies on her construction of systems of knowledge to give meaning to the changing world around her. The narrative and artistic practices which Barber employed to depict Africans and their environment are also closely analysed.
This book hence lies at the intersection of colonial studies, the social history of science and women's history, and is an analysis of the intertwined relationship between natural history, gender and settler colonialism. To make the connections between these topics visible, certain concepts are used and adapted, which are introduced in the following sections.
Copyright information
© The Author(s) 2019
Open Access This chapter is licensed under the terms of the Creative Commons Attribution 4.0 International License (http://creativecommons.org/licenses/by/4.0/), which permits use, sharing, adaptation, distribution and reproduction in any medium or format, as long as you give appropriate credit to the original author(s) and the source, provide a link to the Creative Commons license and indicate if changes were made.
The images or other third party material in this chapter are included in the chapter's Creative Commons license, unless indicated otherwise in a credit line to the material. If material is not included in the chapter's Creative Commons license and your intended use is not permitted by statutory regulation or exceeds the permitted use, you will need to obtain permission directly from the copyright holder.