The Phytochemical Composition, Biological Effects and Biotechnological Approaches to the Production of High-Value Essential Oil from Geranium
Abstract
Geraniaceae family plants are highly reputed aromatic and medicinal perennial branched herbs. The high economic value of these plants is due to their secondary metabolites, especially essential oil of foliage, which is a complex mixture of volatile phytochemicals, such as terpenes, esters, aldehydes, alcohols, ketones and phenols. The main phytoconstituents of the essential oil belong to the terpenoid group of metabolites, such as monoterpenes, sesquiterpenes, diterpenes and their esters. Of these, geraniol, linalool, citronellol and their esters (50–70%) generally constitute a major portion of essential oil, responsible for its fragrance. Essential oil is biosynthesized in specialized tissues known as glandular trichomes present in leaves, green branches and fresh flowers. Geraniaceae family plants have been highly useful in the perfumery, cosmetics, aromatherapy, pharmaceuticals and food industries. Several pharmacological properties such as antifungal, anti-inflammatory, anti-cancerous, anti-depressant, antibacterial, antioxidant, antiseptic, anti-dysentery, and antidiabetic properties are attributed to the presence of geranium oil. Further, it improves blood circulation, treats congestion, cleans the lymphatic system, strengthens the immune system, and is effective in combating nervousness, constipation, insomnia, anxiety and high blood pressure. The chapter discusses the phytochemical composition, pharmacological properties, genomics of essential oil biosynthetic pathway, enhancement of essential oil yield, and several biotechnological approaches to enhance the quantity as well as quality of essential oil in geranium.
Keywords
Rose-scented geranium 
Pelargonium 
Essential oil 
Terpene 
Geraniol 
Abbreviations
BAP

Benzyl amino purine

DXR

1-Deoxy-d-xylulose reductoisomerase

DXS

1-Deoxy-d-xylulose-5-phosphate synthase

HMGR

3-Hydroxy-3-methylglutaryl-CoA reductase

MEP

2-C-Methyl-D-erythritol 4-phosphate

MVA

Mevalonic acid
12.1

Introduction

Geraniaceae family plants (

Pelargonium

sp.) are perennial medicinal and essential oil-yielding branched herbs, growing in subtropical and temperate climates.

Pelargonium

genus comprises more than 750 species, and most of them originated from Europe and Africa. They have remarkable commercial applications due to their characteristic essential oil. The essential oil distillate of a high-value Geraniaceae plant, rose-scented geranium (Fig.

12.1

), has a very strong, pleasant and rosy fragrance with a minty top; therefore, it is used as a substitution of the expensive rose oil, and is also known as 'poor man's rose oil'. The essential oil of rose-scented geranium was extensively used as a flavouring agent in the food, cosmetic, perfumery, and pharmaceutical industries. The rose-scented geranium essential oil is also well known for its effectiveness in various health-related treatments such as aromatherapy and for its antimicrobial properties (Narnoliya et al.

2017

,

2018a

; Jadaun et al.

2017

). In India, geranium was introduced in the nineteenth century in the southern climate, and now it grows in different parts of India. They are also used as ornamental plants, for example,

Pelargonium x hortorum

and

Pelargonium graveolens

, and grown in gardens and parks to provide a pleasant fragrance (Ravindra and Kulkarni

2015

).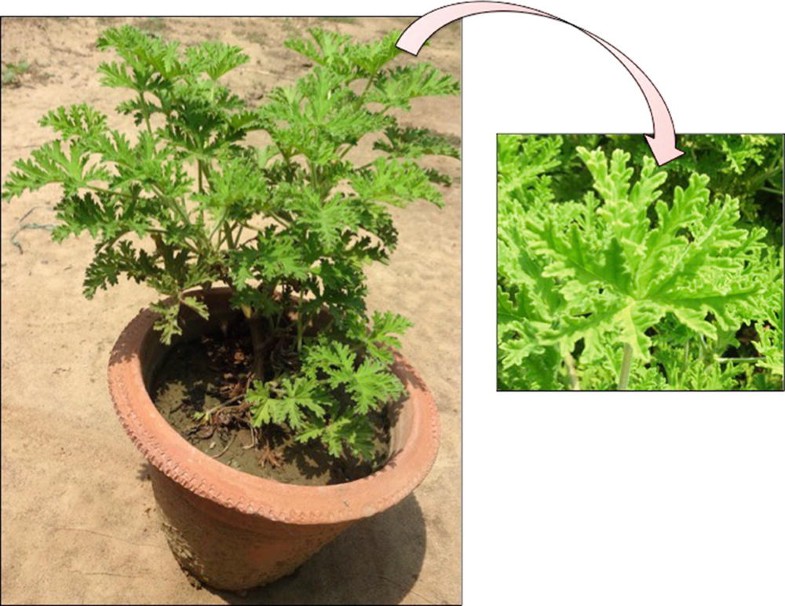 There are four species of geranium which have commercial applications: zonal geranium (Pelargonium x hortorum), scented geranium (Pelargonium sp.), regal pelargonium (Pelargonium x domesticum) and regal ivy geranium (Pelargonium peltatum). The essential oil of geranium is synthesized in specialized cells known as trichomes. The vegetative and reproductive organs of rose-scented geranium are reported to have non-glandular and glandular trichomes. Generally, glandular trichomes are the major reservoirs for essential oil (Boukhris et al. 2013; Narnoliya et al. 2017). More than 200 species of geranium occur naturally, out of which P. graveolens, P. odoratissimum, P. radens, and P. capitatum are more commonly used for harvesting the essential oil. The hydro-distillation method is commonly used for extraction of oil from the aerial part, especially leaves and stem. Essential oil of rose-scented geranium is composed of complex volatile phytochemicals, produced as secondary metabolites, such as terpenes, esters, aldehydes, ketones, alcohols, and phenols. Generally, they play a crucial role in ecological adjustment of the plant and protect it from pathogen and herbivore attacks. Thus, essential oil components are the key substances of rose-scented geranium for its defence system (Babu and Kaul 2005; Jadaun et al. 2017; Ravindra and Kulkarni 2015).
Geranium oil comprises more than 120 phytoconstituents, which include monoterpenes, sesquiterpenes, diterpenes, and low molecular weight aroma compounds. There are three main components, linalool, citronellol and geraniol, and their esters, which constitute more than 60% of total essential oil, and they are responsible for determining its odour. Other components are menthone, nerol, isomenthone, rose oxides, terpineol, pinene and myrcene (Jadaun et al. 2017; Ravindra and Kulkarni 2015). Thus, terpenes are the major contributors in the essential oil of rose-scented geranium, and these terpenes are biosynthesized through the terpenoid pathway. It was less explored in terms of its genomics, transcriptomics, gene expression and enzyme characterization. Recently, the transcriptomic information of rose-scented geranium leaf has been reported, which provides a foundation for the molecular study of primary and secondary metabolism (Narnoliya et al. 2017, 2018a). Recently, a gene, 1-deoxy-d-xylulose-5-phosphate synthase (DXS) was cloned from this plant and its recombinant protein was physico-kinetically characterized and heterologously overexpressed in Withania somnifera to evaluate the effect of DXS on withanolides (Jadaun et al. 2017).
Hence, recent genomics and functionality studies provided a platform to enhance the quantity and quality of essential oil. Using modern biotechnological and synthetic biological approaches, with the aid of available biological information, it could be possible to enhance the productivity of rose-scented geranium's essential oil. Herein, we discuss the phytochemical composition of geranium essential oil, and its biological effects. Further, different biotechnological approaches have also been explored to enhance the production of high-value essential oil.
12.2

Phytochemical Composition of Geranium

Rose-scented geranium is famous for its fragrance produced by its high-value essential oil. Aroma and fragrance of an oil depend on its composition.  Essential oil of geranium contains more than 200 types of organic compounds, of which, terpenes, phenylpropanoids, and some other low molecular weight phytoconstituents occur predominantly (Table

12.1

). Terpenes constitute the major part of essential oil. Terpene is composed of a five-carbon isoprene unit (CH

2

-C (CH

3

)-CH-CH

2

). The common formula of terpene is (C

5

H

8

)

n,

where 'n' is the number of isoprene units. Further, depending on the number of isoprene units, terpenes are classified into different categories such as monoterpenes (2 isoprene units, i.e., 10 carbons), sesquiterpenes (3 isoprene units, i.e., 15 carbons), diterpenes (4 isoprene units, i.e., 20 carbons), triterpenes (6 isoprene units, i.e., 30 carbons) and tetraterpenes (8 isoprene units, i.e., 40 carbons). In essential oil, these terpenes are present either in their simple form or in alcoholic, ketonic, aldehyde, and ester forms, and sometimes as chlorinated or oxygenated derivatives. On the basis of carbon arrangement, these terpenes are present in different structures like acyclic, monocyclic, and bicyclic structures.

Table 12.1

Different types of chemicals extracted from rose-scented geranium
| Chemical Category | Examples of Chemicals |
| --- | --- |
| Aliphatic hydrocarbons | Butane; isoprene; 1,3-pentadiene; hexane; isooctane; octadecane; nonadecane; nonadecene; eicosane; henicosane; decosane; tricosane; tetracosane; pentacosane |
| Aromatic hydrocarbons | Toluene; p-cymene |
| Terpene hydrocarbons | α-Pinene; β-pinene; α-phellandrene; β-phellandrene; camphene; myrcene; sabinene; limonene; γ-terpinene; terpinolene; cis-β-ocimene; trans-β-ocimene; dehydro-1,8-cineole; 1,4-cineole; p-menthadiene; perillene; piperitone |
| Sesquiterpene hydrocarbons | α-Copaene; α-cadinene; γ-cadinene; δ-cadinene; guaia-6-9-diene; β-bisabolene; α-calcorene, calamenene, β-selinene, α-muurolene; γ-muurolene; α-bourbonene; β-bourbonene; 11-orbourbonene; β-caryophyllene; γ-caryophyllene; bicyclo-germacrene; germacrene D; longifolene; β-gurjunene; β-farnesene; (E,E)-α-farnesene; α-cubebene; β-cubebene; β-elemene; β-maaline; α-humulene; viridiflorene; zonzrene; α-ylangene; allo-aromadendrene; selina- 4,11-diene; α-guaiene |
| Aliphatic alcohols | Methanol; ethanol; t-butanol; pentanol; 1-penten-3-ol-2-propanol; hexanol; 2-methylpropanol; 2-dimethylpropanol; 2-methylbutanol; 2-methyl-3-buten-2-ol; 3-metylbutanol; 3-methylpentan-1-ol; cis-3-hexenol; trans-2-hexenol; 3-hexen-1-ol; octanol; 1-octen-3-ol; 2-octanol |
| Terpene alcohols | Geraniol; isogeraniol; isopulegol; 7-hydroxy-6, 7-dihydrogeraniol; nerol; epi-photonerol A; linalool; menthol; isomenthol; neoisomenthol; α-terpineol; citronellol; 7-hydroxydyhydrocitronellol; borneol; isoborneol; terpinen-4-ol |
| Aromatic alcohols | 2-Phenylethyl alcohol |
| Sesquiterpene alcohols | 10-Epi-γ-eudesmol; β-eudesmol; 11-selina-4-α-ol; junenol; farnesol; guaiol; spathulenol; T-cadinol; elemol |
| Aliphatic esters | Methyl formate; methyl butyrate; 2-methylbutyl formate; 3-methybutyl formate; 2-methylpropyl formate; 3-methylpentyl formate; ethyl formate; butyl formate; propyl formate; 2-propyl formate; hexyl formate; benzyl tiglate; (Z)-3-hexenyl acetate |
| Aromatic esters | 2-Phenylethyl tiglate; 2-phenylethyl propionate; 2-phenylethyl butyrate; 2-phenylethyl isobutyrate; 2-phenylethyl isovalerate; 2-phenylethyl acetate |
| Terpene esters | 3-Hexenyl acetate; geranyl formate; geranyl butyrate; geranyl isobutyrate; geranyl 2-methyl butyrate; geranyl tiglate; geranyl acetate; geranyl propionate; geranyl valerate; geranyl 3-methylvalerate; geranyl 4-methylvalerate; geranyl hexanoate; geranyl heptanoate; geranyl nonanoate; geranyl isovalerate; methyl geranate; geranyl 3-methyl pentanoate; geranyl octanoate; citronellyl acetate; citronellyl formate; citronellyl butyrate; citronellyl tiglate; citronellyl propionate; citronellyl valerate; citronellyl 4-methylvalerate; citronellyl isovalerate; citronellyl hexanoate; citronellyl isohexanoate; citronellyl heptanoate; citronellyl octanoate; citronellyl nonanoate; furopelargonic acetate; linalyl acetate; bornyl acetate; neryl acetate; neryl formate |
| Aliphatic ketones | Acetone; 2-butanone; 2-pentanone; 3-methyl-2-butanone; 2-methyl-3-pentanone; 4-methyl-2-pentanone; 2-methylcyclopentanone; 3-methylcyclo-pentanone; 3-metylcyclohexanone; 4-methyl-3-penten-2-one; 2-hexanone; methylheptenone; 6-methyl-5-hepten-2-one; methyl-3-methylcyclo-pentenyl ketone |
| Terpene ketones | Menthone; isomenthone |
| Sesquiterpene ketones | 1,7-Dihydrofurapelargone; furapelargone A; furapelargone B; 7,8 dihydrofurapelargone |
| Aliphatic aldehydes | Benzaldehyde; ethanol; decanal; 2-methylpropanal; 3-methyl-2-butanal; 3-methylbutanal; 2-furfuraldehyde; nonanal; (E)-2-hexenal |
| Terpene aldehydes | Geranial; citronellal; neral; photocitrl A; epi-photocitral A; photocitral B; p-menth-1-en-9-al |
| Terpene oxides | Cis-rose oxide; trans-rose oxide; cis-linalool oxide; trans-linalool oxide; anhydrolinalool oxide; bois-de-rose oxide; nerol oxide |
| Sesquiterpene oxides | Caryophyllene oxide |
| Aliphatic acids | Formic acid; propionic acid; acetic acid; caprylic acid |
| Terpene acids | 6-oxo-6-7-dihydrocitronellic acid; geranic acid; citronellic acid |
| Miscellaneous | Dimethyl sulphide; eugenol; methyl eugenol; furan; α-agarofuran; juniper camphor; vetispirans theaspirans; rose furan; epoxy-rose furan |
The other main component of essential oil is phenylpropanoid, a derivative of the aromatic amino acid phenylalanine, synthesized via the shikimic acid pathway. Cinnamic acid and para-hydroxycinnamic acid are the precursors for generation of a variety of phenylpropanoids. Generally, they are present in nonvolatile glycosylated forms, but whenever they are catalysed by enzymatic reactions, the resultant aglyconic moiety produces a characteristic aroma and flavour (Friedrich 1976; Dudareva et al. 2004).
Thus, essential oil is the key component of rose-scented geranium, and its content in geranium ranges from 0.06% to 0.16%. Approximately 20–170 kg/ha of essential oil was produced by the growers in different locations (Rao 2009). On the basis of available reports in the literature, it is confirmed that citronellol, geraniol, linalool, and citronellyl formate are the major phytoconstituents of geranium essential oil, but their ratio is variable with cultivation zone and season (Džamić et al. 2014). Geranium, grown in Tajikistan, showed that 79 compounds acquire 95.1% of the total essential oil. In this essential oil, 37.5% citronellol, 6% geraniol, 3.7% caryophyllene oxide, 3.1% menthone, 3% linalool, 2.7% β-bourbonene, 2.1% iso-menthone, 2.0% geranyl formate, and 3.1% menthone were reported to be present (Sharopov et al. 2014). Citronellol (36.4%), and citronellyl formate (12.1%) were also found as main components of oil isolated from aerial parts of geranium, grown in Isfahan Province and Central Iran (Ghannadi et al. 2012). Essential oil of aerial parts of geranium grown in Dr. Josif Pančić, an institute of medicinal plants, Belgrade, was reported to contain 55 compounds, constituting 99.32% in weight of total oil in which 59.74% and 0.49% comprises oxygenated monoterpenes and monoterpene hydrocarbons, respectively. Citronellol (24.54%), geraniol (15.33%), citronellyl formate (10.66%) and linalool (9.80%) are present predominantly (Džamić et al. 2014).
There are several factors, such as environmental conditions (climate, soil, humidity, fertilizer and seasonal variation), genotypic and physiological conditions of plants and distillation method, which affect the essential oil yield and composition of phytoconstituents in oil (Rao 2009; Sangwan et al. 2001; Verma et al. 2013; Cannon et al. 2013). There is also a clear ageing effect on the composition of oil in geranium, as shown in a report by Rajeswara Rao et al. (1993) that essential oil yield (1.56%) and geraniol content (34.6%) were the highest in the youngest leaf. Essential oil yield not only varies with different cultivars, but even the same cultivar may produce essential oil of altered composition in different seasons. Different cultivars of geranium, such as Bourbon, CIM-Pawan and Kelkar, showed variations in essential oil production from 0.05% to 0.12%, depending on the season of its cultivation (Verma et al. 2014). Oil composition fluctuates with climatic conditions, as citronellol-, nerol-, geraniol- and menthone-rich oil was obtained from plants grown in temperate climates of high-altitude regions; on the other side, isomenthone-, linalool-, citronellyl formate-rich oil was found in plants grown in lower altitudes (Rajeswara Rao et al. 1990).
Apart from climatic conditions, soil conditions also have a significant impact on the essential oil yield in geranium. An experiment was performed on growing geranium plants under water-stress conditions, and it was observed that essential oil yield was indirectly proportional to the duration of interval periods of irrigation (Putievsky et al. 1990). The nearby vegetation in cultivation area also affects oil yield and composition, as reported earlier that presence and absence of weeds affect the ratio of phytoconstituents in oil. However, some experiments showed that growing another crop at a particular distance from geranium crop does not affect the oil composition up to a significant level, and hence, income can be doubled from the same land area (Rajeswara Rao and Bhattacharya 1997; Singh et al. 2013). The phytochemical composition of rose-scented geranium oil is presented in Table 12.1.
12.3

Biosynthesis of Essential Oil

There are two types of phytoconstituents present in rose-scented geranium, that is, terpene (major) and phenylpropanoids (minor). Terpenes are synthesized through the terpenoid/isoprenoid pathway and phenylpropanoids through the shikimate pathway.
12.3.1

Terpene Biosynthetic Pathway

Terpenes are synthesized by the participation of two pathways, one is the cytosolic mevalonate (MVA) or classical acetate pathway, and another is the plastidial non-mevalonate or 2-C-methyl-D-erythritol 4-phosphate (MEP) or glyceraldehyde phosphate/pyruvate or 1-deoxy-D-xylulose 5-phosphate (DXP) pathway (Fig.

12.2

). There are several evidences to prove that the MVA pathway is operated in cytosol, and endoplasmic reticulum plays a major role in the biosynthesis of sesquiterpenes (C15), triterpenes (C30), and polyterpenes, while the MEP pathway is dedicated for synthesis of isoprenes (C5), monoterpenes (C10), diterpenes (C20), and tetraterpenes (C40). The names of the pathways indicate the name of their first products such as mevalonic acid and 1-deoxy-D-xylulose 5-phosphate in the MVA and MEP pathways, respectively. Isopentenyl pyrophosphate (IPP), and dimethylallyl diphosphate (DMAPP), generated from both the pathways, function as precursors for manufacturing a plethora of terpenes. Terpenes are biosynthesized as a result of several enzymatic reactions catalyzed by terpene synthase enzymes. For many years, MVA was thought to be solely responsible for the synthesis of terpenes, but radioactive tracer experiments revealed the discovery of the MEP pathway for terpene biosynthesis (Lichtenthaler

1999

; Eisenreich et al.

2004

). Although both pathways contribute to the biosynthesis of geranium essential oil, the MEP pathway is predominantly involved, as evident by the higher concentration of monoterpenes than sesquiterpenes in geranium oil (Jadaun et al.

2017

).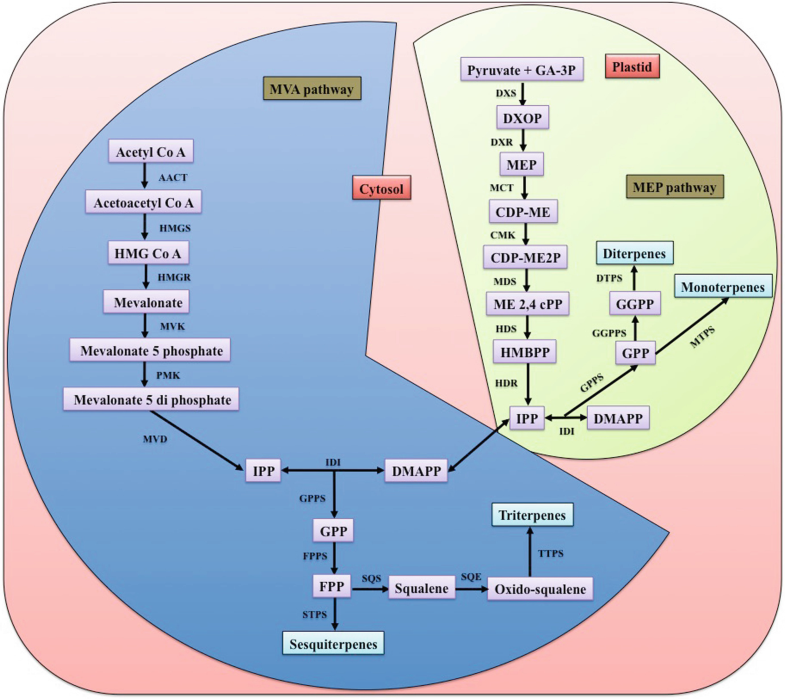 The MVA pathway starts with condensation reaction of two molecules of acetyl CoA, which produces acetoacetyl CoA that further undergoes condensation reaction with another acetyl CoA, and forms 3-hydroxy-3-methyl-glutaryl-CoA (HMG-CoA) as the product. This HMG-CoA is reduced into mevalonic acid (MVA) by the action of the enzyme HMG-CoA reductase (HMGR). Mevalonic acid kinase (MVK) and phosphomevalonate kinase (PMK) further convert MVA into mevalonate diphosphate through the phosphorylation process. Mevalonate-5-diphosphate decarboxylase (MPD) catalyses an ATP-coupled decarboxylation reaction for the production of isopentenyl diphosphate (IPP). IPP can be converted into dimethylallyl diphosphate (DMAPP) by an enzyme, IPP/DMAPP isomerase (IDI) (Fig. 12.2). Recently, a modified MVA pathway was proposed in which mevalonate-5-phosphate underwent decarboxylation forming isopentenylphosphate, which can be transformed into isopentenyl diphosphate (IPP) by the enzyme isopentenyl phosphate kinase (IPK) (Chen and Poulter 2010; Hayakawa et al. 2017).
D-Glyceraldehyde 3-phosphate and pyruvate are the precursor molecules in the MEP pathway. They condense together and form the first intermediate 1-deoxy-D-xylulose 5-phosphate (DXP). In the next step, DXP is reductively isomerized by reducto-isomerase (DXR/IspC) into MEP and subsequently couples with cytidine 5′-triphosphate (CTP), generating methyl erythritol cytidyl diphosphate (CDP-ME) by CDP-ME synthetase (IspD). Then, CDP-ME is phosphorylated to produce 4-diphosphocytidyl-2-C methyl-D-erythritol-2-phosphate (CDP-MEP). An ATP-dependent enzyme IspE catalyses this reaction. At the next level, cyclization of CDP-MEP is performed by IspF, which leads to the generation of 2-C-methyl-D erythritol-2,4- cyclodiphosphate (MEcPP). Further, IspG catalysed transformation of MEcPP into 4-hydroxy-3-methylbutenyl 1-diphosphate (HMBPP). The final step of this pathway is performed by the IspH protein, which generates IPP and DMAPP.
For the synthesis of diverse terpenes, isoprene units are joined together in a head-to-tail pattern. Geranyl pyrophosphate (GPP), a monoterpene precursor molecule, is synthesized by the action of the geranyl pyrophosphate synthase (GPPS) enzyme. Further, addition of one more isoprene unit with GPP by farnesyl pyrophosphate synthase (FPPS) leads to generation of a sesquiterpene precursor, farnesyl pyrophosphate (FPP). Head-to-tail condensation of FPP with IPP produces geranylgeranyl pyrophosphate (GGPP), a diterpene. In the next stage, addition of one more IPP with GGPP forms C25 compounds known as sesterterpene. Interestingly, condensation of farnesyl pyrophosphate (FPP) is used for the synthesis of the C30 triterpene compound (squalene), and in a similar fashion, tail-to-tail condensation of geranylgeranyl pyrophosphate (GGPP) results in the synthesis of C40 molecules, tetraterpenes (Narnoliya et al. 2017, 2018b).
The arrangement of carbon molecules in the chain takes place according to the types of terpenes produced. The most common pattern is cyclization of terpenes, which takes place through generation of an intermediate carbenium ion. For example, heterolysis of the carbon oxygen bond of geranyl pyrophosphate produces geranyl carbocation, and when this carbocation reacts with water, it produces geraniol and subsequently its oxidation leads to synthesis of citral. Granyl carbocation undergoes intramolecular electrophilic addition reaction to generate monocyclic carbocation, which produces limonene after a proton elimination reaction. Further, many other different kinds of intra- and intermolecular interactions are required for the production of diversified terpene molecules (Narnoliya et al. 2017, 2018b).
12.3.2

Phenylpropanoid Biosynthesis

Phenylpropanoids are the aromatic compounds which are synthesized by the shikimate acid pathway, and aromatic amino acids phenylalanine and tyrosine are the precursors of this pathway. The shikimic acid pathway starts with the joining of D-erythrose 4-phosphate with phosphoenol pyruvic acid, and shikimic acid is produced as an intermediate, followed by the generation of chorismate. This chorismate is further utilized in the generation of phenylalanine, which is converted into cinnamic acid, and further, it leads to the generation of multiple types of phenylpropanoids.
12.4

Pharmacological Properties of Geranium

Pelargonium contains a number of pharmacological properties. However, there are very limited reports available on the pharmacological properties of rose-scented geranium. Herein, we discuss the pharmacological properties related to Pelargonium sp. including rose-scented geranium.
12.5

Genomic Analysis of Geranium

Taxonomic position of geranium placed Pelargonium sp. in the Geraniaceae family , and almost all the cultivars grown in different parts of the world are the interspecific hybrids of P. capitatum (L.) L'Herit and P. graveolens L'Herit or P. capitatum (L.) L'Herit and P. radens H.E. Moore. Generally these cultivars are diploids with x = 11 and 2n = 77. These cultivars are sterile so only vegetative cutting is the only way of its propagation (Demarne and Van der Walt 1993). In India, the popular cultivars of geranium are Bourbon, Algerian, and Kelkar.

Nowadays, transcriptome and genomics approaches are largely used to map metabolite pathways in organisms of interest. Transcriptomic data from several medicinal and aromatic plants were available, which revealed genomic information about various valuable metabolic pathway enzymes in Withania somnifera, Centella asiatica, Azadirachta indica, Ocimum sp., etc. (Gupta et al. 2013; Sangwan et al. 2013; Krishnan et al. 2012; Narnoliya et al. 2014; Rastogi et al. 2014). Although transcriptomic data are available from the Geraniaceae family, such as Geranium maderense, Pelargonium x hortorum (Zhang et al. 2013), etc., the essential oil pathway (terpenoid pathway) was deeply explored in a transcriptomic study on rose-scented geranium (Narnoliya et al. 2017). In this analysis, a total of 78,943 unique transcripts were reported, out of which 51,802 contigs showed homology-based functional annotation. Further, putative gene(s) representing terpene, ascorbic acid, tartaric acid and anacardic acid (2-hydroxy-6-alkylbenzoic acid), biosynthetic pathways, hormone metabolism and transcription factors were identified. Transcriptomic study also helped in investigating 6040 simple sequence repeats (SSRs) in rose-scented geranium. The genes encoding DXS, 1-deoxy-d-xylulose reductoisomerase (DXR) and 3-hydroxy-3-methylglutaryl-CoA reductase (HMGR) were successfully cloned, and their expression analysis was conducted in rose-scented geranium. Further, DXS gene was overexpressed homologously (rose-scented geranium) as well as heterologously (Withania somnifera), resulting in enhanced production of the essential oil (Jadaun et al. 2017).

Tartaric acid, a high-value food ingredient, is biosynthesized through the catabolism of ascorbic acid via two routes, C2/C3 (via threonic acid) and C4/C5 (via iodic acid) (Debolt et al. 2007; Loews 1999). Geranium is also able to produce a significant quantity of tartaric acid, but the plant species specific preference for the alternative cleavage pathway was unclear. Some reports suggest that geranium follows the C2/C3 cleavage route, but there are insufficient evidences to prove the absence of C4/C5 route. In our recent transcriptome analysis, a putative gene encoding the key regulator of the C4/C5 cleavage reaction, L-idonate-5-dehydrogenase, was annotated with a notable expression level, stipulating the possibilities of occurrence in both the C2/C3 and C4/C5 route for tartaric acid biosynthesis (Narnoliya et al. 2017).
12.6

Economic Status of Geranium Essential Oil

Rose-scented geranium is one of the most important commercial plants of the perfumery industry. Geranium is cultivated throughout the world for its good-quality essential oil with roselike fragrance. The demand for essential oil is flourishing rapidly due to the increased awareness of its beneficial effects. It is not only useful to the perfumery and cosmetic related activities, but also used in the food and beverage industries because of its application as food additive without any known side effects. In the global market, currently, Europe accounts as the major producer of essential oil, but Asia-Pacific is also emerging as a promising continental leader in the near future (Dhananjay et al. 2010). The estimated demand of geranium oil is around 250 tons per year. The United States, France, Germany, United Kingdom, Japan and other European countries represent a good market for geranium oil. The main producers and exporters of geranium oil are China, Egypt, Algeria, and Morocco. On the differences of the origin of geranium cultivars, they are majorly divided into three main categories—Reunion Island, Egyptian or North African and Chinese. In Reunion Island-type cultivar, the ratio of citronellol and geraniol is almost 1:1, and the other main components are isomenthone, citronellyl formate, and guaia-6,9-diene. Although Egyptian-type oil also contains a 1:1 ratio of citronellol and geraniol, their prominent components are citronellyl formate, isomenthone, and 10-epi-eudesmol. Chinese-type oil is dominated by citronellol and citronellyl formate with low amounts of geraniol. In grading of quality, Reunion type is followed by Egyptian, and then Chinese cultivars. The price of geranium oil ranges from $55 kg−1 to $110 kg−1, although it depends on oil quality, origin country, and market demand, but still, the price is quite high.
12.7

Tissue Culture Study of Geranium

The primary mode of propagation in geranium is cutting, and it rarely occurs through seeds. To maintain the cutting of geranium, a proper cultivation area is required, and due to seasonal variations, in some countries like India, specific growth chambers for protecting the plants against unfavourable conditions are also required. The number of seeds produced from some of the genotypes of geranium is low, and their viability is also very less; therefore, plant regeneration through seeds is not advisable. The cost of geranium seeds is approximately US$120/1000 seeds; therefore, propagation through seeds is very expensive. Another drawback of seed propagation in geranium is that for some time, seed-regenerated plants lack specific horticultural attributes like semi-double florets, and non-shattering features (Harney 1982).

Another reason for low cultivation rates in geranium is susceptibility to many diseases, such as bacterial blight (Xanthomonas campestris pv. pelargonii, and Ralstonia solanacearum), Verticillium wilt, Botrytis blight (Botrytis cinerea), root rot (Pythium spp.), bacterial fasciation (Rhodococcus fascians), rust (Puccinia pelargonii-zonalis), Pelargonium flower break virus (PFBV), etc. (Bi et al. 1999; Nameth et al. 1999; Swanson et al. 2005). So there is a need to develop suitable technologies for achieving a variety of geranium with good agricultural traits like large leaves with high essential oil yield and disease resistance. The tissue culture technology can be applied for maintenance, and improvement of higher-yielding varieties of geranium. The tissue culture techniques can facilitate maintenance and genetic engineering of the desired character in plants, as per the growing demand of geranium in perfumery, pharmaceutical, and food industries. So, here we present a detailed study of tissue culture techniques used in the refinement of phenotypic, and genotypic constitutions of geranium.
12.8

Future Aspects

Geranium is an ornamental and medicinally important crop. Traditionally, it is used for treatment of several diseases due to its unique pharmacological properties. Significant work has been undertaken for improvements in its agronomic traits; however, the functional characterization of genes related to its primary as well as secondary metabolite biosynthesis pathways, especially essential oil biosynthesis pathway, is required at a more vigorous pace. Further, their regulatory elements should be identified and isolated so that the pathway machinery could be manipulated in a desired direction. The protocols for in vitro regeneration and plant transformation were well optimized, which are helpful in incorporation of favourable traits in geranium crop. However, the limitation in geranium is that it has so many species and cultivars, which differ at a high level in their morphology and ploidy level, so any technique optimized for one cultivar may or may not work for another cultivar. Therefore, extensive research is required to enhance the market value of a wide range of cultivars. The industrial importance of geranium depends on the quality of essential oil, so efforts are needed to produce such varieties, which can sustain challenges in the marketing route. Therefore, there is a need to produce improved genotypes, either through classical breeding or through genetic engineering approaches, so that plants with improved essential oil profiling and yield, which exhibit resistance to cold seasons and drought, good aroma, large flower size, altered flower colour and disease-resistant properties can be developed. Interspecific hybridization for the pyramiding of desirable genes can be beneficial in obtaining high oil-yielding varieties. Recent biotechnological and synthetic biology avenues have remarkable potential to further improve geranium for its societal importance.
Notes
Acknowledgements
The authors acknowledge the Department of Biotechnology (DBT), Government of India. LKN and JSJ acknowledge Science and Engineering Research Board (SERB) N-PDF fellowships, PDF/2015/662 and PDF/2016/445, respectively.
Copyright information
© Springer Nature Switzerland AG 2019