Americans and Russians as Representatives of 'Us' and 'Them': Contemporary Swedish School History Textbooks and their Portrayals of the Central Characters of the Cold War
Part of the Palgrave Studies in Educational Media book series (PSEM)
Abstract
Persson analyses five contemporary Swedish school textbooks in order to understand how they present the USA and the USSR's roles in the Cold War, examining how the superpowers' origins and motives are presented, judgements about their actions offered, and the extent to which they are 'othered', stereotyped or homogenised, criticised or made into objects of identification. Persson draws on Arendt's theory of 'mak(ing) visits' to explore how students might recognise themselves in the American or Russian people, arguing that to promote personal growth (and not just produce nationalists), textbooks should encourage recognition with both oppressors and victims. Persson aims to prompt further study on how the most recent shifts in political opinion and Swedish selfconception have affected textbook narratives.
Introduction
Focusing on the textual representation of the two main characters of the Cold War, the USA and the USSR, this chapter presents an analysis of Cold War narratives provided by five contemporary Swedish school history textbooks. The aim is to examine how Americans and Russians are constructed as representatives of 'us' and 'them'. Previous studies on Swedish history textbooks have often focused on the depiction of Sweden and Swedishness (e.g. Danielsson Malmros 2012; Spjut 2014, 2018; Gustafsson 2017), pointing usually to the dominance of nationalist narratives (see e.g. Nordgren 2006; Lozic 2010; Spjut 2014, 2018; Persson 2016) and claiming that most textbook narratives portray an unproblematised 'us'.
Focusing on how Swedish textbooks depict Americans and Soviets as particular 'others' (Loftsdóttir 2010; Andersson 2010), I will also examine what kind of general assumptions about historical others inform these portrayals. My analysis will be based on some conceptual distinctions introduced by Hannah Arendt (1982) and Lisa Disch (1994, 1997). The presentation of my empirical results is thus preceded by a short overview of their main ideas, a brief summary of previous studies on the topic, and a general description of the textbooks analysed.
Theoretical Framework
My theoretical approach draws on the assumption that school history provides an opportunity to promote personal growth by seeking to make use of history as a way of 'visiting' others (Arendt 1982, 1998; Persson 2016). Essentially, this perspective derives from the conviction that history might support young people in their endeavour to be and become the world (Arendt 1998, Persson 2017). This perception highlights an existential potential embedded in history as a school subject (Persson and Thorp 2017; Persson 2017).
History didactics usually refers to the concept of historical empathy when attempting to capture the moral relationship between people in the past and a present user of history (Lévesque 2008). Most often this concept has been employed by representatives of what might be called the tradition of historical thinking, in which historical empathy is normally construed as dependent on individual cognitive capacity. What is emphasised most of the time is thus the need to prevent presentism and the importance of contextualisation, of analytical distance and of scientific procedural competencies (see Blake 1998; Retz 2015).
From an Arendtian perspective, however, such demands, which highlight the necessity to bracket off personal and contemporaneous experience, might be seen as constituting an unfair call for individuals to adopt a comfortable, distanced, touristic view of historical events. From Hannah Arendt's point of view, it is not only such rational distance, but also the opportunity to involve yourself and your own human experiences that must be recognised when conveying narratives about the past (Arendt 1982; Disch 1994, 154). The past is gone; we cannot revive it. However, as humans, our being in the world is both constituted by a forgone past and by our present use of history. As present beings we thus exist in a historical and cultural weaving of human relations (Arendt 1998). Following Arendt, the study of history is thus not merely an activity where an isolated subject rationally inspects stories about the past as distanced objects. It is not even sufficient to consider how actors in the past might themselves have been operating with a rational understanding of history. A humanistic desire to recognise the motivation of other people, Arendt argues, requires not only an awareness of the other's disparity; we should also try to recognise ourselves as historical beings (Arendt 1998; ibid., 202–206).
Additionally, using the metaphor of 'go[ing] visiting' (1982, 43), Arendt also asserts the need for imagination when making judgments about other peoples' actions. She thus stresses the obligation we have to construct stories by imagining how we would have experienced and handled a situation similar to that which others have endured (Arendt 1982; Disch 1994, 157; Disch 1997, 136). In other words, as Disch puts it, 'as a visitor you think your own thoughts but in the place of somebody else' (1994, 159). Consequently, 'visiting' the 'other' does not mean that we can fully embrace others' experiences. If we do not pay attention to the otherness of others, we insensitively make ourselves at home in what should be regarded as someone else's household. Such a naïve attitude derives from the will to assimilate the experiences of another (which is impossible), according to Arendt (1982, 43) and Disch (1994, 161–162, 168; 1997, 136). Or, as Disch notes, 'Arendt suggests that there is all the difference in the world between closing your eyes to the world, claiming to see through the eyes of someone else, and attempting to visit – see with your own eyes – someone else's position' (Disch 1994, 163).
Drawing on Arendt, Disch (1994, 1997) further distinguishes between recognising the circumstances of the other that will create distance, and visiting the perspectives of the other (Disch 1994, 154): 'the work of the imagination when visiting is twofold. It distances me from the familiar and takes me to standpoints that are unfamiliar' (ibid., 160).
Before this backdrop, my analysis of the portrayals of Soviets and Americans in Swedish textbooks will raise three questions: (i) Are the two main characters of the Cold War constructed as possible objects of identification and deprecation? (ii) Do the depictions of their acts and experiences contain elements of recognition? (iii) Are these acts and experiences situated in a way to create a basis for understanding?
I will proceed in three steps: First, I will investigate how the origin and the development of the Russian and American societies are narrated. Who are they and where do they come from? In what sense do the textbook portrayals of Russians and Americans embrace different kinds of plurality? Second, I will explore the motives ascribed to the two peoples and their leaders: With what intentions are they assumed to act? In what way are their acts situated? Finally I will analyse what judgements are passed in terms of guilt: How, on what basis and from what location, does the textbook retroactively judge the people and the leaders of the USA and the USSR?
Results from a Previous Study
Sweden is often described as a small nation highly reliant on its international affairs. Until the independence of Finland one hundred years ago, Russia in the east and Denmark in the west have often been attributed great importance in traditional Swedish narratives. Consequently, since the second part of the 19th century it has seemed as if the narrative of a constantly threatened homeland has been rather unopposed in Swedish history textbooks (Persson 2016).
Regarding later post-war events, it seems the portrayal of a peaceful nation trapped between the eastern and western hemispheres correspondingly includes a similar connotation (Danielsson Malmros
2012
, 114). Unlike Denmark and Norway, Sweden has never formally been part of the NATO alliance. For some time, the self–image of a third way, a compromise between socialism and capitalism, remained a strong trend in public historical culture (Zander
1998
). Nevertheless, previous research on Swedish history textbooks has shown that the depictions of the two superpowers changed notably during the Cold War period. Based on an analysis of almost five hundred textbooks in history, geography, and social sciences published between 1930 and 2004, Holmén (
2006
) shows that the picture of the Soviet Union was at its most positive right after World War II. During the late 1940s the previous description of the USSR as an undeveloped country was replaced with a much more compassionate description.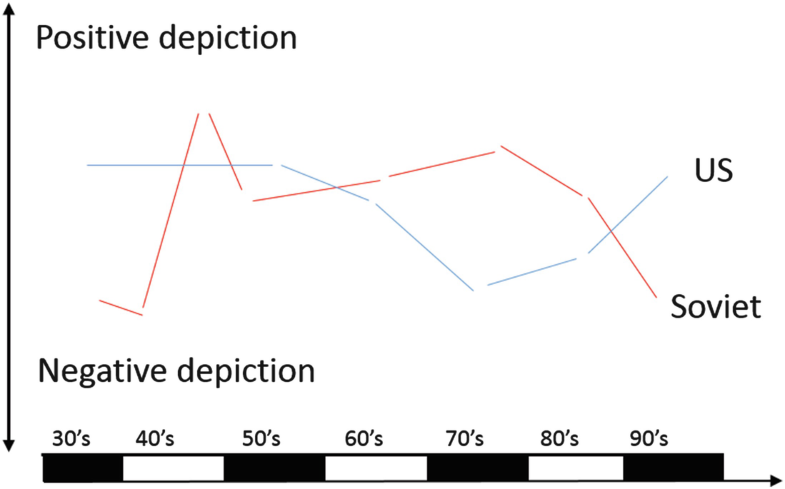 However, already in the mid-1950s both political opinion and the textbooks were showing a much more condemning tone against the lack of democracy in the USSR. From Holmén's (2006) perspective, this is mainly explained by a wish to ensure American support during a period when Swedish military capacity was weak. Similarly, he stresses how the reinforcement of the Swedish military force led to the more US-critical approach presented in textbooks of the 1960s. Holmén notes the most anti-American stance, however, in Swedish textbooks of the more radical 1970s. These contain descriptions of social problems and betrayed ideals, and their critique in these narratives appears directed particularly at portrayals of 'underdogs', such as Native Americans and the Vietnamese.
During the 1980s, criticism was directed both towards the USA and the USSR. However, after the collapse of the latter in 1991, distancing from the Russians increased. The Centrally Planned Economy (CPE) system is described as a deficient alternative to the market economy and the undemocratic aspects of the USSR are given a prominent position in narratives published from the 1990s (Holmén 2006).
The present study was carried out more than a decade after Holmén wrote his thesis (2006). In the meantime, both the historical and political culture in Sweden and the educational system had undergone a considerable transformation. Far from the previous declaration of non-alignment and neutrality, several Swedish political parties nowadays argue for the necessity of Sweden joining NATO. At the same time, depictions of Russia in the public sphere and in mass media have become increasingly critical.
Simultaneously, since 2011 a major educational reform has been implemented within Swedish compulsory schooling. Regarding history, this policy change particularly includes a more detailed list of content knowledge, more national tests and a more explicit emphasis on disciplinary skills (Persson 2017, 7–11). Source criticism, the use of history, and other disciplinary concepts have thus permeated the new history curriculum. Several Swedish history didactics scholars have described this latter tendency as a striving towards a more academic and analytically distanced approach to history education (e.g. Persson 2017, 18–20).
Textbook Sample
Unlike many other countries, the Swedish government no longer has any control over the textbooks used in schools. Since 1991, textbook production relies on private companies and the free market. I therefore chose the best-known titles (Utkik 2015; SO.S. 2015; PULS 2009; Levande Historia 2012) from the three largest Swedish publishing houses (Gleerups, Liber and Natur & Kultur), as well as one textbook from a smaller publishing house, Sanoma: Prio (2016).
As we can see from the following graph, each book comprises between 222 and 390 pages of text, of which between 42 and 99 pages are devoted to the period between 1945 and 1989 or 1991. In all textbooks the majority of the content deals with international relations during this era. In most cases the East-West conflict is given about the same amount of space as North-South tensions during the period in question.
Table 6.1
Table Showing an Overview of the Main Chronological, Geographical and Content-related Points of Focus in the Four Textbooks under Examination
 

Total number of pages in text

Pages devoted to the Cold War period (1945–1989/91) vs. 1989/91–

Pages devoted to international vs. national (Swedish) affairs (in percentage)

Pages devoted to East–West gap vs. North–South gap (in percentage)

Pages devoted to politics/economy vs. culture/everyday life (in percentage)

PULS 2009

345 pp.

56 vs 18 pp.

76 vs 24%

31 vs 29%

82 vs 18%

Utkik 2015

343 pp.

62 vs 17 pp.

66 vs 34%

24 vs 6%

75 vs 25%

SO.S 2015

390 pp.

76 vs 18 pp.

83 vs 17%

14 vs 14%

95 vs 5%

Prio 2016

222 pp.

99 vs 67 pp.

76 vs 24%

14 vs 18%

25pp vs 32pp

76 vs 24%

Levande hist. 2012

435 pp

42 pp vs 9 pp

80% vs 20%

35 vs 16%

79 vs 21%
Regarding descriptions of the Cold War as such, the five books examined comprise 17–28 pages. With no exceptions, those pages largely (82–100 percent) deal with political and economic aspects of the conflict.
Table 6.2
Table Showing the Treatment of the Cold War in the Four Textbooks Examined
|   | Total number of pages in text | Pages devoted to the Cold War as such | Pages devoted to the Cold War (in percentage) | Pages dealing with the Cold War, devoted to international vs. national (Swedish) affairs | Pages dealing with the Cold War, devoted to politics/economy vs. culture/everyday life |
| --- | --- | --- | --- | --- | --- |
| PULS 2009 | 345 pp. | 25 pp. | 7% | 64 vs 36 % | 100 vs 0 % |
| Utkik 2015 | 343 pp. | 30 pp. | 8% | 83 vs 17% | 90 vs 10% |
| SO.S 2015 | 392 pp. | 17 pp. | 4% | 88 vs 12% | 94 vs 6 % |
| Prio 9 2016 | 222 pp. | 28 pp. | 13% | 96 vs 4% | 82 vs 18% |
| Levande historia 2012 | 435 pp | 18 pp | 4% | 100 vs 0% | 100 vs 0% |
Discussion
The purpose of this article has been to examine how Swedish textbooks construe Americans and Russians as representatives of 'us' and 'them'. The results that this study has yielded unveil insight as to how Russians and Americans are framed as objects of identification. By taking as my point of departure Lisa Disch's conceptualisation of Hannah Arendt's call to 'pay a visit', I furthermore intend to discuss how these two actors are textually treated as representatives of 'us and 'them'. In what respect do the depictions contain elements of recognition, and to what extent do they express the will to situate and understand the acts and experiences of these two historical players?
Regarding the portrayals of the Russian people and the Soviet Union, it seems reasonable to claim that readers of these Swedish history textbooks are offered limited opportunities to 'pay visits' in the Arendtian sense. To begin with, the character of the Russian people is repeatedly described as inexplicably passive. Most things seem to 'just happen'. No one likes the Bolsheviks , and no one wants Stalin in power, yet these entities seize power nevertheless. The situation appears terrifying and chaotic, but still the Russian people do not take action. Instead they are described as rendered passive and oppressed by the system.
Another problematic aspect is that the Russian people often appear as a homogeneous group. A great deal of what is said about the Russian person as a human being is therefore foreign and odd. Russians are described as people who are drunk at work, seeking solace in vodka. Their actions often seem motivated by malevolence and betrayal. In one case, Swedish textbook readers learn that a Russian man who was denied sex by a girl could take revenge by turning her in to the Secret Police.
Portrayals of Americans and of the USA appear to be strikingly different. Although there are also narratives of terrible oppression of Native Americans and African Americans, we also repeatedly hear stories about active, young and industrious immigrants. By references to famous brands such as Ford and Disney, well-known cultural figures such as Chaplin and Mickey Mouse, and great inventions such as the light bulb and the automobile, there should be opportunities for recognition on the part of the readers.
Furthermore, there are variations in how critical elements in the history of the USA and the USSR are presented in the textbooks studied. While an explicitly critical stance is taken in regard to the American atrocities towards African-American citizens and civilian Vietnamese, these are also connected to portrayals of how other Americans protest and try to bring about change. The Russian people, on the other hand, are portrayed as inexplicably passive objects, derived of agency, rendering the American people all the more active, reasonable and individually differentiated.
A similar difference can also be noted when the textbooks set out to explain the motives behind the actions of American and Soviet leaders during the Cold War. The USSR appears not only as the most active party in the escalation of the conflict; the motives of the Soviet leaders are rarely given any rational explanation. Apart from Stalin's hunger for more power, the reader is merely given declarative examples of how Soviet troops quash freedom-longing peoples' efforts towards democracy. In comparison, the actions of the USA appear considerably more rational in the sense that they act according to economic incentives and a logical ambition to limit the ideological influence of the USSR in other parts of the world.
Drawing on Arendt (1982, 1998) and asking to what extent the readers of these textbooks are given the opportunity to relate to these two historical actors, we can ascertain that whenever it comes to the Russians the voice of the textbook narrative is conspicuously often that of the distant beholder or tourist. The challenges that Russian people face seem to have very little in common with the situations 'we' (Swedish students) usually face. Generally speaking and beyond the particular case of the Russians, the distance is greatest when the textbook narratives implicitly indicate a moral assessment. The reader is always invited to identify with the victims of Soviet or American deeds. On the contrary, the acts of the perpetrator are rarely ever contextualised.
The perspective of the victim can in many ways be ethically appealing in a school context. The risk of this approach is, however, that it may promote a use of history where we from the vantage point of our safe contemporary world, like judging spectators, contemplate historical wrongdoings. We make no attempts at 'visiting', and the history of human atrocities thereby becomes a mere declarative description of someone else's morally condemnable acts. In the worst case scenario, the school subject of history may in this way become an activity that obstructs our younger generations from raising critical existential questions about what it means to be human.
Copyright information
© The Author(s) 2019
Open Access This chapter is licensed under the terms of the Creative Commons Attribution 4.0 International License (http://creativecommons.org/licenses/by/4.0/), which permits use, sharing, adaptation, distribution and reproduction in any medium or format, as long as you give appropriate credit to the original author(s) and the source, provide a link to the Creative Commons license and indicate if changes were made.
The images or other third party material in this chapter are included in the chapter's Creative Commons license, unless indicated otherwise in a credit line to the material. If material is not included in the chapter's Creative Commons license and your intended use is not permitted by statutory regulation or exceeds the permitted use, you will need to obtain permission directly from the copyright holder.