Roots of Complexity in the Self-referential Genetic Code
Abstract
The genetic code is the correspondence between 'letter' units that cells utilize for translation: triplets of bases in the producers (genes) and amino acids in the products (proteins). The self-referential model indicates that the codes resulted from proto-tRNA dimer-directed protein synthesis. The dimerized proto-tRNAs became codes when the peptides they produced bound back to them and stabilized the correspondence between the units and the protein production system. Anticodons are representative sites of the initial binding oligomers that guided the complementariness at dimerization. The process of producing stabilized associations is a 'dynamic, epigenetic kind of memory'. The associated system is a module for the construction of polymers—genes, in the realm of 'memories in strings.' Memories guarantee stability while plasticity refers to the dynamics, which are the two main and interdependent characters of the living. Further stabilization and partial autonomy come from diversity in proteins at construction of structures and functions for the metabolic flow network. The metabolic system remains dependent on the environment, in a tense relationship with the degradation it provokes. A necessary component of biological complexity is the plasticity in behaviors, which mediates the diversity, adaptations and open-ended evolution. It is constitutive to protein structures and functions. Plastic behaviors are enhanced through the network organization of the system. Interactions that build networks are dependent on the wide range adhesiveness and binding sites of proteins. The model indicates that networks of nucleoprotein interactions are superposed on those of anticodon dimers, while all components are polymers with variable sequences. The complex behaviors of the resulting multi-synthetase complexes are now minimally rationalized.
Graphical Abstract
(Left, bottom)
The encoding process
A module is a simple network of tRNA pairs. The first module encodes the anticodon pairs (1) 5′G
GG
:Y
CC
3′ and (3) G
GA
:Y
CU
. Complex are the many cycles of evolutionary adjustments between the sequences of the synthetases and of the tRNAs (Right, top)
The ribonucleoprotein network in the multi-synthetase complex of mammals
There are nine enzymes [highlighted pink] and three auxiliary proteins [numbered]. Interactions via anticodon pairs are in straight lines, via protein binding in hand-drawn curved lines. The latter are more abundant upon the subnetworks that are less connected through the tRNA pairs and that join central A:U triplets.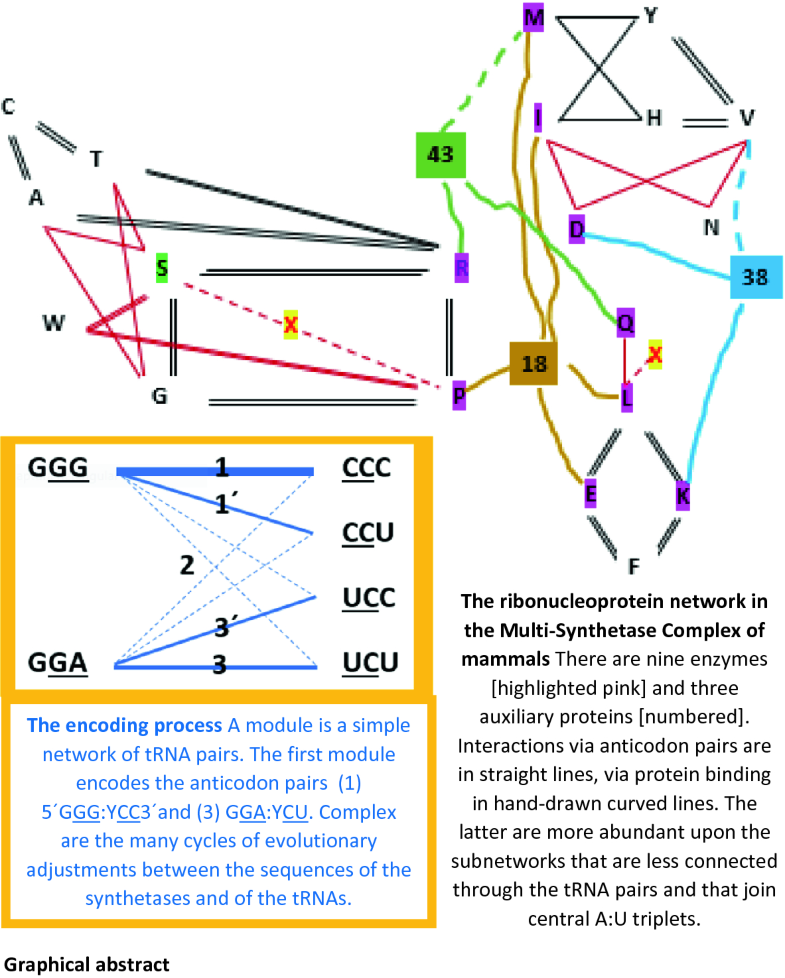 Keywords
Genetic code 
Self-reference 
Coherence-decoherence 
Memory 
Metabolic flow 
Plasticity 
Networks 
tRNA dimers 
Multi-aminoacyl-tRNA synthetase complex 
Cohesiveness 
Notes
Acknowledgements
The friendly collaboration and support of Gustavo Maia Souza and Alfredo Pereira Junior, personally and along our journey in the self-organization group of UNICAMP.
Conflicts of interest
No conflicts of interest are involved with the present communication.
Copyright information
© Springer Nature Switzerland AG 2019