Abstract
In this chapter, I introduce the topic. I show how I became aware of a widespread misconception in the NGO sector and beyond into the world of international donors that so-called 'harmful cultural practices' were the main driver of the AIDS epidemic in Malawi. Biomedical evidence shows that 'harmful cultural practices' are not the main contributors to the AIDS epidemic. So what is interesting is why so many educated Malawians working in the AIDS sector told me about the practices, not the villagers, and blamed them for the spread of AIDS. I show that the epistemic community in Malawi (epistemic community includes international donors working on HIV and AIDS as well as the Malawian elite) are reframing both sexual cultural practices and women's rights' concepts in the context of what is widely considered an emergency, the AIDS epidemic. I argue that a complex interplay of interests has led to the construction of the narrative that the sexual cultural practice of fisi contributes significantly to the spread of AIDS. I argue this complexity can be best understood through three sets of arguments.
In the mid-1980s, non-governmental organisations (NGOs) began to flow into poor countries to help them improve their lives and livelihoods. Malawi, a small country in south-central Africa, was an attractive location: it is one of the poorest countries in the world, it is peaceful and has little crime, English is the official language, it has reasonable roads such that NGO staff can move around relatively easily. In the period 1985–1989 there were 16 registered NGOs; in 2001–2005 there were 196 NGOs, half of them focused on HIV prevention (Morfit 2011). In the first phase, NGOs typically focused on implementing programmes that would improve health (e.g. clean water) and agriculture. Increasingly, however, they were concerned with improving the situation of women and girls, who were considered to be particularly vulnerable to harms. A hierarchy of NGOs was established. At the top were international NGOs such as Save the Children, Catholic Relief Services and CARE, at the bottom were small organisations based in district capitals.
A major consequence of the establishment of NGOs was that it provided jobs in the formal economy for educated Malawians. Those with a PhD or an MA worked in offices in the Capital, Lilongwe, those with only a BA were stationed in district capitals, and those who had only a secondary education picked up jobs whenever they could, such as working on a short-term survey. The level of education determined not only one's income but also their social status and whether they lived in one of the two large cities or in a district capital. Not surprisingly, those at the top of the income and social status ladder looked down on those who had little or no education.
In 2008, I was working as a Programme Manager for a sexual and reproductive health NGO based in London. As part of my job, I went to Malawi to monitor a HIV prevention programme, funded by the Department for International Development (DfID). I was speaking to a Malawian woman in Blantyre (Malawi's second largest city, located in the South of the country) who set up a Women and AIDS Community Based Organisation (CBO), which was indirectly funded by DfID. She was HIV positive. She spoke English and raised the topic about certain sexual practices said to be risky for the spread of HIV, often referred to in the literature, and by people in Malawi, as 'harmful cultural practices'. One particular practice grabbed my attention. It is called
fisi
), which means 'hyena' in English. The story recounted to me was about a hyena. In this case the hyena is a man, who is hired to have sex with young women who participate in initiation ceremonies when they start menstruating. But the hyena practice has several other meanings, which I will come to later. A few years later, an NGO ran a banner in the daily newspapers—see Fig.
1.1
: it was at the bottom of the first page, with a background of red and black, and said 'STOP Harmful cultural practices'. The banner was produced by UNICEF.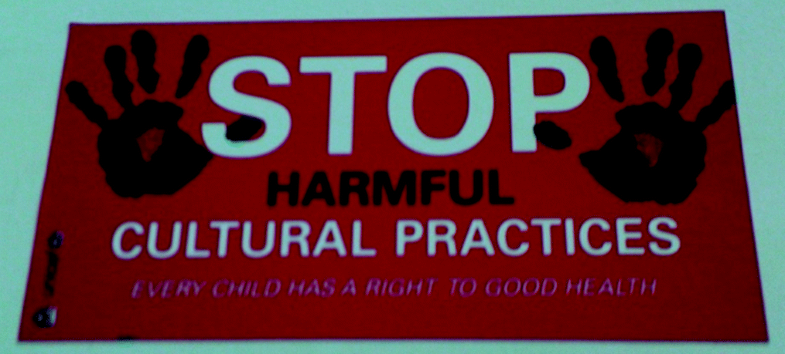 I arrived in Lilongwe in 2008 to begin my research and was picked up by my friend who worked for an AIDS NGO. We travelled to Blantyre and she invited me to stay at her house with her family. I asked her if I could work from her office and was fortunate enough to be given desk space. This was an invaluable opportunity as I shared an office with a policy officer and this enabled me to meet people passing by my desk. I was hoping that I would identify an organisation with which to carry out my research. It was not long after I was in my new surroundings that the Executive Director of a small CBO, based in the district of Mulanje, asked me what I was doing there. He then excitedly told me about the
fisi
practice. He said for him,
fisi
meant three things:
1. Surrogacy – if you see a stick on the door you should not go in as you know something is going on. 2. Kuchotsa/kutsatsa fumbi – sexual cleansing. During initiation ceremonies when a girl has reached puberty and is menstruating she is taught how to entertain her husband. The girl could be from 7,8 or 9-12 years old. She is told she must sleep with someone otherwise she will have problems. The person she will sleep with may be big or young. The impact of this a) early/unwanted pregnancy b) drop out at school c) early marriage d) contract HIV. 3. Kuchotsa milaza – concept whereby in Mulanje you may go out and you have left your husband and you sleep with other men. So you are forced to sleep with someone else who is the relative of the husband to be forgiven for sleeping with someone else. (Journal entry 26 August 2008)
He invited me to visit his village where he ran the CBO to find out more about the fisi. However after I visited his village, my friend, the Director of the AIDS NGO, told me that the practice was not particularly prevalent in that part of Malawi, and that he had exaggerated the story so that I would visit and perhaps help him access funding.
So I returned to my desk in Blantyre. Along came the Executive Director of a youth CBO. He told me 'there are lots of cultural practices that go on in my village' and therefore it would be a perfect site to conduct my research. He then described at length the practice of
kusasa fumbi
and then told me:
When initiation ceremony comes to an end, the village leaders or opinion leaders in the village, they plan for the men to have sex with girls. The men are from a different community. Also women are chosen to have sex with boys. They are also from a different village. Women get women and men get men. They are paid in food. No money. Condoms are not used. There is a need to exchange fluids so cannot use condoms. (Journal entry, 26 August 2008)
I was amazed that they volunteered to tell me about the fisi practice without having interviewed them. I then became aware of a widespread misconception in the NGO sector and beyond into the world of international donors that so-called 'harmful cultural practices' were the main driver of the AIDS epidemic in Malawi. It was the educated Malawian elites who described these practices at length, expounding on the risks they presented and efforts to stamp them out, while at the same time weaving into the discourse other fashionable interests of international agencies, such as the particular vulnerability of women, especially young women, to contracting HIV. It is important to highlight here that these stories about harmful cultural practices came from educated Malawians who speak English, not the villagers. But the link between these 'harmful cultural practices' and the epidemic was never supported by evidence. For example, while it is known that the prevalence of AIDS among widows is higher than among married women, there had been—and continues to be—no evidence that this was due to widow inheritance (when a woman's husband dies, she lives with her husband's brother) rather than to years of marriage to a man who had died of AIDS. From a biomedical perspective the latter is more likely.
Biomedical evidence shows that 'harmful cultural practices' are not the main contributors to the AIDS epidemic. So what is interesting is why so many educated Malawians working in the AIDS sector told me about the practices, not the villagers, and blamed them for the spread of AIDS.
In this book I analyse the responses these practices evoke: these include lawyers, researchers, policymakers, government ministers, NGO and INGO staff, staff working for bilateral and multilateral agencies, national and district officials and health workers.
This book explores policy surrounding HIV prevention. It draws attention to the ways that the elites in Malawi—people who stand out because they are educated and thus speak and read English, the official language, in contrast to the majority of Malawians who live in villages and have, at best, completed primary school. Those who have a university degree dominate the policy arena: they are staff in the civil service and they implement the programmes of NGOs and bilateral or multilateral agencies programmes (Watkins and Swidler 2009; Myroniuk 2011). They are middle-class people in government positions or working in International NGOs.
The educated elites I met almost invariably disparage those who have less education. I found that upon meeting an educated Malawian, they often began the conversation by telling me about what came to be called the 'harmful cultural practices' of the uneducated villagers. They thus make it clear to expatriates who buy into the distorted accounts of the elites.
I show that the epistemic community in Malawi (epistemic community includes international donors working on HIV and AIDS as well as the Malawian elite) are reframing both sexual cultural practices and women's rights concepts in the context of what is widely considered an emergency, the AIDS epidemic. This epistemic community comprises those working in the field of AIDS, who frame narratives about AIDS to achieve other goals, both ideal and pragmatic, for example for the purposes of self-preservation and self-interest. Haas' (1992) notion of the 'epistemic community' is particularly useful for conceptualising the HIV prevention community in Malawi. Haas describes an epistemic community as 'a network of professionals with recognised expertise and competence in a particular domain or issue-area' (Haas 1992, p. 3). He says that epistemic communities are groups of professionals, from a variety of different disciplines, which produce policy-relevant knowledge about complex technical issues (Haas 1992, p. 16). This book makes the case that the Malawian elite is influencing the policy agenda on AIDS and harmful cultural practices. This book also examines how others—e.g. international staff working for International NGOs, bi- and multilateral donors—adopted the views provided by the Malawian elite without questioning the evidence. But why would they? First, donors and NGOs have little interest in establishing an evidentiary base for any of their programmes 1 and second, UNAIDS did not want to disseminate the evidence about low probabilities.
I also explore how evidence is produced in the context of AIDS and how certain sexual cultural practices have been co-opted by the NGO discourse in order to explain why HIV prevalence is so high in Malawi as well as other African countries. 2 My analysis is oriented around how different narratives on AIDS are framed, and what and how evidence is used to support them. As I show, these narratives are not based on face-to-face encounters with women involved in these practices. What is under consideration is the way the Malawian elites present rural people as backward by deploying the phrase 'harmful cultural practices': the elites then blame the AIDS epidemic on these practices. What my theoretical framework shows is how this constructed and epidemiologically inaccurate narrative has been taken up and endorsed by international donors.
Initially, this research intended to examine the contribution of sexual cultural practices such as widow inheritance and initiation rites (Munthali and Zulu 2007) to the transmission of HIV (Coombes 2001; Chizimba et al. 2004). However, after I read about the exotic cultural practices that are considered harmful (Malawi Human Rights Commission 2006), and the research of epidemiologists (e.g., Gray et al. 2001; Boily et al. 2009) it was apparent that many, perhaps most, of the cultural practices are unlikely to contribute significantly to the epidemic. Far more important are everyday practices, such as unprotected sex with multiple sexual partners both before and after marriage (Smith and Watkins 2005; Chimbiri 2007; Dimbuene et al. 2014).
These everyday practices are also part of the traditional culture: in particular, when a man asks a woman or girl to have sex, the man must offer her resources in exchange. Wealthy men drive the sexual exchange, and have significantly higher levels of HIV, yet there are few, if any, NGO programmes that target men for behaviour change.
In my conversations with Malawians, the practice of fisi is invariably introduced. Yet as well as the absence of the epidemiological evidence to show that the fisi practice is of low risk, there is also a lack of evidence to suggest the fisi practice is widespread to the extent that it would significantly increase HIV prevalence rates in Malawi. When those in the NGO community who are concerned with fisi talk about it, they invariably refer to two of the 28 districts, Nsanje and Mangochi as examples. For example, a fisi (a male adult who has sexual intercourse with newly initiated girls) is uniquely practiced in societies such as among the Chewa and among the Yao in which their form of initiation for girls (called chinamwali and chindakula respectively) encourages sexual intercourse for initiates (Malawi Human Rights Commission 2006, p. 8). But we see also the role of fisi in widow cleansing, fisi for Procreation, Birth Cleansing (kulimbitsa mwana), Death Cleansing and for Cleansing Infidelity (Malawi Human Rights Commission 2006, p. 8). In my conversations with Malawians it was also assumed by them that the fisi was infected.
Although the fisii are involved in a variety of rituals, the NGOs focus on young girls, probably because so many of them are engaged in helping women and girls. I did not hear much about fisi and sexual cleansing for someone who died. It is also important to mention that the fisii are paid.
Further, there is a lack of anthropological evidence to argue that this practice contributes significantly to high HIV rates. Studies in Malawi (see, e.g., Skinner et al. 2013; Munthali et al. 2006; Munthali and Zulu 2007; Kamlongera 2007; Banda and Kunkeyani 2015) and several donor and government-funded studies on sexual cultural practices and AIDS in Malawi (Kornfield and Namate 1997; Matinga and McConville 2003; Malawi Human Rights Commission 2006; Kalipeni and Garrard 2004; College of Medicine 2005; Kadzandira and Zisiyana 2006; Chimombo 2006; Conroy et al. 2006) have been used to explain how sexual cultural practices are spreading HIV in Malawi, yet these results have been amplified outside these studies' findings.
Why is there then so much focus on something that in numerical terms at best has a minor effect on the increase of AIDS at a national level? The fisi practice does not contribute significantly to the spread of HIV for four reasons. First, epidemiological evidence reveals that the probability of infection during one heterosexual act is startlingly low. 3 Second, there is a lack of evidence to demonstrate how prevalent the practice is in Malawi. Third, although studies have been carried out on sexual cultural practices in Malawi, there is little empirical evidence to demonstrate that the fisi practice is contributing to the spread of HIV at a national scale. Fourth, although the emphasis on fisi in HIV discourse has been on poor young women (15–24) as drivers of the epidemic, HIV prevalence rates are higher in urban areas among women aged 30–34 who are in the highest wealth quintile in Malawi (Mishra et al. 2007). This category of women is significantly different from girls and young women living in rural areas aged 15 and below who may be participating in the fisi practice. This category of women is also different from widows where the term fisi is used for widow cleansing rites.
Narratives linking sexual cultural practices and HIV have been constructed which blame the fisi practice for the spread of AIDS. The fisi practice is being used as a scapegoat for three main reasons. First, the elites working in NGOs need constant donor funding. Thus, maintaining the fisi narrative to attract donor funding contributes to the stability of the policies and programmes directed to reduce transmission and thereby ensuring their jobs remain intact. Second, to project the issue of AIDS as a disease being spread by rural people, which detracts attention from the educated elite's sexual behaviour. Third, it supports a Christian narrative that sees those practising African Traditional Religion as backwards. This narrative has been amplified because it reflects the modernising agenda of key elites in Malawi, as opposed to reflecting a proportionate threat to the spread of AIDS. This deflects attention from high-risk sexual practices such as multiple sexual partners particularly among urban and affluent Malawians. AIDS policies should be designed to address contemporary patriarchal constructions of gender and power than a one-off highly un-evidenced traditional sexual practice. What I argue is there is evidence of a lack of evidence to support the policy to eradicate the practice of fisi because of the link with HIV.
Copyright information
© The Author(s) 2019
Open Access This chapter is licensed under the terms of the Creative Commons Attribution 4.0 International License (http://creativecommons.org/licenses/by/4.0/), which permits use, sharing, adaptation, distribution and reproduction in any medium or format, as long as you give appropriate credit to the original author(s) and the source, provide a link to the Creative Commons licence and indicate if changes were made.
The images or other third party material in this chapter are included in the chapter's Creative Commons licence, unless indicated otherwise in a credit line to the material. If material is not included in the chapter's Creative Commons licence and your intended use is not permitted by statutory regulation or exceeds the permitted use, you will need to obtain permission directly from the copyright holder.