Abstract
This chapter explores the key components and characteristics of the wellbeing approaches taken by Scotland, Wales and Northern Ireland. Despite different origins, there are remarkable similarities between the approaches taken by the devolved legislatures. Each framework blends objective and subjective data and all three prioritise quality of life indicators over environmental and economic indicators. Wallace goes on to argue that the impact of wellbeing frameworks on approaches to government can be seen as setting wellbeing as an overarching goal for government, wellbeing as a conversation to discuss social progress, wellbeing as a framework for public services and wellbeing as an approach to delivering public services.
Keywords
Indicators 
Performance management 
Social progress 
Public sector reform 
Leadership 
Towards a Shared Understanding of Wellbeing
As described in the preceding chapters, each of the devolved governments developed their wellbeing framework to address specific needs. It is interesting therefore to note the extent to which the wellbeing frameworks and approaches have converged (see Table
6.1
).
Table 6.1
Key components and characteristics of a wellbeing approach to governance
|   | Scotland | Wales | Northern Ireland |
| --- | --- | --- | --- |
| Catalyst | Performance management | Sustainable development | Political visioning |
| Components |   |   |   |
| Vision statement | Yes | Yes | Yes |
| Outcomes | 11 | 7 | 16 |
| Indicators | 81 | 46 | 49 |
| Characteristics |   |   |   |
| Statutory duties | Yes | Yes | No |
| Participatory methods | Fair | Strong | Weak |
| Aligned to sustainable development goals | Yes | Yes | No |
The component parts of the wellbeing framework have coalesced almost completely, consisting of a vision statement, a set of outcomes and a dashboard of indicators. The dashboard approach is also shared by the UK Office of National Statistics, which measures wellbeing through 42 indicators grouped into ten domains. The difference in the devolved legislatures is the innovation of shifting the measurement dashboard into a broader framework around the purpose of government, and within an outcomes approach.
Scotland, Wales and Northern Ireland have all taken the approach of a dashboard of indicators, rather than an index or use of subjective wellbeing as a headline indicator. And they have done so for the same reasons, they believe that this is the best way to enable the use of wellbeing data in policy development. The indicators share certain characteristics:
Quantitative: Even those that come from qualitative sources (such as quality of early years education provided) are given numeric values when measured (the number of schools with positive reports).

Source: They derive from official sources, such as the household surveys, labour force surveys and information from scrutiny bodies (auditors and regulators).

Mixed: They provide a mix of objective indicators (e.g. crime levels) and subjective indicators (e.g. perceptions of crime). They all include a measure of personal wellbeing, but not the same one.

Non-hierarchical: All indicators are given equal weight in the frameworks.

Cross-cutting: Many indicators cut across more than one domain of wellbeing.

Comprehensive: Include the key domains of wellbeing that governments are seen as having a legitimate role in influencing.
There are also shared conventions in reporting the indicators. They each report the direction of travel (improving, maintaining or worsening) based on statistically robust changes. The exact calculations differ depending on the type of indicator. They each report with a narrative attached, a description of the change over time and the policy context within which this change occurs. And they all provide further analysis based on socio-demographic groups, to allow for comparison between different sections of society. Scotland updates its websites in 'real time' as soon as new indicators become available, which will be the approach in Wales once established. Northern Ireland does not.
Types of Data
The similarities and differences in indicators are worth explorations (see Fig.
6.1
). To recap from the introduction: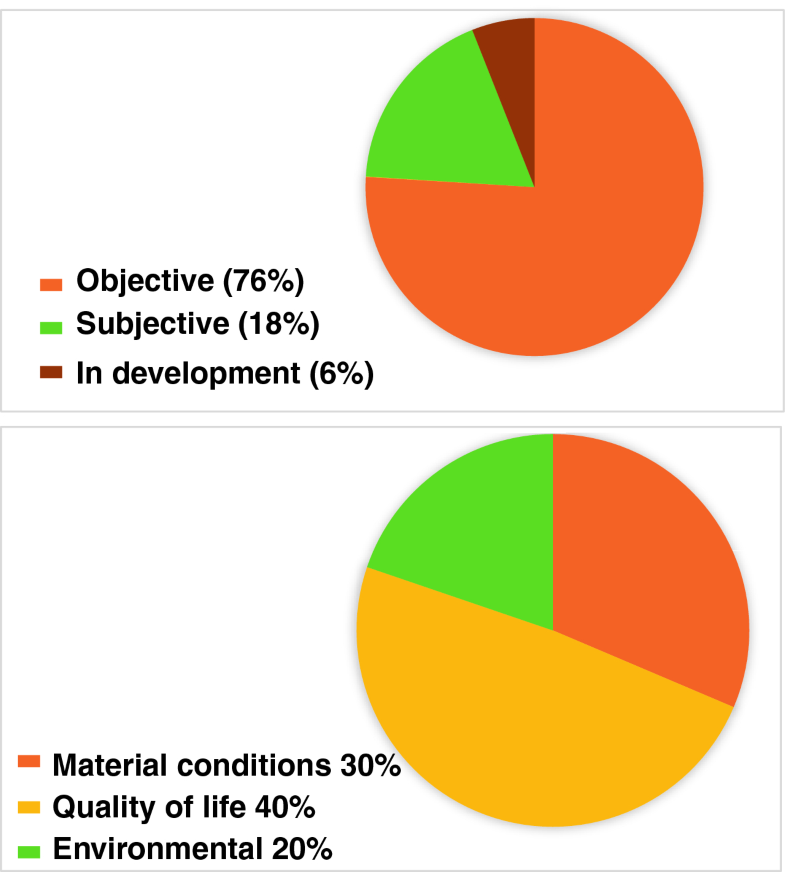 Objective data may be about people and supplied by people but it is factual data. It can be further subdivided into those that are collected for the jurisdiction as a whole, for example greenhouse gas emissions or productivity, and those that are aggregated from individual level, for example education attainment rates.

Subjective data is collected from individuals about their own experiences. For example, perceptions of crime. It can be information about individuals (their feelings of confidence, self-esteem or mental health) or their perceptions of places or services (e.g. whether they feel that public services are delivered well in their area).
The number of exact matches between each indicator set is low. In some cases, the differences are due to priorities given to different issues. In Northern Ireland, a number of indicators relate to the post-conflict environment—for example, they measure the proportion who believe their cultural identity is respected by society and the proportion who believe that all leisure centres, parks, libraries and shopping centres in their area are 'shared and open' to both Protestants and Catholics. Wales continues its interest in cultural identity by measuring the number of Welsh speakers and makes a significant effort to measure future stocks (including historical archives) as well as current conditions. Scotland, with the most indicators, includes a large number of measurements that indicate a range of inequalities, and is the only framework to include measures of the subjective views of children and young people.
Other differences are less clearly identified to cultural and political priorities. Some appear to be clear omissions such as the lack of a measure of water quality in Scotland. Others relate to expert disagreements or lack of maturity of the social indicators themselves. Each jurisdiction prefers a different measure of income inequality, for example, which appears to depend on the advice from government statisticians. All clearly aim to measure the quality of jobs, but this is emerging in the social indicator movement and there is no clarity yet on what should be included (White 2018).
These differences show that the development of the frameworks is an art, not a science, those involved are seeking to balance political priorities, available data and stakeholder views. In no case did the civil servants involved run statistical regressions or modelling to identify the 'best fit' indicators either to a dominant indicator within the domain, or to personal wellbeing.
Each of the wellbeing frameworks blends objective and subjective data. The vast majority of the indicators (an average of three-quarters across the three frameworks) are objective indicators. Scotland has a slightly higher proportion of subjective indicators (24% compared to 17% and 13% in Wales and Northern Ireland, respectively).
Objective and subjective data are therefore present in the three wellbeing frameworks, but the priority is to report on objective indicators. The wellbeing frameworks of the devolved governments are more focused on objective fact (education, housing, health, income), rather than citizens' satisfaction with their lives, or measurements of wellbeing that prioritise citizens' ability to exercise control over their own lives. Relating this to the philosophical underpinnings of wellbeing in Chapter  1, it appears that each government is prioritising a basic needs approach to wellbeing. The measurements of material conditions are almost all objective and the measurements of quality of life are similarly weighted towards the objective.
There are elements of the frameworks that push towards a Capabilities Approach and in particular towards a number of items on the list of capabilities developed by Martha Nussbaum (2006). There are measures of life, bodily health and affiliation in all three frameworks. Northern Ireland measures self-efficacy and locus of control. Wales and Scotland measure the capability of 'control' through engagement with decision-making processes. In all jurisdictions, citizens' physical activity is measured, and their cultural participation—but none come close to the concept that Nussbaum thought essential—that of play. There is no measurement of satisfaction with work-life balance in any of the frameworks. The capabilities of senses, imagination and thought are not measured, nor is the practical reason. In excluding these capabilities, each government is inadvertently drawing a line between the business of government and the known contributors to wellbeing. The Northern Ireland framework has never purported to be anything but a framework for the government. Scotland has recently moved closer to the Wales approach of the framework being for the people. Even so, both Scotland and Wales limit inclusion to those areas that the government has a clear and legitimate role.
Domains of Wellbeing
In terms of the broad categories of wellbeing (quality of life, material conditions and environment), almost half relate to quality of life (49% across the three frameworks). Wales has the greatest proportion of indicators on environmental issues with 14 out of 46 (30%). Scotland has only 13 out of 81 indicators relating to environmental issues (16%), while it has 30 material conditions indicators (37%) and 38 quality of life indicators (47%). Northern Ireland has the highest proportion of quality of life indicators (55%), 29% cover material conditions and environmental indicators account for 16%. The preponderance of quality of life indicators relates not to the science of wellbeing (all were developed through consultation, not statistical methods) but to their relevance to the devolved legislatures core competencies on social policy. All prioritise the quality of life issues that they can have the most direct impact on.
The largest difference is in the extent to which the material conditions indicators are balanced by environmental indicators. In Wales, there are more environmental indicators than material ones (30% compared to 24%). In Scotland and Northern Ireland, the material conditions indicators are given substantially more 'space' in the framework (to reiterate, in Scotland and Northern Ireland 37% and 29% of indicators relate to material conditions respectively, but environmental indicators account for only 16%). Here very starkly we can see the real-world impact of the different origins: Scotland and Northern Ireland prioritise quality of life than the economy, Wales prioritises quality of life and then the environment. Matching the beyond GDP origins of the Welsh framework, the power of the economy is far reduced in this framework and subservient to quality of life and the environment—not the dominant force.
Structure of the Frameworks
There are other similarities in the development of the structure of the wellbeing frameworks. In Scotland and Wales, early versions had two levels. In Scotland these were 'purpose targets', in the initial Sustainable Development Plans, in Wales there were headline indicators linked to the long-term targets. In both cases, this layering caused confusion and sent mixed messages: all indicators are equal but some are more equal than others. And in both cases, the renewal of the frameworks required by legislation in 2015 (the Well-being of Future Generations Act 2015 and the Community Empowerment (Scotland) Act 2015) provided an opportunity to refresh and remove the tiered approach.
There are also similarities in the characteristics of the wellbeing approach to governance, though these are less pronounced. Scotland and Wales have legislated for their frameworks, securing them past the next election. Northern Ireland has not done so due to the complexities of the Good Friday Agreement, there was no appetite at that point (pre-Brexit) to unpick the legislative framework for devolution. Northern Ireland also stands apart as the jurisdiction that has not sought to align the framework with the Sustainable Development Goals.
Understanding the Impact of Wellbeing Frameworks on Approaches to Governance
The introductory chapter set out the hypothesis that wellbeing frameworks are both a cause and a consequence of a new way of thinking about the role of governments. A move that continues the shift away from the top-down, one-size-fits-all approaches that characterised much of the welfare state across the UK in the 20th century. This chapter explores the extent to which we have evidence that the shift has moved beyond rhetoric to policy and social change.
In researching this book, my aim has been to tell a story of the development and implementation of wellbeing frameworks in such a way as to draw tentative but credible conclusions about the contribution made to advocacy, policy and social change in the three jurisdictions.
At the outset of this analysis, it is important to stress that Northern Ireland has had limited time to impact on social outcomes (though the local government duties came into effect in 2015). Abercrombie et al. identify that it takes seven to 10 years for successful changes to be implemented (2015). Scotland and Wales fit comfortably within this timescale but in both the cases, the legislative underpinning is relatively new—both passed legislation to secure the approach in 2015 and so impact from this legislation is just beginning to emerge.
The Challenges Ahead for Wellbeing Approaches
Reflecting on the wellbeing frameworks and approaches it is easy to conclude that they are stable parts of the machinery of policy-making and governance in each of the jurisdictions. Their legislative basis, the support from within the system and from across political parties makes them relatively secure. Their impact however is not guaranteed. There are three key challenges that each government ought to address.
The first challenge is to understand the key role of the wellbeing framework as a communications tool to frame the work of the governments. They tell us something about who we are as a society and where we are going. The communication is both internal to public services and external to citizens. Within public services, many will need convincing of the effectiveness of the approach and yet scant attention is paid to providing those within the system with clear stories of impact that they can understand and articulate to others. Similarly, far more attention needs to be paid to communicating the content of the frameworks to the public and sparking a conversation about social progress.
The second challenge is to allow the frameworks to breathe and evolve in different parts of the system. Within public services, the language used to assess impact by those in senior positions is that they are seeking alignment, a golden thread between different parts of the system. What they are not seeking is mindless duplication or cut-and-paste policy-making. There is a risk that in seeking clear impact, conformity on outcomes and indicators is what is measured and expected, rather than conformity around the spirit of the approach. In the relationship between public services and citizens and communities a similar 'letting go' is required. The framework document may belong to the government, but societal wellbeing belongs to all citizens. There is a risk that by taking responsibility for all aspects of wellbeing other activities are crowded out or displaced. More attention needs to be paid to the contribution of people to our own individual and collective wellbeing with government playing a supporting and enabling role rather than a provider role.
The final challenge is to support leadership for culture change from diffuse places and people. The development of wellbeing frameworks owes much to a small number of people who took a risk and wanted to try something different. But their success in implementation has many leaders, from different sectors and professions. Public services are good at supporting leadership at the centre, for wellbeing approaches to be successful there will have to be ways of supporting leaders wherever they emerge.
Copyright information
© The Author(s) 2019
Open Access This chapter is licensed under the terms of the Creative Commons Attribution 4.0 International License (http://creativecommons.org/licenses/by/4.0/), which permits use, sharing, adaptation, distribution and reproduction in any medium or format, as long as you give appropriate credit to the original author(s) and the source, provide a link to the Creative Commons license and indicate if changes were made.
The images or other third party material in this chapter are included in the chapter's Creative Commons license, unless indicated otherwise in a credit line to the material. If material is not included in the chapter's Creative Commons license and your intended use is not permitted by statutory regulation or exceeds the permitted use, you will need to obtain permission directly from the copyright holder.