Using Heritage to Develop Sustainable Port–City Relationships: Lisbon's Shift from Object-Based to Landscape Approaches
Abstract
Port cities face enormous sustainability challenges. In this chapter, we propose a relational view of these challenges and explore how different models of governance connect the three pillars of sustainable development: economy, environment, and society. We also address the contradictions inherent to new port plans or waterfront projects, zooming in on the case of Lisbon, Portugal to evaluate the role of heritage in the sustainable development of its historic maritime waterfront. We assess the extent to which reusing heritage structures strengthens the Lisbon port-to-city relationship with regard to governance and outcome. Our account shows that the city departed from its earlier object-based approach to adopt UNESCO's approach of Historic Urban Landscapes (HUL). This shift has triggered deeper reflection among key city actors on the connections between city and port in Lisbon, as well as on the role of the waterfront landscape. We argue that its new approach to heritage potentially produces new governance arenas where new port–city coalitions can emerge—coalitions that have the potential to align economic and environmental objectives with the sociocultural motives that underpin the goals of heritage preservation. We conclude by emphasizing both the challenges of public participation and the critical importance of engagement of port authorities. Each is necessary if European port cities are to effectively pursue sustainable relationships.
Keywords
Port city 
Governance 
Historic urban landscape (HUL) 
Maritime heritage 
Waterfront 
Lisbon 
Sustainable development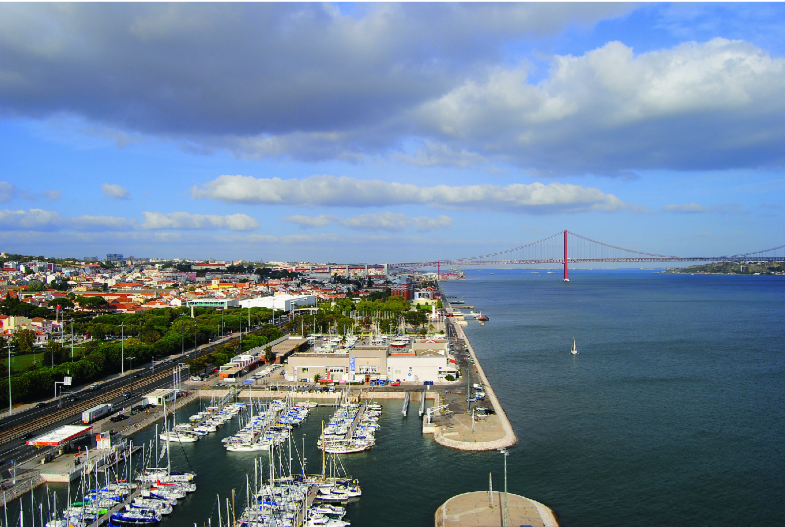 References
Bird J (1963) The major seaports of the United Kingdom. Hutchinson, London

Google Scholar

Brandão P (1988) Prefácio. In: Brandão P, Jorge F (eds) Lisboa, a Cidade E O Rio - Concurso de Ideias Para a Renovação Da Zona Ribeirinha de Lisboa. Associação de Arquitectos Portugueses, Lisbon, pp 3–4

Google Scholar

Dooms M (2014) Integrating 'triple P' bottom line performance and the license to operate for ports: towards new partnerships between port cluster stakeholders. In: Alix Y, Delsalle B, Comtois C (eds) Port-city governance. ems - Management & Societe, Cormelles-le-Royal, pp 55–76

Google Scholar

Gama E, Miranda I (1997) Lisboa Ribeirinha E as Suas Estações - Síntese Histórica. In Caessa A, Martins MG (eds) Actas Das Sessões Do II Colóquio Temético Lisboa Ribeirinha. Câmara Municipal de Lisboa - Departamento de Património Cultural Divisão de Arquivos, Lisboa, pp 201–224

Google Scholar

Hall PV, Jacobs W (2012) Why are maritime ports (still) urban, and why should policy-makers care? Marit Policy Manag: Flagship J Int Shipp Port Res 39(2):189–206

CrossRef

Google Scholar

Hein C (ed) (2011) Port cities: dynamic landscapes and global networks. Routledge, New York

Google Scholar

Hesse M (2017) Approaching the relational nature of the port-city interface in Europe: ties and tensions between seaports and the urban. Tijdschrift Voor Economische En Sociale Geografie.

 

https://doi.org/10.1111/tesg.12282

Musso E, Ghiara H (2011) Reshaping the economic landscape of port cities. In: Alemany J, Bruttomesso R (eds) The port city of the XXIst century. New challenges in the relationship between port and city, Rete, Venice, pp 87–101

Google Scholar

Nabais AJCM, Ramos PO (1987) 100 Anos Do Porto de Lisboa. Administração do Porto de Lisboa, Lisboa

Google Scholar

Notteboom TE (2006) Ports are more than piers: Liber Amicorum presented to Prof. Dr. Willy Winkelmans. Antwerp. De Lloyd

Google Scholar

Pagés Sánchez JM (2017) Evolution of Lisbon's port-city relation: from the earthquake of 1755 to the port plan of 1887. PORTUSplus, the Online Journal of RETE, October 20(7)

Google Scholar

Pagés Sánchez JM, Daamen T (forthcoming) Sustainable port-city relationships: challenges and opportunities in Europe. Plan Perspect

Google Scholar

Pereira Roders A (2013) How can urbanization be sustainable? A reflection on the role of city resources in global sustainable development. Bollettino Del Dipartimento Di Conservazione Dei Beni Architettonici Ed Ambientali 13(1):79–90

Google Scholar

Rêgo Cabral N (2011) Governability and sustainability. Redevelopment of the waterfront in Lisbon. In: Alemany J, Bruttomesso, R (eds) The port city of the xxist century. New challenges in the relationship between port and city, Rete, Venice, p 385

Google Scholar

Schubert D (2008) Transformation processes on waterfronts in seaport cities-causes and trends between divergence and covergence In: Kokot W, Gandelsman-Trier M, Wildner K, Wonneberger A (eds) Port cities as areas of transition: ethnographic perspectives. Urban Studies. Transcript Verlag

Google Scholar

Schubert D (2011) Seaport cities: phases of spatial restructuring. In: Hein C (ed) Port cities: dynamic landscapes and global networks, 1st edn. Routledge, New York, pp 54–69

Google Scholar

Schubert D (2017) Ports and urban waterfronts. In: C Hein (ed) The Routledge handbook of planning history. 1st ed. Routledge, New York, pp 336–347

Google Scholar

Silva MÂSP (2012) Património industrial em Portugal: inclusão do passado em projectos contemporâneos.

http://hdl.handle.net/11067/78

. Accessed 28 Feb 2018

UNESCO (2011) Convention for the safeguarding of the intangible cultural heritage. In: Intergovernmental committee for the safeguarding of the intangible cultural heritage. Sixth session.

https://ich.unesco.org/en/6COM

. Accessed 21 Dec 2017

UNFCCC. Conference of the Parties (COP) (2015) Adoption of the Paris Agreement. Proposal by the President. In: Paris climate change conference—Nov 2015, COP 21 21932 (December): 32.

FCCC/CP/2015/L.9/Rev.1

Van Hooydonk E (2007) Soft values of seaports. A strategy for the of public support for seaports. Garant, Antwerp

Google Scholar

Van Hooydonk E (2009) Port city identity and urban planning. Portus 18:16–23

Google Scholar

Verhoeven P (2011) Social integration of ports: a key task for port authorities. In: Alemany J, Bruttomesso R (eds) The port city of the xxist century. New challenges in the relationship between port and city, Rete, Venice, pp 186–200

Google Scholar

WCED (1987) Our common future. World Commission on Environment and Development. Oxford University Press

Google Scholar
Copyright information
© The Author(s) 2020
Open Access This chapter is licensed under the terms of the Creative Commons Attribution-NonCommercial-NoDerivatives 4.0 International License (http://creativecommons.org/licenses/by-nc-nd/4.0/), which permits any noncommercial use, sharing, distribution and reproduction in any medium or format, as long as you give appropriate credit to the original author(s) and the source, provide a link to the Creative Commons license and indicate if you modified the licensed material. You do not have permission under this license to share adapted material derived from this chapter or parts of it.
The images or other third party material in this chapter are included in the chapter's Creative Commons license, unless indicated otherwise in a credit line to the material. If material is not included in the chapter's Creative Commons license and your intended use is not permitted by statutory regulation or exceeds the permitted use, you will need to obtain permission directly from the copyright holder.