Abstract
Pervasive computing covers the management of many distributed sensor and information networks. If these need to interact with the user at the point of information collection, then there will be a need for some kind of interface between the information and the user of that information. We have been exploring the use of virtual and augmented reality techniques in a number of applications to enhance the real world with additional, contextually relevant information. In this respect we have been looking more at the issues concerned with representing information in this mixed-reality world, rather than the particular source of the content. In this way we are neutral with respect to pervasive computing where the information producers are distributed in the world and therefore local to their point of use. In our applications we gather all the information centrally to be processed. This allows the information to be analysed and relevant material shown at the point of use. In most cases this will be locally relevant, but there may be more general information presented.
Figure 8.1
shows the kind of information filtering that might occur to reduce the amount of information that is presented in a mixed-reality environment.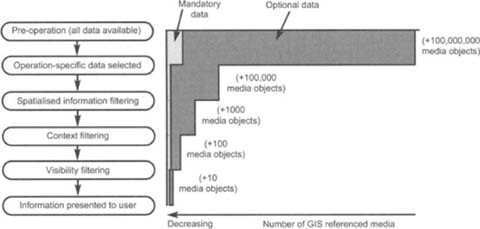 Keywords
Augmented Reality 
Team Leader 
Pervasive Computing 
Ground Force 
Intelligent Space 
These keywords were added by machine and not by the authors. This process is experimental and the keywords may be updated as the learning algorithm improves.
Copyright information
© Springer-Verlag London Limited 2006